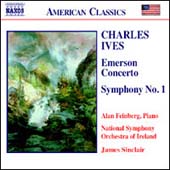 James Sinclair / National Symphony Orchestra of Ireland / Alan Feinberg, piano (Naxos 8559175, coupled with Symphony No.1)
Ives regularly recycled his compositions for use in other works, and his beloved "Emerson" music was especially notable for appearing in several different incarnations. If you've heard the first movement of his Second Piano Sonata, much of this music will sound familiar--because the Emerson movement from the "Concord" Sonata grew out of the music presented here.
But, even if you've heard the "Concord" countless times, there is much that is new, and David Porter's reconstruction of the work is fascinating on its own terms. As you would expect, at times this is powerful, thrusting music; very impetuous and forbidding. If you can believe it, the orchestra seems to make this music even more imposing than in its piano-only setting. But there are also passages of rapturous, haunting lyricism.
As usual, Sinclair seems completely at home in Ives' sound-world. He's a consistently excellent interpreter of Ives' music, and this very demanding work is no exception. Pianist Alan Feinberg premiered this work, and his performance is astounding also. Last but not least, we should sing the praises of David Porter for his work in reconstructing this tremendous music. In short, this disc is required listening for anyone remotely interested in Ives' music.