AUGUST 2012/1 DOWNLOAD ROUNDUP
Brian Wilson


The previous Roundup, July 2012/2 is here. The July 2012/1 Roundup, with links to earlier editions, is here.

Recording of the Month

Robert SCHUMANN (1810-1856)
Piano Concerto in a minor, Op. 54 [31:29]
Introduction and Allegro Appassionato in G, Op. 92 [15:44]
Introduction and Allegro Op. 134 [14:47]
Angela Hewitt (piano)
Deutsches Symphonie-Orchester Berlin/Hannu Lintu
HYPERION CDA67885 [62:00] – from hyperion-records.co.uk (mp3, 16- and 24-bit lossless)

[excerpt available on free July 2012 Sampler – here.]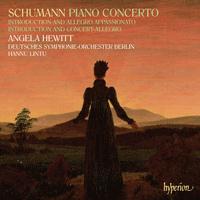 My first reaction was to wonder if we didn't already have more than enough versions of the Schumann Piano Concerto, but the soloist is Angela Hewitt who, almost single-handedly, has convinced me that Bach can be played on the modern piano. Could she maintain the same high standard in Schumann?

The first strong point in favour of the new recording is that it breaks the common mould of Schumann-with-Grieg. It's easy to see why that has become as common as Mendelssohn-with-Bruch Violin Concertos, but both these have their drawback in coupling two essentially very similar works. Much more important, however, is the fact that the negative column of my account sheet for Hewitt's and her colleagues' gloriously free-wheeling performance amounts to zero. It's only with hindsight that I noted that they take almost a minute and a half longer for the finale than another favourite version, from Leif Ove Andsnes and Mariss Jansons with the BPO (EMI, with Grieg); in practice they certainly don't seem to be spinning it out.

The two Introductions and Allegros may be smaller beer than the Piano Concerto or, indeed, than the usual Grieg; I'd have preferred to have had them placed first, but they are well worth hearing. In fact there are more recordings of them than I realised but I can't imagine them being better performed than here. The recording, in 24/44.1 format, captures the blend of delicacy and power superbly and the notes are excellent, so that's a strong recommendation from me all round. Having struggled for two days to get a new wi-fi printer to work*, my eventual success was crowned by sitting back and treating myself to listening to this recording all through.

Hyperion's predilection for paintings by Caspar David Friedrich for music of this period is again employed to appropriate effect on the cover. To set the seal on my recommendation, though the playing time is hardly ungenerous, the price for mp3 and 16-bit flac is £1 less than usual at £6.99 and even the 24-bit won't break the bank at £7.85 – even less as I write, in the Hyperion Summer Sale.

By coincidence Tudor have just released almost the same programme but, to judge from Jonathan Woolf's review of that, Angela Hewitt seems the better recommendation.

* I mention the solution because it may happen to you – the drivers on the CD which came with the printer were already out of date because Windows 7 Pro had just updated itself on my PC. The answer: to download the drivers from the manufacturer.

Reissue of the Month

Karl GOLDMARK (1830-1915)
Ländliche Hochzeit: Rustic Wedding Symphony, Op.26
Royal Philharmonic Orchestra/Sir Thomas Beecham – rec.1952 ADD/mono
BEULAH EXTRA 13-17BX43 [39:53] – from eavb.co.uk (mp3)


Though this recording first made its appearance, on Columbia 33CX1067, almost sixty years ago, its reappearance is most welcome. It has resurfaced from time to time, on the Philips Classical Favourites LP label – I remember being delighted to pick up a copy after its deletion – and on CD, but until now it seems to have been unavailable in the UK even as a download. This is the sort of thing that Beulah does supremely well: coming to our aid when all else has failed.

I can't do better than repeat the postscript to my July 2012/2 Roundup: This is one of those good second-rate works that Tommy knew how to make sound great, a feat which others have emulated but without quite the same success in the case of this tuneful symphony. The recording, from May 1952, is not exactly new-minted, but the transfer is much better than I recall from its last LP appearance, on the Philips Classical Favourites label – so good that the ear soon adjusts to any slight thinness. There's a Past Classics transfer from amazon.co.uk, which doesn't sound too bad, but the Beulah is preferable and works out slightly less expensive.

The reappearance of this recording from Sony was strongly welcomed by Jonathan Woolf – review – but that reissue seems to have dropped out of the UK market, so the Beulah release is especially welcome, replacing the download of Yondani Butt's performance on ASV (November 2010 Roundup) which, in any case is no longer available from passionato.com.

There's a performance by André Previn on a budget EMI Classics twofer, with the Violin Concerto and music by Dohnanyi, but that splits the symphony uncomfortably across the two discs.

Discovery of the Month

Keith JARRETT (b.1945) Bridge Of Light
Elegy for Violin and String Orchestra [15:01]
Adagio for Oboe and String Orchestra [10:06]
Sonata for Violin and Piano [27:24]
Bridge of Light for Viola and Orchestra [17:02]
Keith Jarrett (piano)
Michelle Makarski (violin)
Marcia Butler (oboe)
Patricia McCarty (viola)
Fairfield Orchestra/Thomas Crawford – rec. March 1993. DDD.
ECM NEW SERIES 1450 [69:33] – from emusic.com (mp3)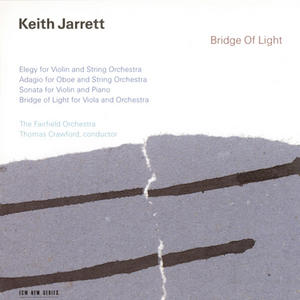 Though I knew Keith Jarrett as a performer of jazz and – therefore almost inevitably – of Bach, I hadn't realised that he had also turned his hand to the composition of classical music. Very approachable music it is, too, perhaps even a little too sweet for some tastes; in the opening work, Elegy, for example, think Korngold. The recording was made too early for MusicWeb International, but it seems to have escaped the net of other reviewers, too, an omission which I'm glad to rectify. With what I take to be definitive performances, it's well recorded and sounds well in this transfer. Emusic.com's bit-rate is not brilliant – around the 230kb/s mark – but that's better than hmvdigital.com's 192kb/s and, at £3.36 from emusic.com, less than half hmvdigital.com's price. Emphatically well worth investigating.

Bargain of the Month

The Sound of New Orleans: Volume 1
Black Bottom Stomp [3:11]
The Chant [3:09]
Smoke House Blues [3:27]
Steamboat Stomp [3:07]
Sidewalk Blues [3:27]
Dead Man Blues [3:19]
Cannon Ball Blues [2:52]
Grandpa's Spells [2:52]
Doctor Jazz [3:23]
Jelly Roll Blues [3:06]
Jungle Blues [3:27]
Beale Street Blues [3:21]
The Pearls [3:08]
Beale Street Blues [2:52]
Kansas City Stomp [3:17]
Shoe Shiners Drag [2:28]
Jelly Roll Morton
ORIGINAL JAZZ SOUND [50:26] – from amazon.co.uk (mp3)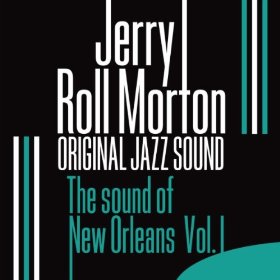 Sixteen tracks from Jelly Roll Morton in very decent sound for £1.89 has to be a bargain; ignore the crass misprint of his name on the title page. I've heard more secure and full-bodied transfers of these classic recordings, from Avid and JSP but not at a price that comes close to matching this as a bargain – individual tracks from these can be obtained from emusic.com at £0.42 if you prefer to choose your own selection. If you want to understand jazz, this is close to where it all started; even if you don't believe Jelly Roll's claim to have invented jazz in 1902 he was certainly the most talented of its early begetters.



Freebie of the Month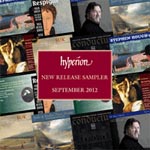 I've mentioned the Hyperion free download samplers for May to August 2012 in earlier Roundups. The September 2012 releases are now available for download – the CDs will be available only at the end of August – and there's a 34-minute sampler, HYP201209. There's music by Poulenc (Stephen Hough, piano), Schumann's sadly under-rated Violin Concerto, the Respighi Violin Sonata in d, George Onslow (Howard Shelley, piano), Brahms Lieder, anonymous medieval conductus and, on the budget Helios label, reissues of Chabrier's Briseïs and music for violin and piano by Josef Suk (Nash Ensemble).


***

A Requiem for Josquin
Josquin DESPRES (c.1450/55-1521) Nymphes nappés/Circumdederunt me, 6vv [2:44]
Faulte d'argent, 5vv [3:08]
Jean RICHAFORT (c.1480-after 1547) Requiem Mass, 6vv [31:35]
Josquin DESPRES La Déploration de Johannes Ockeghem: Nymphes des Bois/Requiem æternam 5vv. [3:45]
Benedictus APPENZELLER (c.1480/88- after 1558) Musæ Jovis 4vv. [5:46]
Josquin DESPRES Miserere mei, Deus 5vv. [15:01]
Nicolas GOMBERT (c.1495-c.1560) Musae Jovis ter maximi 6vv. [5:17]
Jheronimus VINDERS (fl.1525-26) O mors inevitabilis 7vv. [2:40]
Cinquecento Renaissance Vokal – rec. July/August 2010. DDD.
Pdf booklet with texts and translations included
HYPERION CDA67959 [70:00] – from hyperion-records.co.uk (mp3 and lossless)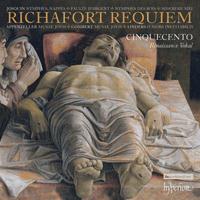 This, the seventh and latest offering from Cinquecento and Hyperion, recorded in association with Deutschlandfunk, fully lives up to the standards which we have come to expect from them. The central work is Richafort's Requiem, an extended work in that it sets parts of the Mass which were usually left in chant form. Richafort seems, on the evidence of the poet Ronsard to have been a pupil of Josquin and the Requiem has sometimes been assigned to the master, though, as the notes point out, the attribution to Richafort is stylistically secure. The new recording would be valuable simply for adding to the representation of this composer, hitherto known only for shorter works, in the recorded catalogue.

Less secure is the title 'A Requiem for Josquin', based on the borrowings from Josquin's music which appear in the work. With Josquin's own lament for Ockeghem included, too, the relevance is more assured. Be that as it may, it's an eye-catching title and I can only hope that it helps to sell this recording – all too often some of Hyperion's most enterprising and splendidly performed recordings end up in their unloved 'please buy me' bargain bin.

The performances are entrancing, allowing the music to possess me entirely for 70 minutes, and the recording is well up to the usual Hyperion standards, certainly as heard in lossless sound. With the usual luxury- style booklet to set the seal on the enterprise, this should be an irresistible release. Track 4 (the Kyrie) is offered as a free download; it's also part of the free Hyperion August 2012 sampler – try it and you'll want the whole thing.


Johann Sebastian BACH (1685-1750) Das Kantatenwerk (Sacred Cantatas)
Soloists; Vienna Boys' Choir; Tölz Boys' Choir; King's College, Cambridge, Choir; Chorus Viennensis; Hannover Boys' Choir; Leonhardt Consort; Concentus Musicus, Wien/Gustav Leonhardt; Nikolaus Harnoncourt

Volume 1: Cantatas 1-14, 16-19
WARNER TELDEC 825646719624 [6 CDs: 6:25:21] – from classicsonline.com (mp3) or stream from Naxos Music Library

[Cantatas Nos.10-12 also available separately on 685738101566 – from classicsonline.com. See review in May 2012/2 Roundup: Bargain of the Month]

Volume 2: Cantatas Nos.20-36
WARNER TELDEC 825646718665 [6 CDs: 63:57 + 69:35 + 72:03 + 58:44 + 63:47 + 57:17] – from classicsonline.com (mp3) or stream from Naxos Music Library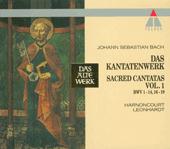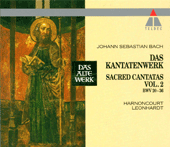 The ground-breaking set of Bach Sacred Cantatas which Teldec recorded with Gustav Leonhardt and Nikolaus Harnoncourt in shared command is no longer available separately or in the ten 6-CD sets on disc, so the availability of both formats as downloads is very welcome. For some time amazon.co.uk and hmvdigital.com have been offering the single albums for prices ranging from as little as £2.79 each up to £6.49, and amazon.co.uk also offer the 6-CD sets for £13.49.

Now classicsonline.com also offer downloads of the Warner labels at a bit-rate of 320kb/s, as opposed to 256 kb/s from their rivals. Though their price of £6.99 per single album is more expensive, music-making of this calibre does benefit from the higher bit-rate and I think it worth spending that little extra. In the case of the 6-CD sets, their price of £13.99 is only marginally more expensive and it's certainly worth paying – that's still only £2.33 per album.

I've already written in positive terms about these performances, for example in the review of Nos.10-12 which I made Bargain of the Month in the May 2012/2 Roundup. There's neither space nor time here to analyse every cantata in detail, but I made several comparisons of Nos.1-14 which feature on Disc 1.

Cantata No.1, Wie schön leuchtet der Morgenstern - how beauteously shines the morning star – is based on the Lutheran chorale of that name and was composed for the Annunciation in 1725. By comparison with Helmuth Rilling's recording with the Gächinger Kantorei and Bach Collegium Stuttgart (Hänssler 92.001, Cantatas 1-3, or as part of the 71-CD set of the complete cantatas, 98.630), Harnoncourt seems on paper a trifle slow throughout, apart from the closing chorus, but the differences between these two fine performances disappear in hearing them. If I'm marginally inclined to prefer John Eliot Gardiner on Volume 21 of his complete series (SDG118 – download from classicsonline.com in mp3 or stream from Naxos Music Library), it's only partly for his employment of generally slightly faster tempi. One of the controversial aspects of the Teldec series concerns the employment of boy trebles for the soprano arias but there need be no worries on that score in Cantata No.1 – try the sample of the full-toned rendition of track 3 or, better still if you can, stream from Naxos Music Library.

Christ lag in Todsesbanden – Christ lay in bonds of death – which opens CD 2, is an Easter Cantata from early in Bach's career, perhaps as early as 1707/8. Bach clearly felt affection for it, since it's the only cantata from this period that he revived in Leipzig – in 1725, in the revised form in which we have it today. There's a very fine performance from the augmented Purcell Quartet, with Emma Kirkby as one of the soloists, on Chandos CHAN0715 (download from theclassicalshop.net, mp3 or lossless: October 2008 Roundup) and it features with other Easter Cantatas on Volume 22 of John Eliot Gardiner's pilgrimage (SDG128 – download from classicsonline.com in mp3) This time the slightly faster pace of the opening Sinfonia on the Teldec recording is indicative of generally slightly brisker tempi throughout than on Chandos and, generally, on SDG. Despite clocking in at 1:08 and 4:18 respectively, against 1:14 and 4:27 on the Chandos recording and 1:24 and 3:58 (SDG), Harnoncourt's Sinfonia and opening Christ lag amply convey the solemn tone of the opening mourning for the death of Christ, which will later be dissipated by the resurrection. Rilling (Hänssler 92.002) is surely a little too brisk in the Sinfonia (0:49) and arguably slightly too funereal in Christ lag (4:39). The virtues of the Teldec, Chandos and SDG recordings are complementary and, despite what I've written, Rilling is also well worth considering.

So far I haven't mentioned the performances which Masaaki Suzuki has been stunning us with on BIS. Cantata No.4 featured on the very first volume of that series:

Cantata No.4, Christ lag in Todesbanden, BWV4 [18:31]
Cantata No.150, Nach dir, Herr, verlanget mich, BWV150 [14:23]
Cantata No.196, Der Herr denket an uns, BWV196 [11:08]
Yumiko Kurisu (soprano); Akira Tachikawa (counter-tenor); Koki Katan (tenor); Peter Kooij (bass)
Bach Collegium Japan/Masaaki Suzuki – rec. 1995. DDD
Pdf booklet with texts and translations included.
BIS-CD-751 [43:51] – from eclassical.com (mp3 and lossless) or stream from Naxos Music Library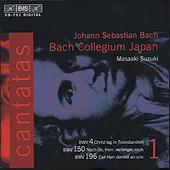 If you were to back me into a corner with a gun to my head to make me choose, it would have to be the BIS recording, the forerunner of a series now almost complete and of the highest distinction. It's not the only consideration, but it is significant that in Cantata No.4 Suzuki chooses a tempo almost exactly midway between the fastest and slowest rival accounts. It comes in lossless flac for the same price as mp3 – you can have both for the one payment – the pdf booklet is part of the deal, and it's unbelievably inexpensive at US$6.58, thereby offsetting the rather short playing time.

Overall, then, you could do much worse than obtain some or all of the 6-CD Teldec sets, especially at the incredibly inexpensive prices, but I would consider reading what my colleagues and I have written in past reviews about some of the more outstanding individual discs issued as parts of other series or as stand-alone versions. The Chandos and BIS recordings of Cantata No.4 are definitely in the worthwhile category but, with no solo soprano sections – no da capo arias at all in these cantatas for the very conservative church at Mühlhausen, though there are some wonderful duets – the inestimable advantage of having Emma Kirkby on the Chandos team becomes less of a consideration.

The remaining volumes in the Teldec series are:

– Volume 3: Nos.37-52, 54-60 – from classicsonline.com (mp3) or stream from Naxos Music Library [see review of Nos.37-40 in December 2010 Roundup and of 48-51 in February 2012/1 Roundup]
– Volume 4: Nos.61-78 – from classicsonline.com (mp3) or stream from Naxos Music Library [see review of Nos.61-63 in Christmas 2009 Roundup]
– Volume 5: Nos.79-99 – from classicsonline.com (mp3) or stream from Naxos Music Library
– Volume 6: Nos.100-117 – from classicsonline.com (mp3) or stream from Naxos Music Library
– Volume 7: Nos.119-137 – from amazon.co.uk (mp3) – apparently not yet available from classicsonline.com
– Volume 8: Nos.138-162 – from amazon.co.uk (mp3) – apparently not yet available from classicsonline.com
– Volume 9: Nos.163-182 – from classicsonline.com (mp3) or stream from Naxos Music Library
– Volume 10: Nos.183-188, 192, 194-199 – from classicsonline.com (mp3) or stream from Naxos Music Library

Johann Sebastian BACH
Cantata No.211, Schweigt stille, plaudert nicht ('Coffee' Cantata) [23:38]
Cantata No.212, Mer hahn en neue Oberkeet ('Peasant' Cantata) [29:39]
Lisa Otto (soprano), Josef Traxel (tenor), Dietrich Fischer-Dieskau (baritone); Choir of St Hedwig's Cathedral, Berlin
Berlin Philharmonic Orchestra/Karl Forster – rec. 1960. ADD/stereo
BEULAH EXTRA 6BX79 [28:38] and 7BX79 [29:39] – from eavb.co.uk (mp3)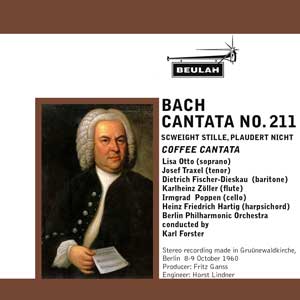 I didn't catch up with these two cantatas until Emma Kirkby and Christopher Hogwood recorded them for Decca Oiseau-Lyre (417 6212: see July 2009 Roundup – download now from hmvdigital.com), but I knew Karl Forster as one of the conductors who broke the mould of po-faced Bach, as witness his recording of the St John Passion, recently reissued by EMI Classics*. The great asset of this reissue is Dietrich Fischer-Dieskau, even more convincing as Herr Schlendrian than David Thomas on the O-L recording of the Coffee Cantata.

I'd hate to have to score these two wonderful versions against each other; I greatly enjoyed both, so I'll merely note that my preference for Fischer-Dieskau is slightly offset by one for Kirkby as against Lisa Otto. With considerable justification the cover of the Beulah release names the accomplished flute, cello and keyboard soloists.

The Peasant Cantata is less immediately appealing and without libretto and translation the rustic dialect is pretty hard to follow – about as impenetrable as that of the Frisian fishermen who, many years ago, tried to tell me that the one ferry of the day to Juist had just left five minutes before my train arrived – but it also receives a lively and appealing performance. Even in 1962 Jeremy Noble was asking for a smaller ensemble and that would be more the way to perform these works now, but I wasn't troubled by the size of the BPO.

With recording quality that's still much more than acceptable and with the two cantatas available separately for those who want only the better-known No.211, these reissues may well be more appealing than the Oiseau-Lyre, especially as they can be yours for just £1.75 each, as opposed to £7.49 for the O-L.

* see March 2012/2 Roundup for a review of the Past Classics reissue of this recording.

Carl Philipp Emanuel BACH (1714-88) Keyboard Concertos: Volume 18
Concerto in F, Wq 43/1 (H 471) [15:20]
Concerto in D, Wq 43/2 (H 472) [23:05]
Concerto in E-flat, Wq 43/3 (H 473) [15:46]
Concerto in c minor, Wq 43/4 (H 474) [12:42]
Miklós Spányi (harpsichord)
Concerto Armonico Budapest – rec. November 2011. DDD.
Cadenzas original (from first print, 1772)
Pdf booklet included
BIS BIS-CD-1787 [68:12] – from eclassical.com (mp3, 16– and 24-bit lossless)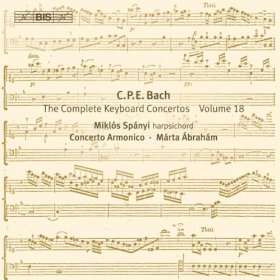 This series now takes up from where it left off three years ago; our last review on the main MusicWeb pages seems to have been mine of Volume 16 in 2008 – here. I reviewed a download of Volume 17 in my March 2011/2 Roundup; download now from eclassical.com (mp3, 16- and 24-bit lossless), the passionato.com link having expired.

On those two volumes Miklós Spányi teamed up with Opus X; now he returns to work as soloist and director with Concerto Armonico. Having employed a tangent piano for parts of the two previous CDs, he also reverts to the harpsichord for these concertos, published in 1772 for reasons which he explains in the booklet – chiefly that the works are described as intended for performance on the Flügel, i.e. harpsichord. The instrument chosen is of Dutch origin, similar to contemporary English design, and is equipped with pedals for changes of registration and a device akin to the swell box of an organ which, together, allow it to sound much larger and more versatile than the keyboards of an earlier generation.

C.P.E. Bach's keyboard concertos are something of an acquired taste but I can't think of a better interpreter than Miklós Spányi to help obtain that taste. Everything here is of the very highest quality – performance, recording, especially in lossless format, and notes – and I look forward to hearing the remaining two concertos from Wq43 before too long has passed, preferably before another three years have elapsed.

Andreas Staier and Petra Müllejans recently gave us all six Wq43 sonatas; they ran to two CDs but they seem to be offered at a special price (Harmonia Mundi HMU902083/4: download for £7.99 from hmvdigital.com). I haven't heard them and we don't seem to have reviewed them on MusicWeb International; though they received a good press, I doubt that they excel the current offering from BIS. I note that Staier seems to be faster than Spányi in the outer movements, but I could hardly wish for more nimble performances than the latter gives us.

Joseph HAYDN (1732-1809) Great Haydn Symphonies
CD 1
Symphony No. 6 in D, Le Matin [22:36]
Symphony No. 45 in f sharp minor, Abschiedssymphonie – Farewell [26:18]
Symphony No. 48 in C, Maria Theresa [26:42]
CD 2
Symphony No. 82 in C, L'Ours – The Bear [25:23]
Symphony No. 92 in G, Oxford [27:11]
Symphony No. 94 in G, Surprise [23:43]
Austro-Hungarian Haydn Orchestra/Adám Fischer
rec. Haydnsaal, Schloß Esterházy, Eisenstadt, Austria, September 1988, April 1989, September 1990, September 1992 and June 1995. DDD.
NIMBUS NI7041/2 [75:57 + 76:43] – purchase from MusicWeb International – here.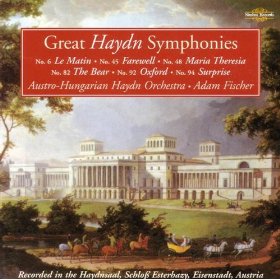 I mentioned this 2-CD set last month in my review of Volume 1 of the complete Nimbus-Adám Fischer symphonies and I'm working on a detailed review for the main MusicWeb International pages, so this is an interim recommendation. The nicknamed symphonies are not necessarily Haydn's best works, but they have always been the most popular, even though most of the names didn't emanate from the composer. This well-filled 2-disc set offers excellent performances of some very attractive music, drawn from all the periods of Haydn's career, well recorded, and all available at an eye-catching price.

Die-hard period-instrument fans would be better served by the (incomplete) series which Roy Goodman and the Hanover Band made for Hyperion, now available separately as CDs and downloads on the budget Helios label, but even they would find modern-instrument playing here that has been influenced by period practice. Be aware that MusicWeb International's price for the CDs of £12, post-paid – link above – is significantly less than the least expensive download that I've been able to locate.

If these CDs make you want the complete set of 104+ symphonies from these performers, MusicWeb International can oblige; the whole set comes on just 8 CDs in mp3 format (NI1722 – review) and can be purchased from the site for £23 post free – find the offer here. For the less ambitious, there's a second inexpensive 2-CD set from this series, offering a selection of the middle-period Sturm und Drang Symphonies on NI7072/3: again the CDs from MusicWeb International are less expensive than any download that I've found.

Joseph HAYDN (1732-1809) Die Schöpfung (The Creation)

No sooner have I positively recommended the new recording of one of my all-time favourites, from Boston Baroque (Linn CKD401), in the previous Roundup than I find myself making two supplementary recommendations, both available from classicsonline.com:

- Soloists; Collegium Vocale Ghent; La Petite Bande/Sigiswald Kuijken – Accent ACC58228/9D (live recording, 1983) from classicsonline.com (mp3). [Due for reissue soon on CD but currently available only as a download.]

- Soloists; Arnold Schoenberg Choir; Vienna Symphony Orchestra/Nikolaus Harnoncourt – Warner Teldec 022924268267 from classicsonline.com (mp3). See review. [N.B. This is not to be confused with Harnoncourt's more recent version on Deutsche Harmonia Mundi.]

Without removing my seal of approval from the Linn recording – still marginally my first choice – these two are well worth consideration, especially the Kuijken, an enjoyable model of how to perform the work on a smaller scale: try them via the Naxos Music Library if you can. At £8.99 the Teldec is little more than half the price of the Accent. Neither comes with the libretto, as the Linn download does, and neither is available in lossless sound, as the Linn is (24-bit, too, and all for a very reasonable price, from mp3 at £8 to Studio Master at £18).

Ludwig van BEETHOVEN (1770-1827)
Piano Concerto No.5 Emperor
Hans Richter-Haaser (piano); Philharmonia Orchestra/István Kertész – rec. 1960. ADD.
BEULAH EXTRA 1-2BX173 [38:08] – from eavb.co.uk (mp3)
[excerpt on YouTube – here.]

Rondo, Op.51/1
Hans Richter-Haaser – rec. 1960. ADD
BEULAH EXTRA 3BX173 [4:32] – from eavb.co.uk (mp3)


When these two works appeared together on a Columbia LP in 1962 the competition, even in stereo, was already intense. EMI intensified it even more with a release at the same time on their inexpensive HMV Concert Classics label of Jacob Gimpel and Rudof Kempe – now forgotten but Edward Greenfield preferred it to Richter-Haaser and Kertész, whose account he thought somewhat bland.

One obvious rival then was Solomon's mono recording with the Philharmonia and Herbert Menges and I've used that as my benchmark here. It's available as a very inexpensive download in the Naxos Classical Archives series – just £1.99 from classicsonline.com; even less from emusic.com. The recording is dry but tolerable, despite the very low bit-rate which emusic.com habitually employ for these vintage recordings. Unfortunately, I cannot comment on the classicsonline.com version – my review downloads and my access to the Naxos Music Library both emanate from the USA, where copyright considerations mean that this recording is not available. The Beulah transfer is more stable and considerably more rounded than the emusic.com of Solomon.

Solomon and Menges polish off the first movement with expedition without ever sounding too hasty – on paper a whole minute faster than Richter-Haaser and Kertész, but comparisons are always invidious when it's not clear which cadenza is employed in either case. There isn't as much difference between the two as EG's review had led me to expect, but Richter-Haaser sounds just a shade less adventurous and free-wheeling; in many ways, this is a safer bet, though slightly more staid and you're less likely to deduce from it how the nickname – employed in Anglophone lands only – came into being.

Both slow movements are delectable; here and in the finale there's little to choose, though the better recording from Beulah tilts the balance decidedly in its favour.

There's a rival reissue of the Richter-Haaser and Kertész Emperor, coupled with the Fourth Piano Concerto, on Testament SBT1299 (rec.1962). If you just want the Emperor, the Beulah version works out much less expensive (£2.50 for the whole work, plus £0.50 for the Rondo).

You'll find some recommendations for more recent recordings of the Emperor in my review of the Sudbin/Vänskä recording of it and Concerto No.4 (BIS-SACD-1758) in the July 2102/2 Roundup.

Ludwig van BEETHOVEN
String Quartet No.3, Op.18/3
Budapest String Quartet – rec. 1958. ADD/stereo
BEULAH EXTRA 4-7BX86 [21:34] – from eavb.co.uk (mp3)

String Quartet No.4, Op.18/4
Budapest String Quartet – rec. 1958. ADD/stereo
BEULAH EXTRA 8-11BX86 [22:07] – from eavb.co.uk (mp3)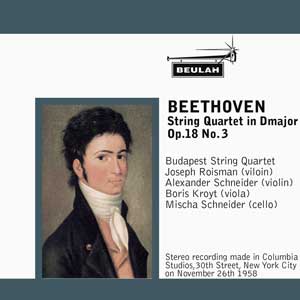 The Budapest Quartet had already recorded these two works on 78s (HMV 1935 and 1941) and again in mono (1950/1), released in the UK on a 10" Philips LP to considerable acclaim, the latter still available on Naxos Classical Archives 9.80110 (not in the USA). When they re-recorded the works a few years later in stereo, it was generally felt that the mono versions offered slightly more insight. Their sharply etched stereo version of Op.120, however, provided my first stunning insight into the late Beethoven quartets and their recordings of those last great works have remained in my unconscious as a benchmark ever since, so I was keen to hear these stereo versions of the earlier Op.18 quartets – just as ground-breaking in their day, though they no longer have the power to surprise the modern ear, as their successors still do.

These performances are not as special as those of the late quartets but at the same time they are less controversial – there's none of the wiry string tone here, for example. If you're looking for sound performances of these two quartets in recording quality which is still much more than acceptable, these downloads could well fit the bill. If, however, you want the complete Op.18 set, my recommendation would be the Takács Quartet on two CDs (Decca 470 8482 – download from hmvclassical.com.)

Ludwig van BEETHOVEN Piano Sonata No.8 in c minor, Op.13, Pathétique)
Rudolf Firkušný (piano) – rec.1955. ADD/mono
BEULAH EXTRA 1-3BX194 [18:09] – from eavb.co.uk (mp3)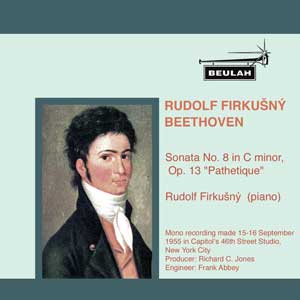 This recording first appeared on the Capitol label in 1957 then re-emerged on a bargain Music for Pleasure LP a decade later, a recommended release, though the coupling, the Moonlight Sonata was less distinguished. Now Beulah make it possible to have the better performance without the coupling and without the disadvantage of having to buy what amounted even then to a short album.

Despite the intense competition now in the Pathétique Sonata, this performance remains recommendable and the piano tone betrays its age only by a slight hint of harshness and lack of ambience.

I'm pleased to see Firkušný's recordings returning to the catalogue, even if Newton's recent misorientation of his Janá?ek recordings left Jonathan Woolf understandably frustrated regarding a set of performances about which he had intended to wax lyrical – review.

Johannes BRAHMS (1833-1897) Tragic Overture, Op.81
London Philharmonic Orchjestra/Sir Thomas Beecham – rec.1937. ADD/mono
BEULAH EXTRA 18BX43 [13:17] – from eavb.co.uk (mp3)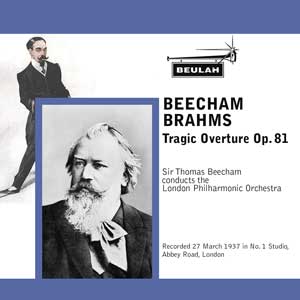 Beecham was a very selective Brahmsian – he conducted the Second Symphony with such aplomb as to bring the house down but never, to the best of my knowledge, recorded the other three symphonies.

This recording of the Tragic Overture received a mixed blessing review in 1937, couched in the kind of language that we don't use for reviews any more – a mixture of high style and chattiness that I couldn't begin to imitate. Certainly neither the performance nor the recording are of the same quality as Beecham's Goldmark (above) – how could they be? – so it's a shame that the CD on which it reached me puts it in the shade by beginning with Beecham at his best in the Rustic Wedding and continuing with the Brahms. Beecham's opening is portentous rather than tragic; the performance is a little inflexible throughout, lacking the grit that Klemperer brought to the work, and the recording, though transferred with silent surfaces, sounds rather shrill. From anyone else this might count as well worth hearing but for the Beecham who brought us the Goldmark Symphony and two good recordings of the Brahms Second it's a trifle disappointing.

Johannes BRAHMS Lieder
Wie Melodien zieht es, Op.105/1 [3:37]
Immer leiser wird mein Schlummer, Op.105/2 [3:07]
Von ewiger Liebe, Op.43/1 [4:19]
Ständchen, Op.106/1 [1:33]
Lisa della Casa (soprano)/Karl Hudez (piano) – rec. 1956. ADD/mono
BEULAH EXTRA 5-8BX187 [times as above] – from eavb.co.uk (mp3)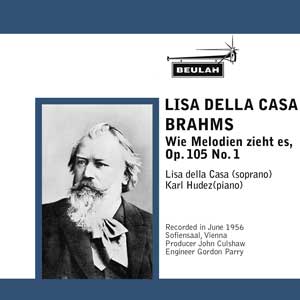 At first I thought these Lieder were taken from the EMI recording made at the Salzburg Festival in 1957 and first released on CDH5 66571-2, but that was with Arpad Sandor as accompanist. These recordings were made the previous year in Vienna and released by Decca on LXT5258. They offer a useful reminder of the delicate sweetness and purity of della Casa's voice but, to be honest, there are other recordings from which I prefer to hear those qualities, not least in Erich Kleiber's recording of le Nozze di Figaro, still my favourite version, with della Casa's Countess one of the chief reasons why. Like Beecham's Brahms, these are good performances but from an artist who could and did achieve much more. My pick of the bunch is Wie Melodien (6BX187) and the great advantage of this Beulah release is that the tracks can be purchased separately; with the Testament CD of these recordings (SBT1341) you have to buy the whole programme of Brahms, Schubert, Richard Strauss and Wolf.

(Louis) Théodore GOUVY (1819-1898)
Requiem, Op.70 [61:31]
Cantate: le printemps, Op.73 [16:12]
Sheri Greenwald (soprano)
Elsa Maurus (mezzo-soprano)
Gerard Garino (tenor)
Manfred Hemm (bass)
Schola Cantorum Wien
Choeur d'Hommes de Hombourg-Haut
La Philharmonie de Lorraine/Jacques Houtmann – rec. June 1994. DDD?
K617 617046 [77:44] – from emusic.com (mp3)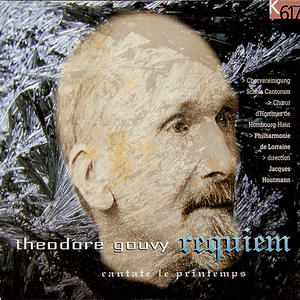 Very little of the music of Théodore Gouvy is available on CD – the symphonies on CPO are an exception – and this premiere recording of these two works appears to have been deleted, so the download is welcome. Though Christopher Fifield thought the performances less than ideal, he nevertheless welcomed the CD version of this recording – review.

The Requiem is a thoroughly workmanlike piece, though far from a match from Verdi's masterpiece from the same year. Surely it would have been better to have placed the Spring Cantata first; it's an attractive enough work and dramatic at times in its own way, but it strikes the wrong note after the Requiem. You can re-order them yourself by carefully renumbering track 09 as 01 and then adding one to the number of each of the other tracks – but be sure to back the files up first in case of accident.

The performances are competent and the recording adequate. The bit-rate is below even the 'minimum' 192 kb/s, which may partly account for the sound being a little cloudy, though I note that Christopher Fifield was less than happy with the recorded acoustic on CD. There are no texts – that of the Tridentine Requiem is easy enough to come by, but not that of the Cantata. There is a score of the latter online – here – but unfortunately the text is an English translation.

Camille SAINT-SAËNS (1835-1921)
Danse Bacchanale from Samson et Dalila [6:44]
Le Rouet d'Omphale, Op. 31 [7:51]
Phaëton, Op. 39 [8:21]
Danse Macabre, Op. 40 [6:36]
La Jeunesse d'Hercule [13:58]
Marche Militaire Française [4:10]
Overture La Princesse Jaune, Op. 30 [5:53]
Une Nuit à Lisbonne, Op. 63 [3:37]
Spartacus: Overture for Orchestra [12:56]
Marche du Couronnement, Op. 117 [6:21]
Royal Scottish National Orchestra/Neeme Järvi – rec. 2011. DDD/DSD
Pdf booklet available
CHANDOS CHSA5104 [76:28] – from theclassicalshop.net (mp3, 16- and 24-bit lossless)



Dan Morgan reviewed the 24-bit version enthusiastically in the May 2012/2 Roundup. As usual, I decided to follow up with the 'ordinary' CD-quality 16-bit version, with the question in the back of my mind if these performances could really be as good as those by Jean Martinon (Decca SXL2252) from which I got to know Danse Macabre and le Rouët d'Omphale (and, incidentally, Ibert's wonderful Divertissement) long ago.

Not only was Dan right to be enthusiastic; I see that this recording has since been made Recording of the Month in another quarter and the recording sounds excellent in its 'ordinary 16-bit version.

Antonín DVOŘÁK (1841-1904)
Cello Concerto No.2 in b minor, Op. 104 [40:03]
Ernst von (Ernö) DOHNÁNYI (1877-1960)
Konzertstück in D for Cello and Orchestra, Op. 12 [24:12]
Raphael Wallfisch (cello)
London Symphony Orchestra/Sir Charles Mackerras – rec. 1988. DDD.
Pdf booklet available
CHANDOS CHAN10715 [64:17] – from theclassicalshop.net (mp3 and lossless)

['Expectations run high for any disc of Charles Mackerras conducting Dvořák, and this one doesn't disappoint.' See review by Gavin Dixon.
'The performance from Raphael Wallfisch is just as satisfying [as that of Rostropovich and Talich] in its own way.' See review by William Hedley]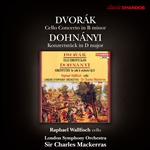 If you're looking for a recording of the Dvořák Cello Concerto and bewildered at the choice of fine versions on offer, you may well decide to choose this one. It would be my own personal choice because:

– I already have the classic Rostropovich/Talich recording, recently reissued on Regis at budget price (RRC1368: Bargain of the Month – see review and review), so I can resist the temptation of Rostropovich's later recording with Karajan (DG Originals 447 4132), especially as I already have their recording of the coupling, the Tchaikovsky Rococo Variations, on an earlier release;

– I like the Chandos coupling of the unjustly neglected Dohnányi Konzertstück – but I'd programme it to play first;

– Mackerras is well-nigh infallible in Czech music – only his slightly languid tempo at the start of the first movement provides a mild irritation – and Wallfisch is fully in tune with Mackerras throughout;

– It's one of the least expensive downloads available and it comes in lossless sound as well as mp3 – but be sure to choose the reissue; the original is still on offer at a higher price.

If you want the Rostropovich/Karajan, the least expensive download is from hmvdigital.com; don't, however, download the Rostropovich/Talich from them, on offer at the time of writing for more than cost of the CD.

By coincidence, another recording of the Dohnányi Konzertstück has just been reissued on Naxos (8.572749, Starker with the Seattle Symphony Orchestra and Gerard Schwarz, coupled with Kodály Hary Janos Suite and Dances of Galanta – download from classicsonline.com).

Sir Edward ELGAR (1857-1934)
Cockaigne Overture (In London Town) [13:10]
London Philharmonic Orchestra/Eduard van Beinum – rec.1949.
BEULAH EXTRA 11BX37 [13:10] – from eavb.co.uk (mp3)

Wand of Youth: Suite No.1 [19:10]
Wand of Youth: Suite No.2 [14:49]
London Philharmonic Orchestra/Eduard van Beinum – rec.1949.
BEULAH EXTRA 16BX37 [19:10] and 17BX37 [14:49] – from eavb.co.uk (mp3)

[from Beulah 2PD15 – see review and review.]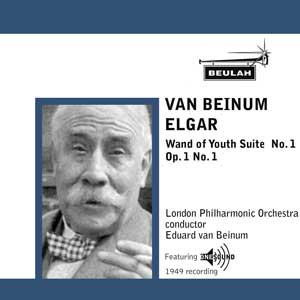 I remember these recordings sounding very fragile on their Ace of Clubs LP reissue (ACL187, with Carl Pini in the Cello Concerto*), so I'm delighted that Beulah have been able to restore them so very effectively, with very little of the shrillness that I recall. The performance of Cockaigne is jaunty and lively and those of the Wand of Youth Suites delightfully idiomatic. In spite of the availability of more recent recommendable recordings – see, for example, my review of the Wand of Youth Suites on Chandos CHAN10422 – these are gems from the past which remind us of van Beinum at his impressive best. At the price these are irresistible.

* already reissued by Beulah – see June 2011/1 Roundup

Sir Edward ELGAR (1857-1934)
Piano Concerto (sketches, drafts and recordings of his Piano Concerto realised for performance by Robert Walker) [36:40]
Suite of Four Edward Elgar Songs (transcribed for orchestra by Haydn Wood) [10:37]
Adieu (orch: Henry Geehl) [2:38]
So Many True Princesses (orch: Anthony Payne) ‡ [6:13]
Spanish Serenade, 'Stars of the Summer Night', Op. 23 ‡ [4:22]
The Immortal Legions(from 'Pageant of Empire') ‡ [4:00]
Anthony COLLINS (1893-1963) Elegy in Memory of Edward Elgar [10:00]
David Owen Norris (piano) †
BBC Singers ‡
BBC Concert Orchestra/David Lloyd-Jones – rec. October 2004. DDD
DUTTON EPOCH CDLX7148 [74:40] – from amazon.co.uk (mp3)

['Dedicated Elgarians will find this irresistible. In fact it really doesn't matter what any critic writes they will have to have this CD. Some purists may object to another reanimation but most will find the prospect of discovering another major 'Elgar work' irresistible.' See review by Rob Barnett: Recording of the Month.]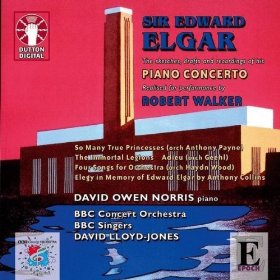 The Piano Concerto is a different animal from the Third Symphony – in some respects the music is more securely Elgarian, since he himself played what had been intended as the slow movement of the complete work and later gave a 2-piano version to Harriet Cohen, but in other respects less so, since he seems not to have known how to organise all the fragments. The right notes but not necessarily in the right order, to quote Eric Morecambe as he slowly destroyed André Previn. Nevertheless, the 'completed' work as it has emerged from Robert Walker's hands gives us a very fair idea of how it might eventually have sounded had Elgar himself worked it through.

It's attractive and memorable music even if it doesn't quite hang together in the same way that the completion of the Third Symphony does. It's in very good company here in the form of Haydn Wood's orchestration of four songs, Henry Geehl's of Adieu, three other Elgar works and Anthony Collins' moving Elegy in memory of Elgar. You won't save very much by downloading and you'll miss out on the notes – just a paragraph or two from the Dutton site: when will other download sites start to emulate theclassicalshop.net, hyperion-records.co.uk and the few other providers who include the booklet? On the other hand, the physical CD is reported as currently out of stock. One way or another, if you haven't already got this recording, I recommend that you obtain it.

Sir Edward ELGAR
Coronation Ode, Op.44 [36:03]
The Spirit of England, Op.80 [30:32]
Teresa Cahill (soprano), Anne Collins (contralto), Anthony Rolfe-Johnson (tenor), Gwynne Howell (bass)
Scottish National Orchestra/Sir Alexander Gibson
CHANDOS COLLECT CHAN6574 [66:45] – from theclassicalshop.net (mp3 and lossless)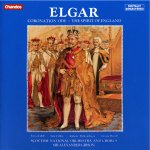 If you heard the Coronation Ode with its earliest version of 'Land of Hope and Glory' at the first night of the 2012 Proms and are looking for a recording, look no further than this inexpensive Chandos version (£4.80 for mp3, £4.99 for lossless, around £5.50 for the CD). The performance is exemplary, the recording wears its years very lightly, and there's an equally recommendable coupling, Elgar's setting of Lawrence Binyon's elegiac poetry from the end of the First World War in The Spirit of England.

The Collect cover is extremely drab and there are no texts, but you can borrow the much snazzier cover from the original (CHAN8430, available in mp3 only) as I have done for the thumbnail. You can also print the texts from the original booklet.

There's another recording of the Coronation Ode on a ridiculously inexpensive and first-rate EMI 6-CD set of Elgar's Choral Music (The Music Makers, Op.69; The Dream of Gerontius, Op.38; The Apostles, Op 49; The Kingdom, Op.51; Coronation Ode, Op 44, Sir Adrian Boult, 3679312, around £20) and on a 3-CD set, Glorious Majesty (EMI 3272852, around £12).

Hugo WOLF (1860-1903)
Italienisches Liederbuch (Italian Songbook) [80:15]
Songs performed in a sequence devised by Steuart Bedford
No. 1. Auch kleine Dinge [2:19]
No. 23. Was für ein Lied soll dir gesungen werden? [1:50]
No. 39. Gesegnet sei das Grün [1:42]
No. 5. Selig ihr Blinden [1:56]
No. 25. Mein Liebster hat zu Tische [1:01]
No. 18. Heb auf dein blondes Haupt [1:47]
No. 15. Mein liebster ist so klein [1:33]
No. 40. O wär' dein Haus durchsichtig [1:27]
No. 32. Was soll der Zorn, mein Schatz [1:52]
No. 8. Nun laß uns Frieden schliessen [1:41]
No. 27. Schon streckt' ich aus im Bett [1:52]
No. 20. Mein Liebster singt am Haus [1:40]
No. 42. Nicht länger kann ich singen [1:31]
No. 43. Schweig einmal still [0:58]
No. 44. O wüßtest du, wie viel ich deinetwegen [1:44]
No. 6. Wer rief dich den [1:15]
No. 22. Ein Ständchen Euch zu bringen [1:24]
No. 12. Nein, junger Herr [0:51]
No. 21. Man sagt mir, deine Mutter [1:20]
No. 37. Wie viele Zeit verlor ich [1:50]
No. 10. Du denkst mit einem Fädchen [1:27]
No. 17. Und willst du deinen Liebsten sterben sehen [2:07]
No. 31. Wie soll ich frohlich sein [1:48]
No. 30. Laß sie nur gehn [1:19]
No. 45. Verschling' der Abgrund [1:32]
No. 2. Mir ward gesagt [1:59]
No. 7. Der Mond hat eine schwere Klag' erhoben [2:05]
No. 16. Ihr jungen Leute [1:05]
No. 3. Ihr seid die Allerschönste [1:25]
No. 38. Wenn du mich mit den Augen [1:49]
No. 9. Daß doch gemalt [2:22]
No. 29. Wohl kenn ich Euren Stand [2:04]
No. 4. Gesegnet sei, durch den die Welt [1:38]
No. 24. Ich esse nun mein Brot [1:39]
No. 35. Benedeit die sel'ge Mutter [3:50]
No. 34. Und steht Ihr früh am Morgen auf [2:47]
No. 41. Heut Nacht erhob ich mich [2:07]
No. 33. Sterb' ich, so hullt in Blumen [2:14]
No. 36. Wenn du, mein Liebster [1:41]
No. 19. Wir haben beide lange Zeit geschwiegen [2:17]
No. 11. Wie lange schon [2:12]
No. 26. Ich ließ mir sagen [1:38]
No. 13. Hoffärtig seid Ihr, schönes Kind [0:45]
No. 28. Du sagst mir, dass ich keine Fürstin [1:14]
No. 14. Geselle, woll'n wir uns in Kutten hüllen [2:10]
No. 46. Ich hab in Penna einen Liebsten [1:03]
Janet Baker (mezzo); John Shirley-Quirk (baritone)
Steuart Bedford (piano) – rec. Aldeburgh Festival, 19 June 1977. Stereo/ADD
Sung texts and translations are available on www.icaclassics.com
ICA ICAC5076 [80:15] – from classicsonline.com (mp3)

(as above but in published numerical order)
Felicity Lott (soprano); Peter Schreier (tenor)
Graham Johnson (piano) – rec. May 1993 and January 1994. DDD.
Pdf booklet with texts and translations included.
HYPERION HELIOS CDH55385 [79:40] – from hyperion-records.co.uk (mp3 and lossless)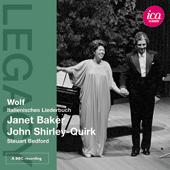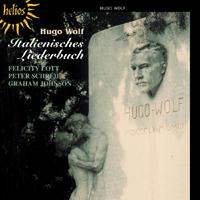 The ICA recording is not a reissue of any earlier recordings of Wolf which Janet Baker and John Shirley-Quirk made, but a previously unissued item out of a 1977 BBC recording from the Aldeburgh Festival. In fact, Janet Baker has only two songs from the Spanish Songbook to her credit in the current catalogue (BBC Legends BBCL40492: download from classicsonline.com or stream from Naxos Music Library) and for John Shirley-Quirk it's his sole current representation in Wolf.

I must admit that I started out with a strong presumption of liking this recording. Both the singers are firm favourites; Janet Baker especially belongs to that small group of musicians who can do no wrong for me. But Felicity Lott and Peter Schreier on the award-winning Hyperion version potentially offer strong opposition and both recordings come with distinguished pianists and, in the event, choice proved as difficult as I had expected.

Hyperion adhere to the published order of the songs, but the ICA recording employs a sequence made by Steuart Bedford. Both open with splendid accounts of Auch kleine Dinge – simple preference or prejudice for Janet Baker's deeper, more reflective approach or Felicity Lott's lighter touch can decide the issue. On ICA a fine account of Was für ein Lied follows; here again John Shirley-Quirk offers a slower, deeper take than Peter Schreier; if I say that the latter is more overt, I certainly don't mean that he, or Lott in No.1, gives us anything at all superficial.

It's six of one and half a dozen of the other throughout these two very fine recordings. I would propose that you really ought to have both, since they are complementary and there's a strong case for having two versions of this superb cycle; otherwise I suggest that you try the samples which are available from each and make your own decision. If I prefer the ICA, that's mere prejudice because Janet Baker is involved; you won't go wrong with either.

The ICA recording has come up well, albeit with some background noise, but the Hyperion is slightly preferable. There is no booklet for the ICA release, but texts and translations can both be downloaded, separately, from icaclassics.com, as indicated above. The Hyperion comes with a high quality booklet.

Hugo WOLF Lieder nach Heine und Lenau
Heinrich Heine:
Liederstrauß [12:03]
Du bist wie eine Blume [1:32]
Wenn ich in deine Augen seh' [1:28]
Mädchen mit dem roten Mündchen [0:50]
Wo ich bin, mich rings umdunkelt [1:34]
Es war ein alter König [2:57]
Mit schwarzen Segeln [0:52]
Spätherbstnebel [3:24]
Ernst ist der Frühling [2:53]
Wie des Mondes Abbild zittert [3:03]
Sterne mit den gold'nen Füsschen [1:46]
Wo wird einst des Wandermüden [2:28]
Nikolaus Lenau:
An ***: O wag es nicht, mit mir zu scherzen [2:50]
Traurige Wege: bin mit dir im Wald gegangen [4:57]
Nächtliche Wanderung: Die Nacht ist finster, schwül und bang [4:40]
Herbst: Nun ist es herbst, die Blätter fallen [3:15]
Frage Nicht: Wie sehr ich dein, soll ich dir sagen? [2:35]
Herbstentschluss: Trübe Wolken, Herbstesluft [4:46]
Abendbilder: Friedlicher Abend senkt sich aufs Gefilde [9:17]
Stephan Genz (baritone), Roger Vignoles (piano) – rec.2002. DDD
Pdf booklet with texts and translations included.
HYPERION HELIOS CDH55389 [67:10] – from hyperion-records.co.uk (mp3 and lossless)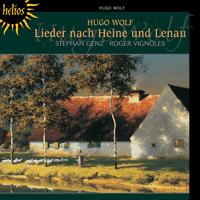 These songs are not as well known as the Italian and Spanish Songbooks and the Eichendorff Lieder, the latter my favourite Wolf opus. Nor are they so often recorded and, to be honest, it must be admitted that there's very little here that approaches the quality of those three collections. They are, nevertheless, attractive and they receive idiomatic performances and recording here and the booklet, with its picturesque cover, as usual, is first class. Try Ernst ist der Frühling on Hyperion's free July 2012 sampler – here.



Claude DEBUSSY (1862-1918)
Nocturnes: Nuages – Fêtes – Sirènes [21:09]
Concertgebouw Orchestra, Amsterdam/Eduard van Beinum – rec.1958. ADD/stereo
BEULAH EXTRA 15-17BX37 [21:09] – from eavb.co.uk (mp3)



I enjoyed these performances; the Beulah release is especially welcome since the Philips Duo and European Eloquence reissues seem to have disappeared – even ArkivMusic report very low stocks of the latter. Has Nuages, especially the opening, ever been performed with greater delicacy? Amazingly, Trevor Harvey, no less, in 1960 thought this performance dull but I have to disagree – de gustibus non est disputandum. It's easy to become fixed on one performance and it seems that Ansermet's admittedly first-rate version, now on Eloquence 480 0127 (2 CDs – see Bob Briggs' enthusiastic review) had become TH's benchmark to the extent that nothing else would do. The flip side of van Beinum's gentler approach is that Fêtes sounds just a little tame until things get going, while Sirènes is evocatively performed, with the ladies' voices of the Amstel choir doing their stuff. I can agree with Trevor Harvey that the recorded sound is not exciting, but it's clean and clear and it's come up well in Beulah's transfer.

Ralph VAUGHAN WILLIAMS (1872-1958)
Symphony No.2 A London Symphony
London Symphony Orchestra/André Previn – rec. 1971. ADD
Pdf CD cover and liner notes included
HIGH DEFINITION TAPE TRANSFERS HDDL340 [46:20] – from highdeftapetransfers.com (24/96 and 24/192 lossless)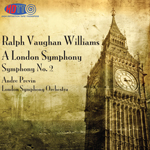 This is not the first time that I've given high praise to HDTT's resuscitation of Andre Previn's golden years with the LSO. There are details in Previn's interpretation that I don't hear even in the classic Barbirolli recording and the Chandos recording with Hickox, though all lovers of VW's music should obtain both of these, especially as the Chandos uniquely contains the original score before the composer pruned it. (CHAN9902 – review and complete symphonies on CHUSB0008 – review) Thanks to HDTT, too, there are details in the recording that I don't remember from the RCA Gold Seal reissues on LP and CD. The sound is opened out now so as almost to fool the listener into thinking this a new-minted recording; there's just a touch of heaviness in the bass to indicate otherwise. At $12.00 and $18.00 (24/96 and 24/192 respectively) the price is not at all exorbitant.

Ralph VAUGHAN WILLIAMS
On Wenlock Edge for tenor, piano and string quartet (1906-09)* [21:51]
Piano Quintet in c minor (1903-05) [29:22]
Romance and Pastorale (before 1914) [8:36]
Mark Padmore (tenor)*
Schubert Ensemble – rec. 2007. DDD
Pdf booklet with texts available
CHANDOS CHAN10465 [60:03] – from theclassicalshop.net (mp3 and lossless)

['[T]his … Chandos disc is an outstanding release and admirers of Vaughan Williams can invest with complete confidence.' See review by John Quinn.]

Merciless Beauty [6:22]
Searching For Lambs [2:40]
The Lawyer [1:42]
Ten Blake Songs [18:13]
Along The Field [15:59]
On Wenlock Edge [21:30]
John Mark Ainsley (tenor)
The Nash Ensemble
Pdf booklet with texts included.
HYPERION CDA67168 [66:26] – from hyperion-records.co.uk (mp3 and lossless)

A Shropshire Lad: Three Song Cycles to Words by A.E. Housman
Ralph VAUGHAN WILLIAMS (1872-1958) On Wenlock Edge* [22:28]
Ivor GURNEY (1890-1937) The Western Playland** [24:01]; Ludlow and Teme* [20:02]
Adrian Thompson (tenor)*; Stephen Varcoe (baritone)**; Delmé Quartet; Iain Burnside (piano) – rec. 1989. DDD.
Pdf booklet with texts included.
HYPERION HELIOS CDH55187 [69:08] – from hyperion-records.co.uk (mp3 and lossless)

['Though I have one or two reservations about this issue it is nonetheless a very welcome release, particularly for the Gurney cycles, and all lovers of English song will want to hear it'. See John Quinn's review of the original full-price release.]

['Thompson and Varcoe are good performers who present these songs well and clearly. Songs as evanescent as these need a light touch'. See review by Anne Ozorio.]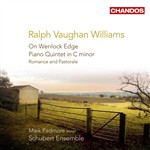 I briefly recommended the Chandos recording back in the December 2008 Roundup on the basis that I had purchased the download myself in mp3 format before MusicWeb International reviewers had access to Chandos downloads. That remains a strong contender, but it creates problems concerning couplings; not everyone will want Wenlock Edge and the Piano Quintet together, not least if they own the 2-CD Hyperion set with the Nash Ensemble which contains the Quintet (CDA67381/2 – review: Recording of the Month).

Does Adrian Thomson on Hyperion Helios perhaps try just a little too hard to bring out the drama in Wenlock Edge and end up sounding slightly strained as a result? I fear that, to quote Housman, 'Oh, 'tis true, 'tis true'. John Mark Ainsley on the other Hyperion recording achieves greater drama with less obvious effort; for that reason alone his version would be preferable, but his voice is also more ingratiating overall. His is a strong contender, the strength of which is increased by the inclusion of the Blake Songs and Merciless Beauty. The quality of his singing makes this, for me, preferable to Ian Partridge's EMI vintage coupling of these three works, now included with music by Warlock on 9689392, a budget twofer: download from amazon.co.uk, but be aware that you may find the CDs for around the same price (around £6.50). Both Hyperion recordings are good; the more recent full-price release is the more natural.

Ernest John MOERAN (1894-1950)
Sketches for Symphony No.2 in E flat (c.1939-50) (Realised and completed by Martin Yates, 2011) [33:14]
John IRELAND (1879-1962)
Sarnia: an island sequence for orchestra (1940-41) (orch. Martin Yates 2011) [21:00]
Ernest John MOERAN Overture for a Festival (c.1930-35): Allegro (orch. Rodney Newton 1994 rev. 2011) [5:11]
Royal Scottish National Orchestra/Martin Yates – rec. Glasgow Royal Concert Hall, 21-22 June and 2 August 2011: World Premiere Recordings
DUTTON EPOCH CDLX7281 [59:26] – from iTunes (mp3)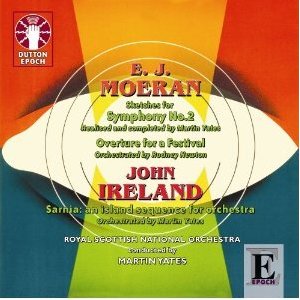 Martin Yates' reconstruction of the Moeran Second Symphony is a very valuable addition to the catalogue, almost on a par with Anthony Payne's completion of Elgar's Third Symphony. Having it coupled with the orchestrations of the Overture for a Festival and Ireland's Sarnia, inspired by his love of the Channel Islands, makes for a highly recommendable recent release – yet another reason for lovers of 20th-century British music to be thankful to Dutton. I have to purchase these Dutton downloads myself, with no review access, ample testimony in itself to their quality.

Though it's high time that iTunes (and amazon.co.uk) upped their bit-rates from 256kb/s, the download of the generously proportioned recording sounds well. There is no booklet with the download, but you will find some worthwhile notes on the Dutton Vocalion website – here.

If you haven't yet obtained Sir Adrian Boult's recording of Moeran's Symphony in g minor and Sinfonietta, now's the time to do so. (SRCD.247 – from emusic.com or amazon.co.uk (both mp3): see reviews by Jonathan Woolf – here – and MWI Classical Editor Rob Barnett (Recording of the Month) – here. The mp3 transfer is good.

Francis POULENC (1899-1963)
Gloria [26:21]
Concerto in g minor for organ, strings and timpani [22:32]
Rosanna Carteri (soprano), Maurice Duruflé (organ)
Chorus and Orchestra of the French National Radio/Georges Prêtre
PAST CLASSICS [48:53] – from emusic.com (mp3)



I can recommend this only with considerable reservation. The performances are excellent – still among the very best that these works have ever received: see Dominy Clements' review of an ArkivMusic reissue of the EMI CD on which they once featured – but the recording has either been poorly transferred or the download is let down by the shamefully low bit-rate which emusic.com have accorded it. The Gloria is dry and undernourished though just acceptable, but the wavery transfer of the Organ Concerto from the second side of the original LP simply won't suffice. That LP was described as 'brilliantly engineered' but I can't possibly apply that description to this download. Moreover, though the LP was released in stereo, it appears to be from a mono copy that the transfer was made and one that shows signs of wear, especially towards what would have been the end of side 2. It may cost only £0.84 or less, but I can't recommend it.

If you want this version of the Gloria, amazon.co.uk can oblige with a download of the EMI Encore reissue for £3.49, coupled with Barbara Hendricks in the Stabat Mater.

Preferable downloads for the Organ Concerto would include:

– Marie-Claire Alain with the Bamberg SO/Jean-Jacques Kantorow on Erato Apex 2564619122, with music by Jean Alain and Maurice Duruflé – review: download from hmvdigital.com

– Marie-Claire Alain coupled with the Saint-Saëns 'Organ' Symphony (No.3), with the ORTF/Jean Martinon, on an alternative Apex release (8573892442) – download from amazon.co.uk

– Olivier Latry with the Philadephia Orchestra/Christoph Eschenbach (Ondine ODE1094-5, with the Saint-Saëns 'Organ' Symphony) from classicsonline.com

– Philippe Lefèbvre with the Lille National Orchestra/Jean-Claude Casadesus (Naxos 8.554241, coupled with the Concert champêtre and Suite française) from classicsonline.com

All these can be streamed from Naxos Music Library.