"Why do I go into the dark, frozen cells of criminals with the poet of Crime and Punishment? Into the minds of criminals and there I find a spark of God. You will not wipe away the crimes from their brow, but equally you will not extinguish the spark of God. Into what depths it leads - how much truth there is in his work! See how the old man slides down from the oven, shuffles to the corpse, makes the sign of the cross over it, and with a rusty voice sobs the words: 'A mother gave birth even to him!' Those are the bright places in the house of the dead."
From a note found in Janáček's clothing after his death.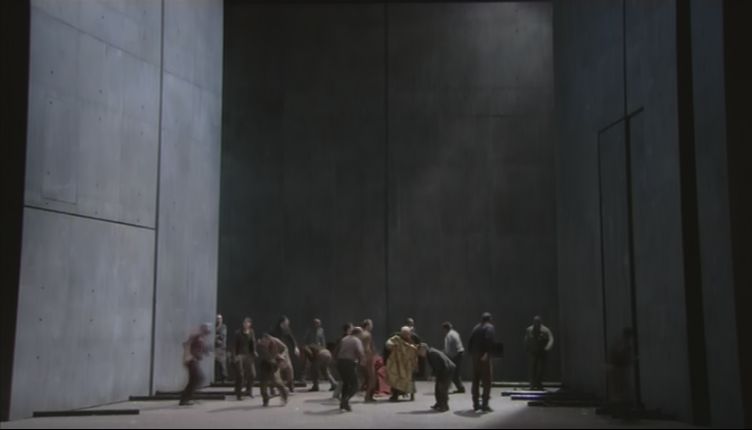 If opera DVDs come much better than this, then I shall be very surprised. I'd go as far as saying in fact, that this disc is a timely reminder of why we bother with opera at all: when so much of it is poorly sung and played these days, and when so many opera productions come out as posturing nonsense staged by inept directors searching desperately for 'significance'. Ironically of course, it was Patrice Chéreau's production of the 1980 Bayreuth Ring that started the trend for director-led opera, but he had the good sense to collaborate closely with Pierre Boulez resulting in an unusual but arresting production which is still well regarded to this day.
Dostoevsky's semi-fictionalised account of his experiences in penal servitude in a Siberian prison camp, Memoirs (sometimes Notes) from the house of the dead, serves as the source for Janáček's libretto. Dostoevsky records his time spent as a political prisoner under Czar Nicolai I, initially having been sentenced to death for his crime, though in fact serving only four years of his commuted sentence between 1850 and 1854 followed by a further six years of internal exile during which he was banished from St Petersburg. Much of his religious hope sprang from this incarceration - at least in part - and the character Alexandr Petrovič Gorjančikov, the aristocratic prisoner who is also released early in the plot of From the House of the Dead, is clearly modelled on Dostoevsky himself.
So far as I can see this is the only DVD recording of Janáček's least performed opera, which would be valuable in itself if that was its only merit. But the disc has much more to offer because it is an extremely faithful account of the most recent – and very likely the last - collaboration between Boulez and Chéreau, after which Boulez announced his decision to conduct no more opera. When the production was staged in Vienna and Amsterdam before reaching the Aix en Provence festival in 2007, it attracted almost universal critical acclaim for both the production and for the music. It will travel to the New York Metropolitan Opera in late 2009 and to Milan's Teatro La Scala in the following Spring.
The opera recounts the arrival of the nobleman Gorjančikov in prison, which is also home to a wounded eagle - deliberately a wooden toy in Chéreau's adaptation. After particularly brutal treatment by the prison Commandant, Gorjančikov befriends the boy prisoner Aljeja who is stabbed by another inmate and later dies. Three prisoners recount the crimes that landed them in prison, the inmates are brought gifts by local villagers at Easter and perform two bawdy plays, as well as taking comfort from a visiting local prostitute. Ultimately, Gorjančikov is released with grovelling apologies from the Commandant, more motivated by fear than remorse one suspects. The eagle is healed and released too, but for the rest of the inmates nothing else changes. Most will die in prison, like Aljeja and the bully Luka Kusmitch, who is given his come-uppance by the murderer Šiškov.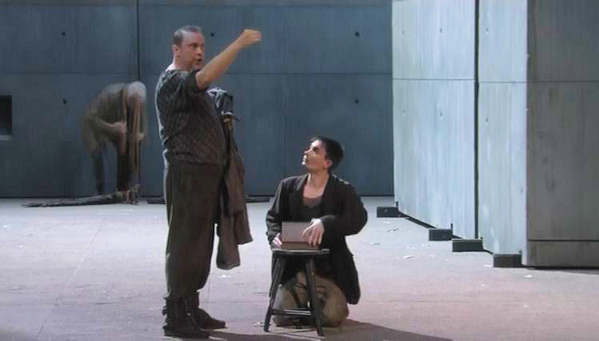 What Chéreau's production does is to bring this little known opera completely alive. Setting the action within a walled chamber rather than in the Siberian countryside produces a sense of timelessness: the prison could be anywhere and in any century, even the present day. There is a huge cast of soloists and chorus and with extras added there are 75 people on stage at times, mostly the prisoners and their guards. But even so, the main characters stand out as personalities, some violent, some humane and some simply hopeless victims clinging on to survival as best they know how. The action is always gripping and involving, so that even without an interval - which is how the piece should be performed - the hour and a half or so that the production lasts simply flies along. There can be very few opera productions better directed than this.
Boulez's conducting is never less than magnificent too. This is one of those rare performances which feels special from its opening moments and the Mahler Chamber Orchestra play marvellously throughout. The singing is faultless with not a note out of place to my ear either from the soloists or the immaculately disciplined Arnold Schoenberg Choir. Like many of Janáček's other operas this one has no set 'arias' at all, but the composer's famous speech-melodies are there in profusion set in a rich tapestry of his familiar tonal/ modal harmonies. This is the culmination of Janáček's operatic writing - which of course he never heard performed himself - and uses the critical edition by Sir Charles Mackerras and John Tyrrell.
Such is the standard of excellence from all the principals - including the veteran tenor Heinz Zednik, still in fine voice for his small part as the Old Prisoner - that it is almost invidious to single people out for special mention. Even so, Olaf Bär (Gorjančikov, the nobleman), the German tenor Erik Stoklossa (Aljeja), - an unusual but wholly sensible choice as the part was written for mezzo-soprano - John Mark Ainsley (Skuratov), Gerd Grochowski (Šiskov) and Jiři Sulženko (The Commandant) all give bravura performances as both consummate singers and actors, to whom singing in the Czech language seems as natural as breathing. This is wonderful casting for a remarkable opera which leaves only a single question in my mind: however can I get over to New York next year?
Bill Kenny
see also Erik Chisholm's The Operas of Leos Janáček: Chapter 1