Download News 2013/2

Brian Wilson
Reissue of the Month

Jean SIBELIUS (1865-1957) Classic Sibelius
Four Legends: Lemminkäinen's Return [6:38]
Danish National Radio Symphony Orchestra/Thomas Jensen – rec.1953. ADD/mono
Violin Concerto in D, Op.47 [30:23]
Jan Damen (violin)
London Philharmonic Orchestra/Eduard van Beinum – rec. 1952. ADD/mono
Symphony No.2 in D, Op.43* [43:53]
London Symphony Orchestra/Pierre Monteux – rec.1959. ADD/stereo
BEULAH 1PD57 [37:03 + 43:53] – from iTunes (mp3)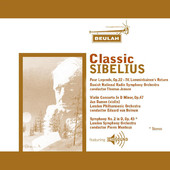 This really does offer what it says on the tin, but it's a little unfortunate that the Beulah release partly duplicates the contents of a Decca Eloquence 2-CD set (442 9487: Recording of the Month – review) containing Eduard van Beinum's Sibelius recordings – the Violin Concerto, as here, plus En saga, Tapiola and Finlandia – and Thomas Jensen's complete Four Legends, not just the fourth included here. Rob Barnett described that set as a box of discoveries and delights and that's equally true of the Beulah reissue where they overlap. I can't pretend that the sound of the Violin Concerto is fresh minted – it's somewhat shrill, occasionally almost to the point of distortion – but it's well worth hearing for this performance, new to me as it was for Rob Barnett and equally welcome by both of us.

By most unfortunate timing, Pierre Monteux's Sibelius has also just reappeared, again from Australian Decca (Eloquence 480 6568), the Second Symphony, as here, with Lorin Maazel's Karelia Suite. It was his only Sibelius recording and it's good enough to make me wish that he had done more. The seeds of the music were germinated in Rapallo, Italy, and Monteux's performance famously emphasises those Mediterranean connections in Sibelius's only symphony that begins in a comparatively sunny mood and is, justly, his most popular. There may be plenty of sunshine at Monteux's hands, but there's plenty of the Tchaikovsky-like yearning that contributes to the work's popularity, too. Remember that Monteux also made a good recording of Tchaikovsky's Fourth Symphony, formerly available on RCA Victrola and recently reissued in 24-bit sound by High Definition Tape Transfers – here.

I haven't heard any of the Eloquence transfers but I doubt if they improve on Beulah's; the Monteux recording still sounds especially well. The whole package comes as a download for £7.99, only a few pence more than you would expect to pay for the single Eloquence CD containing the symphony alone, so excellent value if you want these three works and not any of the Decca couplings.

If you want Anthony Collins' classic Sibelius symphonies, often regarded as benchmarks, albeit in more dated early-50s mono, Beulah have those too on another album available from iTunes. (14PD8 – review, review and May 2010 Roundup. The 4-CD set remains available from eavb.co.uk). For a more recent recording of No.2, I'd choose Osmo Vänskä with the Lahti Symphony Orchestra (BIS-CD-862, with Symphony No.3) which I rather prefer to his more recent Minnesota recording – see February 2012/1 Roundup. It sounds like a cliché but there's much more of the frozen North and less of the Mediterranean warmth about Vänskä's interpretation so, ideally, you need both him and Monteux.

Bargains of the Month

Richard STRAUSS (1864-1949)
Also sprach Zarathustra, Op.30 [33:01]
Till Eulenspiegels lustige Streiche, Op.28 [14:38]
Tod und Verklärung, Op.24 [22:24]
Salome, Op.54: Dance of the Seven Veils [8:22]
Don Juan, Op.20 [16:06]
Ein Heldenleben, Op.40 [49:17]
Der Rosenkavalier, Op.59: Waltz Sequences (Acts II & III) [17:45]
Dresden Staatskapelle/Rudolf Kempe – rec.1970s. ADD
EMI MASTERS 6783122 [2 CDs: 2:42:37] – from sainsburysentertainment.co.uk or stream earlier reissue from Naxos Music Library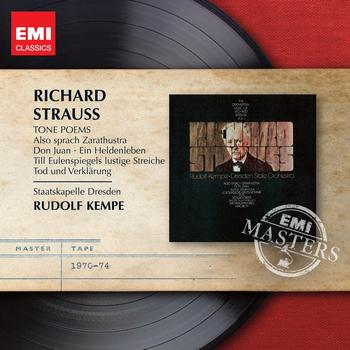 Unless you wish to go for the complete and very inexpensive 9-CD set of Rudolf Kempe's Strauss from Brilliant Classics*, this 2-CD compilation is well worth considering. It's yours for just £7.99, in 320 kb/s mp3, though without the booklet. The opening of Zarathustra is a little tame by comparison with a comparable 2-CD bargain set of similar vintage from Bernard Haitink and the Concertgebouw orchestra**; otherwise Kempe just has the edge, though you would do very well with either. Both recordings have worn well, too.

If you justwant Zarathustra, Till Eulenspiegel and Tod und Verklärung from Kempe, sainsburysentertainment.co.uk have that, too, for just £2.99. Or, if it's Kempe's two Dons and Till Eulenspiegel that you're looking for in his earlier Berlin Phil recording, they come on a recommendable Regis budget CD – review and Roundup.

Alternative bargain recommendations include: Till and Heldenleben from Daniel Barenboim (Warner Erato Apex – review) and Don Juan, Till and Tod from Szell (Sony – from amazon.co.uk for £2.67: see May 2009 Roundup).

* 9 CDs which form the first part of the even larger 35-disc set which Rob Barnett reviewed – here.
** Zarathustra, Don Juan, Ein Heldenleben, Till Eulenspiegel, Tod und Verklärung (all Concertgebouw/Haitink) and the two suites from Rosenkavalier from Eugen Jochum from hmvdigital.com (£7.49)

Richard STRAUSS (1864-1949)
Der Rosenkavalier
Elisabeth Schwarzkopf (soprano) – Marschallin
Otto Edelmann (bass) – Baron Ochs
Sena Jurinac (mezzo) – Octavian
Erich Kunz (baritone) – Herr von Faninal
Anneliese Rothenberger (soprano) – Sophie
Vienna Philharmonic Orchestra/Herbert von Karajan – rec. 1960.
Director: Paul Czinner
Picture: 1.66:1
Stereo 2.0
Region 2
Sung in German with English subtitles
PARK CIRCUS DVD PC0021 [183.05 + bonus trailer] – from amazon.co.uk
Also available in blu-ray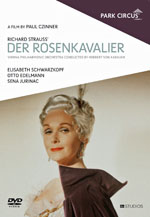 This is not the same performance as that on CD from EMI but was filmed at the Salzburg Festival in 1960. It was, in fact, my introduction to the work and I'm very pleased to be reacquainted with it after all these years in this restored version at such an attractive price (around £12 for DVD or blu-ray). The performance remains first class, perhaps even better than the CDs, though they, too, make an attractive purchase in their latest garb (EMI Opera 668242, 3 CDs for around £19 or Brilliant Classics 9085, around £10: Bargain of the Month – review). Elisabeth Schwarzkopf, superb as the Marschallin, and Otto Edelmann, completely at home in a form of Austrian German that might as well be double Dutch even to most accomplished German speakers, are common to the CD and DVD sets, and the other roles are filled with equal accomplishment in both formats.

The colour remains realistic; though the sound is slightly faded, even with a volume boost, and inevitably inferior to the CDs, originally recorded four years earlier, it's certainly much more than tolerable when played via an audio system. The picture, in 1.66:1 format, almost, but not quite, fills a modern 16:9 screen – slim black bars at each side of the screen remain. There's no documentation at all apart from a very brief and not totally coherent summary on the back of the DVD case.

If you must have a more recent digital recording, another EMI CD set conducted by Bernard Haitink is well worth considering – download only, £8.99 from sainsburysentertainment.co.uk: see my review of the (deleted) CDs.
***
Heinrich SCHÜTZ (1585-1672) Cantiones Sacræ (1625)
Dresdner Kammerchor/Hans Christoph Rademann – rec. February 2012. DDD
CARUS 83.252 [55:05 + 53:26] – from eclassical.com (mp3 and lossless, no booklet) or stream from Naxos Music Library (with booklet)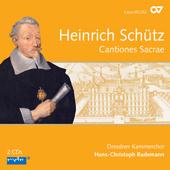 Published at the height of the devastating Thirty Years War, these devotional works are somewhat sparer in texture than his Italian models, though less so than Schütz's passion settings. It's deeply moving music in the right hands and that's where it is here, well performed and well recorded. Earlier volumes in the series have been well received and the new performances match them: Geistliche Chormusik – review and review; Musikalische Exequien – review; Geistliche Gesänge – review. All these are available in mp3 from classicsonline.com; I hope that eclassical.com will add some or all them to their catalogue in lossless sound.

The eclassical.com download comes in mp3 and lossless – you can download one and return for the other – for $19.47, but there's no booklet. Classicsonline.com have the booklet but their download comes in mp3 only and, at £15.98, is slightly more expensive at current exchange rates. If you have access to Naxos Music Library, the booklet – such as it is, a mere four pages – can be downloaded and printed there. The back cover, in white print on light orange, is likely to be illegible unless your printer and paper are both top notch.

Arcangelo CORELLI (1653-1713) Trio Sonatas
Op.1/9 [5:22]; Op.2/4 [6:40] and 12 [2:51]; Op.3/12 [6:38]; Op.4/3 [6:58]
Violin Sonatas, Op.5/3 [10:44], 11 (arr. viola da gamba) [7:42] and 12 (La Folia) [9:56]
The Purcell Quartet with Richard Campbell (cello) – rec. May 1986. DDD.
Pdf booklet included.
HYPERION HELIOS CDH55240 [57:02] – from hyperion-records.co.uk (mp3 and lossless)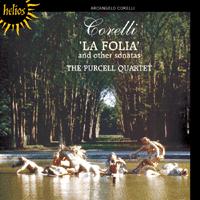 If, probably after getting to know his Op.6 Concerti grossi*, you're looking for a single-disc introduction to the chamber music of Corelli, the Purcell Quartet on Hyperion will do very well indeed, with examples of his Op.1 and Op.3 Trio Sonatas (sonate da chiesa), the Op.4 sonate da camera and two of his Op.5 Violin Sonatas, including the famous la Folia so greatly beloved by baroque composers. With good recording, a Hyperion booklet of the usual high standard and at budget price, this is the place to begin.

* see my review of the recent set on Linn CKD411, SACD or Studio Master download.

Having fallen in love with this wonderful music, you may wish then to proceed to a more complete set. If you choose to go the whole hog in one go, you could do much worse than purchase the 4-volume Chandos set of Op.1-4 (4 CDs at a special price) or download them one by one from theclassicalshop.net. Volumes 3 and 4 cover Op.3 and Op.4 between them:

Op.3/1 [6:17], 2 [7:08], 3 [5:07], 4 [6:04], 5 [5:43], and 6 [5:42]
Op.4/1 [6:07], 2 [6:14], 3 [7:30], 4 [7:01], 5 [5:30] and 6 [6:03]
The Purcell Quartet with Jakob Lindberg (theorbo) – rec. 1990 and 1992. DDD.
Pdf booklet available.
CHANDOS CHACONNE CHAN0526 [75:49] – from theclassicalshop.net (mp3 and lossless)

Op.3/7 [6:08], 8 [5:43], 9[5:11], 10 [4:31], 11 [5:15] and 12 [6:52]
Op.4/7 [6:02], 8 [4:14], 9[7:27], 10 [4:30], 11 [6:39] and 12 [4:57]
The Purcell Quartet with Jakob Lindberg (theorbo and archlute) – rec. 1990 and 1992. DDD.
Pdf booklet available.
CHANDOS CHACONNE CHAN0532 [68:56] – from theclassicalshop.net (mp3 and lossless)

[Individual volumes may also be downloaded collectively or separately at a slightly lower price from a 4-CD set CHAN0692]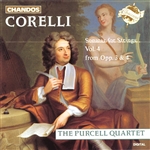 The Purcell Quartet's performances on Chandos are every bit as fine as their earlier recordings on the Hyperion selection and by interweaving two sonate da chiesa and two sonate da camera throughout the two CDs Chandos achieve an excellent variety and balance between the two types. They now give the two works which overlap from the Hyperion recording, Op.3/12 and Op.4/3, a little more time to breathe, which makes them sound less energetic and more dignified. I like them either way. (Track 40, the first track of Op.3/12 broke off short as originally downloaded but the beauty of theclassicalshop.net is that you can go back to your purchases at any time. Downloading the track again, separately, worked the trick.)

Ensemble Aurora recorded a selection of the Op.1 and Op.3 sonate da chiesa some time ago for Tactus; now they add a recording of the complete Op.4 sonate da camera on the Glossa label:

Op.1/5 [6:47], 9 [7:16], 11 [6:00] and 12, [7:50]
Op.3/4 [8:09], 9 [7:17], 11 [6:32] and 12 [9:13]
Ensemble Aurora/Enrico Gatti – rec. 1986. DDD.
TACTUS TC650301 [59:39] – from eclassical.com (mp3 and lossless) or stream from Naxos Music Library (with pdf booklet)

CD1
Op.4/6 [6:46], 12 [6:30], 4 [8:10], 5 [7:50], 1 [6:56] and 10 [6:00]
CD2
Op.4/3 [10:06], 8 [5:33], 7 [9:45], 9 [7:14], 2 [7:39] and11 [6:37]
Ensemble Aurora/Enrico Gatti – rec. June 2012. DDD.
Pdf booklet included
GLOSSA GCD921207 [2 CDs: 42:20 + 43:45] – from classicsonline.com (mp3) or stream from Naxos Music Library.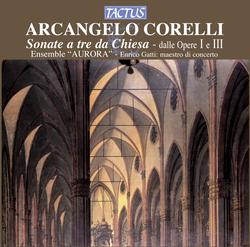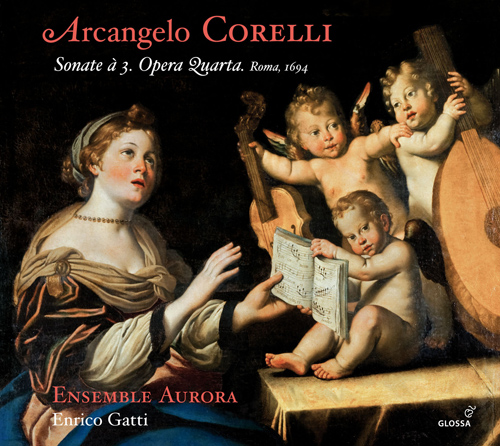 It's a shame that the broader tempi and more generous repeats adopted by Ensemble Aurora mean that they have to run to two CDs for Op.4; could they not have filled the space with the Op.3 sonatas that were not included on the earlier Tactus release? As things stand, these are two very short CDs – and, indeed, the Tactus disc, with eight sonatas, is not much better value, though eclassical.com's price per second policy partly takes care of that. The fairly short time on the Hyperion recording is more excusable in view of the price advantage.

Op.3/12 is approximately 50% longer from Ensemble Aurora than on either of the Purcell Quartet's recordings but their forward rhythm means that I didn't feel that their performances are unduly drawn out or over-deliberate. What is lost in impetus is gained in even greater dignity than on the Chandos recordings – but be warned that if you like your baroque music fast and furious neither of these Aurora recordings will be your cup of tea.

The Tactus recording is the same age as the Hyperion; over a quarter of a century has rolled by since they were made, yet both sound good as new in lossless form from their different suppliers.

If the Hyperion recording has moved you to explore the Trio Sonatas, there's one more treat in store in that the three works on that album from Op.5 might well make you feel like exploring all the Violin Sonatas from that set – and there's an inexpensive way to do so in the form of two Naxos recordings, Nos.1-6 on 8.557165 and 7-12 on 8.557799 – the latter was one of my earliest recommendations on MusicWeb International – here – and the downloads of both CDs from classicsonline.com are equally desirable.

Antonio VIVALDI (1678-1741) Concerti per violino vol. 1
Concerto in D, Grosso Mogul (RV 208) [15:07]
Concerto in g minor (RV 332) [09:43]
Concerto in D, l'Inquietudine (RV 234) [06:22]
Concerto in c minor, Il Sospetto (RV 199) [09:08]
Concerto in B flat, La Caccia (RV 362) [07:40]
Concerto in E, Il Riposo (RV 270) [07:31]
Enrico Onofri (violin)
Academia Montis Regalis/Alessandro de Marchi – rec. June 2005. DDD
NAÏVE OPUS111 OP30417 [55:33] – from eclassical.com (mp3 and lossless) or stream from Naxos Music Library

['a winner in every respect' – see review by Johan van Veen: Recording of the Month.]

[NB: This download is not currently available, so I can't include a link; at the time of writing there was a problem with track 2 – a rogue track from another Naïve Vivaldi recording, of Dixit Dominus, had found its way onto the album. By the time that you read this review the correct track should have been substituted.]

Bassoon Concertos Volume 3
Bassoon Concerto, RV 485 in F [12:29]
Bassoon Concerto, RV 502 in B flat [12:11]
Bassoon Concerto, RV 474 in C [10:16]
Bassoon Concerto, RV 480 in c minor [11:06]
Bassoon Concerto, RV 494 in G [11:45]
Bassoon Concerto, RV 475 in C [12:36]
Sergio Azzolini (bassoon)
L'Aura Soave Cremona – rec. April 2012. DDD.
NAIVE OPUS 111 OP30539 [70:23] – from eclassical.com (mp3 and lossless, no booklet) or stream from Naxos Music Library (with booklet)

Violin Concertos
Concerto for violin, strings and basso continuo, in F, Op. 4/9, RV 284, 'La Stravaganza' [9:04]
Concerto for violin, strings and basso continuo, in G, Op. 4/12, RV 298, 'La Stravaganza' [12;10]
Concerto for violin, strings and basso continuo, in g minor, Op. 9/3, RV 334, 'La Cetra' [11:34]
Concerto for violin, strings and basso continuo, in E, Op. 9/4, RV 263a, 'La Cetra' [11:05]
Concerto for violin, strings and basso continuo, in d minor, Op. 9/8, RV 238, 'La Cetra' [11:16]
Concerto for violin, strings and basso continuo, in A, Op. 9/2, RV 345, 'La Cetra' [9:58]
Ensemble La Partita/Sulamit Haecki (violin) – rec April-May 1996. DDD
HÄNSSLER CLASSIC CD 94.006 [65:07] – from eclassical.com (mp3 and lossless) or stream from Naxos Music Library

['This is indeed a marvellous release from Hänssler Classic' – see review by Michael Cookson.]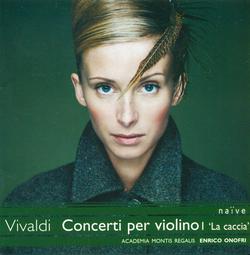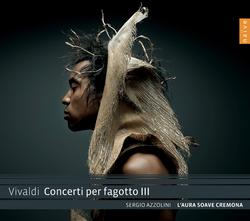 These two Naïve/Opus 111 recordings are doubly welcome: first, for the quality of the music and performances and secondly because they mark the availability of a first batch of Naïve/Opus 111 downloads from eclassical.com; hitherto available from the likes of classicsonline.com in mp3 only (albeit usually very good mp3), eclassical.com now offer them in 16-bit flac, too, for the same price as mp3. With eclassical.com's price-per-second policy, too, the price is generally comparable with or slightly less than what others ask for mp3 only.

Only the lack of booklets reduces their desirability – classicsonline.com and Naxos Music Library have the notes for the new Bassoon Concertos (released January 2013) but not those for the earlier violin recording.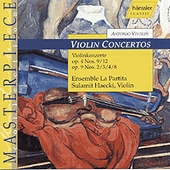 The Hänssler recording of two concertos from La Stravaganza, Op.4, and four from La Cetra, Op.9, is also highly recommendable; it's one of the most vigorous recordings of Vivaldi that I've ever heard. This time the eclassical.com download comes with the booklet and the only reservation, which I share with Michael Cookson, is that both the Op.4 and Op.9 collections both contain twelve wonderful concertos, so you will almost inevitably find yourself wanting other recordings of each.

You're in luck in both cases: from a strong field for Op.4 the Channel Classics recording with Rachel Podger tops the list (CCS19503, 2 CDs – November 2011/1 Roundup: Recording of the Month) and from a slightly smaller but still strongly competitive list for Op.9, it's Channel Classics again (CCSSA33412, Rachel Podger and Holland Baroque Society, 2 CDs – June 2012/1 Roundup: Recording of the Month). Both can be downloaded in mp3, 24/44.1, 24/96 and 24/192 lossless and even DSD at competitive prices – effectively a two-for-one offer in each case.



Beulah have released a programme of Vivaldi Concertos as 1PD54 – all previously reviewed by me as Beulah Extra downloads but now offered together on iTunes for £7.99. Decent versions of the Four Seasons are conducted by Hermann Scherchen – see June 2011/1 Roundup – while RV105, RV118, RV425 and RV164 are taken from the ground-breaking recordings made by the New York Sinfonietta with Max Gobermann – March 2011/1 Roundup: there are elements of period practice before the period-instrument movement really got underway. All the recordings are in decent stereo and date from 1959.

Joseph HAYDN (1732-1809)
Symphony No.6 in D (Le Matin) [20:04]
Symphony No.12 in E [14:27]
Symphony No.13 in D [17:38]
Symphony No.14 in A [12:54]
Symphony No.24 in D [16:45]
Vienna State Opera Orchestra/Max Goberman – rec. 1959-61. ADD/stereo
BEULAH 1PD55 [83:54] – from iTunes (mp3)

Symphony No.41 in C [17:58]
Symphony No.51 in B-flat [20:25]
Symphony No.56 in C [28:12]
Vienna State Opera Orchestra/Max Goberman – rec. 1960-62. ADD/stereo
BEULAH 2PD55 [68:45] – due shortly from iTunes (mp3)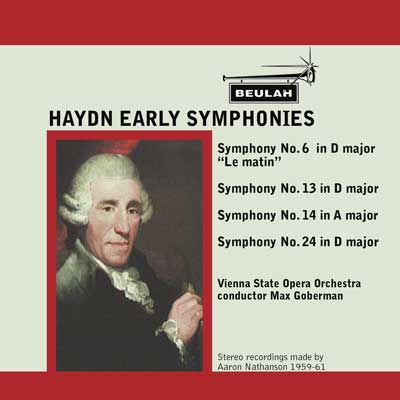 Two of these stylish recordings of Haydn symphonies from Max Goberman have already appeared separately on Beulah Extra releases: Nos. 6 (24-27BX112) and 13 (28-31BX112) – see April 2012/1 Roundup and the only reason not to welcome the four recorded on 1PD55 would be that you have already purchased those two downloads.

This version of Le Matin appeared in 1969 on CBS Classics (Columbia Odyssey in the US), in company with Nos. 4 and 5, part of a planned series of ground-breaking recordings for the Library of Recorded Masterpieces using HC Robbins-Landon's edition, but sadly one which had been interrupted by Goberman's death in 1962. CBS never even got as far as issuing what had been recorded – like the Roy Goodman series on Hyperion, the project remained incomplete and to the best of my knowledge the Beulah reissues have no current competition. The performances are a little larger in scale than we are used to nowadays, despite the (barely audible) harpsichord but eminently stylish. The VSOO were never the world's greatest but they play very well here and the recordings are very much more than adequate.

The middle-period symphonies are just as desirable. The use of the Robbins Landon edition places all these recordings ahead of their time textually – though Beecham's performances of the London Symphonies from around this time are superb, they are based on corrupt texts – and in many ways Goberman was foreshadowing period-instrument Haydn. Scholarly, stylish, sprightly and still sounding well; what's not to like?

Wolfgang Amadeus MOZART (1756-1791)
Piano Concerto No.11 in F, K413 [23:07]
Piano Concerto No.12 in A, K414 [25:54]
String Quartet No.4 in C, K157 [13:37]
Janina Fialkowska (piano)
Chamber Players of Canada – rec. 2007. DDD.
ATMA SACD22531 (also available as ACD22518) [62:44] – from eclassical.com or theclassicalshop.net (both mp3 and lossless, with booklet from the latter)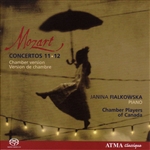 Mozart made chamber-size reductions of four of his early piano concertos, Nos. 11 to 14, a form in which they sound well. Unfortunately, all four can't be fitted on one CD but would make too short a 2-CD set, so the usual solution is to record three only, as in the case of the Hyperion recording of 11-13 (CDH55333) which I reviewed in the January 2013/1 News and the Channel Classics of 11, 13 and 14 (CC0990) which I also mentioned in that review.

The alternative is to make two discs but to fill each with another work, as Atma have done here and on their forthcoming release of Nos. 13 and 14 on ACD22532 (available to stream only, from Naxos Music Library, at the time of writing) with an early string quartet as the filler here and eine kleine Nachtmusik on the second CD.

These Atma performances are good, but they don't have the character of Susan Tomes and the Gaudier Ensemble on Hyperion or Jos Immerseel and Musica Eterna on Channel Classics– that's judging them by very high standards, but playing and recording seem a trifle faceless and dutiful by comparison. Tempi are not the whole story but Fialkowska is almost always slower than Tomes or Immerseel, especially in the central movements; more to the point, the zest of the Tomes and Immerseel recordings seems lacking here. The covers of both CDs show a tightrope walker but I wish there had been more of a sense of feeling that the performers had been on that tightrope instead of sounding too gemütlich. On their own the Chamber Players produce a more lively version of the string quartet, but that's not enough to influence my overall reaction of mild disappointment.

I'd recommend that you stay with the Tomes and Immerseel recordings, then, even at the expense of duplicating two concertos, or that you go for the Chandos recordings of the full-scale versions:

– No.12 with No.19 on CHAN9256 [51:45]
– No.13 with No.24 on CHAN9326 [56:18]
– No.14 with No.27 on CHAN9137 [55:01]

Wolfgang Amadeus MOZART (1756-1791)
Divertimento No. 11 in D, K. 251 (1776) [25:48]
Divertimento No. 17 in D, K. 334 (1779/80) [48:01]
Cologne Chamber Orchestra/Helmut Müller-Brühl – rec September 2011. DDD.
Pdf booklet included
NAXOS 8.570990 [73:49] – from classicsonline.com (mp3 or lossless) or stream from Naxos Music Library

[Also available as Naxos Das Meisterwerk 8.551288]

Divertimento No 10 in F, K247 [30:54]
Divertimento No 17 in D, K334 [43:41]
The Gaudier Ensemble – rec. October 2003. DDD.
Pdf booklet included
HYPERION CDA67386 [74:35] – from hyperion-records.co.uk (mp3 and lossless)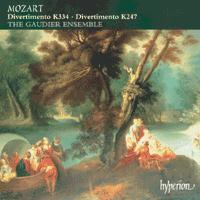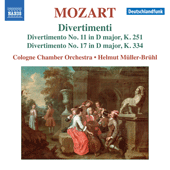 The Divertimento No.17, K334, is one of Mozart's greatest achievements in this genre and there have been several fine recordings, from the early days of LP onwards. The Vienna Octet version remains available as a download, the least expensive version of which comes via Discover Classical Music at £2.52 from emusic.com, though I can't vouch for the quality. A safer source is the 2-CD Eloquence reissue (480 4328 – review).

Of the two performances here the Gaudier Ensemble, an offshoot of the Chamber Orchestra of Europe, just has the edge, but that's not to disparage its rival. The Naxos performance is all that we've come to expect from Helmut Müller-Brühl in music of this period: stylish and reliable, though hardly earth-shattering. There's nothing stolid about the playing; there's even something of a Viennese lilt.

On Naxos K334 is preceded by a sprightly performance of a less well known but very enjoyable work, K251, and on Hyperion by its equally enjoyable predecessor, K247. In each case the choice of filler can safely decide which version to buy. Otherwise the classicsonline.com version of the Naxos costs only £4.99 against Hyperion's £7.99, but the latter comes in lossless sound as well as mp3.

If you're looking for 24-bit sound, there's an excellent alternative version of K334 from the Scottish Chamber Orchestra Ensemble (Linn CKD376); you'll find a comparison between that and the Gaudier Ensemble on Hyperion in my November 2011/1 Roundup. If you want K334 with its associated march, it has to be the Linn recording or the ASMF with Neville Marriner on Volume 2 of the Philips complete Divertimenti and Serenades – download from deutschegrammophon.com (mp3 or lossless).

Franz von SUPPÉ (1819-1895)
Overture to Leichte Kavallerie (Light Cavalry, 1866) [6:33]
Overture to Boccaccio (1879) [6:51]
Boccaccio-Marsch (1879) [2:36]
Overture to Pique Dame (1864) [6:45]
Humoristische Variationen (1848) [5:46]
Overture to Dichter und Bauer (1846) [9:26]
Marziale nach Motiven aus der Operette 'Fatinitza' (1876) [4:24]
Overture to Das Modell (1895) [6:35]
Über Berg, über Thal (date uncertain) [2:35]
Overture to Isabella (1869) [7:28]
Overture to Die schöne Galathée (Beautiful Galatea, 1865) [6:51]
Juanita-Marsch from the operetta Donna Juanita (1880) [4:39]
Overture to Ein Morgen, ein Mittag und ein Abend in Wien (Morning, noon and night in Vienna, 1844) [8:08]
Banditenstreiche (1867) [7:08]
March from Fatinitza (1876) [2:45]
Royal Scottish National Orchestra/Neeme Järvi – rec. 17-18 April 2012, Royal Concert Hall, Glasgow, UK. DDD.
Pdf booklet included
CHANDOS CHSA5110 [79:42] – from theclassicalshop.net (mp3, 16-bit lossless, Studio 24/96 stereo and surround)



How we marvelled at Decca's Charles Dutoit/OSM recordings from the early days of digital, among them a fizzing collection of Suppé overtures. Here was a partnership – albeit short-lived – whose blend of sophistication and showmanship was every bit as novel as those shiny new silver discs. Indeed, the Gallic hauteur of their Suppé collection, not to mention Andrew Cornall and John Dunkerley's tinglesome sonics, makes this the one to beat. True, the digital brightness is very noticeable alongside the warmth and amplitude of this high-res newcomer from Chandos, but musically matters aren't so clear-cut.

The opening fanfare to Järvi's Light Cavalry overture is as thrilling as it gets – the percussive shockwaves will take your breath away – but for all that Dutoit and his band have more of the snort and swagger of a mounted parade about them. Moreover, the OSM brass has a lustre and unanimity of attack that suits this music supremely well; by contrast the RSNO players sound slightly less secure, and Järvi's phrasing isn't quite so disciplined either. The 'Boccaccio' overture – one of the many pieces not included on the Dutoit collection – is a splendid piece, but there's a veiled quality to the sound that tends to soften leading edges and blur the bass.

In many ways this new recording is not that surprising, as it confirms Järvi as a no-nonsense conductor with a tendency to cruise through the score and then over-rev the climaxes. It's undeniably visceral, but much of the colour and nuance of Suppé's music is sacrificed in the process. The Boccaccio-Marsch is much more successful, the strong, thudding bass a muscular counterpoint to the transported brass. Sadly, it's in the longer pieces that Järvi's lack of empathy for these scores is all too evident. Take his'Pique Dame' overture for instance, which just sounds so mundane next to Dutoit's fresh, thoroughly spontaneous reading.

You'll search long and hard for such felicities of detail and phrasing in Järvi's rather heavy handed approach to this or any of the more familiar showpieces. He made a much better job of capturing the unique flavour of Saint-Saëns' orchestral bon bons in his most recent outing than he does here. Perhaps if we hadn't had the benefit of Dutoit's flair and insight Järvi's collection would be rather more welcome. Thankfully Dichter und Bauer has some glowing moments – what a pity the cello soloist isn't credited – but they're just too few and far between. Järvi also pulls the music about too much, which makes for an uncomfortable and even vertiginous ride.

Regrettably the rest of this recording is just as disappointing, and the over-prominent bass tends to tether these frisky scores. Other reviewers have praised Chandos' sonics, but then perhaps they're happy to accept the chimera of a hi-fi presentation rather than seek out musical substance. Take the shifting moods of Ein Morgen, ein Mittag und ein Abend in Wien for instance; Järvi's turns out to be a dull day in the delightful capital compared with Dutoit's deliciously swoopy and eventful one. And while those bandits sound jolly enough there's little of the point and sparkle one expects here.

It's all rather dispiriting. Indeed, there's an air of routine to this release that extends to the inaccurate claims – on the website – of a playing time of 88:30. Järvi and the RSNO were rightly celebrated in the 1980s and 1990s – remember those fine Strauss and Shostakovich cycles – but many of their newer recordings are just too easily forgotten.

Dan Morgan
http://twitter.com/mahlerei

My memories of Suppé on record go back further than Dan's, to Sir Georg Solti with the VPO on full-price Decca and with the LPO in mono on Ace of Clubs. Various inexpensive download reissues of these have appeared on sundry labels – inexpensive, that is, until you note the very short playing times – but I can't vouch for any of them. The most reliable is likely to be the mp3 download of the CD until recently available on Decca Eloquence, with additional items from Charles Dutoit, from amazon.co.uk. They also have the Dutoit recording, but that's better purchased for the same price in better 320kb/s sound from hmvdigital.com – rather short value these days at just under an hour.

On the new Chandos recording there's plenty to enjoy but, like Dan, overall I was disappointed by performances of which I had considerable expectations – there's not quite enough oomph here, to use a technical expression. Nor is the 24/96 recording quite as good as we've come to expect from Chandos – all a little too plush to make the expected impact. Shouldn't the castanets at the start of Isabella (tr.10) be more audible, for example?

For some reason, track 10 failed to download in full when downloading the complete album but Chandos allow you to return to all the downloads in your history and retry; in this case downloading the track singly did the trick.

[For a much more positive view of this recording please see review by Rob Barnett.]

Music by the Strauss Family

With the New Year's Concert from Vienna a not too distant memory, mid January seems a good time to recommend some recordings by the Strauss Family. By the time that you read this the 2013 concert should be available [released on CD by Sony on 14 January; DVD and blu-ray on 21 January], but here are a few that I prepared earlier.

The obvious place to turn to, of course, must be the recordings which Willi Boskovsky made with the Vienna Philharmonic for Decca, based on the annual concerts which he conducted from the violin, from the death of Clemens Krauss until 1979. There's a 6-CD set of these on 455 2542 for around £30, not, I think available for download, though hmvdigital.com have a pretty comprehensive 5-CD selection for £10.99 – better value than the 2-CD selection from the same source for £11.99; who works out these prices? The recordings are mostly ADD.

There's another highly enjoyable 5-CD set of his recordings with the Johann Strauss Orchestra of Vienna – a group drawn mainly from the VPO – which overlaps with his last years at the New Year helm and continued until the 1980s. This time the label is EMI: 5745282 (around £16 on CD) and there's a mix of ADD and DDD recordings. There's a 2-CD anthology from this set to download for £5.99 from sainsburysentertainment.co.uk. If you're looking for an inexpensive single album to sample, amazon.co.uk have an hour-long selection from the EMI Boskovsky recordings for £2.19.

I see that there are various download releases of the wonderful recordings of music not only by the Strauss family but by Mozart, Schubert, Lanner, etc., which Boskovsky made with his own chamber-size ensemble for Vanguard; I treasure the CDs, which are no longer available in the UK but I can't vouch for the quality of the downloads. With titles such as Bonbons aus Wien/Vienna Bonbons and Vienna Lollipops, they really do melt in the mouth.

Marco Polo have recorded the complete works of Johann II and Josef and are currently adding those of their father, Johann I – up to Volume 23 when I last counted. The orchestras all come from parts of the former Austro-Hungarian Empire, Austria, the Czech Republic and Slovakia plus a few items from Poland, and the performances are consistently reliable, often much more. Classicsonline.com offer the whole series in mp3 but only specialists are likely to want the lot, so it's important to pick and choose.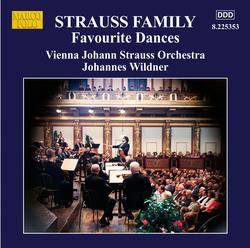 There's a good selection on Marco Polo 8.225353 [65:50] not, as I originally thought, excerpted from the series but a new (2012) recording by Johannes Wildner, who played a major role in that series, but with the Vienna Johann Strauss Orchestra – download from classicsonline.com (mp3, with pdf booklet) or eclassical.com for around the same price but in mp3 and lossless, without booklet, or stream from Naxos Music Library, whence the pdf booklet may also be obtained. (Actually, at $11.76, the eclassical.com version works out slightly less expensive than classicsonline.com's £7.99.) The performances go with a Viennese lilt and the lossless recording is especially vivid.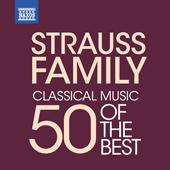 A more comprehensive yet less expensive place to start to explore this series would be with a selection of the 50 'best' from the sister label Naxos: 9.40281, a remarkable bargain from classicsonline.com with almost 5 hours of music drawn from the Marco Polo series for £5.49. If the single album is not enough and 5 hours seems too much, there's a Naxos 2-CD set – 8.552115/6 – but, at £9.98 from classicsonline.com (mp3 only) that costs almost twice as much as the larger collection, so there's really no contest.

After one of these samplers, try listening to some of the series from Naxos Music Library if you can, before downloading the albums of your choice from classicsonline.com or, if you must have lossless, for a little extra from eclassical.com. The latter option may cost a little more but you can download the lossless tracks, then come back for the mp3 for your personal player – it's possible to burn four volumes on one CDR in mp3 format for playing in the car on a long journey, for example – in fact, I've done just that for my own use:

– Johann Strauss I Volume 18 (8.225238 Slovak Sinfonietta/Ernst Märzendorfer) from classicsonline.com (mp3)
– Johann Strauss II Volume 28 (8.223228 Czecho-Slovak State PO/Johannes Wildner) from eclassical.com (mp3 and lossless)
– Johann Strauss II Volume 51 (8.223279 Slovak Radio SO/Jerome Cohen) from eclassical.com (mp3 and lossless)
– Josef Strauss Volume 17 (8.223619 Slovak State PO/Ernst Märzendofer) from eclassical.com (mp3 and lossless)

As you can see, the series actually spans the break-up of the former Czechsolovakia.

The Strauss Family in London
Johann STRAUSS I Huldigung der Königin Victoria von Grossbritannien, Op. 103 [8:02]
Frederika Polka, Op. 239 [2:55]
March of the Royal Horse Guards [2:32]
Alice Polka Op. 238 [2:54]
Almack's Quadrille, Op. 243 [5:09]
Exeter Polka, Op. 249 [2:08]
Johann STRAUSS III Krönungs-Walzer, Op. 40 [6:30]
Johann STRAUSS II Erinnerung an Covent-Garden, Op. 329 [7:30]
Potpourri-Quadrille [5:26]
Eduard STRAUSS Old England for ever Polka, Greeting Valse, on English Airs, Op. 239 [4:44]
London Symphony Orchestra/John Georgiadis – rec. 1989. DDD.
Pdf booklet included
CHANDOS ENCHANT CHAN7128 [55:43] – from theclassicalshop.com (mp3 or lossless) or stream from Naxos Music Library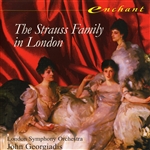 At £4.80 (mp3) or £4.99 (lossless) this is an inexpensive purchase but there's nothing cheap about the performances or recording. With an unusual programme of music composed by members of the Strauss dynasty over a period of years, from Johann I who arrived in London in 1838 to Johann III, son of Eduard, celebrating the 1902 coronation, the appeal of the music for British audiences is obvious. Erinnerung an Covent Garden (memories of Covent Garden) is a romp, a pastiche of English Music Hall songs, including Champagne Charlie and the Man on the Flying Trapeze, and you'll find Rule Britannia lurking inside the opening Homage to Queen Victoria.

John Georgiadis and the LSO made something of a speciality of performances of music of the Strauss family; their playing is idiomatic – not surprising for a violinist who had a memorable youthful encounter with Willi Boskovsky – and the recording still sounds well. On CD this Enchant reissue has been superseded by one in the Collect series for around £5 (CHAN6691), but that's available in download form only as an mp3, so this Enchant release is the one to go for. It is, indeed, what I was looking for when I recommended the Collect download of this album in my July 2009 Roundup. Ignore the link that I gave there; it will take you nowhere.

There's another budget-price reissue of Strauss Family music from the LSO and Georgiadis on Musical Concepts Alto ALC1070 [78:00] – no overlaps with the Chandos album. Download with pdf booklet from classicsonline.com (mp3) or stream from Naxos Music Library.

Samuel BARBER (1910-81)
Concerto for Cello and Orchestra, Op.22 (1945) [26:48]
Sonata for Cello and Piano, Op.6 (1932) [18:00]
Adagio for strings, Op.11 (1936) [8:25]
Christian Poltéra (cello)
Bergen Philharmonic Orchestra/Andrew Litton conductor
Kathryn Stott (piano)
rec. July and October 2009 and January 2012. DSD.
Pdf booklet included
BIS BIS-SACD-1827 [54:10] – from eclassical.com (mp3, 16– and 24-bit lossless)

Samuel BARBER Cello Concerto, Op.22 [28:52]
Dmitry SHOSTAKOVICH (1906-1975) Cello Concerto No.1 in E-flat, Op.107 (1959) [29:58]
Raphael Wallfisch (cello)
English Chamber Orchestral/Geoffrey Simon – rec. October 1982
Pdf booklet included
CHANDOS CHAN8322 [58:50] – from theclassicalshop.net (mp3 and lossless)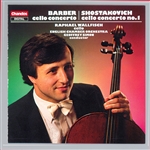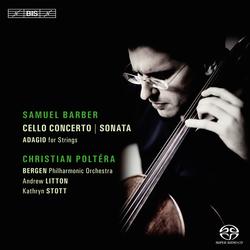 Barber's Cello Concerto is far less well known and has been less often recorded than his Violin Concerto, perhaps because it's less immediately appealing than its sibling; like Shostakovich, Barber marked the end of World War II without overt celebration, in Barber's case with wistfulness, but the music rewards the effort of getting to know it. Hitherto my choice has been Wendy Warner with the RSNO and Marin Alsop on Naxos (8.559088 – review and review; also as part of a 6-CD collected works 8.506021 – review and review) and that remains a strong recommendation, not only for its attractive price (download from classicsonline.com for £4.99) but also for the programme, which includes the suite from Barber's opera Medea.

All three movements are taken more briskly on Christian Poltéra's new recording from BIS than on Naxos or Chandos. Of the versions that I know, only Ralph Kirshbaum with the Scottish CO and Jukka-Pekka Saraste is a shade faster in the first movement and they are slower in the remaining movements than Poltéra and partners (Classics for Pleasure, with Violin Concerto, Agnus Dei and Adagio, a snip at £2.99 from sainsburysentertainment.co.uk). I think that the first movement in particular benefits from being taken at around the speed adopted on BIS and CfP. It's slightly faster still on the classic performance by Zara Nelsova with the composer himself conducting (Naxos Historical).

These small differences apart, I could be happy with any one of these performances of the concerto, so price and coupling should safely settle your choice. The Classics for Pleasure reissue of the Kirshbaum performance is the least expensive and the coupling of the Violin Concerto adds to its appeal.

The Naxos is also inexpensive at £4.99 from classicsonline.com and comes with booklet and has that interesting Medea coupling. Shostakovich's Cello Concerto No.1 makes a tempting coupling on Chandos – unless you already have, say, the Rostropovich performance of the Shostakovich – that, too, on the Regis label comes at an attractive price. The new BIS recording is the only one available as a 24-bit download – the Chandos is lossless, but 16-bit only – and the coupling with the Cello Sonata is logical, especially as this, too, receives a good performance. If that still leaves you feeling confused, you can sample all four versions from the invaluable Naxos Music Library.

Benjamin BRITTEN (1913-1976)
On This Island, Op.11 (1934) [13:22]
The Holy Sonnets of John Donne, Op.35 (1945) [24:05]
Seven Sonnets of Michelangelo, Op.22 (1940) [16:53]
Canticle I: My Beloved is Mine, Op.40 (1947) [7:30]
James Gilchrist (tenor), Anna Tilbrook (piano) – rec. March 2011. DSD
pdf booklet with texts included
LINN CKD404 [62:16] – from linnrecords.com (SACD, mp3, 16– and 24-bit lossless)

[for full details see review by Em Marshall-Luck : Recording of the Month]



This is not the first time that I've sounded the praises of James Gilchrist and I doubt that it will be the last. Here he doesn't just sing; he thinks himself vocally into the meaning of the words in such a way that you sometimes feel that two voices are involved, and he's extremely well supported by Anna Tilbrook. All that I really need to do is to refer you to Em Marshall-Luck's review and to add that the 24/96 flac version sounds very well indeed – at £18 it's only a little more expensive than the SACD or the CD-quality 16-bit download.

Of the works recorded here the Holy Sonnets of John Donne are my favourite for the intensity of the poetry and the setting – what a shame that the metaphysical poets, especially Donne and Herbert, are so much less in fashion now than when Britten composed the music – but these performers brought me to a deeper understanding of all the music here, including the varied moods of On this Island, a Britten work which has hitherto eluded me.

Gilchrist's notes offer a very valuable vade mecum to the music, though I'm surprised to see that the obvious homo-erotic appeal for Britten of Michelangelo's poetry – and his statue of David, illustrated on the cover – is not mentioned; it's not a subject that there's any need to be coy about nowadays, as it would have been in 1940.

I'm currently listening to two other recent Britten recordings: the Cello Symphony, Sonata and Suites from Hyperion, with Alban Gerhardt as soloist (CDA67941/2) and another James Gilchrist recording of Les Illuminations and other works for tenor, plus the Variations on a Theme of Bridge (Channel Classics CCSSA32213). I'm not yet sure how I rate these against established competitors, including Rostropovich (Decca) in the cello works, Felicity Lott and Anthony Rolfe Johnson (Chandos) and Toby Spence (Linn) in the vocal works, so I'm going to reserve judgement on these till my next Download News.

Benjamin BRITTEN (1913-1976)
Noyes Fludde, Op.59 [51:03]
A Ceremony of Carols, Op.28 [21:38]
Jeffrey Dyball (harp)
Benjamin Luxon, Catherine Wyn-Rogers, David Wilson-Johnson
The Finchley Children's Music Group
Mole Valley Handbell Ringers
BBC Concert Orchestra/NicholasWilks – rec July and October 1997. DDD.
SOMM SOMMCD212 [72:26] – from theclassicalshop.net (mp3 and lossless)



It's a bit late (or should that be early?) to be reviewing a recording of the Ceremony of Carols, but it's mainly for Noyes Fludde that I've included this among my first Benjamin Britten reviews in his centenary year. The recording itself was produced to celebrate an anniversary – the 40th of the Finchley Children's Music Group.

It doesn't replace the Decca recording of Noyes Fludde, conducted by Norman del Mar in 1961 and coupled with Britten's own performance of The Golden Vanity, but it makes a good supplement to it and many will prefer the coupling, which also receives a good performance though there is, of course, any number of good recordings of the Ceremony. The recording is good, especially in lossless format, but it benefits from a small volume boost.

The lack of a booklet is a problem but the text of the Chester play which forms the basis for the libretto – acted appropriately by the waterleaders and drawers of Dee who provided the city's water – is available online here.

Antony HOPKINS (b.1921)
Portrait of a Composer: Music written by and in honour of Antony Hopkins – rec 2011. DDD/ADD
DIVINE ART DDA21217 [67:37 + 57:52] – from theclassicalshop.net (mp3 and lossless, no booklet) or classicsonline.com (mp3, with booklet containing notes and some of the texts) or stream from Naxos Music Library

[For full details please see review by John France and review by Jonathan Woolf]

Anthony Hopkins Talking about Music
César FRANCK Symphonic Variations [14:25]
BEULAH EXTRA 1BX232 – from eavb.co.uk.
Ludwig van BEETHOVEN Symphony No.5 [13:58]
BEULAH EXTRA 2BX232 – from eavb.co.uk.
Edward ELGAR Enigma Variations [14:46]
BEULAH EXTRA 3BX232 – from eavb.co.uk.
Wolfgang Amadeus MOZART Symphony No.41 (Jupiter) [15:13]
BEULAH EXTRA 4BX232 – from eavb.co.uk.
Ludwig van BEETHOVEN Violin Concerto [14:26]
BEULAH EXTRA 5BX232 – from eavb.co.uk.
All recorded in 1959.
Available collectively as 1PD50 [87:28] from iTunes or hmvdigital.com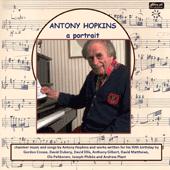 The download of the Divine Art recording from theclassicalshop.net costs only £4.99 in mp3 or £7.99 as a lossless purchase, effectively a budget 2-for-1 offer; that from classicsonline.com costs £9.98 in mp3 only, but comes with the booklet which is lacking from theclassicalshop.net. Subscribers to the invaluable Naxos Library can square that circle by downloading the booklet there – it includes some, but not all, of the sung texts.

I can't claim that there are any undiscovered masterpieces here but I did very much enjoy hearing these two CDs, not least for the light which they shed on the high esteem in which Anthony Hopkins is held by other musicians.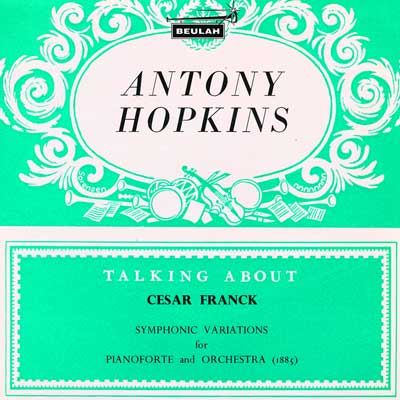 Beulah: these radio talks, originally recorded on 45 rpm e.p. discs, make a very welcome return separately from Beulah or collectively from iTunes. A sixth talk, on Rachmaninov Piano Concerto No.2, will join them on iTunes, but should also be available free of charge on YouTube: http://youtu.be/IM3NVR4LiO4. For more information, please visit http://hopkins.eavb.co.uk.

I was just beginning to appreciate classical music in 1959 and these talks gave me some of my earliest and clearest insights into the basic repertoire. They are worth hearing again now, not just for nostalgic reasons and not just for classical novices, but because Anthony Hopkins always seemed to cut to the heart of the matter and explain what to listen for in these works. The iTunes download costs £6.99 (slightly less and in better 320kb/s from hmvdigital.com) and the individual talks cost £1 each from eavb.co.uk.

Don't be put off by Hopkins' cut-glass accent – that's how they talked at the BBC then – which is very well captured by the recording transfer, though some of the piano examples are very slightly distorted. This is a welcome start to realising Len Mullenger's hope, expressed back in 2000 – here – that someone would take Anthony Hopkins' Talking about Music seriously.

Having heard the talks, you may be looking for recommended recordings. I've deliberately limited myself to one recommendation each:

– Franck Symphonic Variations (with Saint-Saëns Piano Concertos 2 and 5) Thibaudet/OSR/Dutoit: Decca 465 8764 – review. Download, with bonus track, from hmvdigital.com.
– Beethoven Symphony No.5 (with Symphony No.7) VPO/Carlos Kleiber: DG Originals 447 4002 – see March 2010 Roundup. Download from hmvdigital.com.
– Elgar Enigma Variations LSO/Monteux: Beulah Extra 1BX181 – February 2012/2 Roundup
or (with Dvořák Symphony No.7) Decca Eloquence 480 5019
or on a 7-CD set from hmvdigital.com
or with Holst Planets (VPO/Karajan) from hmvdigital.com.
– Mozart Symphony No.41 (with Symphonies 38-40) SCO/Mackerras: Linn CKD308 – review: Recording of the Month and January 2009 Roundup.
– Beethoven Violin Concerto (with Berg Violin Concerto) Faust/Orchestra Mozart/Abbado: Harmonia Mundi HMC902105 – April 2012/1 Roundup

American Wind Band Classics II
John Philip SOUSA The US Field Artillery [2:20]
The Thunderer [2:37]
Washington Park [2:28]
King Cotton [2:36]
El Capitan [2:13]
The Stars and Stripes forever [3:25]
Morton GOULD West Point Symphony: Epitaphs; Marches [12:05 + 8:26]
Bernard ROGERS Three Japanese Dances [3:00 + 4:17 + 3:45]
Walter HARTLEY Concerto for 23 winds [16:50]
Frank MEACHAM American Patrol [3:52]
Walter PISTON Tunbridge Fair* [4:45]
Samuel BARBER Commando March* [3:11]
Eastman Wind Ensemble/Frederick Fennell – rec. 1954-59. ADD/mono*/stereo
BEULAH 3PD82 [75:53] – from iTunes (mp3)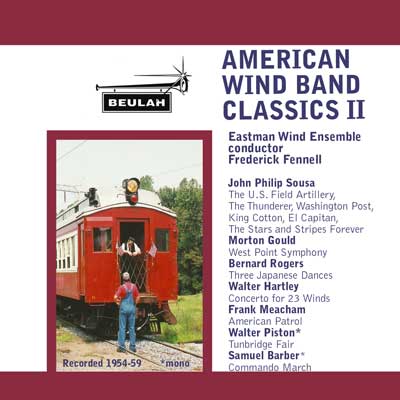 Not only are these classic performances self-recommending, I've already recommended several of them when they have appeared on single releases from Beulah Extra. They're equally welcome in this collected format and the recordings still sound very well, especially the later stereo releases. There's plenty to set your feet tapping here in vigorous performances, but there's also more reflective material, as in the first part of West Point Symphony and the Hartley Wind Concerto so this follow-up to Volume I (2PD82), released in October 2011 on iTunes, is very welcome.