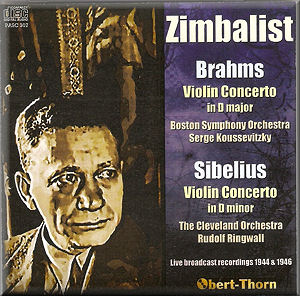 Availability
Pristine Classical
Johannes BRAHMS (1833-1897)
Violin Concerto in D major, Op. 77 (cadenza: Kreisler/Zimbalist) (1878) [43:09]
Jean SIBELIUS (1865-1957)
Violin Concerto in D minor, Op. 47 (1903-5) [32:59]


Efrem Zimbalist (violin)
Boston Symphony Orchestra/Serge Koussevitzky (Brahms); Cleveland Orchestra/Rudolf Ringwall (Sibelius)
rec. broadcast, 9 January 1944, Severance Hall, Cleveland (Sibelius); 30 March 1946, Symphony Hall, Boston (Brahms)


PRISTINE AUDIO PASC 307 [77:33]


Quite why it was that Efrem Zimbalist (1889–1985) recorded hardly anything is a mystery to me. There's certainly nothing here to support the ostracism. Was he a difficult character? Who knows?

In any event these are special performances and the recordings have been made to sound very healthy indeed. They are mono and there's a suggestion of ferocity in the treble but Zimbalist's silky and friction-less legato is very much in evidence. This is combined with a juicy succulence of tone. If there is a touch of Hollywood limelight it has a wonderfully seductive glow. It reminded me of the effect – recently encountered – of Albert Spalding in the Barber Violin Concerto (West Hill). Violinist aficionados need to hear Zimbalist's Brahms. It is simply glorious and even astonishing. The audio sources were in good heart with only the odd scuff in the Brahms second movement. Much the same applies to the Sibelius except that there is a significant defect within the first four or so minutes of the recording. Here is the elite producer and audio restoration engineer, Mark Obert-Thorn:-

A word is in order about a particularly unusual problem in the Sibelius. The source material I worked from here was an open-reel tape containing rough, unjoined transfers of eight 78 rpm acetate sides. The recording of the first side (up to 4:09 on Track 5) was flawed by a strange post-echo. Rather than the sound being delayed by a second or two (not uncommon on disc sources or due to tape print-through), this delay inexplicably lasts a full eight seconds.

The effect is of a sort of subdued echo but its presence is unmistakable. Even so the excellence of this version shines out largely undimmed.

Jonathan Woolf has written up this disc more effectively than I ever could so I refer you to his review. However for this listener these two recordings place Zimbalist's Brahms and Sibelius in my personal pantheon. This includes Oistrakh (Sibelius; Tchaikovsky), Damen (Sibelius), Kogan (Tchaikovsky – still awaiting that perfect transfer), Heifetz (Elgar, Walton), Rosand (Sinding) and Dennis Simons (Bax – radio broadcast never issued commercially).

These recordings are to be prized … not to be missed on any account.

Rob Barnett

See also review by Jonathan Woolf

Postscript from Mark Obert-Thorn
Recently, a different source for the Zimbalist Sibelius Concerto surfaced which does not have the echo problem in the first four minutes. I have incorporated this into my original transfer and the corrected version is now available through the Pristine website. Owners of the previous release can contact Pristine for a replacement. The details are on the webpage for this release (see above).