The Hickox Frank Bridge series on Chandos
Frank BRIDGE (1879 – 1941)
Orchestral Works in Six Volumes
 
This splendidly conceived, presented and executed Chandos series treats Bridge with authoritative style and sensitive musicianship. In this it matches Chandos banner series for Grainger, Schmidt, Enescu, Glazunov, Bax and Harty. Bridge's music is getting to the stage where it will no longer need special pleading. The series appeared in an unhurried way – no gabble, no exploitative rush. Nothing wrong with that if the results are as good as this. Taking time can produce a better effect even if the loyal enthusiasts were chafing for each new release.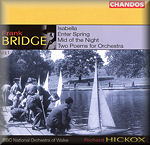 Frank BRIDGE (1879 – 1941)
Orchestral Works: Volume 1
Enter Spring (1927) [1836]
Isabella (1906) [1800]
Two Poems for Orchestra (1915) [1255]
Mid of the Night (1903) [2606]


BBC National Orchestra of Wales/Richard Hickox
rec Brangwyn Hall, Swansea, November 2000


CHANDOS CHAN 9950 [75:48]

Arkivmusic MDT AmazonUK AmazonUS
Sound Samples & Downloads
 
An elementally remorseless Enter Spring is this disc's centrepiece. It is his greatest work - a single movement nature symphony as ineluctably compelling as Alwyn's Hydriotaphia, Lambert's Music for Orchestra, Rubbra's Fourth or Eleventh or Havergal Brian's Symphonia Brevis.
 
The first volume in the Bridge series had what was to become the mark of series. The works were mixed to add the familiar and almost standard with the unfamiliar and practically unknown. It also consolidated the impression that this was going to be a long term and thorough commitment. And so it turned out.
 
Enter Spring is given a confident and wondrously transparently recorded outing. The whispered trumpet fanfares are magical: as at 5:28. The great brass statements roll out in sovereign confidence touching on Bax and even Moeran. It is the aural equivalent od Frank Brangwyn's March of Spring in the Lady Lever Art Gallery at Port Sunlight. Enter spring is mature Bridge and a stunning masterpiece. Isabella is a 1905 tone poem. This is confident and can be bracketed with the contemporaneous works of Holbrooke, Bantock and Boughton - similar experiments were in hand in the USA a from the likes of Coerne, Farwell and before him Macdowell. They inhabit a lavishly imaginative poetic world which takes Tchaikovsky and Rachmaninov as models. Such experiments seemed to thrive among pupils of the Royal Academy where they were usually nipped in the bud at the RCM. The horns in the relaxed introduction are rich and warmly heated. Isabella has previously been recorded for Pearl. This Chandos Hickox version is a luxury item by comparison.
 
The Two Jefferies Poems date from the depths of the Great War. They are of greater luxuriance though not as deftly expressionist as There is a willow. They reflect a world and a mind in transition. I have loved them for many years especially the second. The first inhabits the warmly bathed somnolent ecstasy of Bax's Spring Fire and Enchanted Forest. The second is ore dynamic and vernal with its chuckling blood-rush being more akin to the recreative conflagration of Enter Spring and the more animated sections of Summer. In these two works it is as if Bridge had distilled the poetic aspects of Summer and the rushing dynamism of the same work. They are superb. Mid of the Night is a very extended tone-poem in the same mould as Isabella. His music seems to find its centre of emotional gravity with Tchaikovsky's Hamlet and Fatum. The 24 year old composer had at last been let off the leash held by Stanford. Much the same applied - though a few years later - to John Ireland whose experience of Stanford was bruising. The delicacy of the later Bridge pieces recalls the orchestral works of William Baines. While Baines' symphony is not at all impressionistic, his two tone poems (Isle of the Fey and Thoughtdrift) as well as the Poem for piano and orchestra are a collected works project crying out for the attention of Chandos.
 
The notes are by Paul Hindmarsh. I recall a time, not all that long ago, when his extended pamphlet was all that was available on Bridge. How things have changed!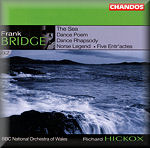 Frank BRIDGE (1879-1941)
Orchestral Works: Volume 2.
Dance Rhapsody (1908) [19.20]
Five Entr'actes from Emile Cammaerts's play The Two Hunchbacks (1910) [12.08]
Dance Poem (1913) [14.01]
Norse Legend (1905/1938) [4.50]
The Sea - suite (1908) [22.10]


BBC National Orchestra of Wales/Richard Hickox
rec Brangwyn Hall, Swansea, 19-20 Sept 2001 DDD


CHANDOS CHAN 10012 [72.37]

Arkivmusic MDT AmazonUK AmazonUS
Sound Samples & Downloads
 
LPO conducted by Nicholas Braithwaite were recorded by Lyrita in the two dance titled works. These were revelatory events full of sweep and panache aided by the LPO's virtuoso precision. The Dance Rhapsody is an eruptive and dionysiac with strange premonitions of Nielsen and even de Falla. Though nowhere near as revolutionary (parts of it sound Elgarian) the instinctive spark derives from the same arousal and charge as Grainger's ballet The Warriors.
 
The Entr'actes soothe and tickle, lilt and sing. They are gentle unassuming creations which fit well alongside the acreage of light music created by British composers during the first half of the 20th century. They stand in the Royal Enclosure by comparison with the tired generality of much of this output. The Norse Legend (originally for violin and piano) is another light and slight genre piece.
 
The Dance Poem stands closer to the chill of There is a Willow and though broadly contemporaneous with the idyllic Summer it is far distant from the direct romantic giddiness of the Dance Rhapsody. Although there is at least one eruption it is far more knowing; rather like the rollicking climax that tops off the tango movement of Samuel Barber's suite Souvenirs. There are a surprising number of Baxian fingerprints too. The episodes in the Poem are: The Dancer; Allurement; Abandon; Tenderness; Problem; Disillusion. Does this chart the course of an affair turned to ashes?
 
The Sea, the work that with Enter Spring, bowled over the young Britten, was written in Eastbourne, the same seaside town where Debussy had completed his La Mer. Surely Bax was influenced by this work in his Tintagel - listen to 2.10 and 3.04 tr. 9. Is that a quote or what? The Bridge work is lucidly textured, avoiding the wash and swell of impressionism; instead Bridge paints in broad swathes of melody. This is a remarkably fine performance to put alongside those of Groves/RLPO (EMI, 1977) and Handley/Ulster (Chandos, 1980s). Most impressive of all is Hickox's way with the Storm movement (tr. 12) with the loud crash of combers and the scattering smithereens of spume. In all this the detail of the harp part is not lost.
 
Notes are again by the leading Bridge authority, Paul Hindmarsh. Every detail of this production speaks of the most exalted qualities.
 
Rob Barnett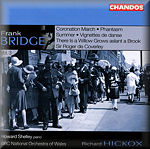 Frank BRIDGE (1879-1941)
Orchestral Works: Volume 3
Coronation March (1911) [6.46]
Summer (1914) [10.42]
Phantasm (1931) [24.21]
There is a Willow Grows A Brook (1927) [11.18]
Vignettes de Danse (1938) [11.20]
Sir Roger de Coverley (A Christmas Dance) (1922) [4.41]


Howard Shelley (piano)
BBC National Orchestra of Wales/Richard Hickox
rec. Brangwyn Hall, Swansea 27 Nov 2000 (Sir Roger); 28-29 Nov 2002. DDD


CHANDOS CHAN 10112 [69.55]

Arkivmusic MDT AmazonUK AmazonUS
Sound Samples & Downloads
 
Bridge came of a generation riven by the Great War. The composers of that epoch were also stung, inspired or troubled by new musical currents from Vienna. Bridge may be seen as a follower of fashion as his music changed style over the period from 1911 to 1938. A Tchaikovskian romantic with an impressionistic palette (Dance Poem and Dance Rhapsody) evolved into a composer whose range of expression took in the harmonic adventures offered by Berg, Schrecker and Zemlinsky (Oration and Phantasm). If his music suffered a critical ice age his conducting remained in demand although not sufficiently to command major fees let alone more than a speckle of recordings.
 
This Chandos collection takes us from the snappy pomp and lyricism of the Coronation March via the Butterworth and Ravel of Summer to the first stirrings of Continental accents in There is a Willow to the masterly ambivalence and mildewed expressionist complexity of Phantasm.
 
The March repays several hearings as its lyrical facets register more strongly over the celebratory snap and clash. This is its world premiere recording and it is worth hearing though certainly written against Bridge's pacifist character. The competition for which he wrote the piece did not award any prizes that year. I wonder what else was entered.
 
In Hickox's Summer one can feel the slow warmth of the sun in the veins just as much as the shimmering vigour. Del Mar on a now elderly recording with the Bournemouth Sinfonietta (also Chandos) makes a more breezy magic but Hickox is excellent at the Delian languor and slow blooming woodland magic.
 
Phantasm is a major piece of the utmost seriousness of mood. While works such as Summer, The Sea, the Two Poems and the two early dance works expound on sky, scenery and open air Phantasm is a psychological rhapsody. It is work that has not been frequently recorded. Indeed there's only a few competitors on CD (Dutton – once Conifer - Stott/RPO/Handley with the Walton Sinfonia Concertante and the Ireland Concerto) and (Lyrita). It inhabits a land of mildew and troubled reflection like parts of Bax's Winter Waters and Saga Fragment. There is some ruthless nightmare music as at 6.34 which rises to a sour heroic rhythmic military gesture for horns and piano. The solo writing is akin to Prokofiev's Third Concerto with transient harkings back to the earlier idyllic style at 7.54. There is nothing of decoration in this piece; more a case of a finger trailing through stagnant waters and ruthless threats carried by the emphatic writing for brass and piano. Indeed it reads like a prophet's warning. The depressive mildewed poetry of There is a Willow continues the theme of darkness in music and hovers close to the instrumentals in Warlock's Curlew. I rather like Neville Dilkes' old version on EMI but this outstrips the audio quality of that analogue version. Hickox's lugubriously reflective way with the piece works extremely well.
 
The Vignettes de Danse were orchestrated in 1938 from a suite of Mediterranean sketches originally written in 1925. These 'postcards' are a set of subtle chiaroscuros - much more sophisticated and fragile than say Bax's Mediterranean or Holst's Beni Mora and more delicate than Ibert's Escales.
 
The disc ends with a brief dance which I have known previously only in its versions for string orchestra (Decca, Britten) and string quartet. This, most unusually, is for full orchestra and the treatment is fully coloured like an intensely imaginative dance fantasy with moonlight and stars set adrift. The finale in which the tune 'Roger de Coverley' intertwines masterfully with 'Auld Lang Syne' still works its enchantment. Even so it lacks Britten and the ECO's carefully weighted judgement and suffers in comparison. This is the sort of piece that would pair well with Chabrier's España or Barber's Souvenirs. Beecham would have made much of this if only he had been tempted to take it up.
 
There is no directed competition for this disc. It is highly attractive as a collection. I would not want to be without Del Mar's Summer, Dilkes' There is a Willow or Stott's Phantasm which is leaner though not as threatening as Shelley's and Hickox's.
 
Rob Barnett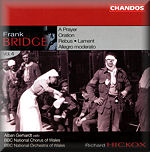 Frank BRIDGE (1879-1941)
Orchestral Works: Volume 4
Rebus - Overture for Orchestra (1940) [10:44] (premiere recording on CD)
Oration (Concerto elegiaco) for solo cello and orchestra (1930)* [29:16]
Allegro moderato - Fragment of a symphony for string orchestra (1940-41) [13:24] (edited by Anthony Pople)
Lament for string orchestra (Catherine, aged 9, 'Lusitania' 1915) (1915) [5:21]
A Prayer for chorus and orchestra (1916-18)† [17:55]


Alban Gerhardt (cello)*
BBC National Chorus of Wales †
BBC National Orchestra of Wales/Richard Hickox
rec. Brangwyn Hall, Swansea, 13-14 May 2003


CHANDOS CHAN 10188 [77:00]

Arkivmusic MDT AmazonUK AmazonUS
Sound Samples & Downloads
 
Bridge's music has undergone a rocky and desultory renaissance. In the 1950s and 1960s there was precious little available unless you were prepared to track down rare 78s or trade home-spun tape recordings of BBC broadcasts. In the 1970s things began to change. EMI Classics recorded an LP's worth of orchestral music including Enter Spring and The Sea with Groves and the RLPO (JQ RB). Groves had already conducted a dazzling performance of Enter Spring at the 1978 Proms with the BBC Symphony Orchestra - now that would be well worth issuing if someone had a presentable tape. As we know from a BBC Legends CD, Britten had paid practical tribute to Bridge mounting performances of both works at the Maltings Snape during the 1960s. Decca issued the Allegri recordings of the grittiest of his string quartets: numbers 3 and 4, as well as the spare and dissonant Piano Trio No. 2 (on Argo – now Lyrita). Pearl had a double LP of his piano music and songs in 1971 including the grim Piano Sonata. Lyrita issued most of the orchestral music between 1978 and 1982 but these valued and often inspirational recordings by Boult (LP SRCS 73) and Braithwaite (LPs SRCS 91, 104, 114) slipped into an oblivion in 1983 from which they emerged on CD only in 2007. At least EMI Classics kept their Bridge/Groves miscellany in the catalogue. Pearl produced the opera The Christmas Rose and a far from modest crop of LPs and CDs of the chamber music, piano solos, songs (Tagore), choral works (A Prayer) as well as diminutive (Norse Legend) and not so diminutive (Isabella) orchestral pieces. They also had a quite extraordinary CD (SHECD9601) of Enter Spring and Oration. This featured performances by John Carewe conducting the Cologne Radio Symphony Orchestra with Alexander Baillie (cello) in Oration. If ever Pearl felt moved to issue their recorded Bridge legacy (analogue and digital, please) in a single boxed set it would be likely to be greeted very warmly - if only they would! Continuum had all the piano music on four CDs and all four quartets on two CDs. Meridian have done well by Bridge (the four string quartets) as also have Hyperion with the latter producing a complete edition of the songs as well as a smattering of the chamber music.
 
The present Chandos selection gives us three works of his uncompromising older age from 1930 to 1941 as well as two more lyrically accessible examples from the teens of the century both written during the axle-turn of his life: The Great War. That very war swept away the softer innocence and pastoral delight and opened the eyes and mind to brisk and bracing currents from the Continent. Bridge began to find a new voice but few critics of the time reacted well to it. His Summer and The Sea delighted the Edwardians and later romantics but what were this generation to make of the nightmares of the Piano Sonata, the last two quartets and the Piano Trio No. 2; never mind the enigmatic Oration and Phantasm. Even when he returned to the countryside in Enter Spring and the Two Jefferies Poems the language, while even more intoxicating, had an unnerving allure that was strange to those brought up on his Tchaikovskian tendencies.
 
Oration: According to the work's first soloist, the cellist Florence Hooton, Bridge gave the concerto the principal title Oration because he wanted it to be not only a passive elegy (its subtitle is Concert Elegiaco) but also a protest against war. He had been gripped by that theme in the Piano Sonata of 1924 dedicated to his young pupil Ernest Bristow Farrar who had been killed in the trenches. Oration was completed in 1929-30 and was rejected by three other cellists before finding Hooton. Felix Salmond was to have premiered it in Chicago but didn't, Guilhermina Suggia turned down a BBC broadcast as did Lauri Kennedy. It was broadcast finally on 17 January 1936 after three grand rehearsals and was warmly greeted by Ernest Newman, not a great admirer of Bridge's later style. A set of discs was made of the premiere and these are still held by the Frank Bridge Trust (a chance here for Symposium surely even if the original engineer did omit a couple of bars). There was one other broadcast, 6 December 1936, and the piece then sank without trace until revived in the 1970s by the young cellist Thomas Igloi with the English Chamber Orchestra conducted by Frederick Prausnitz in 1975.
 
Julian Lloyd Webber made the first commercial recording of Oration. His is an unsentimental approach in which steadiness of tone production and a refined natural sound quality go to produce a very fine result in the best analogue traditions of Lyrita. Braithwaite lets the hysteria build organically to an angry peak (15:23). The luminous recording quality can be heard at 12:31 in the quiet skein of sound through which the harp momentarily peeps out. Lloyd Webber takes 27:30 as against the 31:20 from Alexander Baillie on the rare and sadly deleted Pearl CD SHE CD 9601 from 1987. The Baillie version works well although his tone is not quite as cleanly produced as Lloyd Webber's and the soloist's final note does not float free with quite the pristine soprano purity you get on Lyrita. Steven Isserlis on EMI Classics CDC 7 49716 2 (much reissued) in 1988 takes 30:24. He is with the City of London Sinfonia conducted by the very same Hickox who now conducts the BBC Welsh with Alban Gerhardt.
 
Gerhardt is an intriguing choice and not one I had predicted. After all during 2000 Hickox conducted Oration with the BBC Welsh and Chandos regular Raphael Wallfisch, for BBC Radio 3. The engineering quality on the Chandos is very clean, achieving good transparency if without the silk and canvas strength of the fabulous Lyrita. By comparison the no-nonsense radio studio balance for the Pearl, done by German Radio WDR, Otto Nielsen and Klaus-Dieter Harbusch, is meaty and not at all sketchy. On the other hand the playing of the orchestra especially in the epilogue is outstanding and Isserlis almost matches the enigmatic singing quality luminously achieved by Lloyd Webber.
 
The Chandos recording perspective is spectacular, probably the best it has ever had. It is very much in the most exalted Decca manner though not at all what you would hear in the concert hall. The cellist is given a microphone eminence which is extremely commanding, exciting, flamboyant and gratingly moving. That epilogue is deeply affecting, tender through the soloist's voice yet bleakly haunted like the second movement of Havergal Brian's Gothic. It is related also to the extended finale to RVW's Sixth Symphony.
 
The 1940-41 Allegro moderato for string orchestra is all that remains of a projected symphony for strings. In fact the last few bars were left unfinished on Bridge's death and were 'completed' by Anthony Pople. This too was issued on LP by Lyrita on SRCS 104 which has been reissued on Lyrita CD. This is a classically clean work and very romantic for that time when you compare it with the bustle and elfin dissonance of Rebus.
 
The 1915 Lament has been recorded several times before. Strange how returning to it after a longish time I hear more predictions of the sourer Bridge from There is a willow grows aslant a brook than I did previously. It is warm but there are harmonic eddies and depths that look forward at least a decade.
 
A Prayer to words by Thomas à Kempis takes us down a road Bridge did not go down again except, to some extent, in the opera A Christmas Rose (on Pearl). It is Bridge's only work for chorus and orchestra and is an invocation to peace. The orchestration was completed in October 1918. The work was premiered in the great spaces of the Royal Albert Hall in January 1919 and then revived in 1935. Its style now sounds rather Finzian (5.04 onwards) and warmly cocooned. It receives here a very fine performance There is some lovely antiphonal work superbly captured by the Chandos team. That high exposed ppp singing recalls Holst's Ode to Death written for Cecil Cole, another young composer victim of the Great War. It is not the equal of the Holst, which has a mystical spirituality not quite attained by Bridge, but it remains a work of candid sincerity.
 
Its two previous recordings are a moving but rather fleet-footed version (all over in 15:07) on a Pearl LP (Chelsea Opera Group/Howard Williams) and most recently a recording by Liverpool forces conducted by Douglas Bostock (ClassicO). Hickox's measured pace works very well and is extremely moving, reminding me also of parts of Hickox's Chandos set of Dyson's Quo Vadis at O whither shall my troubled muse incline where, at 3.48, we seem to hear the marching tread of starry soldiery.
 
Rebus was originally entitled A Rumour (like the Cowell piece once recorded by Neville Marriner). It was written in 1940 and would have been in that year's Prom season had it not been cancelled due to the Blitz. In fact it had to wait until 23 February 1941, just a month after Bridge's death, before it gained a hearing. Apart from some threatening and inimical shadows and an occasionally ruthless tread this is a bustling determined and fairly romantic little concert overture with Elgarian and even Waltonian moments. The recording by Lyrita and Braithwaite has that additional smashing tension but there is not much in it.
 
Rebus has been recorded before but never on CD. It first emerged in recent years in a BBC broadcast by the English Chamber Orchestra conducted by Frederick Prausnitz in 1975. Then in the late 1970s the LPO and Nicholas Braithwaite recorded it on Lyrita LP SRCS 114 now on Lyrita CD.
 
This all adds up to a very fine addition to the Chandos series. It stands up extremely well in the Bridge discography being perceptive, varied, sensitive, excellently performed and recorded and generously assembled. Not a hint of series burnout here. It is superbly documented by Bridge expert Paul Hindmarsh.
 
Rob Barnett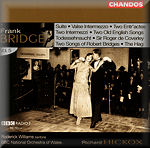 Frank BRIDGE (1879-1941)
Orchestral Works: Volume 5
Suite for Strings (1909-10)
The Hag (1902) *
Two Songs of Robert Bridges (1905-06) *
Two Intermezzi from 'Threads' (1921/38) *
Two Old English Songs (1916)
Two Entr'actes (1906/36)
Valse Intermezzo à cordes (1902)
Todessehnsucht (1932/36)
Sir Roger de Coverley (A Christmas dance) (1922/39)


Roderick Williams (baritone) *
BBC National Orchestra of Wales/Richard Hickox
Rec. Brangwyn Hall, Swansea, 3-4 December 2003. DDD


CHANDOS CHAN 10246 [68:17]

Arkivmusic MDT AmazonUK AmazonUS
Sound Samples & Downloads
 
The Suite for Strings has been recorded not infrequently. Boult's full analogue version for Lyrita is closest to this. Less full fat is the version by Norman del Mar but it still comes across as a romantic work and Hickox lets this have full rein. The models are surely Tchaikovsky's Serenade as well as the Elgar and the Introduction and Allegro.. Also impressive, in the same idiom, are the wonderful American counterparts recorded by Dutton Epoch. There is also a touch of Grieg as well as Last Spring. The second movement has a spring in its step and recalls the wonderful Sir Roger de Coverley which for years depended on the Decca recording made by Britten with the ECO. That was my route into the piece. For all that it is an early work the Suite is very much of the same stamp as Sir Roger de Coverley. Wit, excitement and beguiling enchantment are all there. How did Bridge remain so many years in the outer darkness?
 
From 1902, The Hag is a macabre nightmare - a howling gale of a piece, reeking of brimstone. Roderick Williams does not short-change us. The Hag was also set by Havergal Brian for choir. Poul Schierbeck, the Dane, wrote his own Haxa which inhabits much the same world. The two songs of Robert Bridges were recorded first by Pearl in their occasional SHE series. Williams caresses the I praise the tender flower. It's luxuriant writing with a Delian temperament. Thou didst delight mine eyes starts with strange dark melodrama. It soon flutters in feathery lightness and troubadour serenading and the rushes onwards in a way that recalls Delius's orchestral songs.
 
The orchestra only retruns for Two Intermezzi from Threads - incidental music from 1921.The first is quite Delian while the second has the same flaring upheaval as the second of the two Poems heard on Volume. Then come the sweetly and tenderly arranged Two Old English Songs which may well have had some effect on Quilter. Sally in our Alley and the rushing Cherry Ripe represent an early limbering up for the richly contrapuntal Sir Roger de Coverley. More in the light music vein and closer to the Elgar genre pieces for small orchestra are Rosemary and the slowly bell-tolled Canzonetta which recalls Turandot. The Valse Intermezzo is also an early piece –same vintage as The Hag. It is smoothly contoured: sweet and light. The Todesehnsucht (world premiere recording again) is more reverentially dignified in this sombre arrangement.
 
The notes are by Paul Hindmarsh again.
 
To end Hickox unleashes the wit and rapier flickering of Sir Roger. It's a superb piece which you think might be inconsequential but soon develops in its precise and concentrated 4:24 the strength of the Tchaikovsky and Dvorák serenades for strings.
 
Rob Barnett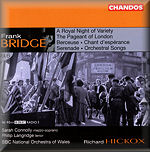 Frank BRIDGE (1879-1941)
Orchestral Works: Volume 6
Blow out; you bugles H.132 (1918) [05:38] (1); Adoration H.57 (1905/1918) [02:58] (1); Where she lies asleep H.114 (1914) [03:03] (1); Love went a-riding H.115 (1914) [01:41]; Thy hand in mine H.124 (1917/1923) [02:12] (1); Berceuse H.9 (1901) [05:09] (2); Mantle of Blue H.131 (1918/1934) [02:49] (2); Day after day H.164(i) (1922) [04:55]; (2); Speak to me; my love! H.164(ii) (1924) [06:00] (2); Berceuse H.8 (1901/1902/1928) [03:26]; Chant d'espérance H.18(ii) (1902) [03:45]; Serenade H.23 (1903) [02:53]; The Pageant of London; Suite for Wind Orchestra H.98 (1911) [15:11]; A Royal Night of Variety H.184 (1934) [01:27]


Sarah Connolly (mezzo) (2), Philip Langridge (tenor) (1)
BBC National Orchestra of Wales/Richard Hickox
rec. 23-24 October 2004, Brangwyn Hall, Swansea, Wales


CHANDOS CHAN 10310 [61:13]

Arkivmusic MDT AmazonUK AmazonUS
Sound Samples & Downloads
 
For volume 6 we hear premiere recordings of nine songs for solo voice with orchestra. Five are for tenor (Langridge) and four for mezzo (Connolly). His 1918 setting Blow out you bugles from the last year of the war is superbly orchestrated - such jewelled detailing. There are some striking bugle fanfares and an heroic ambience. It sets Rupert Brooke who died in 1915 yet the sentiments - while a delight to hear - would sit uncomfortably with a work such as Bliss's Morning Heroes or RVW's Dona Nobis Pacem.
 
Adoration sets aspirational Keats. Mary Coleridge's Where she lies asleep is a tremblung fragile song. More Coleridge in the galloping Love went a-riding, a very familiar song. It includes some triumphant stuff redolent of Mahler's Lieder eines fahrenden gesellen. Thy hand in mine is a short song.
 
Then come the mezzo songs. Berceuse is a setting of Dorothy Wordsworth. This is gently yet securely done by Connolly on waves of romantic feeling. Mantle of blue also set by Bax, Moeran and Gurney is by Padraic Colum. The words O men from the fields evoke a lovely heat haze made explicit by the music. Lastly there are two songs setting poems by Tagore. These are suggestive and impressionistic rather a step on from the same territory inhabited by Mantle of Blue. These are most beautiful Delian style songs yet more saturated in lyrical confluence. Much the same goes for the last of the nine songs, Speak to me my heart. This inhabits the world of Baines' Thoughtdrift and Island of the Fey.
 
These songs stand little chance of concert life - at least not in this format despite often having a big Mahlerian heart and a gift for tenderness.
 
Berceuse is a heart-wide genre piece. Chant d'esperance is a feathery stately dancing piece - suggestive of ballrooms. Serenade is another Tchaikovskian piece, light on the palate, and passing by absorbed in its own elegance.
 
The Pageant of London is for wind band. It was written for a London street pageant for the Coronation of George V in 1911. The solemn march, Richard III leaving London is grandly Elgarian. First discoveries looks to Tudor times and with its Pavane and La romanesca we catch a hint of the flavour of those days as filtered through an Edwardian sensibility. The finale is another march, Henry VIII enters London. Now Bridge sheds the pastiche and delivers a march with a more soldierly spirit about it. It's not one of his best though: something of a pot-boiler.
 
Suitably the disc and the series closes with A Royal Night of Variety from 1934. This so-called epilogue must have made an unwelcome response to the commission for it is a subtle shading down from fanfare to gentle farewell gesture.
 
Again the notes are by Paul Hindmarsh.
 
Rob Barnett
 
THE BRIDGE SERIES ON CHANDOS
 
Volume 1
http://www.musicweb-international.com/classrev/2002/Jan02/Bridge_Enter_Spring.htm
http://www.musicweb-international.com/classrev/2001/Nov01/Bridge_orchestral1.htm
 
Volume 2
http://www.musicweb-international.com/classrev/2002/Nov02/bridge_chandos2.htm
 
Volume 3
http://www.musicweb-international.com/classrev/2004/Jan04/Bridge3.htm
http://www.musicweb-international.com/classrev/2004/Feb04/Bridge3.htm
http://www.musicweb-international.com/classrev/2003/Dec03/Bridge3.htm
 
 
BRIDGE ON MUSICWEB INTERNATIONAL
 
Frank Bridge (1879-1941) Composer, Courageous Revolutionary And Pacifist by Rob Barnett A Len Mullenger commission This is a long article of 9000 words
http://www.musicweb-international.com/bridge/index.htm <!- paste above here ->