As a bit of a Neanderthal when it comes to downloads and mp3s it took a chance discovery, courtesy of Google, to force me to reconsider.
I was doing some research on various versions of the Franz Schmidt Fourth Symphony – the one that many will know from the Decca/VPO/Mehta recording from circa 1972. I had heard of an earlier mono recording by Rudolf Moralt so I Googled for it.
I found that it had been issued on LP in the 1950s on one of the labels associated with CBS: Epic LC-3164 (mono).
I then found http://www.naxos.com/catalogue/item.asp?item_code=9.80262
When I started the search I had no expectation of finding a way of listening to it – still less a way of downloading it via ClassicsOnline.
http://www.classicsonline.com/catalogue/product1.aspx?pid=561275
Curious as to what else might be there I found this introduction from Naxos:-
"Naxos Classical Archives has an extensive list of digitally transferred historical recordings. These include: Bartók's Music for Strings, Percussion and Celesta and Stravinsky's Song of the Nightingale from the Amsterdam Concertgebouw Orchestra conducted by Eduard van Beinum (1955/1956); Beethoven's Third Piano Concerto from Claudio Arrau, the Philadelphia Orchestra and Eugene Ormandy (1953); and David Oistrakh's 1955 recording of Mendelssohn's Violin Concerto and Mozart's Violin Concerto No. 4, also with Ormandy and the Philadelphia Orchestra. All recordings on Naxos Classical Archives are available for streaming and downloading only."
Then go to a very long page listing everything that is available:-
http://www.naxos.com/labels/naxos_classical_archives-cd.htm
OK so quite a few of these things have been reissued on CD but perhaps as many as 55% - an impressionistic figure, by the way - have never seen the light of silvery day.
See my eccentric extract want-list is at the end of this review. I have hopes of doing a related feature on other of these downloads.
There's a lot more than I have listed – a mix of the abstruse and the classics but in usually unfamiliar recordings.
Through the generosity of a fellow reviewer I was able to hear a selection of these downloaded onto CDR. Very honest and often handsome they sound too.
Playing time for each item reflects the total play duration of the LP – in the 1950s: between 30 and 60 minutes.
Let's take the three Hovhaness collections. They are:-
Alan HOVHANESS The Flowering Peach / Is There Survival / Orbit No. 1 9.80130 (1955) [42:09]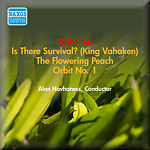 The Flowering Peach, Op. 125 (I. Overture; II. Lifting of Voices and Building of the Ark; III. Intermezzo; IV. Rain; V. Love Song; VI. Sun and Moon; VII. Rainbow Hymn)
Campbell, Kirby, saxophone; Portnoy, Bernard, clarinet; Lawrence, Lucile, harp; Masselos, William, celesta; Castka, Joseph, tam-tam; Goldenberg, Morris, timpani; Goldenberg, Morris, vibraphone; Hovhaness, Alan, Conductor          
Is There Survival (King Vahaken), Op. 59 (I. Overture; II. Canon; III. Canon; IV. Aria; V. Fugue; VI. Fantasy; VII. Double Canon)
Glantz, Harry, trumpet; Crisara, Raymond, trumpet; Prager, Nathan, trumpet; Falcone, Frank, trumpet; Weber, David, clarinet; Glantz, Fred, clarinet; Williams, Alexander, clarinet; Glassman, Karl, clarinet; Dorn, William, percussion; Freeman, Harold, percussion; Borodkin, Sam, percussion; Hovhaness, Alan, Conductor          
Orbit No. 1, Op. 90, No. 2
Wilkins, Frederick, flute; Lawrence, Lucile, harp; Masselos, William, celesta; Goldenberg, Morris, percussion; Castka, Joseph, percussion; Hovhaness, Alan, Conductor 
This is fascinating because of the rarity of the material. It's the most orientally plangent of the three collections. Each of the three pieces is presented with separate tracks for each section of each piece. The Flowering Peach is a precious mystery with the sinuous saxophone – a strong presence throughout - offset by the vibraphone singing out as it also does at the peak of Roy Harris's Symphony No. 7. There's mystical tension conjured from gong, bells, vibraphone and harp. The most sheerly delightful movement is the Love Song. The final segment – Rainbow Hymn – has a Schoenbergian awed stillness about it.  Is There Survival has less stillness and more humming terpsichorean movement in the dazzling rhythmic manner of St Vartan touched with the music of Morocco. The Fugue makes Gabrielian play with a melody suggestive of Medieval yuletide. Orbit is for a smaller group leaning on the liquid movement of some invocation of otherworldly awe. In each work the ensemble is conducted by the composer which lends authenticity and authority to what we hear. The sound is good. As with all of these Archive offerings there are no liner notes. It is taken from MGM E3164(LP).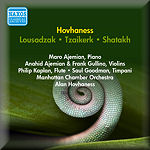 Alan HOVHANESS Lousadzak / Shatakh / Achtamar / Tzaikerk (1950) 9.80676 [36:13]
Hovhaness, Alan, Conductor • Kaplan, Philip, flute • Manhattan Chamber Orchestra • Ajemian, Maro, piano • Goodman, Saul, timpani • Ajemian, Anahid, violin • Gullino, Frank, violin: Lousadzak, Op. 48 for piano, violin and chamber orchestra; Shatakh, Op. 73b for piano and violin; Achtamar, Op. 64, No. 1 for solo piano; Tzaikerk, Op. 53 for violin, flute, timpani and chamber orchestra.
This is derives from the oldest of the LPs represented here: Dial Records - dial 6(LP) yet it sounds in rude heath and suavely puts across subtle effects such as the pizzicato chill rain-patter under the storm-clouds piano in Lousadzak. The sisters Maro (1921-1978) and Anahid (b. 1924) Ajemian, fellow Armenians, co-founded with Hovhaness the Friends of Armenian Music Committee which in the 1940s mounted celebrity concerts in New York. These marked Hovhaness's ascent to international celebrity. The Ajemians tackle Shatakh which shows the composer in subdued prayerful-lyrical form over the pearly insistence of the piano. Maro explores the dark slow-boiling threat of the Achtamar – like a picture of some dark fathomless lake. Marvellous to hear the composer as conductor in the cool, light disseminating Tzaikerk and the night-to-sun-dance Lousadzak. Recording quality is slightly crumbly towards the end of Lousadzak but otherwise surprisingly excellent.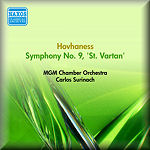 Alan HOVHANESS Symphony No. 9, Op. 80, "Saint Vartan" (1956) 9.80698 [41:07] Surinach, Carlos, Conductor • MGM Orchestra • Masselos, William, piano  • Abato, Vincent J., saxophone • Di Biase, Neil, trombone • Weiss, Theodore, trumpet. Parts 1-3 [24:41]; Parts 4-5 [16:26]
Wonderful that the this MGM LP (MGM E3453) has found a new life. On the plus side one of the most instantly accessible of Hovhaness's approaching 70 symphonies is heard in its pioneering recording. The performance appears very sympathetic. The work is typically episodic yet has a grand arching tableau-style action. Hieratic, terpsichorean in a stylised liturgical way, modal, Tallis-like, intensely serious, subdued, not in any respect vulgar. In all points it is suitable as tribute to the Armenian warrior priest St Vartan. Other composers come to mind including Andrea Gabrieli, Handel, Vaughan Williams, Roy Harris and Sibelius but Hovhaness stamps his identity on this work. Add to this a crashing 'barbarous' element. It lacks two of his DNA traces though: the swooning slaloming violin notes of the Fra Angelico overture and the dissonant awe of the Vishnu, Ani and Odysseus symphonies (19, 23, 25). Although here rendered in two tracks the work comprises a mosaic of dances, arias, laments, estampies, yerks and tapors. There are 24 episodes organised into five parts. Impressions crowd in: the priestly precentor role of the trombone, the perpetuum mobile of crashing and yelping trumpets and percussion, the serenely moving strings, the indulgence in iterative musical cells, the plangent pizzicato writing, the dissonant fanfares and the bladed onrush of the violins (tr. 1, 9:07). This performance takes about 3 minutes longer than the composer's own version made in the early 1970s in London with the National Philharmonic (Crystal CD 802). The recording is strong but with the passage of the years is not as clean as the chamber works presented in the other two collections.
Has anyone ever drawn up a complete discography of the MGM classical LPs? I would love to see a full list.
The two non-Hovhaness mono items:-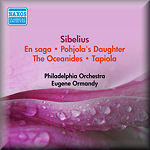 Jean SIBELIUS Four tone poems – Philadelphia/Ormandy from 1955 – 9.80351 – 54:05.
This is classic Sibelius and I urge you to hear this if you have a serious regard for Sibelius. A taut, fast pulsed, urgently-singing, creepily charged, breathlessly fleeing yet spot-on accurate En Saga which is to be counted in the company of the different but equally special En Sagas from Van Beinum (Eloquence), Furtwängler (Music and Arts) and Stein (Decca). By the way was that a cough at 5:56? Ormandy's Pohjola's Daughter is treacle dark without undue sweetness or becoming bogged down. The representation of the pulsing, shivering rainbow in the Vainamoinen story is as potent as any. Classic Sibelius. Incidentally my most recent encounter with Pohjola's Daughter was in a surprising context. How many of you recall BBCTV's The Onedin Line from the 1970s? The first episode was rebroadcast recently. It is well known for its use and indeed elevation to fame of Khachaturian's Adagio from Spartacus. What may be less recalled is that it used 'modern' classical works as incidental music. I wonder who it was in the production team selected Pohjola's Daughter which is used twice in episode 1. Later episodes deployed Bax's November Woods and the Moeran G minor Symphony among much else. Speaking of marine matters: Ormandy's Oceanides is fast to the point where the sultry flute playing can sound rushed. In doing so Ormandy moves the locale from the Mediterranean to the Baltic. Beecham took 10:23 in the late 1950s. His Tapiola is never far away from menace or anger. This is not as impressive as Van Beinum (Eloquence) who really lights up every bar of the score but it's good and never slack or too plush despite the illustrious instrumental riches Ormandy had at his bidding. This collection was taken from a Columbia Masterworks LP ML-5249.
Ormandy-Sibelius reminiscences here and here.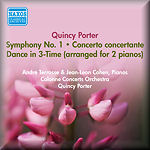 Quincy PORTER (1897-1966) – orchestral works – Colonne Concerts/composer from 1955 – 9.80674 – 50:32.
American composer Porter studied in Paris with d'Indy. His 1934 symphony no. 1 is in three movements. It is heard here in a Parisian recording. The recording has a tough strident edge to it but can sound smoother and cooler. Cool is the word for the emotionalism of this piece. It has a calming passion-softened neo-classical edge to it – emotional, yes … but avoiding the wilder extremes. Its gentle jazziness can remind us of Constant Lambert. It's a pleasing piece and as an interpretation a degree warmer than that of Sinfonia Varsovia/Ian Hobson on Albany TROY574. The Concerto Concertante introduces André Terrasse and Jean-Leon Cohen as the pianists in this subtly suggestive piece, harmonically ambivalent dream-like piece which yet ends in an explosion of urgency. There's some congestion and a degree of boxiness here but nothing untoward. The short Dance in Three-Time has a hint of Ibert's Escales exotica, dark alleys, danger and pleasure and the Marrakesh soukh. There are Hispanic flavours as well and these go beyond the use of castanets. All ends in a sigh and a hazy heat. Delightful. Taken from Overtone LP #10.
I recommend this service strongly. In the UK it's only £1.99 per item straight into your computer or MP3 player.
There are some pretty wonderful recordings available for free downloads via some of the newsgroups and occasionally some composer and enthusiast websites offer free downloads. The newsgroup I am most familiar with is rec.music.classical.recordings (rmcr) which often offers downloads through Mediafire and other download sites.
The internet is a seethingly lavish canvas in kaleidoscope motion and colour and texture. One of my latest discoveries is The Gramophone's website giving access to what seems to be every issue since the launch in 1923 and the ability to search – all free – no subscription at all.
Try:
and explore from there. Here's the URL for a sample review from 1960:-
http://www.gramophone.net/Issue/Page/June%201960/42/784229
I confess to being no fan of what Gramophone has become since the early 1980s but this is a truly enlightened move. I rather wonder how long it will remain free access. An admirable and relentlessly adventurous magazine that continues in better health is the US bimonthly, Fanfare. For some time their complete archive back to 1977 was available free online. It has now become subscription only. Will Gramophone.Net go the same way.
For now do have a look at the Naxos Classical Archive – there are some smiles, revelations, train-wrecks and delights there. Exciting stuff – we could do with more of this.
I keep hoping that someone will make accessible the Pancho Vladigerov recordings issued in three staggeringly heavy Bulgaroton LP boxes in the 1970s. Then what about the symphonies of Cuclin, Revutsky, Adolfs Skulte (a strong prospect – mark my words), Marx, Fordell and so many others. Enthusiasts with the necessary resources should look at what has been achieved with free downloads for Machavariani and Lokshin. 
Rob Barnett
EXTRACT FROM CLASSICS ONLINE LIST
RACHMANINOV: Bells (The) / Isle of the Dead (Ormandy) (1954)          9.80114
SLAVENSKI, J.: Sinfonia Orienta (Zdravkovich) (1955)     9.80116
WAGENAAR, B.: Symphony No. 4 (American Recording Society Symphony, Haeffner) (1952) 9.80694
RASSE, F.: Violin Concerto / JONGEN, J.: Piano Concerto (Hosselet, Pueyo) (1955)       9.80132
RAVEL: Ma mere l'oye / Rhapsodie espagnole (Inghelbrecht) (1955)          9.80216
PIJPER, W.: Symphony No. 3 / DIEPENBROCK, A.: Marsyas or The Enchanted Well (excerpts) (Beinum) (1953)            9.80309
HENKEMANS, H.: Violin Concerto / PIJPER. W.: Piano Concerto / 6 Symphonische Epigrammen (Beinum) (1954)            9.80310
BLOCH, E.: Concerto Grosso No. 1 / SCHUMAN, W.: Symphony No. 5, "Symphony for Strings" (Steinberg) (1952)  9.80155
GOEB: Symphony No. 3 / BARTOK: Sonata for 2 Pianos and Percussion (Stokowski) (1952)      9.80215
MENNIN, P.: Symphony No. 3 / RIEGGER, W.: Symphony No. 3 / SESSIONS, R.: Symphony No. 2 (Hanson, Mitropoulos) (1954)    9.80248
SCHMIDT, F.: Symphony No. 4 (Moralt) (1955)      9.80262
SIBELIUS, J.: Lemminkainen Suite (Ormandy) (1951)        9.80350
SKALKOTTAS, N: 36 Greek Dances (excerpts) (Millar) (1957)      9.80443
SURINACH, C.: Sinfonietta flamenca / TURINA, J.: Sinfonia sevillana (Winograd) (1957)          9.80447
BRANT, H.: Alto Saxophone Concerto (Rascher, T. Johnson) / GLANVILLE-HICKS, P.: 3 Gymnopedie / RUDHYAR, D.: Sinfonietta (RIAS Symphony, Perlea) (1953)       9.80647
CHADWICK, G.W.: Tam O'Shanter / CONVERSE, F.S.: The Mystic Trumpeter (American Recording Society Symphony, Schoenherr) (1952)          9.80658
HAIEFF, A.: Piano Concerto No. 1 / WARD, R.: Symphony No. 1 (Smit, American Recording Society Symphony, Hendl, Dixon) (1952) 9.80659
SOWERBY, L: Prairie / From the Northland (American Recording Society Symphony, Dixon) (1952)     9.80660
HARRISON, L.: Suite for Violin, Piano and Small Orchestra / WEBER, B.: Symphony on Poems of William Blake (Stokowski) (1952)     9.80675
COWELL, H.: Symphony No. 7 / WARD, R.: Adagio and Allegro / Jubilation Overture (Vienna Symphony, Strickland) (1955)       9.80679
KARLOWICZ, M.: Violin Concerto / MACHAVARIANI, A.: Violin Concerto (Barinova, Vaiman) (1955-1956)            9.80683
ROSENBERG, H.: Symphony No. 3, "De fyra tidsaldrarna" (The Four Ages of Man) (Stockholm Symphony, Mann) (1953)  9.80751
GLANVILLE-HICKS: Etruscan Concerto / HOLMBOE: Concerto No. 11 (Surinach) (1956)      9.80083
GLAZUNOV, A.: Symphony No. 4 / KABALEVSKY, D.: Symphony No. 2 (Rachmilovich) (1949)       9.80125
RAVEL: Bolero / La valse / Pavane pour une infante defunte / IBERT: Escales / DEBUSSY: Clair de lune / CHABRIER: Espana (Ormandy) (1953-1954)          9.80259