INTERVIEW with JOHN WILSON - Conductor, Arranger and Scholar
 
By Ian Lace
Shortlisted for last year's prestigious Royal Philharmonic Society's Conductor's Award and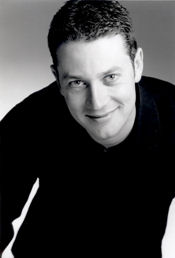 still in his mid-30s, John Wilson has established an enviable reputation as a conductor, arranger and scholar. He is recognised internationally as an expert in the specialist fields of light music, jazz and music for screen. He is also a passionate advocate for British music.  
As a conductor John Wilson works on a regular basis with the Hallé, City of Birmingham Symphony, Royal Liverpool Philharmonic, Philharmonia, BBC Scottish and BBC Concert orchestras and has also conducted many other leading British orchestras including the London Symphony, Royal Philharmonic and the BBC Symphony. He has recently been appointed Principal Guest Conductor of the RTE Concert Orchestra in Dublin, and has conducted the Lahti Symphony Orchestra in Finland on several occasions. John has also worked in Germany, Sweden, Denmark, Norway, Iceland and Bulgaria. In 2007 he made his BBC Proms debut in the Royal Albert Hall, televised on BBC-2, and made his Australian debut in Melbourne and Adelaide plus his London Philharmonic debut at the Royal Festival Hall. He had a triumphant return to the Proms this summer conducting his own orchestra in a programme celebrating 75 years of MGM musicals, televised live on BBC-2, watched by 3.5 million and already repeated twice Autumn 2009.  
In January 2010 John Wilson will make his operatic debut with Gilbert & Sullivan's
Ruddigore
at Opera North.  
He has made many recordings, most notably a series of highly acclaimed CDs with the John Wilson Orchestra on the Vocalion label. A keen advocate of English music, his third Coates disc,
Eric Coates: London Again,
with the Royal Liverpool Philharmonic on the Avie label, featured on U.S. Tower Records'
Best of 2005
list. His recording of orchestral works of Edward German with the BBC Concert Orchestra was released in 2005. A CD of music by John Ireland with the Hallé Orchestra was released Spring 2009 on its own label.  
John Wilson's latest 'serious music' recording (as at December 2009) is on the Dutton Epoch label (CDLX 7237
review
). It comprises world premiere recordings of some very little known but very accessible British music: Ralph Vaughan Williams'
Heroic Elegy & Triumphal
Epilogue
; York Bowen's
Orchestral Poem -
Eventide
; William Alwyn's
Overture in the Form of a
Serenade
;
Prelude, Blackdown
–
a Tone Poem from the Surrey Hills
;
Peter Pan
Suite; and
Ad
Infinitum – a Satire for Orchestra
; plus Sir Hubert Parry's Incidental Music for
Hypatia
A prolific arranger, Wilson has produced countless orchestrations for film, radio and television. He arranged and conducted the music for Kevin Spacey's film
Beyond The Sea
, the score of which was nominated for a 2006 American Grammy Award. He enjoys a close working relationship with Paul McCartney and has orchestrated and conducted several of his compositions with the London Symphony Orchestra. In the USA his arrangements and orchestrations have been played by the Chicago Symphony, Boston Pops, National Symphony of Washington and Cleveland orchestras.  
A lifelong interest in film music led John Wilson to restore a number of classic film scores. He accepted an enormous challenge from MGM: reconstructing the lost orchestrations of all their major musicals including
High Society
,
Singin' in the Rain
,
Band Wagon
and
An American in Paris
. In 2007 he gave the first European performances of the newly-restored score of
Wizard of Oz
with the Royal Liverpool Philharmonic, synchronised with the film and the first Irish performances in Dublin with the RTE Concert Orchestra. He will conduct
Singin' in the Rain
with the Philharmonia in the Royal Festival Hall in Autumn 2010.  
Born in Gateshead on Tyneside in 1972, John Wilson studied composition and conducting at the Royal College of Music where his teachers were Joseph Horovitz and Neil Thomson. He graduated from the RCM in 1995 winning all the major conducting prizes and the coveted Tagore Gold Medal for the most outstanding student.  
MusicWeb International's Ian Lace conducted this interview with him in November 2009:-
Ian Lace (I.L).
Let's start off with that highly popular
MGM Musicals
Prom broadcast on BBC2 TV on 1 August 2009 (and repeated on BBC4 TV on Friday 30 October, 2009). How did that come about?  
John Wilson (J.W.)
I'd always known the MGM musicals concert would be perfect for the Proms and Tom Croxon - the manager of The John Wilson Orchestra - initially approached the BBC about 5 years ago with the idea. So it was a long time in the planning.
I.L.
It was a very unusual programme that probably would
not
have been featured during a Promenade Concert season in pre-Roger Wright days?  
J.W.
Yes, all credit to Roger for giving us a free hand to do what we felt was best musically. Although the bulk of the Proms season is - and ought to be - Western classical music, there is a long tradition of light music at the Proms, going right back to Henry Wood's earliest concerts.
I.L.
How difficult a task was it reconstructing those scores by ear. I seem to remember Debbie Wiseman saying you had told her that it took you one day to score just 4 bars - in a particularly dense section?  
J.W.
Difficult, yes; and enormously laborious. There are no short cuts. But you build up muscle as you go along and you get to know the style of the original orchestrations pretty intimately. Also, the original MGM orchestra tended to have the same line-up of players over the years so you are often writing for the same number of players in each film excerpt, and often in the same orchestral idiom.
I.L.
Who at MGM (if anybody) encouraged you to work on this project?  
J.W.
Several people at Warner Bros. (who own the MGM catalogue) have been endlessly helpful: George Feltenstein, Leith Adams, Keith Zajic and - although not a Warner Bros. employee - Michael Feinstein.
I.L.
Will there be another 'Musicals' concert during the Proms next year?  
J.W.
I have no idea what is happening in the 2010 Proms ...
I.L.
And has a recording company approached you to put it – or its like - on CD?  
J.W.
Yes. Watch this space.
I.L.
Has BBC considered releasing that Prom concert as a DVD?  
J.W.
No.
I.L.
Has this Prom been broadcast abroad and especially in North America? I wonder what the Hollywood musical community thought about it? Have you been invited out there as a consequence?  
J.W.
Not broadcast in the USA although several Americans have seen it and I have had a lot of American fan mail - from some very prominent people in the film and TV business. I also had a lovely letter from Hugh Martin, composer of the Trolley Song and vocal arranger at MGM in the '40s.
I.L
. Turning to your dance music. How did your contract to play at the Royal Garden Hotel come about?  
J.W.
Gosh, that was YEARS ago. The general manager of the RGH spotted us playing at a golf club in Surrey in 1996 and offered us the job on the spot. We stayed at the RGH for 9 years.
I.L.
How did your Orchestra(s)– bearing in mind you employ strings on some recordings but not on others – come together.  
J.W.
The string-based group grew out of orchestras I assembled when I was a student at the RCM. I met various jazz players when I was the pianist at Grosvenor House in the early 1990s. The fusion of these two sets of musicians happened in 1994 when the JWO was formed.
I.L
. You must have played before some famous personalities at the Royal Garden over the last ten years? Have you any special memories, any interesting stories?  
J.W.
Once, when playing for tea at Grosvenor House, an elderly lady in a wheel-chair smiled and applauded each number and then bought me and the violinist tea. We thanked her, ate our tea and carried on playing. Only when she had left did I find out it was Ginger Rogers ...
I.L.
Your dance music is tasteful and sophisticated and so faithful and exact to the styles of yesteryear and so beautifully rhythmic for dancing. They bring back memories of Geraldo, Billy May and Nelson Riddle. How did you first become interested in such music?
J.W.
I have always loved this music - my mother used to watch all the old films and I was aware of Frank Sinatra way before I knew classical music even existed.
I.L.
Was it very difficult to restore/arrange?  
J.W.
Much of the original dance music of Geraldo and Nelson Riddle survives. I have had access to the original scores in many instances.
I.L How did you interest your young contemporaries in such material?  
J.W
It's a lot of fun to play and we were all young and keen. I also paid them ...
I.L.
They, like the older experienced players in your Orchestra are clearly dedicated to and very enthusiastic about the music. Their ensemble playing is magnificent – I am thinking, for example, of the polished and elegant brass dialogue and the supporting textures in 'The Shadow of Your Smile' on
Dance Date
? Would you like to comment, please?  
J.W.
I am very fortunate to have not only some of the best players in the UK but also a loyal group who have stayed with me for years. Many of the players in my orchestra have been with me from the start in 1994 - there is absolutely no substitute for playing together. The track you mention - 'The Shadow of Your Smile' - was arranged by Mark Nightingale especially for the orchestra's wonderful trombone section.
I.L
The warm, mellow sound for romantic close dancing on so many tracks of 'Moonlight Becomes You' is very attractive. What brought Paul Weston to your attention and would you please choose two or three examples from your CD that might best describe his particular talent.  
J.W
.
I always loved the records he made with Doris Day in the 1950s. My dear friend Malcolm Laycock suggested I record some Paul Weston as he thought it would suit my orchestra and he put me in touch with Paul's son, Tim. Weston had a lovely, laid-back way with the reeds and brass that is very lovely to listen to … and to play. 'East of the Sun', 'But Not for Me', and 'All of Me' come off rather well on that record ...
I.L.
Remembering your work orchestrating
Gormenghast
and your 2000 CD, what was it like working with
Richard Rodney Bennett
?
J.W.
Very easy; RRB is a complete pro - he gave me highly annotated short scores, I hardly had to do anything. One or two composers I've worked for expected me to supply the harmony, counterpoint, orchestration, the lot! Not Richard, he is a real composer and does all of that himself.
I.L.
How did Mike Dutton become interested in recording your music?  
J.W.
Can't remember - ask him! Very glad he did, mind you ...
[Mike Dutton, Owner and Director of Dutton Epoch and Dutton Vocalion recordings kindly added this answer to my question – "I remember that I was at a session with John and the BBC Concert Orchestra, recording Eric Coates's music for the ASV label. At that session I talked to John about Stanford Robinson's recording of
The Enchanted Garden
– a work that we happened also to be recording – and I soon realised that John knew his stuff. Mike Ponder, the producer, later told me that John had previously made a CD with his own orchestra, but that it had not received much coverage. That, really, is what prompted me to invite John to record an album with his orchestra for (my) Vocalion label. The resulting CD – 'Orchestral Jazz' (cat. no. CDSA 6800, released in 2000) – fitted perfectly into the light orchestral genre, which is a large part of what Vocalion is about. That was the beginning of my professional association with John Wilson, and it went on from there."]  
I.L.
John, what was your favourite dance band, and music when you were growing up?  
J.W.
Sinatra / Nelson Riddle
I.L.
What attracted you to the music of Angela Morley?  
J.W.
Watching the film, The Slipper and the Rose.
I.L.
What difficulties and opportunities does it present? Did she provide the arrangements for the recording?
J.W.
We had a ball making those records - Angela wrote all the arrangements and was at all the sessions and she just let us get on with it and made the odd very helpful suggestion. She was a great musician and a wonderful lady. We stayed in touch right up until she died in January of this year (2009).
I.L
She was clearly immersed in film and 'show' music as arranger, composer and musical director; what sort of working relationship did you develop with her? You clearly used a good-sized orchestra; the harmonies and orchestrations are lush, the music very atmospheric and evocative particularly for the 'Pastoral' titles:
Watership Down
and 'White Wing'?  
J.W.
See above ...
I.L.
Turning away from Dutton's Vocalion to the more serious music and Dutton's Epoch recordings. You have made two recordings of the relatively neglected music of Edward German including his Symphonies 1 and 2. What attracted you to German's music?  
J.W.
Eric Coates was hugely influenced by Edward German and so I decided I'd better check him out. There is some really gorgeously beautiful music - such a shame it is hardly ever played these days ...
I.L.
Would it be true that because of German's revisions and the inconsistencies that followed them, quite a lot of work had to be done to bring these scores up to performance standards for these recordings?  
J.W.
Yes, a lot. David Russell Hulme did it all - he knows more about Edward German than anyone alive ...
I.L
You have begun recording with the Hallé - a recording of orchestral music by John Ireland. Although I appreciate that you have performed more serious British music in concert, why did you choose to record John Ireland for your first CD in this more serious music genre in preference say to Bax, Bliss, Finzi or Moeran or other British composers?  
J.W.
If pushed, I'd say Ireland's music means more to me than that of any other English composer. Deeply passionate music but also rugged and restrained. There is also a melancholy and mysticism which is deeply attractive. I was thrilled to get to record this with the Halle as they have a real affinity with English music and Ireland was from very near Manchester.
I.L.
What do you think is so special about the music of John Ireland and how did you prepare for the recording?   
J.W.
I have known the music so well for so many years I could have recorded it without the scores!
I.L
Which of previous conductors of John Ireland's music do you admire and why?  
J.W.
Barbirolli above all - he gets the passionate sweep AND the detail.
I.L
. Are you planning any more recordings of Ireland's music?  
J.W.
Yes; the Piano Concerto and Legend.
I.L.
You have a very successful and varied career. You must be experiencing an increasing and accelerating work-load. Would you like to describe a typical day in the life of John Wilson, please?  
J.W.
Different every day. A lot of travelling, but mainly in the UK. I can often be spotted marking up scores in train carriages. Fortunately, I have many friends in British orchestras and so my working life is happily sociable. I often get to travel with my jazz-playing colleagues which is great fun.
I.L.
What music is included in your future recording schedule and what would you like to record in the fields of film music, easy listening and more serious material?  
J.W.
Plans to record MGM arrangements with my own orchestra; also John Ireland (see above) and more Eric Coates (very rare things that nobody has ever heard before!).
Just as we were going to press with this interview we were sent the following
News Flashes
from John Wilson's agents:-  
ON THE TRAIL OF THE GOOD COMPANIONS
Not content with his mammoth project of reconstructing the orchestrations of all the famous MGM musicals, JOHN WILSON has another triumph for this Autumn. "When invited by the BBC Concert Orchestra to conduct a musical for Radio 3, I instantly chose The Good Companions, based on the novel by J.B. Priestley which recounted the trials and tribulations of the 'Dinky Doos', a small-time concert party touring England in the 1930s. With a score by André Previn, orchestrations by Herbert W Spencer and Angela Morley and lyrics by Johnny Mercer, the show opened in 1974 with a cast including John Mills and a young Judi Dench. Although receiving wonderful notices, the show ran for only 252 performances due to IRA bombing in London. Chappell's produced a simplified orchestration and a revised vocal score for amateur use which for the next 35 years was the standard performing version. I knew that locating the original orchestrations would be crucial to the success of our project. A full score was located, all 700 pages photocopied and sent to me for inspection but a glance at the first page revealed that this was the score of the revised orchestration for amateur performance! Further enquiries were made: Previn had nothing in his archives, nor did Angela Morley or the estates of Mercer and Spencer. Just when I was about to give up hope, I was contacted by Warner Chappell who had found a box of what looked like original performance materials. These yellowing, somewhat tattered pages, turned out to be the original band parts from the 1974 production, not complete but almost. From these parts I have re-assembled the original full score and prepared a new performing edition, faithful to the intentions of this remarkable creative team.
 
MORE THAN 2.5 MILLION VIEWERS TUNE IN TO WATCH JOHN WILSON AND HIS ORCHESTRA'S BBC PROM TRIBUTE TO THE MGM FILM MUSICALS
Such was the response from the public that BBC TV immediately repeated its transmission a few days later while hundreds of ecstatic emails were received. As Edward Seckerson wrote in The Independent: "Imagine the soundtracks of your best beloved MGM musicals after an auditory steam-clean; better yet, imagine being there in the moment of recreation and hearing the crack MGM Symphony put through its paces, a saturation of swooning strings, mellow trombones, saxes and a bevy of gleaming trumpets, their extravagant vibrato lending the sound an expensive sheen. John Wilson is the man whose keen ears have reconstructed orchestrations thought lost to us for good and whose amazing John Wilson Orchestra has been custom made to deliver the kind of playing that takes you way beyond make-believe. "Technicolor for the ears?" "You'd better believe it."