Harmonia Mundi HM Gold series - First issue
Harmonia Mundi has a long cherished and - more to the point - long nourished reputation for excellence of execution. They also have an eye for elite presentational values.

The new HM Gold series from this long-lived Arles-based company evinces those qualities and breathes gusts of new mid-price life into the company's catalogue. In this feature I survey the first fifteen issues which draw on recordings first issued between 1979, the Deller disc and 2003 for the Hillier collection of Orthodox Chant. These fifteen discs were issued in April 2008 and a further fifteen were due in July 2008.

Common features of the series include the gold-frame livery, stunning artwork, card-fold casing with full plastic mounting plate sealed into the card and substantial booklet some running to 60+ pages which slides into the sleeve sometimes only after persistence. The booklet is often on stiff high quality paper. The text is in French, English, German and the original sung language. For example, the Hillier disc includes Cyrillic script in its parallel sung-text pages as well as the three main European languages. Text size is legible and is printed black on a white ground. Full discographical details are given and opportunity is taken discreetly to present the other full price items available from HM for that particular artist or ensemble or composer. Biographical outlines of the artists are standard. Disc, booklet and card case all look the business although the downside of midprice is the card-fold which may become scuffed over time.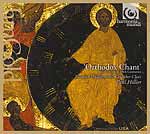 'Orthodox Chant' of the 17th and 18th centuries
Estonian Philharmonic Chamber Choir/Paul Hillier
rec. 15-19 July 2002, Tallinn, Estonia
HARMONIA MUNDI GOLD HMG507318 [70:14]

Paul Hillier's time with Harmonia Mundi has brought forth some fourteen discs. There are three volumes of Baltic Voices, four dedicated to the music Arvo Pärt, four from the medieval period and one each for Cage (Litany for the Whale) and Stockhausen (Stimmung). This one offers eleven pieces of chant composed variously by Dmitri Bortniansky (1751-1825), Giuseppe Sarti (1729-1802), Vassily Titov (c1650-c1715), Baldassare Galuppi (1706-1785), Nikolai Diletsky (c1630-c1680) and Artemy Vedel (1767-1808). On first playing it can all seem rather samey but you should persist. Bortniansky's Cherubic Hymn is serene if a mite stolid while Sarti's Now the Powers of Heaven is much more successful in its silvery heights. Titov sounds somewhat like Monteverdi in its impressive interplay of solo lines. Supplication and enchantment are commingled in Bortniansky's With my voice I cried out which nicely exploits the wonderful resonant acoustic of Tallinn Methodist Church. Understated music, outstanding singing and superbly captured.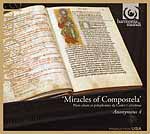 Miracles of Compostela
Anonymous 4.
rec. 25-28 July, 20-22 September 1995, Campion Center, Boston, Massachusetts, USA
HARMONIA MUNDI GOLD HMG507156 [71:20]

Here are 21 short pieces from the Codex Calixtinus. The home of the late 12th century Codex is the Cathedral of Santiago de Compostela on the Atlantic seaboard of North-West Spain. One of three great centres of pilgrimage, this place occupies a crucial position in the European Middle Ages. The Codex comprises plainchant much of which is for the Vigil and Feast of St James. This devotional music is heard in editions prepared by these singers and is sung with the usual pristine vocal purity associated with The Anonymous 4 (Ruth Cunningham, Marsha Genensky, Susan Hellauer, Johanna Maria Rose). Notable among these pieces is the melisma of the Benedicamus Trope and Ad sepulchrum (trs. 5 and 7). The frictionless ascents demanded in Cunctipotens genitor are confidently accomplished by a quartet of voices that always sounds as if it is an ensemble of at least four times that size. A fresh tone of innocence appears in Gratulantes celebremus festante (tr. 16) - very enjoyable too, complete with trilled delays and echoes. A special serenity radiates from Portum in ultimo (tr. 19).

The liner notes are by Susan Hellauer, one of the Anonymous 4.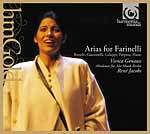 Arias for Farinelli
Vivica Génaux (mezzo), Akademie für Alte Musik Berlin/René Jacobs
rec. January 2002, Teldex Studio, Berlin
HARMONIA MUNDI GOLD HMG501778 [77:35]

A generous anthology built around arias that may have been sung by the famous castrato Carlo Broschi detto Farinelli (1707-1782). Feted in his own time, his sound is here speculatively recreated by a mezzo. The arias are by Porpora, Hasse, Broschi and Giacomelli. Riccardo Broschi's steady reflective aria Qual guerriero from Idaspe is particularly moving with long note-lines seemingly built for a singer freed from the need for catching breath. This also rises to emotional heights unusual for those times as in the meltingly lovely writing at 3:10 onwards. By contrast Giacomelli's aria Mancare, Dio from Adriano in Siria is comparatively conventional though most beautifully shaped by Genaux. At the centre of the disc sequence we hear an instrumental work: Galuppi's Concerto a 4 in C minor which with its nicely pointed dynamic contrasts, distancing and bustle is well worth hearing. Johann Hasse's Per questo from Artaserse is temperate and playfully shaped with some nice instrumental filigree to tickle the ear. Genaux redeems Giacomelli with the dramatics and stage stuff of the aria Quell'usignolo from Merope. The avian idylls of the second section of the aria compete with serious Vivaldian pointing and end the disc well. One aspect of this series with which  take issue is the inclusion of extracts from critical reception of the discs on their original issue. What is the point of this except in some way that we do not want to dwell on to confirm the purchaser's wise choice in buying. Certainly since these extracts are in the booklets they can do nothing to encourage purchase. A small and unnecessary irritation.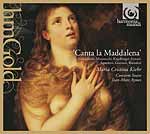 Canta la Maddalena
Maria Christina Kiehr (soprano)
Concerto Soave/Jean-Marc Aymes
rec. May 1999, Fribourg, Germany. DDD
HARMONIA MUNDI GOLD HMG501698 [71:47]

The angelically-voiced Kiehr with Aymes here delves into the deep and rewarding repertoire of Italian solo motets. The balmy Santa Agnelett's Gloria imparts calm like a benediction and establishes a line from which Mozart's Exultate Jubilate may be said to trace its ancestry. For Luigi Ross's Pender non prima Kiehr's voice is joined by harpsichord and lute. Contrast is provided by the echoing complexity of Frescobaldi's Toccata for harp - quite a discovery and not at all dainty. Other tracks include instrumental and vocal pieces, many short, by Ferrari, Mazzocchi, Gratiani, Rossi, Kapsberger (whose lute and chitarrone works have an HM Gold disc of their own). Remarkable is the Lagrime Amare by Mazzocchi the melisma of which takes the listener into realms more familiar from the works of Alan Hovhaness. Ferrari's Queste pungente spine is given an otherworldly confiding edge by Kiehr and Concerto Soave. The ensemble's soloistic excellence throughout is a real strength of this anthology from a long distant world which is here recreated afresh. The sung words are printed in full and with some style and generosity of layout. Translations are also provided: French, English, German.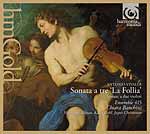 Antonio VIVALDI (1678-1741)
Sonata a Tre La Follia - The Trio Sonatas
Véronique Mejeam, Käthi Gohl, Jesper Christensen
Ensemble 415/Chiara Banchini
rec. January 1991. DDD
HARMONIA MUNDI GOLD HMG501336 [69:37]

Here we have six of Vivaldi's 27 Sonatas for two violins and harpsichord. Banchini and Ensemble 415 bring pointed elegance with playing that subtly and with passion finesses the tendency towards bone china preciousness. The Grave of the RV6 sonata is memorable for its melancholy serenity. However the lively flightiness of the Four Seasons is also in evidence as we hear in the Giga of the op. 1 Sonata. The annotation is well complemented by a Vivaldi chronology.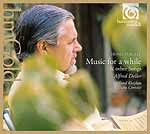 Henry PURCELL (1659-1695)
Music for a While
Alfred Deller (counter-tenor); Wieland Kuijken (bass viol); William Christie (harpsichord); Roderick Skeaping (violin); Robert Elliott (organ); Jane Ryan (bass viol)
rec. April 1979. ADD
HARMONIA MUNDI GOLD HMG50249 [55:18]

This is one of the gems of the Harmonia Mundi back-catalogue. Even at the age of 67 and recorded within three months of his death Deller preserves his special purity almost completely unimpaired. Only at the end of some demanding phrases is there the slightest hint of crumbling. What remains is his exemplary purity of stratospheric tone. He makes play with a delightful affected tremble in If Music be the Food of Love and his bird-like attack in miniature on quite high notes is memorable in Not all my torments. A sepulchral cortege is evoked through O lead me to some peaceful gloom with its evocative shrill trumpets. Equally stygian is the instrumental tissue for O Solitude while Deller's voice courses high above. The instrumental ensemble comprises various permutations of clavecin, baroque violin, organ and bass viol. The notes include a useful chronology of Deller's life and there are essays by David Vickers, Gustav Leonhardt, Nikolaus Harnoncourt, René Jacobs, Paul Elliott and Bernard Coutaz. A rich context indeed.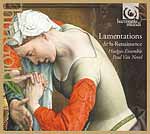 Lamentations de la Renaissance
Huelgas-Ensemble/Paul Van Nevel
rec. April 1997, l'Abbaye-aux-Dames de Saintes.
HARMONIA MUNDI GOLD HMG501682 [69:43]

The Huelgas-Ensemble and Paul Van Nevel have a distinguished HM discography which includes discs of Ferrabosco, de Kerle, de Lassus, Richafort (his requiem in memoriam Josquin Desprez) and various themed anthologies. Here the unifying thread is the Biblical Lamentations of Jeremiah. Those by the Augustine monk Tiburtio Massaino (c1550-1609) have the criss-cross serene vocal interplay of Monteverdi's madrigals. Robert White (c1538-1574) was master of choristers at Ely and then Chester. He fell victim to the plague in 1574. Again a complex skein of interweaving lines this time recalls Tallis. Marbrianus de Orto (c1460-c1529) seems to have received his training at Tournai Cathedral. The deeper voices contribute a rich bass burr to this 1506 Venetian version with breathy organ and quiet instrumental lines providing moments of reflection. The final Lamentations is in three segments and is by Roland de Lassus (1532-1594). It is in five parts but the counterpoint of vocal lines is a shade less intricate than in the other works here. If you enjoy the Monteverdi madrigals then do try this.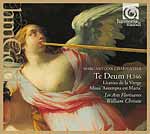 Marc-Antoine CHARPENTIER (1643-1704)
Te Deum H146; Missa 'Assumpta est Maria' H11; Litanies de la Vierge H83
Les Arts Florissants/William Christie
rec. October 1988, Eglise Notre Dame de Travail, Paris.
HARMONIA MUNDI GOLD HMG501298 [74:47]

Imperial confidence is the stamp of these grandly public devotional works. Drums and romping brass declare a Purcellian confidence untroubled by doubt. It is just a little complacent though this is in no way a criticism of the artists and the boisterous qualities of the work are fitting to a Te Deum. Tenderness has its place too but it is second place - try the singing of Veronique Gens (later to make such a splash with her two CDs of the Canteloube Auvergnat songs) in Te ergo Quaesumus of the Te Deum. The Missa: Assumpta est Maria is a understated devotional work although the bubbling feathery Sanctus provides much needed relief even if it is all over too quickly. The muscular and vehement Domine salvum ends the Missa. The Litanies offer further contrast reducing textures down to only six parts, two treble viols, bass viol and organ. Again we receive full notes and texts with translations into French, English and German. The recording is closely balanced revealing every detail. How delightful is the dancing delicacy of the Speculum justitiae and the Rosa mystica.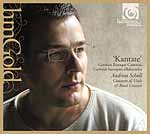 German Baroque Cantatas
Schutz, Rovetta, Bach, Tunder, Legrenzi, Buxtehude, Erlebach, Albertini
Andreas Scholl (counter-tenor)
Concerto di Viole; Basel Consort
rec. October 1997, Studio Tibor Varga, Sion, Suisse.
HARMONIA MUNDI GOLD HMG501651 [71:50]

The purity and uncanny steadiness of Andreas Scholl's extraordinary voice is here celebrated. He does not lack for representation in the Harmonia Mundi catalogue - some seventeen entries. In this case we hear him in the ineffably beautiful and minimally scored (lute only) O Jesu, nomen dulce. Johann Christoph Bach's extraordinarily romantic Lamento is unforgettable with its strange foreshadowings of the cimbalom. Legrenzi's purely instrumental Sonata Quinta is rather ordinary in this company. Scholl unwaveringly maintains the concentration of the sombre Buxtehude Klag-lied. Erlebach's Wer sich dem himmel is a more pliantly devotional vehicle with more scope for Scholl to spread his emotional wings. Instrumental contrast is offered again in the form of Ignazio Albertini's Sonata IV for violin and continuo. It's another discovery in a disc of discoveries. For its age - Albertini's dates are c1644-1685 it is very romantic in style. When first played many parts of this 5:33 piece must have seemed outlandish indeed.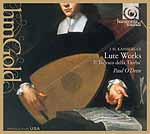 Johannes Hieronymus KAPSBERGER (c.1580-1651)
Lute Works - Il Tedesco della Tiorbe
Paul O'Dette (lute)
rec. November 1989, Manchester, Michigan, USA. DDD
HARMONIA MUNDI GOLD HMG507020 [69:27]

Here are 25 short pieces by the much derided Venice-born Kapsberger. They are variously for the lute (13) and the chitarrone (12). The music is heard in editions by O'Dette. The instruments sound douce indeed. They are 1984 replicas of originals by Hans Frei and Vendelio Venete. The music is peaceful, and seems lovingly relished, stately and expressive even when technically complex as in the case of the Corrente (tr.11). The CD starts with the minmalist Toccata arpeggiata which has the centuries melting away in a slowly mercurial ostinato. Odette also provides the practically supportive notes.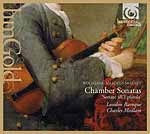 Wolfgang Amadeus MOZART (1756-1791)
Chamber Sonatas for two violins, organ, cello and double-bass
London Baroque/Charles Medlam
rec. February 1984, St Martin's Church, East Woodhay, Berkshire. DDD
HARMONIA MUNDI GOLD HMG501137 [47:37]

Short measure in terms of sheer playing minutes. Mozartians will experience a much higher yield from these vivid played and recorded Church sonatas. There are 14 of them with the organ bubbling away happily in many cases as in the Sonata in C major K336. Nothing sounds uncharacteristic - bustle, and a sure architectonic ear are in evidence across these works written between 1772 and 1780.They are jewelled little works each in a single movement – the longest 4:52 and the shortest 2:26. Ideas and invention flow superbly. Looking for a short overture-style start to your chamber concert then try this selection - plenty to choose from. In Beecham plumage they would also offer a soothing lollipop with which to end a concert preoccupied with tragedy, heroism and the eternal verities. The recording is forward and unapologetic - perhaps a mite unremittingly in your face but Charles Medlam and his players deliver some really engaging exuberant Mozart.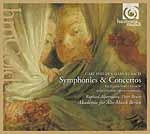 Carl Philipp Emanuel BACH (1714-1788)
Symphonies and Concertos
Raphael Alpermann (clavecin, Dietrich Hein 1999)
Peter Bruns (cello, Carlo Tononi Bolognese, Venise, 1730)
Akademie für Alte Musik Berlin
rec. January 2000, Christuskirche, Berlin-Oberschöneweide
HARMONIA MUNDI GOLD HMG501711 [79:24]

Squeezed into one very well filled CD these are fizzingly energetic and emotionally freighted performances of three symphonies and two concertos by CPE Bach. If you have only one disc in your collection this could easily be it. Three ten minute symphonies flank and centre a collection that includes a concerto for harpsichord and a concerto for cello. CPE wrote music of great originality and hearing the stately strangeness of the Larghetto with its odd harmonic adventures is something of a shock after which the Cello Concerto Wq 170 comes as balm. The 22-strong Akademie seem a well bedded-in ensemble attuned to this composer's art. Their advocacy should continue to do much for CPE's music.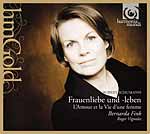 Robert SCHUMANN (1810-1856)
Lieder (1840): Frauenliebe und Leben (8); Nikolaus Lenau Lieder (7) and other songs (9).
Bernarda Fink (mezzo)
Roger Vignoles (piano)
rec. June 2001, Reitstadel, Neumarkt
HARMONIA MUNDI GOLD HMG501753 [60:25]

For me the slight hint of a beat in the voice of Bernarda Fink places this although high in the stakes somewhat below the most exalted. And yet ... and yet Fink acts and gives every sign of feeling every word. When it comes to songs such as Du ring an meinem Finger I am competely won over - the words are caressed. As for Roger Vignoles' part in the partnership, he is attentive and in no significant sense a mere accompanist. Fink and Vignoles touchingly shape, entrance and serenade the listener in the Heine setting Die Lotosblume. Not everything is serious or intense. Try the playful silvery light-as-down Die Kartenlegerin, a song to words by the same Chamisso whose poetry is set in Frauenliebe und -leben. The darker overtone's of Fink's voice sound out as if a National anthem in the first of the Lenau Lieder with the piano part picking out the Smithie's hammer-strokes. Most striking and well ahead of its time is Einsamkeit which in its own way may well have provided inspiration for the songs of Bernard Van Dieren and for Peter Warlock's By the Stream and The Frostbound Wood.
 
French and English translations side by side with the sung German.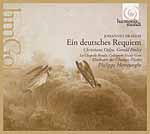 Johannes BRAHMS (1833-1897)
Ein deutsches requiem
Christiane Oelze (soprano)
Gerald Finley (baritone)
La Chapelle Royale; Collegium Vocale Gent
Orchestre des Champs Élysées/Philippe Herreweghe
rec. 9 June 1996, l'Auditorium, Igor Stravinsky de Montreux. DDD
HARMONIA MUNDI GOLD HMG501608 [66:15]

Herreweghe and his French orchestra are practised in the classical era genre with recordings of Beethoven (Missa Solemnis, Symphony 9), Bruckner (symphonies 4 and 7) and Schumann (the symphonies and two of the concertos). Here recorded naturalistically in a massive acoustic Herreweghe and his forces approach the Brahms Requiem reverentially without ever becoming stolid or becalmed into stasis. One movement I played time after time was Denn alles fleisch - it strikes the mot juste in tempo, in confiding tenderness and in rhetorical flourish. In the Wie lieblich movement the quality of the singing links to Brahms volkslieder in its sincerity and innocence. This is deeply moving music-making. Texts and translations are provided in sensible typography and format.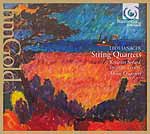 Leos JANÁČEK (1854-1928)
String Quartet No. 1 Kreutzer Sonata (1923) [18:12]
String Quartet No. 2 Intimate Letters (1928) [25:46]
Melos Quartett
rec. May 1991.
HARMONIA MUNDI GOLD HMG501380 [44:04]

The Melos Quartett were at one time something of a property of Deutsche Grammophon. This disc appears to be one-off with HM recorded some seventeen years ago. It is a splendid version although at 44:04 the playing time is short. Yet the performances are totally committed and absorbing. The Melos delve deep into the bustle and mercurial flow of the music. These two works of the 1920s are such a well known coupling but one would generally hope to hear another work alongside them. The newly written notes are by Michel Marie. They are supplemented by another splendid composer chronology – just the right thing to help find your artistic and historical bearings. Good to be reminded that the Second Quartet dates from the composer's last year. Its last movement recalls the life-enhancing surge of metropolitan cafe culture in Smetana's First Quartet.

This is truly a golden harvest breathing new life into large swathes of the Harmonia Mundi back catalogue.

Rob Barnett