King Arthur
An heir to the tradition of Elgar and Vaughan Williams, Arthur Butterworth is British musical royalty. Lynne Walker meets him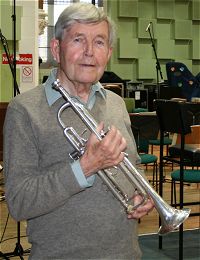 At the age of 85 most composers might expect to celebrate their birthday with a glass of fizz or, if their background is in brass, a bottle of quality beer. Arthur Butterworth may well do that on 4 August but prior to this he has been back among the brass players with whom he began his career in music. It was 1958 when, as a trumpeter with the Hallé, he played in Vaughan Williams' London Symphony at the Cheltenham Festival, in the presence of the composer who died barely a month later. Fifty years on Butterworth was invited to take up his trumpet once more for a performance of the same work by the Settle Orchestra which he helped to found. 'It was so ingrained in my recollection of rehearsing and performing — we did it many times in the Hallé that I found I still really knew the part, even after half a century,' he says.
In 1950 he had visited the composer at the White Gates at Dorking when his conversation with Adeline Vaughan Williams revolved around the Eflat natural trumpet part in the Pastoral symphony (her nephew was a trumpeter). Ursula (later VW's second wife) came in with 'a large tray of scones and jam; and the chat turned to Arthur's namesake, George Butterworth (no relation). When, in the course of a few lessons with Vaughan Williams, Butterworth produced the VW-inspired Legend for the Buxton Spa Orchestra - of which he was a member for the summer season of 1950 - the older man generously reassured him that eventually he would 'grow out of it' [his influence] and that if in 30 or 40 years his music appealed less to him, Butterworth was not to think himself 'disloyal' 'I've never forgotten his humility,' says Butterworth. He did grow out of it, to forge his own distinctive, some would say Sibelian, musical vocabulary which he feels he discovered walking in the Scottish Highlands.
Now, with 134 works in his catalogue, many evocatively titled, including six symphonies, a variety of concertos, chamber music (to which he came later in his life), a few vocal pieces and nearly 20 for brass band, Butterworth still composing, still championing his music and still painting too - represents a vital link with a long-gone musical era. A Lancastrian, he began writing music at the age of ten, joining the Besses o'the Barn Band in Manchester. Only later, after time in the Royal Engineers, did he attend the Royal Manchester College of Music (as it then was) under Richard Hall. Not for Butterworth the avant-garde path of the next generation under that roof, Alexander Goehr, Maxwell Davies, Harrison Birtwistle and Elgar Howarth, although some of 'Max's' music, the later works, he now admires. Birtwistle, on the other hand, is all that is alien to him. He likes Elgar, finds little to appeal to him in the works of Britten or Tippett and enjoys Walton, although as a person we didn't find him all that attractive when he came to conduct the Hallé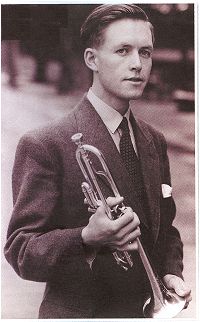 After spells as a trumpeter in the Scottish National Orchestra (1949-55) and the Hallé (1955-62), during which years - 'among the best of my life' - he learnt everything he needed to know about how to write for an orchestra, Butterworth eventually gave up all other work. This included a teaching job at Huddersfield University (which he loathed though, to his credit, I can attest that he did not convey this to his students) to pursue composition and conducting. His music is still more highly regarded in the north of England, yet he has a broad palette and his sixth symphony, promised a premiere by the BBC Philharmonic perhaps in 2010, now looks set to be played by the St Petersburg Philharmonic next year. Meanwhile a recording of his fourth symphony and his viola concerto with Sarah-Jane Bradley and the Royal Scottish National Orchestra under the composer's baton, will be released on Dutton Epoch later this year.
He counts among his quintessential 'Butterworth' works his first symphony, premiered by the Hallé and Barbirolli in 1957 and programmed at the Proms the following year [also CD review], his modestly-scored fifth symphony (2003), his viola concerto (premiered by the BBC Philharmonic, marking his 70th Birthday), Odin for brass band (chosen as the test piece at the 1989 National Brass Band Championship finals and heard no fewer than 22 times in succession at the Royal Albert Hall) and his Piano Trio No 1 which reminisces over 'a radiant summer crossing of the Baltic'
Fascinated by railway archaeology, fiercely opposed to all blood sports, happy devising gadgets, Arthur Butterworth maybe out of tune with the zeitgeist but his music has its own integrity with an intensity of emotional power that sometimes seems hard to square with his old-fashioned courteousness and gentlemanly demeanour. How to capture a packed 85 years? I round up with a quick Q&A.
Who does he consider his principal influences as composer, conductor, trumpeter and human being? 'Sibelius [Butterworth's house near Skipton in the Yorkshire Dales is called 'Pohjola' after the Finnish Kalevala], Sir Adrian Boult, Harry Mortimer [Hallé principal trumpet in the 1930s and 40s] and my wife, Diana.'
What would he like to have composed? 'Possibly a scena on Edgar Allan Poe's A Cask of Amontillado, though I did dip a toe in the world of opera with a libretto and sketches for Wuthering Heights before destroying every scrap of it!
What advice would he give were he to meet himself now at the age of 16 or 17? 'Just go ahead and compose, despite every seeming obstacle, for you'll never know unless you try'
This article first appeared in Classical Music 2nd August 2008 and is reproduced by kind permission of Lynne Walker.
Photograph by kind permission of John Gracie, Principal Trumpet - Royal Scottish National Orchestra.
Arthur Butterworth regular column