ALUN HODDINOTT (11 August 1929 - 12 March 2008)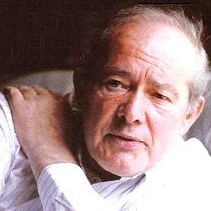 Alun Hoddinott was born on 11 August 1929, in Bargoed, Glamorganshire. His musical talents developed early, he was an accomplished violinist at 7, played viola in the first National Youth Orchestra of Wales, and when only 16 won a composition scholarship at University College, Cardiff, graduating B Mus in 1949, followed by a D Mus in 1960. He also studied privately with Arthur Benjamin and was awarded the Arnold Bax Medal in 1957.
A well known and respected teacher, he was appointed lecturer in music at the Welsh College of Music and Drama in 1951, subsequently becoming lecturer at Cardiff University where he was appointed Professor and Head of Department in 1967, retiring twenty years later. With John Ogdon, he co-founded, and was artistic director of, the Cardiff Festival where much contemporary music was introduced to the Welsh public.
But it is as a composer that he will, and should, be best remembered and his output was prodigious. He came to public attention with his 1st Clarinet Concerto, when it was heard at the Cheltenham Festival in 1954, played by Gervase de Peyer and conducted by Sir John Barbirolli, and given two years later at the Proms under Sargent. From here started the long string of commissions which continued throughout his life, and he was championed by many of the most distinguished performers of the time, including the singers Sir Geraint Evans (The Beach of Falesa (1974), Murder, the Magician (1976), What the Old Man Does is Always Right (1977) and The Trumpet Major (1981)), Dame Margaret Price, Dame Gwyneth Jones (A Vision of Eternity (Symphony No.9) (1992)), Sir Thomas Allen, Jill Gomez, and, more recently, Jeremy Huw Williams and instrumentalists such as Ruggiero Ricci (Violin Sonata No.1 (1968)), Mstislav Rostropovich (Noctis Equi (1989)), Osian Ellis (Harp Concerto (1957)), Nia Harries (Cello Sonata No.3 (1996)), John Ogdon (Piano Concerto No.3 (1966) and Piano Sonata No.5 (1978)), and David Childs (Euphonium Concerto, The Sunne Rising - The King will Ride (2002)).
Hoddinott's output covers all musical genres, with ten Symphonies (written in two
periods (1955 – 1972 (nos. 1 – 5) and 1984 – 1999 (nos 6 – 10)) separated by work on his five operas (1974 – 1981), ten piano sonatas, concertos, orchestral, chamber, choral and vocal music and he could as easily write a symphonic work as a lighter piece – such as the three sets of Welsh Dances and the delightful Quodlibet on Welsh Nursery Tunes.
Hoddinott's style evolved throughout his career from the neo-classicism of the Clarinet Concerto to a free use of tonality, a kind of serialism, but one which never lost sight of a tonal base, and which could best be described as richly romantic. He favoured dark, brooding harmonies and textures, long lyrical lines and the Nocturne was never far from his thoughts – whether a slow evocative night-piece (the magnificent Lanterne des morts (1981)) or a mercurial, disturbing nocturnal scherzo (brilliantly realised in the cello and orchestra work Nocturnes and Cadenzas (1969)). His work was variously described as having "… a certain sternness of thought" (Piano Concerto No.3, Musical Opinion 1966), "…a fine impetus" (Piano Concerto No.3, Gerald Larner, The Guardian 1966), "…a finely controlled sensuousness of sound that might be described as neo-impressionistic" (Landscapes, Hugh Ottaway, Hi-Fi News (1976)), "This is music with rhythmic tricks and surprises as well as powerful though enigmatic harmonies" (Organ Sonata, Music Quarterly (1978)) and "Hoddinott is writing tough, purposeful music, original in form and vividly coloured (Variants, Stephen Walsh (1966)). These quotes give some idea of the quality of invention and earnest thought in Hoddinott's music.
His almost vocal writing for the orchestra made his move into opera in the 1970s an inevitable step, and one which both enriched his language and helped to lighten his orchestral thinking.
One of the first works to benefit from this new style was the poem for violin and orchestra, The heaventree of stars (1980), an intense and lyrical response to a line from James Joyce. His 1989 Proms commission brought from him one of his masterpieces Star Children, a large-scale tone-poem featuring all of Hoddinott's distinctive fingerprints – a slow, atmospheric opening (which, after the première, one critic referred to as 'Astral magic'), a full-bodied, brilliantly scored, fast section, full of event and colour and a bold conclusion. Hoddinott created his first, single movement, Symphony with his 6th (1984), described by Geraint Lewis as a continuously unfolding argument in related spans. Star Children takes this idea and continues it with music which is large in scope but small in timescale; Hoddinott has pared away all but the most necessary notes and created a compact, and very satisfying, one movement structure.
In 2004 the BBC National Orchestra of Wales undertook a year long celebration of Hoddinott's work (including new commissions) in honour of his 75th birthday. The following year he wrote a fanfare which was performed at the wedding of Prince Charles and Camilla Parker Bowles, having previously written music for the prince's investiture in 1969. After the première of his 2007, BBC commissioned, orchestral song-cycle Serenissima, at the annual St David's Day concert in Cardiff, it was announced that a new recording and performance hall being built at Cardiff's Wales Millennium Centre was to be named the BBC Hoddinott Hall. With this Hoddinott became the first Welsh composer to be honoured by having a concert venue named after him.
Menna Richards, controller of BBC Wales, said "He was one of Wales's most distinguished and influential composers with an international reputation. Later this year the BBC National Orchestra of Wales will move into its new home, Hoddinott Hall, named in honour of such a fine composer and distinguished Welshman."
Huw Tregelles Williams, who became the first director of the BBC National Orchestra of Wales in 1992, and was the première performer of Hoddinott's Organ Sonata (1978), said "He had a highly original, colourful style. Many of his scores, very colourful scores, filled with exciting percussion sounds, new brass sounds and so on - an entirely new musical language in the history of musical Wales."
Among his many awards were the John Edwards Memorial Award, the Arnold Bax Medal for composers, the Hopkins Medal of the New York St David's Society and the CBE. In 1997, he received the Glyndwr Award for an Outstanding Contribution to the Arts in Wales during the Machynlleth Festival. He also received a Lifetime Achievement Award from the Arts Council of Wales in 1999, Fellowship of the Welsh Music Guild and the presentation of a medal to him by the Queen when she officially opened the Wales Millennium Centre. He was an honorary member of the Royal Academy of Music, and a fellow of the Royal Northern College of Music.
Alun Hoddinott, who had been in hospital since he underwent major heart surgery last year, died on Wednesday 12 March 2008 at Swansea's Morriston Hospital.
He married Rhiannon Huws in 1953, and she and their son survive him.
Alun Hoddinott, CBE, composer, was born on 11 August 1929. He died on 12 March 2008, aged 78.
Bob Briggs
When Alun Hoddinott was 75, the BBC National Orchestra of Wales celebrated his birthday with a year long season of his works. This tribute tells us two things, that he was prolific enough to supply a full season's worth of works and that he was firmly rooted in his local artistic community.
Hoddinott was one of the composers, like Peter Maxwell Davies, who made something international by being local, creating links within the Welsh arts community and promoting contemporary music in Wales. As well as being Professor of Music at Cardiff University, in 1967 he co-founded the Cardiff Festival of 20th Century Music with John Ogdon and was the festival's Artistic director. The festival transformed musical life, bringing Britten and Messiaen to South Wales and commissioning some 200 works. And when Hoddinott retired from Cardiff University in 1989 he had established the largest musical department in Britain.
As a composer Hoddinott was remarkably fecund, composing in all genres. His language could be highly coloured and original; his scores included exciting sounds from brass and percussion. His early works were in a neo-classical vein, with nods to Rawsthorne and Hindemith. But as a mature composer he developed a style which could be dark, characterised by violent emotions and dense textures. The influence of Bartók and the techniques of serialism could also be felt but Hoddinott developed a very personal style – energy went hand in hand with chromaticism and lyricism.
His writing is tough and disciplined, tempered with lyricism and a brooding intensity. He was notably fond of nocturnal slow movements. Hoddinott never wrote down, but his style of modernist romanticism made accessibility achievable.
Hoddinott was not a pianist; his training was as a violinist, so he felt that his music did not owe allegiance to the sonata-based Austro-German school. Instead of building his music on the conflict at the heart of sonata form, the forms and textures of the baroque appealed to him and his music often displays a sense of continuous development.
His musical development can be tracked in his symphonies. The 1st, appearing in 1955, is densely textured. The 2nd (1962), 3rd (1968), 4th (1969), 5th (1973) demonstrate the gradual development of Hoddinott's language, the increasing sophistication of structure and a love of exotic tonal colouring, notably percussion. His 6th symphony (1984) is noticeably romantic. This sequence continued through to the 9th Symphony for Soprano and orchestra – A Vision of Eternity (1989) and 10th (1999).
Up until 1974, Hoddinott was known as a composer of orchestral and chamber music but his first opera, The Beach of Falesa was premiered that year by Welsh National Opera with a libretto based on Robert Louis Stevenson's short story. Over the next decade Hoddinott would write a total of five operas, two were written for television, The Magician and The Rajah's Diamond. But possibly his most successful was What the Old Man Does is Always Right to a libretto by Myfanwy Piper, which mixes adult roles with parts for children and children's choruses. Piper would write a total of three operas with Hoddinott but this children's opera remains their best. Writing the operas had an influence on his other music, his orchestral writing notably opened up, extending his range and palette as well as introducing a greater warmth and romanticism.
In the 1990s Hoddinott wrote music in most genres, but spent much time writing chamber music and song-cycles. These latter were often written for Welsh artists - another example of Hoddinott's links to his local artistic community. His legacy of instrumental and chamber music forms a rich and important body of work.
----------------
Alun Hoddinott was born in 1929 in Bargoed, Caerphilly where his father was a teacher. As a result of his father's taking a teaching job in Pont-Iliw, near Swansea, Hoddinott was brought up there. Despite his family not being very musical, he showed an early talent, taking violin lessons from the age of 4 and being proficient by the time he was 7. He also showed an early interest in composition.
At the age of 16 won a scholarship to University College, Cardiff and whilst still a student wrote orchestral works, including a Cello Concerto, songs and chamber music. These were publicly performed, but subsequently withdrawn by the composer. He also studied privately with Arthur Benjamin.
When he was 24 he won the Walford Davies composition prize and the same year his Clarinet Concerto was first performed at the Cheltenham Festival by Gervase de Peyer and the Hallé Orchestra conducted by Sir John Barbirolli.
In 1951 he became a lecturer at the Welsh College of Music and Drama, going on to become a lecturer at Cardiff University in 1959. He was made Professor of Music in 1967, a post he held until he retired.
The Royal Philharmonic Society premiered his Variants for Orchestra in 1967 and Night Music was first performed by the New Philharmonia in 1968. In 1970 The Sun, the Great Luminary of the Universe, based on an apocalyptic passage on James Joyce's 'Portrait of the Artist as a Young Man', was premiered at the Swansea Festival by the London Symphony Orchestra under Vernon Handley. It would become one of Hoddinott's most admired works of the 1970s.
Hoddinott was awarded the CBE in 1983. In 1989 the London Symphony Orchestra premiered Noctis Equi for cello and orchestra; the conductor was Mstislav Rostropovich. The work's title refers to a line in Marlowe's 'Doctor Faustus'. The 1990s saw works premiered at the Wales Garden Festival, Gower Festival, Fishguard Festival and North Wales Music Festival. In 1997, at the Machynlleth Festival he was given the Glyndwr Award for outstanding contribution to the arts in Wales. In 1999 he received a lifetime achievement award from the Arts Council in Wales.
In 2004 the Queen presented him with a medal at the opening of the Wales Millennium Centre and, having written music for the Prince of Wales's investiture in 1969 he would go on to write a fanfare for the Prince's wedding to Camilla Parker Bowles.
In March 2007 the BBC announced that the new home of the BBC National Orchestra of Wales was to be named BBC Hoddinnott Hall.
The night before the composer died, his most recent string quartet was premiered at the Wigmore Hall.
In 1953, Hoddinott married Rhiannon Huws, a Welsh speaker; she became his translator and collaborator. They lived in a suburb of Cardiff and then on the Gower Peninsula. His wife and a son survive him.
Robert Hugill