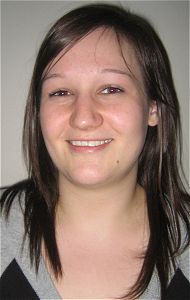 The nineteen year-old Karen Geoghegan was discovered as a result of her participation in the 2007 BBC television series, ĎClassical Starí. Since such shows arenít really my cup of tea I didnít see the programmes. However, as a former bassoonist myself, and knowing that the instrument isnít exactly regarded as "box office" I was intrigued that a bassoonist had prospered in that series. From the evidence of this CD Miss Geoghegan thoroughly deserves her success.
From her recent interview with my colleague, Carla Rees, it seems that Karen Geoghegan became a bassoonist almost by accident because her school had an instrument available and needed someone to try to play it. The same thing happened to me and I wonder how many players of the more recherché instruments have started in a similar way. Clearly Karen Geoghegan was eminently suited to the instrument; one would scarcely credit that sheís been playing it for only about seven years.
The contents of this disc have been shrewdly chosen. A couple of the pieces Ė the Hummel and the Gershwin arrangement Ė were featured in the television series. For the rest, Karen Geoghegan has wisely not just chosen pieces that allow her to display different facets of her talent and the instrumentís capabilities but also sheís largely avoided anything too familiar Ė with the possible exception of the Elgar Ė thereby increasing the appeal of the CD.
Itís clear from the word go that she possesses a first rate technique and also an enviable cantabile tone. This latter skill is especially evident in the Gershwin arrangement, which makes a good encore. Here she is required to play in the highest register for much of the time and employs a suitably bluesy sound. Actually, the piece is more than just an arrangement of Gershwinís music. The second half, where thereís more chance for display by the soloist, uses the tune as the basis for some variants. Itís almost a mini-fantasia on Gershwinís tune and itís most enjoyable.
But Iím getting ahead of myself. The most substantial item is the Hummel concerto, which Iím ashamed to say I donít recall hearing before. It ought to be much better known for itís a most engaging piece and one that, as Calum McDonald points out in his excellent notes, shows the influence of Mozartís concertos. The soloist has to work hard in the first movement, where Hummel provides a good mix of demanding passagework and pleasing singing lines. Karen Geoghegan responds with playing that always sounds stylish; she takes every offered opportunity for display but her playing is also graceful where required. The technique is clearly rock solid. One small example will suffice: at 9:44 thereís a short passage where the soloist plays quick up- and-down scales but every note also drops the octave. It must be very difficult to execute but it sounds effortless here.
In the second movement Hummel, like Mozart before him, exploits the bassoonís cantabile capabilities in "soulfully lyrical mood". Miss Geogheganís instrument sings delightfully. The finale is a good-humoured dance in compound time. I love Calum MacDonaldís description of it as having "the character of a country dance, though Hummelís peasants manifest a touch of urban elegance and sophistication." The music gambols along charmingly. Karen Geoghegan turns in a most mature performance of the entire concerto and I enjoyed it very much.
The Weber piece is an arrangement of a work for viola and orchestra that he originally wrote for his brother to play. The bassoon arrangement postdates his Bassoon Concerto. The Andante is a theme followed by three variations. The Rondo, despite its title, doesnít have a pronounced Hungarian flavour Ė not much goulash here! However, itís a very pleasing jeu díesprit and in this winning performance one gets the impression that all the musicians are enjoying themselves. The solo part requires increasing agility as the Rondo progresses and Karen Geoghegan is fully up to the challenge.
The Berwald work is in three linked sections. The opening Allegro combines liveliness and elegance. Berwald writes well for the instrument and is not afraid to take his soloist up into the upper reaches of the bassoonís compass. The central Andante is based on the tune of the verse of the song ĎHome Sweet Homeí, which was then fairly newly written To conclude thereís a jolly recapitulation of earlier material. This is another attractive piece thatís given a fine performance here.
The name of Carl Heinrich Jacobi was completely new to me but it seems from the notes that he was a noted virtuoso of the bassoon in early nineteenth century Germany who also composed extensive amounts of music for his instrument. The slow introduction is quite short and the Polonaise occupies most of the workís duration. The piece has a certain melodious attractiveness and I imagine itís good fun to play Ė though only expert players need apply! That said, I found it to be pretty empty as a piece of music and, though itís very well played it made no great impression on me.
Probably the piece in this programme thatís best known outside the bassoon fraternity is Elgarís Romance. This is an early work and it belongs with his lighter music. However, like so many other of his lighter pieces, itís very far from being "mere" light music. Itís one of Elgarís many sophisticated miniatures and this one is permeated with more than a hint of melancholy. Itís performed here with a nice light touch but itís also treated with the seriousness that it merits.
On the evidence of this disc Karen Geoghegan is a most accomplished player and also a thoroughly musical performer. I suspect Ė and hope Ė that she has a bright future ahead of her and this attractive and enjoyable debut disc is an excellent start to her professional career. I gather from the interview with Carla Rees there are to be at least two more Chandos CDs. If the repertoire hasnít been settled yet I hope Miss Geoghegan will consider the Weber concerto and it would also be interesting to hear her in Gordon Jacobís concerto, though I think Iím right in saying that Chandos already have a version of that in their catalogue.
Inevitably in a disc such as this the focus is bound to be on the soloist. However, it would be very wrong indeed not to praise the sterling support that is provided by Benjamin Wallfisch Ė another member of that remarkable musical family - and the Orchestra of Opera North. Chandos have provided excellent sound and the release is further distinguished by lively and informative notes. I hope that this entertaining disc will find the wide audience that this excellent young musician deserves.
John Quinn
See also review by Carla Rees June RECORDING OF THE MONTH