Like Verdi's
Nabucco -
reviewed on this site
in November 2007 (Euroarts 2056228) - this production of
La Traviata
was staged within the St Margarethen Opera Festival. This is held in Europe's biggest natural stage, once a Roman quarry, near Eisenstadt, some 25 miles south of Vienna. The gigantic stage might be appropriate to such spectaculars as
Aida
and
Nabucco
but not, I argue, for the more intimate scenes within
La Traviata
. On arrival, the audience is greeted with the aspect of the outside of a Palace. This façade divides in two and the halves roll back to reveal a central stage area itself so wide that when the Violetta and Alfredo or Alfredo and his father Giorgio wander towards opposite ends there is a huge gulf between them ruining any sense of intimacy.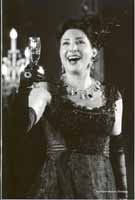 I have to say I have very mixed feelings about this production. First the good news. As you can see from the stills, the two youthful leads Kristiane Kaiser and Jean-François Borras are very personable; Kaiser having a statuesque beauty and slim figure appropriate to a consumptive and Borras, a long-haired stocky hero, passionate and wilful. It is nice for a change to see both leads looking so young and not as so often happens, one or the other. They are both in good voice too; Kaiser, with stamina aplenty, has a most attractive timbre and she projects strongly. In this she is aided by some good sound engineering although it is a pity that the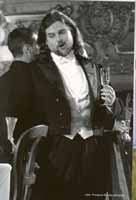 cast had to wear those forehead-mounted microphones another drawback of so vast an arena. Apart from an odd missed note or two, she is impressively secure in her upper and middle registers. Borras makes a dashing lover moving imaginatively through passionate declarations of love to anxiety, anger and despair. Their duets blend in honeyed legato. But why on earth couldn't the producers have edited out the intrusive airplane noises that marred the exquisite romanticism of their Act I 'Un di felice, eterea'. Georg Tichy's Germont is a tad stiff but in strong oaken tones he cajoles iron-fist-in-velvet-glove like, and consoles - winning audience approval for his famous Act II aria, 'Di Provenza il mar, il suol'. 
The bad news. I have mentioned a number of difficulties already but I feel I must add one or two more. Personally I found a costumed audience in boxes on-stage distracting. The final Act III setting was sparse indeed made up of rows of many candles on the floor downstage and a series of armchairs upstage – could they not have given poor Violetta a
chaise-longue
?  Then the Act II Scene II ballet sequences were weird featuring cross-dressers in the gypsy and Spanish dances. But I will finish carping by mentioning the DVD box presentation. As you can see it is hardly representative. Why the lady in red? Why is her back to us and why is she gazing out to sea when
La Traviata
is located in Paris and in country villa? No artists are mentioned on the cover and there is no detail about them within the booklet!
I have to say that I prefer to recommend an alternative DVD - Zeffirelli's
La Traviata
(
TDK DVWW-OPLTR
) which is a feast for the eye with Domingo conducting and drawing first class performances from his orchestra, chorus and cast – particularly Stefania Bonfadeli who is an outstanding Violetta.  
Kristiane Kaiser shines as Violetta – the stand out element in a satisfactory production.
Ian Lace