Principal cast (from left); Clifton Webb (John S. Shadwell); Dorothy McGuire (Miss Frances); Louis Jourdan (Prince Dino di Cessi); Maggie McNamara (Maria   Williams); Rossano Brazzi (Georgio Bianchi) and Jean Peters (Anita Hutchins).


It must be stated first that this CD does not include Frank Sinatra's rendition of that song. It can however be found on the CD Frank Sinatra sings Sammy Kahn: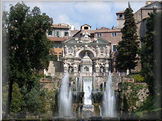 Having got that admission out of the way there is so much more to admire on this album. The first track 'Prelude', high spirited and infectious, heard under the opening credits, is typical of Victor Young's sparkling easy-listening score. The 1954 film, Three Coins in the Fountain, was an enormous box office hit for 20th Century Fox. It was made even more popular, of course, by that song delivered by Sinatra against a backdrop of fountains in and around Rome including the spectacular water displays at the Villa D'Este (pictured right) in the film's pre-opening credit sequence.  It was the first Cinemascope film to be shot on location outside the United States and it was distinguished by the wonderful colour photography, by Milton Krasner, of Rome and Venice. The film is now available on DVD.
The slight storylines concerned the romantic entanglements of three women – two young American secretaries and the older Miss Frances secretary to the pompous author and intellectual, Shadwell. Maggie McNamara's ensnaring of Louis Jourdan by unscrupulously studying his tastes was quite charming but the stand out episodes  featured Webb and McGuire. Shadwell's witticisms were biting and memorable; e.g. when, at the cocktail party, he is accosted by a forbidding admirer claiming that any author following her around with notebook and pencil would gather lots of material, he replies straight-faced, "Madam, I would love to get behind you with a pencil"
Victor Young, gruff and tough, was hardly, one might think, a man to write such romantic songs as 'Stella by Starlight', 'My Foolish Heart', and 'When I Fall in Love'.
He worked on some 350 films. His work included: For Whom the Bell Tolls, Shane, Samson and Delilah, The Greatest Show on Earth, Around the World in Eighty Days and Scaramouche.  His talents were deeply rooted in the classics.  Richard Strauss's influence is marked in, for instance, in his Scaramouche music and Tchaikovsky's Capriccio Italien is surely remembered in this Three Coins score.    
Young uses Sammy Cahn's Three Coins theme subtly varied to underline the various emotional states of the three heroines but he enriches this score with so many more delights: the music to underline the beauty of the Italian locales such as 'Rome' and 'Venetain Plaza', the lovely waltz for the cocktail party sequence, the joyous 'Tarantella' and the playful 'Piccolo serenade' as Maria tries to persuade her Prince she is learning the piccolo. There are darker shadings; tracks like 'The Tenement District' and 'The Doctor/Forgive Me' when Shadwell discovers that he is desperately (Doctor) ill contrasted with lighter amusing material for the scenes (Forgive) in which Miss Frances gets thoroughly plastered.  The 'Finale' as all three couples are happily reunited, has a choir singing that song.
A sparkling score, even without 'Old Blue Eyes', and a lovely souvenir of a film that must be an endearing memory for so many couples, cinemagoing in the 1950s.
Ian Lace