Both Opera Ireland and RTÉ need to be congratulated for not only providing a truly excellent performance on disc, but also for their timely recognition of 2008's Balfe bicentenary. It is very sad that such a gifted composer has generally been forgotten.

Of the twenty-eight operas composed by Irishman Balfe, five are in Italian. Shakespearian themes have, like Scott's novels, often fired the imagination of composers beyond the British Isles. Balfe was invited to compose an opera for the Italian season at Her Majesty's Theatre, London in 1838. Falstaff, taken from the story of Shakespeare's The Merry Wives of Windsor, was selected as the book. The opera was written in the heyday of Balfe's career when he was young, confident of success, and fresh with ideas from his studies in Italy. The internationally famous Grisi and Lablache sang in its impressive première production.

The words are by Manfredo Maggione - a friend of Verdi's wife. It is heard here in a new performing edition by Dr Valerie Langfield taken from the full Falstaff score held at the British Library. This rarity is now presented for the first time in 170 years. The performance was broadcast by RTÉ and at the time it was hoped there would have been enthusiasm for a BBC relay since RTÉ had generously put its broadcast on the European network. But the name 'Balfe' does not appear to have generated sufficient interest in the minds of radio administrators to take up the offer. The Buxton and Wexford festivals were also cold to any Balfe revival despite 2008 being his bicentenary year. Whether this was due to a lack of research/guidance we do not know but to the best of my knowledge they have been slow to approach any specialist for advice. We must therefore be thankful that not only did Dublin show the initiative to stage a concert (see review), but also to publish this recording.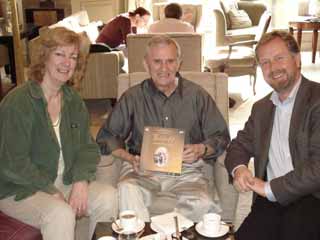 Three key persons in the revival of Falstaff: L to R: Dr Valerie Langfield (score), Basil Walsh (promoter), Niall Doyle (director, Opera Ireland)
The recording has the intrinsic interest of allowing us to hear a rare Balfe-ian work. In addition, it shows that the 'Verdian' style was very much embedded in Balfe's score. I hasten to add that in 1838, Verdi - a few years younger than Balfe - had not come to fame and had only written and premièred his first opera, Roberto. Both composers, however, leant on Rossini and Donizetti for flavour.

Opera Ireland has excelled in an outstanding performance under Marco Zambelli's enthusiastic direction. His good tempi emphasise the rhythmic pace of the energetic numbers. The orchestra plays with gusto and the recording is superb with a particularly agreable sound image for the cellos and the rich timbre of the harpsichord.

The soloists are on excellent form and provide some exquisite moments in both arias and concerted numbers. This fine line-up perform their well-rehearsed roles with confidence and some adorable singing. Marcel Vanaud's Falstaff has the right balance of character strength and humour to focus attention in this leading part. With his rich, resonant bass voice he immerses himself completely in the role. Barry Banks (Fenton), a superbly agile light tenor, has good diction, and sings with admirable clarity and fine tessitura. He is one of the few tenors I have heard who can make a seamless transition to falsetto. His aria, 'Ah! La mia mente estatica', with its difficult vocal line, is sung marvellously and with good emotion.

Majella Cullagh (Mrs Ford) is confident in the role's exacting coloratura demands. She portrays her part with panache which contrasts nicely with Fenton and Falstaff. Her wide register and versatility in difficult passages is well-managed. In Falstaff, Balfe composed a new aria for Jenny Lind who was to have taken the part of Mrs Ford in a revival. However, the planned revival never took place. And so the aria for Mrs Ford, 'Ah! Simio sposo amato', received its première at this performance. Majella, known in Italian opera recordings by Opera Rara, sang this aria with a sincerity and fine legato that charmed the audience. Mention must also be made of Tara Erraught (Annetta), who is given some prominence in Act II. I find her cavatina, 'Non v'è donna' delightful; similarly her duet with Fenton, 'Rammenta Annetta'. Balfe wrote some fine choral numbers in Falstaff and these are delivered with enthusiasm by a well-rehearsed chorus characterised by strong tenors and velvety altos with their entries spot-on.

A delightful overture with stirring rhythms and colour, partly rewritten for the 1848 revival, is bright and introduces a stirring march of the kind reminiscent of Verdi. A catchy predominant theme weaves in and out of Act I and forms the basis of its finale. An Italianate style is evident throughout and enhances one's opinion of the admirable skills of this composer. Unusually for this period, recitatives are provided by harpsichord continuo - its use had generally died out by 1838. Bellini only used it once in Adelson e Salvini (1825), and Donizetti up to 1836 (Il Campanello di notte), making an exception in the case of La Fille du Régiment (1840). The harpsichord was not favoured by Balfe, but perhaps he decided to use it to add colour to evoke an earlier Shakespearian time. Atmospheric tremolo strings and elegant trombone solo open Act III (the Forest scene at midnight). Mental imagery conjures the image of Falstaff found alone wearing his antlers before Mrs Ford enters. The score provides touches of comedy from the bassoon with other wind to amplify the right mood.

On all fronts, one has to admire the initiative taken by Opera Ireland and RTÉ to mount this production. One hopes that it will awaken interest internationally. There's a real richness about this forgotten material. The music is skilfully and imaginatively composed and contains some glorious melodic lines. For example we discover that an 1840s parlour song 'A Life on the Ocean's Wave', popularised on 78s during the early 20th Century, has its roots in a melody clearly lifted - in my opinion - from a chorus number at the beginning of Falstaff 's Act II.

The RTÉ recording is excellently balanced. The cellos sound sumptuously rich and the harpsichord, so often jarringly metallic in the concert hall, is mellow and blends well with the general orchestral tone. The soloists are adroitly placed to allow one to hear orchestral detail to the full.

The issue of this 2 CD set in its attractive card wallet has come as a breath of fresh air amongst all those reissues that often fill record shop racks and online listings.

Notes are provided in English, with libretto in Italian and English plus excellent background notes.

Raymond Walker
More about Balfe
Biographical timeline
My reviews of two biographies written by William Tyldesley (2003) and Basil Walsh (2008)
Reviews of other Balfe works:
The Bohemian Girl
The Maid of Artois
The Power of Love (review 1) (review 2)