RICHARD STOKER
70th Birthday Celebrations - 8 November 2008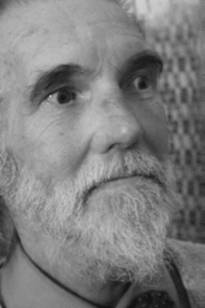 It is seven years since I first met the larger-than life composer Richard Stoker. It was at a poetry society meeting in Blackheath where I was delivering a lecture on 'The Songs of John Ireland'.  That is perhaps appropriate, as Stoker is not a person to be typecast into a single role. I had first heard of him associated with music – in fact it was the score of his Partita for organ that I found in the browsers at Biggars' Music Shop in Glasgow – way back in 1973. Moreover, I had discovered the attractive Sonatina for Clarinet and Piano, which appeared on Chandos, in the early nineties. Yet the Poetry Society event was important. I suddenly realised that this individual has so many interests that is difficult to imagine him finding time to achieve all that he wishes to. In fact, Stoker is a poet, and a published one to boot. His first volume of verse Portrait of a Town reached almost cult status. It is a kind of Lowry-esque meditation on Anytown in the West Riding –although it is actually based on Huddersfield. 
He has written much - about music and a variety of other interests - he edited the Composer magazine for a number of years. Perhaps one of his most interesting achievements is his autobiography Open Window - Open Door, which was published by Regency Press in 1985. I understand that Volume 2 is in manuscript and that Stoker has sufficient material to write a third volume!
I guess that what first struck me about Dr. Richard Stoker was the huge network of people whom he knew or had known. It is possible to name virtually any late twentieth-century composer or musician and discover that he knew them, taught them, was taught by them or at the very least had met them! I suppose I was most surprised when he admitted to me that he had once sat beside Sir Noel Coward during a concert at the Royal Festival Hall.  Also I was fascinated to hear that he knew Muir Mathieson, the ubiquitous film-music writer and conductor. I had seen Mathieson's name a hundred times on film credits before I had ever heard of Ireland, Bax, Vaughan Williams and of course Stoker!
Richard Stoker was personal friends with William Alwyn, Alan Rawsthorne, Elizabeth Maconchy, Alan Bush, William Blezard, Herbert Howells and many more. His early years had seen a glittering procession of teachers including Arthur Benjamin and Harold Truscott. However, perhaps the most significant influences on the young man were Sir Lennox Berkeley, who encouraged him to go to France and study with the amazing Nadia Boulanger. It is perhaps these last two individuals who have had the most impact on the composer's musical aesthetic.
One of the problems that have beset Richard is the paucity of performances, recordings and broadcasts. Although this is not a problem that affects only Stoker - it is endemic throughout British music. At present there are only two CDs of his music listed on the Arkiv website. There are a number of other works dotted about in various recital programmes – including his Polemics played by Janet Craxton. It is often possible to find Eric Parkin's recordings of the piano music and Martin Vishnick playing the complete guitar music in record shops. There are also two CDs devoted to vocal music – yet I guess that these are harder to come by.  All the music on these discs is deserving of interest. However, there is no substantial orchestral work in the catalogue. I remember hearing a private recording of his Passacaglia and Fugue written for orchestra and first performed by the BBC Philharmonic in 1981. This was superb, moving music that surely deserved to be part of the repertoire: I was reminded of Kenneth Leighton and Samuel Barber. Yet I guess that the two 1981 performances were its first and last outing in public … so far. I know that Stoker has written a number of large-scale orchestral works, including a Symphony and a Piano Concerto that still await their premiere. It is a pity that a retrospective of the composer's music is still a desideratum. His seventieth birthday would have been a splendid opportunity. But who know what the future holds?
Yet it is in chamber and instrumental works in live performance that Stoker is consistently successful. Only recently, he had his massive organ Sonata Symphonique played Kevin Bowyer in Glasgow University Memorial Chapel. I was not present but understand that it was extremely well received. He has composed two works for the flautist Rachel Smith including A Garrick Round - possibly inspired by his London Club and a Flute Sonata.  John Turner, the recorder player and the soprano Jane Rogers gave a fine performance of This Green Pleasant Land in the Bridgewater Hall, Manchester.  In addition, a couple of Christmases ago I was present at the premiere of his attractive carol – 'I saw a fair maiden'.  This deserves its place in the next volume of Carols for Choirs! His Three Chorale Preludes were performed by Robert Crowley at Southwark Cathedral and consisted of mature revisions of music from the composer's entire career.  Finally there is a Trio for saxophone, clarinet and percussion: this is for Sarah Field, David Campbell and Mike Hannet.
Yet it is not just music that takes up so much of Richard's time – at present he is playing the starring role in a short film about King Arthur. His resemblance to Bram Stoker, Edward VII, Sir Thomas Beecham, Sir John Gielgud, George Bernard Shaw, Richard Harris and Christopher Lee will ensure that he is never short of an acting role. Even the briefest glance at his acting CV reveals a man who has tackled many parts in a huge variety of media – both stage and film. And then there is the painting. He is an accomplished artist whose work can be seen gracing a number of his CD covers and his paintings are displayed in a number of private collections. He specialises in still life and abstract works.
As he enters his eighth decade, Stoker shows no sign of allowing age to interfere with his activities. The composer told me that projects include the revision of his Folksongs for soprano and recorder and his Six English Songs by Shakespeare. Then there are three Symphonies that are presently in short-score that need to be completed. They were originally composed, when, as Richard told me, "people were not supposed to write symphonies". Lastly there is a huge project to complete his operas based on the Emile Zola novel Thérèse Raquin. Surely this will be a masterwork that will complement the gothic propensities of his relative Bram …
John France