Everyman and His Music
Percy Scholes
(1877-1958)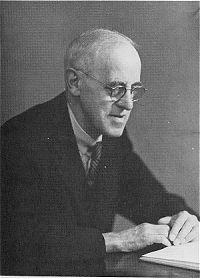 Sir Edward Elgar writing to the eminent scholar and musicologist. Dr Percy Scholes. This letter, together with others from the Musician-Laureate as Scholes affectionately labelled him, forms a small, but significant part of a vast and unique archive. One that offers fitting testimony to the life and achievements of a musician who, for over fifty years, was a dominant and highly influential force in British music.
Percy Alfred Scholes was born at Headingley, Leeds on 24th July, 1877, the third son of commercial agent, Thomas Scholes and his wife, Katherine. Largely self-taught, his early life severely blighted by chronic bronchitis, Scholes was educated at home by private tutors. After some years as Assistant Librarian at Yorkshire College (later the University of Leeds), he then taught music at Kent College before moving to Kingswood College, Grahamstown, South Africa.
Returning home to Leeds in 1905, Scholes initially joined the city's School of Music, working during the winter months as an Extension Lecturer for the University of Manchester. Here, amid a typically no-nonsense approach, he became noted for his successful specialization, the educational advancement of the non-specialist listener. Much in need of summer employment, in 1907, he approached the Co-operative Holiday Association and was sent to lecture on musical appreciation at Abbey House, spectacularly based, three hundred steps up the cliffs at Whitby, North Yorkshire.
At the end of that particular summer, there was a general wish for such activity to continue throughout the year. Scholes, enthusiastic as always then sought help and advice from three old friends, fellow Leeds musicians – Herbert Fricker, the distinguished City Organist, Dr. (later Sir) Edward Bairstow, famed Organist of Leeds Parish Church and Thomas Hoggett, a specialist church conductor and a member of the university music department. Together, they agreed to form an association of localised music circles – monthly meetings of like-minded enthusiasts, all embraced by a national support organisation entitled, The Home Study Union. An advertisement was duly placed in The Musical Times and a cyclostyled sheet of suggestions for future projects then sent out to all interested parties. Typically innovative, Scholes had also persuaded the publishers of C. H. Parry's Studies of Great Composers to supply each new recruit with a special discounted copy, priced very generously at only one shilling.
While membership was to all intents and purposes free, a sole condition of joining entailed a subscription of four shillings a year to cover the cost of the Union's monthly journal. Originally merely a single typewritten sheet, in November 1908, with a new title, The Music Student, it was now considerably expanded into magazine form. Soon, under the editorship of Scholes, the periodical began to attract writers of the calibre of Percy Buck, Rutland Boughton, Ernest Bullock, H. C. Colles, Ernest Walker and Ralph Vaughan Williams. Most generously Walter Willson Cobbett personally subsidised a chamber music supplement, which would alternate with a special feature for school orchestral players. From 1,000 copies in 1910, within a few years the magazine's circulation had shot up to 5,000 per month. Likewise its advertising revenue had risen from 10 column inches in 1910 to almost 60 column inches by the outbreak of the Great War.
A further exciting innovation available only to members, was the annual holiday course held each summer at assorted venues throughout the United Kingdom. These ranged from the Derbyshire Dales, to Bideford in Devon and perhaps the most popular, The Giant's Causeway in Northern Ireland Always over-subscribed, all in fees for such courses, including living, lodging and learning worked out at the group rate of 50 shillings for ten people.
1908 was to prove a particularly propitious one for Scholes. On a purely personal level, he married Dora Wingate, a talented pianist, whose many musical accomplishments so perfectly complemented and supported his. Academically also, he was now the proud owner of a B.mus degree from the University of Oxford. Further dramatic advancement followed when, in July, in the highly distinguished company of Stewart Macpherson and Ernest Read, Scholes instantly moved from provincial populiser to national standing, as he helped inaugurate the Music Teachers' Association.
In 1912, somewhat apprehensively, Scholes and his wife moved south to London. Here, in addition to running the rapidly expanding Music Student magazine, he also became Assistant Music Critic of a second publication, The Queen. Between 1913 and 1920, moving inexorably upward, he served as Music Critic of The Evening Standard, supplementing his still meagre income with work as an Extension Lecturer for the Universities of Oxford, London and Cambridge. International recognition followed in 1914, with the first of many lecture tours to America.
When war broke out, though deemed unfit for military service, nevertheless Scholes served in France as Organising Secretary of the Music for Troops Section of the Y.M.C.A. Formed "to develop musical activities in YMCA huts and centres throughout the field of war, amongst the training camps and hospitals in this country, and internment camps in neutral enemy countries," Scholes had put out an appeal in the magazine, The Musical Standard, for help and support from fellow musicians who were either over age or unfit for military service. Among those whom the organisation initially rejected, fearing that he might be regarded as of German origin, was a certain Gustav von Holst. It was in fact Scholes who, to break the somewhat embarrassing impasse, tactfully suggested to the composer that, in the circumstances, it may be in his best interest to drop the 'von' from his name. Thus, after much consideration, on 18th September 1918, Holst decided to change his name by deed poll to Gustav Theodore Holst.
On finding thousands of troops without music, Scholes, in his somewhat brusque no-nonsense manner, duly organised a very successful mouth organ appeal. A shilling donation secured a simple harmonica, of which 25,000 were sent to serving forces together with almost a quarter of a million invaluable pieces of sheet music. He also successfully persuaded many distinguished musicians to donate instruments to the troops. Elgar was one who led by example with the gift of his trombone.
Purchased by Evans Brothers in 1916, The Music Student had, by then, also been adopted by the Music Teachers' Association. Having successfully overseen its early development, in 1920, after twelve years in the editorial chair, Scholes left the magazine to succeed Ernest Newman as Music Critic of The Observer. A year later The Music Student re-emerged as Music Teacher, its title new, but its basic precepts tried and tested. Happily still very much with us, though times may be different, it remains an invaluable old friend, always eager to dispense help and advice when and where required.
Not everyone, however, proved to be a fan of Scholes's critical powers. Philip Heseltine alias Peter Warlock, for one, regularly rebelled, initially incensed by what he felt to be some of Scholes's highly uninformed comments on the music of Franz Liszt. Never one to hold back, particularly against anyone he felt to be a member of the London's musical establishment, Heseltine, in February 1925, publicly labelled Scholes as, 'an impudent charlatan obtaining money by false pretences by posing as an authority on a subject of which he was grossly ignorant'. Privately he was less inhibited, describing Scholes as 'a stinking bag of putrescent tripe'.
A few months later in Heseltine's view, Scholes erred once again. His less than flattering review of a Wigmore Hall concert unfortunately re-ignited the controversy. The event, at the Wigmore Hall, organised at his own expense by Ernest Moeran, featured music by Moeran, Hugo Anson, John Ireland and Herbert Foss. Heseltine took particular exception to Scholes's critique of a Foss song-cycle.
June 14th1925 Eynsford
Kent
Dear Mr. Scholes
Please forgive me for detaining you yesterday when your bladder was evidently full and overfull: one should have had more consideration so soon after closing time.

Once again, in your notice of Moeran's concert in to-day's 'Observer', you have given a conspicuous example of your incompetence and dishonesty as a critic. If you had said that Foss 'has still to find a harmonic idiom that means anything' to yourself, you would have been within your rights, but you have no right to saddle Foss with your own utter insensitiveness to any but the most elementary kind of diatonic harmony by suggesting that his own music means nothing to him–in other words that he has deliberately written, rehearsed and performed pages of absolute nonsense; and your statement that he 'introduces long pauses in the singer's part regardless of the sense of the words' is a direct lie.

Foss as a composer is nothing if not strictly self-critical, and as a musical critic he has solid qualifications of musical achievement to qualify him for being one-which is more than can be said for you and most of your journalistic confrères; and the spectacle of you and your pedantic like doing your utmost to thwart the efforts of composers and concert-givers who are doing their best to advance the cause of serious music in this country is becoming more and more disgusting.

Instead of appreciating the initiative of a young and by no means wealthy musician who gives a series of concerts of new and unfamiliar music, you can only complain that they are given on a Saturday afternoon when you would like to be playing tennis instead of earning your ill-gotten living.

Permit me to suggest that, abandoning the pretence that you are in any way qualified to pass judgement on music you would be much better employed in playing tennis than reporting concerts at any time, and that you would be still better employed in buggering yourself with a pair of exceptionally well-greased bellows

Yours Faithfully

Philip Heseltine.
Perhaps not unreasonably, Scholes, somewhat disconcerted by this further outspoken attack on his integrity, let it be known that he was now considering legal action. Undeterred Heseltine responded in kind once again:
June 20th 1925
Eynsford
Kent
Dear Mr. Scholes
I hear you have been talking of having your revenge on me for accusing you of 'incompetence and dishonesty' by having the law on me on account of my last letter. Very well: do so. And let me tell you this:-I have no illusions about the value of my contribution to music as a composer-that will be forgotten, possibly before I am. But there is one thing I am out to do and that is to purge musical criticism of reporters who have no qualification whatever for being such.

You are a dirty little place-hunting cur, and if you didn't wear spectacles I would tell you so in actions rather than words, the next time I set eyes on your exceedingly unprepossessing face.

Yours Faithfully

Philip Heseltine
Never one to rest on his laurels, Heseltine then took special delight in organising a very public petition, its sole objective to secure Scholes's immediate dismissal from The Observer. Unbeknown to most people, he also bombarded his foe with an incessant flow of obscene postcards, usually containing highly scurrilous limericks in which Scholes was both crudely and cruelly lampooned. More serious and disturbing was the constant stream of drunken phone calls both he and his wife would receive at all hours of the day or night.
Amid the vilification, Scholes never lost his sense of perspective. When asked later why he had not pursued the matter more rigorously, he quietly replied, 'I did not want to send a genius to gaol'. It was a view he felt was entirely vindicated, when, somewhat ironically, he was unknowingly asked by the Trustees of the Carnegie United Kingdom Trust to write the initial analysis and appreciation of the composer's masterly song-cycle, The Curlew
Happily, after almost twelve months since the problem first began, The Curlew allowed a discreet veil to be drawn over what had been a very unsavoury episode. Seemingly chastened, Warlock as he now signed himself, sent Scholes a most ingratiating letter in response to the analysis. As always he tended to have the final word:
June 12th 1926
Eynsford
Kent
Dear Mr. Scholes
While sending you an announcement of yet another performance of 'The Curlew', I feel I must write a few words to thank you for the extraordinarily helpful and illuminating commentary which you wrote about this work on the occasion of its recent performance at the Newcastle broadcasting studio. I remember, with profound gratitude, how much trouble you took, when the work was first published, in studying the score and writing the official account of it for the Carnegie Trustees' pamphlet, and I must confess that I felt extremely flattered when I saw that you had been kind enough to write yet another article about this little composition of mine-and such an article! When I read it, I began to think that I had never yet completely understood the significance of my own work myself.
Yours devotedly,

Peter Warlock
During his time at The Observer, Scholes became an early and enthusiastic champion of broadcasting, the gramophone and the player piano. One of the first journalists to print reviews of gramophone records, he also became a popular broadcaster, his weekly impromptu radio talks, like his journalism, seamlessly blending enjoyment with enlightenment. From 1926 until 1928, he was Music Editor of Radio Times. In this influential role as an intimate of Sir John Reith, Director General of the BBC, he proved an important conduit helping secure the future of the Promenade Concerts when, for a time, their future seemed rather uncertain.
While many in the appreciation movement, particularly Read and Macpherson, were initially sceptical of the use of both radio and the gramophone within an educational context, not so Scholes. In an instant he had realised what exciting possibilities the mechanical reproduction of music would mean for the future of mass education. Never slow to grasp the nettle, somewhat single-mindedly he led the way with a number of new and innovative projects, not least, The Columbia History of Music Through Eye and Ear. This huge undertaking of some forty 78s, rather in the style of the BBC Third Programme, in cleverly matching its text to specifically prepared recordings, proved an early forerunner of the talking book.
As Scholes's reputation expanded and advanced, so did his sphere of influence. Thus in 1928, he and his wife moved to Switzerland with a lucrative contract to provide pianola rolls for the Aeolian Company. When the pianola movement collapsed in 1929 as a result of the Wall Street Crash, a generous settlement allowed him to focus on a more long-term project that would eventually establish his worldwide reputation, The Oxford Companion To Music, published in 1938.
This huge, single volume compendium of almost 2,000 pages, typically lucid, methodical and scholarly in approach was undoubtedly the product of a remarkable card-index mind and, like most of Scholes's considerable output, aimed specifically at enlightening the general listener. Apart from the article on tonic sol-fa by William McNaught and the plots of the operas, contributed by W. R. Anderson, everything else among the million or so words, bears testimony to the indefatigable industry and skill of Scholes himself. It was he who also cleverly built on its initial success, keeping the franchise fresh with regular revised reprints. Continued after his death by his former assistant, John Owen Ward, in 1983, Dennis Arnold, took the opportunity to incorporate much welcome new research into a completely updated and enhanced two volume edition, now suitably entitled, The New Oxford Companion To Music.
In 1940, just before the fall of France, Scholes and his wife providentially returned to Britain. Initially settling at Aberystwyth, the wartime home of the British Museum Print Room, here, courtesy of the generosity of Oxford University Press, he had unfettered access to microfilm anything and everything that he thought might be of future use to him. From this resulted The Mirror Of Music 1844-1944, a most comprehensive record of a century of British musical life as seen through the eyes of that most august journal, The Musical Times. Further scholarly works followed in quick succession, notably The Puritans And Music, The Life of Dr. Burney and an exhaustive study of the national anthem, God Save The King! Its History and Romance.
Settling for a time in Oxford, Scholes was elected a member of the newly created Faculty of Music. In later years, leading a somewhat nomadic existence, he fought a constant battle against the complications brought on by his lifelong bronchial condition. Thankfully this proved but little bar to his industry or creativity, his card-index mind now fully focused on further lexicographical labours. The result was The Concise Oxford Dictionary of Music, followed two years later by his final work, appropriately for young people, The Oxford Junior Companion To Music.
In a letter to Gerald Abraham in 1948, Scholes wrote, 'You, Eric Blom and I are labouring ants, rushing hither and thither and piling ever higher our ant hills of paper'. Undoubtedly Scholes lived up to the example of his most industrious role model as evidenced by the contents of his most expansive library. Here 4,000 or so specially constructed boxes and files contained his unique collection of cuttings culled from newspapers, journals, concert programmes, research notes, broadcast scripts, reviews, pamphlets, programmes and periodicals. Meticulously catalogued, undoubtedly Scholes, his assistants and, not least, his wife, Dora, must have spent many hours individually indexing all relevant literature.
Equally well organised were 2,500 picture files, 3,000 books, sets of collected works, 450 scholarly editions, 30 runs of periodicals and, not least, the real treasure trove, letters from readers, colleagues and fellow musicians. These include many major figures from the first half of the twentieth century, Arnold Bax, Arthur Bliss, Rutland Boughton, Arnold Dolmetsch, John Ireland, Edmund Rubbra, Ralph Vaughan Williams and, as we have seen, Edward Elgar and Philip Heseltine. In addition, while the emphasis is undoubtedly on the 19th and 20th century British composers, the collection also holds some fascinating material on Russian composers, most notably Scriabin.
Towards the end of 1956, Scholes, now in increasingly poor health and wishing to return to Switzerland, decided the time was right to dispose of this vast archive, the legacy of a lifetime of earnest endeavour. Save for his research material on Dr. Charles Burney, deposited in the James Osbourne Collection of the Beinecke Library, Yale University, it was decided to sell his huge collection as a whole. Buyers were initially sought to keep it complete and in the United Kingdom, but disappointingly perhaps, no institution expressed an interest. Eventually, through the auspices of friend and fellow musicologist, Dennis Stevens, the entire collection was eagerly snapped up by the newly formed National Library of Canada in Ottawa, Ontario. For the removal men, the library represented the biggest cargo they had ever transported.
Professionally, to many musicians, Scholes's rather straightforward Yorkshire approach was often controversial, and even on occasion, divisive. The Founder and General Secretary of the Anglo-American Musical Education Conferences held in Lausanne in 1929 and repeated two years later, in 1930, he was elected an Officer of the Star of Rumania. An Honorary Fellow and Trustee of his old college, St. Edmund Hall, Oxford, Scholes was also President of both the Society of Recorder Players and the Welsh Folksong Society. In 1957, in recognition of his services to music, somewhat belatedly, he was awarded an O.B.E.
Privately, among a wide circle of friends, he was hugely admired, a man of warm humanitarian means and a most patriotic liberal. Patron of The League Against Cruel Sports and a Vice President of The Vegetarian Society, as ever fully committed to the cause, here he delivered the 1931 Arnold F. Hills Memorial Lecture. His talk, Some Aesthetic And Everyday Reflections On The Vegetarian System Of Diet, later published, added yet another distinctive essay to an already distinguished list.
Teacher, populiser, journalist, educationalist, lexicographer, critic and scholar, amid an unceasing quest to help all enjoy music from the cradle to the grave, Percy Scholes died a week after his 81st birthday, on 31st July 1958. As Music Teacher, the magazine he excitedly launched in November 1908, celebrates its centenary, take a moment to spare a thought for its founder. Without any special advantages, he created one of the most active and successful careers known to musicians. While undoubtedly his works of scholarship provide more than a fitting monument to his memory, his great love of learning never led him to ignore the everyday needs of the ordinary listener. Few would surely disagree that he more than deserved the epitaph he so fervently desired, 'The common people heard him gladly'.
List of Selected Publications by Scholes

1907

Candidates Self Examiner in Scales, etc.

1908

The Music Student (editor). Later renamed The Music Teacher

1917

Introduction to French Music

1917

Everyman and his Music

1918

An Introduction to British Music

1919

Listener's Guide to Music

1920

Musical Appreciation in Schools

1921

Learning to Listen by Means of the Gramophone

1922

Beginner's Guide to Harmony

1923

The Book of the Great Musicians

1924

The First Book of the Gramophone Record

1925

The Appreciation of Music by Means of the Pianola and Duo-Art

1925

Everybody's Guide to Broadcast Music

1928

Miniature History of Music

1930

Columbia History of Music Through Ear and Eye (5 parts)

1931

Miniature History of Opera

1933

Practical Lesson Plans in Musical Appreciation by Means of the Gramophone

1934

Puritans and Music

1935

Music: the Child and the Masterpiece

1935

Radio Times Music Handbook

1938

Oxford Companion to Music

1942

God Save the King! Its History and Romance

1947

The Mirror of Music

1948

The Great Doctor Burney

1952

The Concise Oxford Dictionary of Music

1953

The Life and Adventures of Sir John Hawkins

1954

Oxford Junior Companion to Music
Kenneth Shenton
Letters reproduced by kind permission of The Percy A. Scholes Collection, National Library of Canada.