Karen Geoghegan interviewed by Carla Rees
CD details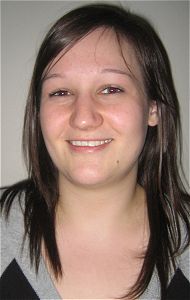 Karen Geoghegan is a 19 year old bassoonist who has an exciting future ahead of her. Seen recently as one of three finalists on the BBC television programme, Classical Star, she is currently a second year student at the Royal Academy of Music in London. She has just signed a deal with Chandos, and looks set to follow her ambition of popularizing the bassoon as a solo instrument.
CR: How did you begin playing the bassoon?
KG: My mum is a music education consultant, so I grew up around music. She gave me piano lessons, and I started to learn the violin when I was five. I played for seven years and only got to about Grade Five! There was a bassoon lying around in a store cupboard at school when I was twelve, and they wanted someone to play it who was already learning an instrument so theyíd be able to pick it up quickly. It felt so much more comfortable and natural to play, everything just seemed to click with the bassoon.
CR: Who were your main teachers and influences?
KG: I started to learn with a saxophonist (Russell Cowieson) at school, who was great, and very inspiring. Then I went to the Junior Department at the Royal Scottish Academy of Music, where I studied with Janet Bloxwich for five years. Then I came to the Academy to study with John Orford. Itís hard to find recordings of the bassoon to listen to, but I particularly like Milan Turkovicís playing. I also enjoy listening to the London orchestra principals, like Rachel Gough and Robin OíNeil.
CR: What repertoire do you prefer?
KG: I would have loved Shostakovich to have written a bassoon concerto! His music is so exciting. Iím a big fan of the three main classical bassoon concertos (Hummel, Weber and Mozart), but Iíll play anything that appeals to me. Iím not particularly into contemporary music, but I do like some new pieces. French recital repertoire is also very lyrical and exciting to play.
CR: What made you enter Classical Star?
KG: To be honest, I was bored! My end of year exams finished early and I had five weeks with nothing to do, so I thought it would be fun. The age limit was 19, and I decided to give it a try, but I didnít expect to go very far in the competition. They auditioned 300 people, and then cut the numbers down to eighteen for the programme.
CR: How was the experience of making the programme?
KG: It was quite strange being followed by cameras twenty-four hours a day. The first weekend was a bit surreal, because we werenít used to the cameras at all, and we didnít get much of a chance to get to know each other, but it got better once we were in the house. I found some of the tasks a bit strange; a few of them seemed to be set up for the TV audience, and they were quite embarrassing, but the recording project and the concerto final were great. The other competitors were all very friendly and we genuinely got on well Ė it wasnít just an illusion for TV. We spent three weeks in the house, and werenít allowed to leave, though we did go out to concerts at weekends. We had contact with the judges on the challenge and judging days, but Matthew Barley was there all the time. We practised from 9 till 1 and then spent the rest of the time with him. He gave us a concert on the first day, and it was inspiring to hear him play; he can do pretty much anything with a cello!
CR: What kind of reaction did the programme get from your colleagues at the RAM?
KG: It was hugely supportive. There were three of us from the Academy in the top five, so everyone was backing us!
CR: One of the judges, Steve Abbott, was there to comment on the commercial viability of the contestants and the marketability of their product. Did his advice make you change your ideas about how to promote your instrument?
KG: In many ways, he just made me more determined to succeed, and to prove him wrong. People say that you canít sell bassoon music, but there arenít many bassoon recordings available and there is a need to fill the gap.
CR: How did the recording contract with Chandos come about?
KG: Chandos approached me the day after the TV broadcast of the final in November, to record the Hummel. It all moved on very quickly from there and I didnít really have much time to stop and think about it all! We recorded it in January in St Georgeís Hall in Bradford, with the Opera North Orchestra conducted by Benjamin Wallfisch. Thereís a concert on 10th June at Fulham Palace to launch the disc, and thereíll be one in Edinburgh as well at some point.
CR: What repertoire will you be playing on the CD?
KG: The CD includes the Hummel concerto and Weberís Andante and Hungarian Rondo, an orchestrated version of Summertime, which works really well (I played a bassoon and piano arrangement on the TV programme), the Elgar Romance and some shorter concert pieces by Berwald and Jacobi. Itís a good mix of things and I think it makes an appealing programme. My teacher, John Orford, gave me advice on which repertoire to choose; playing the Gershwin was his idea. The record deal made me feel much more positive about things. I was quite down about not winning the competition, and the deal changed everything. There are three discs lined up so far, and I think Chandos are well suited to bassoon repertoire, so itís a happy balance. The next CD will be another orchestral one and the third will cover French recital music.
CR: Youíve talked about promoting the bassoon as a solo instrument. How do you plan to do that?
KG: The programme was the first building block along the way, and now the recording contract, which helps a lot too! I think it is a lot to do with personality and determination. There is a lot of repertoire out there for bassoon, and Iíd like to show what exists. For example, there are 42 Vivaldi concertos, and lots of other pieces which donít get performed very often.
CR: Have you had lots of work offers as a result of the programme?
KG: I have, and itís all very exciting! Iím playing a concerto with the Edinburgh Youth Orchestra this summer, which is an orchestra I used to be in. Last year, they had Nicola Benedetti as soloist, so itís a hard act to follow! My bassoon teacher is acting as my mentor/manager at the moment, and advising me about repertoire choices and about which of the offers to take on. I donít get any support from the programme now that itís over; thatís just the winner, but in many ways its nicer not to have won, because I have a bit more freedom and I know that people are booking me because they genuinely want me for how I play.
CR: How do you balance all the demands on your time?
KG: Itís quite hard to balance everything with my studies at the Academy; itís definitely better to be busy and the RAM are quite accommodating, but there are only seven bassoonists here and a lot of orchestral playing and chamber music to cover. There is a chamber music element to the course, and I am in three wind quintets, a trio and an octet.
CR: What are your career plans?
KG: There is obviously quite a big emphasis on solo repertoire at the moment, but itís probably not feasible as a bassoonist to do just that, so Iíd like to do some orchestral playing and chamber music as well.
Karenís first disc with Chandos is available in June, and the launch concert takes place on 10th June at Fulham Palace.
| | | |
| --- | --- | --- |
| Len Mullenger | Karen Geoghegan | Carla Rees |

CHAN10477

alternatively Crotchet AmazonUK AmazonUS

Download Classicsonline £4.99

Hummel (1778-1837): Grand Concerto in F major
Weber (1786-1926): Andante and Hungarian Rondo
Jacobi (1791-1852): Introduction and Polonaise
Elgar (1857-1934): Romance
Berwald (1796-1868): Konzertstück
Gershwin (1898-1937): Summertime
Orchestra of Opera North / Benjamin Wallfisch

Sound Samples:
Hummel
Berwald
Gershwin