Donald Harris
Composer, Teacher & Musicologist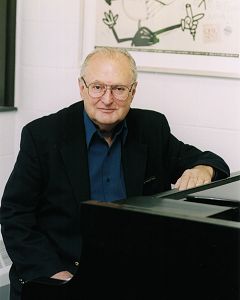 Who is Donald Harris?
A brief survey of my musical (and not so musical friends) came up with a few answers. Some had heard (vaguely) of Roy Harris, the more Episcopal amongst them recalled William H. Harris and his church music. One asked if 'Jet' Harris from the Shadows was relevant. I had a brief look at the CD databases and discovered that Donald Harris is represented by only two works on - Ludus 2 for chamber ensemble and the Violin Fantasy. However, there is an excellent disc full of his music, which I have heard and thoroughly enjoyed. However, it is not an unfair statement to make that his music is not as well known as it could or should be - at least on this (UK) side of the Atlantic. Yet a brief perusal of his biography reveals a long and consistent success in America and Paris.
Donald Harris has many interests in music other than composition- he has not single-mindedly dedicated himself to the composer's art. For example he served as an administrator at the New England Conservatory of Music (1967-1977) and at Hartt School of Music at the University of Hartford (1977-1988). He became the Dean of the College of the Arts and Professor of Music at Ohio State University in 1988. However after nearly a decade in that position he has returned to the faculty of composition at Ohio State.
During his time in Paris (1955 -1968) he was heavily involved in the promotion of music (especially American music) He was a consultant to the United States Information Service and was responsible for staging the first post-war Festival of Contemporary American Music. Other commitments have included co-editing the Berg/Schoenberg correspondence which was extremely well received in music scholarship circles. In-between all this activity he has found time to compose a great deal of music in virtually every genre.
(Extract (modified) from Piano Sonata Op.1 by John France 2005)
Donald Harris in his own words

As I wrote in a liner note to a retrospective recording of my chamber works, "my customary modus operandi is intuitive." I went on to explain that there were no (or few) sketches for any of my compositions, nor were there any pre-conceived structural plans. Each was composed from beginning to end, sui generis so to speak, one measure or phrase leading to another, with only my inner ear as a guide. Many of my pieces, even those for large ensembles, are soloistic; many are brief or compact, usually in one movement; most are structurally condensed while remaining harmonically and/or rhythmically complex. Only one is properly twelve-tone, one of the earliest, the Fantasy for Violin, but understandably so since it dates from the 1950's when most young composers were experimenting with these and other techniques that required pre-compositional thought. Recently, with the composition of an opera in three acts and a four-movement string quartet, I have gravitated toward longer forms. However, throughout my career, my intent consistently has been to be expressive without the constraint of formal or structural rigidity. And just as there has been no systematic attempt to use pre-compositional techniques, there has also been no conscious attempt to avoid tonality, in spite of the heavy reliance on chromaticism, avoidance of octave doublings, and the use of freely derived twelve-tone harmonic rhythm, that could lead the listener to think otherwise. On the contrary, the basic underlying structure of my music is still secured by its dependence upon harmonic (or tonal) interrelationships that dictate its ebb and flow.

Many influences, I am certain, can be heard in my music. The fact that I lived in Paris for almost fifteen years, basically my formative years when I first began to emerge as an adult composer, most certainly had its effect, as did my interest in the Second Viennese School, particularly Berg but also Schoenberg. I was obviously not alone in this. Generations of young composers were brought up either enthusiastically accepting or rejecting out of hand Schoenbergian theoretical thought. I would count myself, of course, among the former even though I have never been a strict serialist. In my harmonic choices, especially in later years, I hear a noticeable jazz influence. And ever since I began my studies of composition, each new work of Stravinsky fascinated me, although I don't believe that this fascination was echoed in my music in any precise way. Can a personal style emerge from all this hodge-podge? I would expect so but the listener will have to be the ultimate judge. I do not negate the fact that I have a rather romantic sensibility as well as eclectic tastes. Mahler is the composer I would take to the proverbial desert island. But ever since my student days I have listened to a lot of different music, and I still do. My thirst to listen and learn has in no way diminished over the course of time. I still attend many concerts or other types of musical events and seek out unusual CDs I order to keep abreast of new developments. Nonetheless, extended lyricism is an attribute that comes to mind when I think about my music and how I wish it to be heard.

Donald Harris 2008 Ó
Links
Donald Harris's Compositions List of Principal Works & Recordings
Donald Harris's lecture to a group to faculty and graduate students at The Ohio State University "Growing Up American in Paris"
A review of Donald Harris's Violin Fantasy on MusicWeb International by John France
Donald Harris 'For the Night to Wear' – a retrospective CD – Cri CD666 AmazonUS
Donald Harris: Piano Sonata A somewhat impressionistic exploration of an Opus 1 by John France
Donald HARRIS: Sonata 1957 – a documentary film by Daniel Beliavsky
John France July 2008