Placido Domingo protégée
American soprano ELIZABETH ANDREWS ROBERTS ascent into the opera world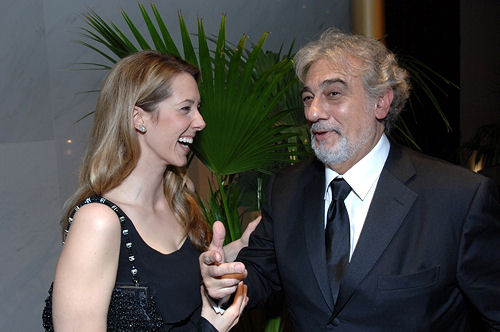 Elizabeth Roberts and Placido Domingo
In an email interview conducted by Marlene Hall with American soprano Elizabeth Andrews Roberts, she discusses how she got her start in opera, her training under Maestro Placido Domingo in his distinguished Domingo-Cafrtiz Young Artist Program at the Washington, D.C, Kennedy Center, and her current exciting plans.
What got you into opera singing?
As an adolescent, I think that kids try lots of things.  Some stick and some don't.  For me, and much to my coach's chagrin (I was tall but hopelessly uncoordinated) basketball didn't stick. When I joined chorus in sixth grade, it was because I had a crush on a boy, Paul Haddad.  If Paul (my crush) was in the chorus, then chorus was where I wanted to be!  Opera came much later.  I kept singing in choruses and in musical theater through high school, but never took it very seriously.  It wasn't until my third year of college that my voice teacher who, as luck would have it, ran a small opera company (Opera North), told me that if I got to work, I might have some success.  So I did!
Please describe your time at Dartmouth and the University of Cincinnati College-Conservatory of Music.  What did you learn there?
My time at both institutions was incredibly formative, but in wildly different ways.  At Dartmouth I learned how to think - how to be analytical and to live in my mind.  I lived abroad.  I studied anatomy, neuroscience, philosophy and languages.  
In college, I was lucky enough to have two amazing mentors - Louis Burkot and Professor Bill Summers.  Once I had decided singing was something I wanted to seriously engage in, Professor Summers suggested a project called a Senior Fellowship.  The basic tenet of the Senior Fellowship is that in order to be a truly liberal arts college, Dartmouth has to acknowledge that some of its students' educations, in order to come to fruition, need to exist outside the traditional curriculum.  It's supposedly the highest honor The College can bestow on an undergraduate because it's an entire year in which you don't take formal classes.  Instead, you work on an enormous project.  My project was an opera.  I wanted to combine my burgeoning love of opera with how Dartmouth taught me to be an academic, so I worked with my mentor, conductor and teacher Louis Burkot, to produce a historically informed performance of Handel's "Alcina" on campus at Dartmouth.  "Historically informed" is a fancy way of saying that we wanted to do it as much like Handel would have done it as possible.  I did a LOT of research about Baroque style, music, ornaments, gesture, stage craft ... all of it!  I cast singers and wrote ornaments for the music, hired an orchestra, cut the four hour opera to a more manageable two hours (a humbling experience-- *I* was deciding what stays and goes?!), hired a director ... and sang the title role.
It was an amazing and galvanizing experience.  I was so unbelievably lucky to have such remarkable colleagues and friends helping make the project possible.  I remember one special moment - we had finished the sitz probe (where the orchestra and singers meet for the first time and sing through the opera without the staging) in a building across campus, and everyone had gone home for the night.  We were moving into the theater the next afternoon.  It occurred to me as I was packing up my things to leave the rehearsal that I hadn't arranged for anyone to move the harpsichord to the theater ... so at 11pm, in the dead of a New Hampshire winter, my wonderful friend and stage manager, Jim, and I picked up the harpsichord, wrapped it in our coats (remember this is January in NH) and walked it across campus.  Think slush.  Think snow.  I fell in love with opera that night - could there be a more pure combination of the divine and the ridiculous?
If someone wants to attend these prestigious schools, what advice can you give?
I think you have to carve out what you need from wherever you are.  One of the most important things I think we learn in college and graduate school is how to be self-sufficient.  I had to help Dartmouth teach me how to be an opera singer, and the same was true for The University of Cincinnati College-Conservatory of Music (CCM)  I am in the most highly populated voice category there is - soprano.  I think there were 35 people in my matriculating class at CCM, and more than 20 of us were sopranos.  That's a lot of people clamoring for limited attention.  Getting into a prestigious school isn't where the work ends, it's where the work begins!  It's an occasion to which you spend years attempting to rise.
What led up to you being selected for the Domingo Cafritz Young Artist program?
After I left CCM, I moved to New York City to ... well, at the time, I had no idea what I was doing!  I knew that New York City was the center of the opera world, and that's about where my knowledge of "things operatic" ended.  I temped and lived in a basement apartment and took voice lessons when I could afford it and sang at about a million and a half auditions.
Singing auditions is a fascinating learning experience.  It is a subjective process, and almost impossible to evaluate yourself.  You can't control what people think of your voice.  You can sing the best that you possibly can, and that's all.  I developed my own system of deciding whether or not an audition was successful - if I made them laugh, and could feel confident that they would remember me, then that (in my mind) was a successful audition.
One of the many auditions I sang was for the Domingo-Cafritz Young Artist Program.  I remember the audition particularly because I tripped and fell when I walked into the room for the final round, right in front of Placido Domingo.  There was a collective, horrified gasp.  I stood up, brushed off my lovely audition suit, struck a pose, said "Ta da!  I do slapstick, but not windows!"  Everyone laughed, and the tension in the room broke wide open.  I had made them laugh, and felt confident that they would remember the woman who fell on her face, so I had done my job.
Please describe what it was like being in the Domingo Cafritz Young Artist program. 
The Domingo-Cafritz Young Artist program was an outstanding and unique experience.  It is an indescribable gift to be given two years to work on your craft.  That's why I was there: to learn and improve and be inspired.  The performance experiences, though, were unheard of, and set apart the Washington National Opera program from any other.  I got to watch my idols work, and even share the stage with them!  I sang fully-staged, full-length opera roles onstage at the Kennedy Center.  Unreal.  The Domingo-Cafritz Young Artist program put me in touch with the best opera singers in the world, and I was able to watch them, listen to them, and learn from them.
What was Placido Domingo's role with your development?
Maestro Domingo is an amazing mentor.  He has been the best of the best since before I was born!  His artistic vision and work ethic are unparalleled.  He led by example and inspired me to work harder than I have ever worked before.
Any tidbits about Placido that most people don't know or any special experiences with him?
He's one of the most generous people I've ever had the pleasure to know.  There's one story that comes to mind -  This past spring, my colleague, Magda, and I were going to New York for an audition the day after our final dress of Elektra at Washington National Opera.  Maestro was there for the dress rehearsal and was flying back to New York City on a private plane that night because he had his own dress rehearsal at The Met for "The First Emperor" the next morning.  We were planning to take the bus, but Maestro invited us to fly with him on his private plane!
What dreams are you looking forward to coming true?
Opera is my dream, corny as that sounds.  Opera starts out on paper, in a score.  Opera needs people to help bring it to life, and I think people need opera to help bring them to life.  Any part I can play in that is a dream come true.
Are you a Diva?  If so why?  If so why not?
(laughter) I hope not!  It's true that opera is a field made up of large personalities, but it is inherently a collaborative process.  They say it takes a village to raise a child, and the same is true for opera.  No one person can do an entire opera.  For me, the best experience is when everybody is relaxed, well-prepared, and working their hardest toward a common goal:  making the best piece of theater we can.
Does it help to be a Diva to attract a better following?
My gut tells me no ... I'm attracted to singers who are down to earth.  Crazy for the sake of crazy doesn't help anybody!
What is your favorite opera and role to play?
Right now, Violetta in "La Traviata."  I recently completed two productions of the opera, and it's an incredible role to play.  Verdi's music gets under your skin - it is haunting and beautiful and powerful and vulnerable.  The opera is heartbreaking, and to be on Violetta's journey through the opera is an amazing experience.
Who is your favorite composer and why?
Richard Strauss.  His writing for the voice (especially the soprano voice - he was married to one, after all) is awe-inspiring.
Who are your opera inspirations?
American sopranos Pat Racette and Christine Goerke.  Both are amazing women, working at the height of their creative powers, and at the same time remain completely down to earth, normal, and fantastic women.  It's women like that who teach you the kind of singer you want to be.
I heard you recently got engaged.  How do you all manage to make it work with your gypsy like lifestyle?
Jeff is my partner and my love, and there's no way I could do this without him.  The gypsy lifestyle is difficult.  We have made our home base in New York City, though, and we are thankful for Skype!
How do you maintain your voice?  Do you like do like Celine Dion and not talk between performances?
The voice is a muscle.  You need to work it out every day to make it stronger and more flexible, and when it's tired, you let it rest.  I don't know if I had any really strange pre-show habits (although I might not be the one to ask...) but I'm a sucker for a long, steamy shower and apple slices.
What contemporary opera singer would you love to perform with?
I just saw German coloratura soprano Diana Damrau perform Lucia at The Met, and it knocked me out of my seat.  I'd love to be a part of anything she's doing!  
Do you plan to put out any music albums?
I'd love to!  Know anybody who wants to do one??
Any advice for others aspiring to the opera stage?
Singing can be a big, crazy, overwhelming profession and, at least for me, it's important to know the things that keep me grounded -  the small things that make me happy.  I love to cook and bake bread and play the autoharp (I'm also learning to play the harmonica).  Those small things make me happy.
Musically, though, I have had a lot of amazing mentors, and their wisdom is what I would pass on:
"When the going gets tough, the tough sing legato."  Maestro Mark Gibson
"Be interesting."  Eric Weimer
"If I rest, I rust."  Placido Domingo
"Never sing the loudest you possibly can"  Barbara Honn
"Don't argue with stupid people."  My Aunt Libby
What is the best thing about being in opera? What is the worst thing about being in opera?
The best thing and worst thing about being in opera is that your instrument is inside your body - it *is* your body.  You can't put it down.  You perform with your very self. 
You've sung in some pretty amazing venues like Opera de Monte Carlo, Carnegie Hall and the Kennedy Center.  What so far has been the best venue to sing in?
I think the best thing about all of the places I've sung is how different they are - performing in venues from 50-2500 seats is a gift because my job is always the same - tell the story.  Learning how to do that in any venue is important.
What is coming up for you career wise?  In 2009, you will be singing in concert performances of Rigoletto (Gilda) with the Kentucky Symphony Orchestra in January and make your debut at the Virginia Opera in La Bohème (Musetta). In the fall of 2010, you will make your debut at Opera in the Heights to sing Les contes d'Hoffmann (Antonia, Giulietta, Olympia) and Die Fledermaus (Rosalinde). 
There are lots of fantastic and exciting things coming up - lots of "firsts".  My first Gilda, my first Musetta, my first heroines in Hoffman, my first Rosalinde.  SO many firsts!  It's really exciting.   I've recently signed with a wonderful agent, Robert Mirshak, and we are working together on auditions and new opportunities!
How do you prepare to sing in operas?
People have different methods, but I like to start with the language.  So much of the drama is built right into the language!
Do you ever think of starting your own female opera group and call it Il Diva?
(laughter)  I don't know about that...
If you weren't singing what would you be doing?
Learning is my favorite thing.  I'd love to do anything that involves learning.  I remember reading that every time a person learns something, their brain gets a wrinkle.  I aspire to having a very wrinkly brain.
What do you want your grave stone to say?
I just hope my name is spelled correctly.  Or, perhaps (laughing), "Here lies a woman with a wrinkly brain".
Lastly, what operas would you recommend novices see and listen to first?
I think Verdi's "La Traviata" is a great first opera.  The characters are relatable and you can see a little bit of yourself in each of them. 
Marlene Hall
Elizabeth Roberts with Placido and Marta Domingo