DIGITAL BACH EDITION FOR IPOD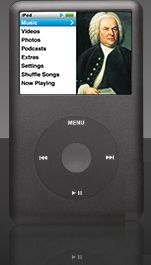 Johann Sebastian Bach is one of my favorite composers: I adore baroque music, and Bach's works are the apex of that period. His works cover a variety of forms, from chamber music to oratorios, from keyboard music to cantatas, and, of course, his wonderful organ music. Bach was quite prolific in his life, composing more than 175 hours of music - at least that's what we have; a large number of works were probably lost as well.
I have all of Bach's works on disc - as well as in my iTunes library - and many of them in multiple recordings. I formed my Bach collection in 2000, during the celebration of the 250th anniversary of Bach's death, when many wonderful recordings were released, and when two complete sets were published. If only this had been around then! Hänssler Classic has now released its acclaimed edition of Bach recordings by the Internationale Bachakademie Stuttgart and Helmut Rilling, in digital format, on an iPod!
Here's what you get for EUR 499: an 80 GB iPod (current price EUR 249), and all of Bach's works, pre-loaded on the iPod. You also get a set of backup DVDs containing the music, in case you want to be able to sync it to the iPod, or put it on a computer. Now, if you wanted, you could get a complete set of Bach's recordings for EUR 90, but that set, while containing many good recordings, is rarely excellent. The Hänssler Edition has a consistently higher standard of recording and performance, and contains Helmut Rilling's excellent Bach's cantatas. It also contains a number of top-notch performers recording Bach's keyboard works, the part of the set I probably listen to most.
But Hänssler didn't just rip the CDs. They have done a first-rate job of tagging the music. Each track is tagged with the BWV number (the Bach catalog number), the full name of the work, all the performers (in the Artist tag), and - a first for classical music in my experience - words for sung texts in the Lyrics tag. Each album is listed with the album number in the set, followed by the name, and all the files have album art attached to them.
This said, if you're not a German-speaker, you may have a few problems, as all the tags are in German, as are the "lyrics"; though this latter choice makes sense; if you want English translations, though, you'll have to look on the web. But if you're enough of a Bach fanatic to buy a complete set of his works, that will be a small price to pay for having all this music in digital format. Ripping the 140 discs or sets yourself would take several days, and tagging them as thoroughly is a nearly super-human job.
They did make one mistake though, which they need to fix. iTunes has a Sort Album tag, in which you can put the name of an album if you wish several albums to sort as one in iTunes. They set this tag to Bachakademie, instead of leaving it empty as they should have. On top of that, the Sort Album tag is hard to change; if you have a Mac, you can use Doug Adam's Batch Set Tracks Sorting Tags AppleScript to erase the contents of this tag and thereby have all the albums display separately when you view iTunes' browser.
I would also like to mention a bigger mistake, which makes this set a questionable purchase for many. Hänssler ripped all the tracks at 128 kbps; this is good enough if you're listening to an iPod outdoors, where there's noise, but even Apple now uses 256 kbps for its iTunes Plus files. I use 160 kbps myself; I find that a good trade-off between size and quality. For the cost of this set, Hänssler should have included a top-quality bit rate, rather than skimp - though they may have wanted to differentiate between this digital set and the actual CDs. It would have meant 5 or 6 backup DVDs instead of three, but that's a small price for them to pay.
So who would want to buy this set? Obviously, if you don't have an iPod, and like Bach, this is a perfect way for you to kill two birds with one stone. The recordings fill up 10 GB of an 80 GB iPod, so you have plenty of room for your own music. Even if you do own an iPod, this is a bargain; Hänssler sells the CD version of this set for EUR 1349. If the bit rate doesn't bother you, this is a great way to get top-quality recordings of all of Bach's works in digital format.
Kirk McElhearn
A great way to get top-quality recordings of all Bach's works in digital format ... see Full Review