Some time ago Hyperion stopped making SACDs and began to run down their existing stock.  They are by no means the only record company to have done so, though a few brave souls have remained faithful to the format – notably Chandos, Harmonia Mundi, Linn, BIS and Channel Classics.  The rise of the mp3 is at least in part to blame, but even at the highest possible bit-rate of 320kb/s mp3 cannot match the sound of a CD, let alone SACD, and you will still find any number of downloads which come at a much lower quality – even the Outhere group seem to think 192kb/s adequate for reviewers with press access.  192kb/s is all that you will get from BBC Radio 3 on DAB, unless and until DAB+ materialises, dropping to 160kb/s when there's a Test Match or other important sporting broadcast.
Some companies are trying to fill the SACD gap with blu-ray audio: my colleagues and I have reported on several of these from Naxos and Gimell have released their award-winning remake of the Allegri's
Miserere
and Palestrina's
Missa Papæ Marcelli
on blu-ray (
GIMBD641: Recording of the Month
–
review
); we have mostly been impressed with the sound quality.  Hyperion and other providers have for some time been offering CD-quality 16-bit downloads and, more recently, 24-bit too.  Chandos even offer their most recent recordings in 24-bit surround sound and Channel Classics their latest releases in DSD.
Part of the problem is that very few reasonably-priced dedicated SACD players remain: Pioneer seem to be phasing out the PD10 and PD50, leaving the field to the Arcam CDS27 (around £800) and Marantz SA8005 (around £1000).  Most Sony blu-ray players used to cope well with SACDs, too, but most of those below £200 no longer do so.  The £500 Cambridge Audio 650BD and its successor the 651BD used to do an excellent job with blu-ray and SACD – I'm still using the 650 in my main set-up to play SACDs, blu-ray opera and blu-ray audio – but they have been replaced by the 752BD, which comes at a rather hefty £800.  (£700 if you join Richer Sound's free VIP club).
Occasionally I have been able to compare an SACD with the 24/96 download of the same music, as near as possible like for like, the only difference being that the download was played from my PC via a DAC and the SACD on a Cambridge 650BD player.  I would challenge even the keenest ears to tell the difference between the two, but I know that many classical music lovers still don't wish to be bothered with downloading, especially as 24-bit takes a while to come down the line unless you have a super-fast fibre connection.
As it happens, Hyperion have eight SACD titles left in sufficient quantities for it to be worth my reviewing them.  All are available with multi-channel and 2-channel SACD and two-channel CD layers, so you can play the higher-quality layer at home on an SACD player or a compatible blu-ray player and the CD layer in the car. Even if you don't own a suitable player now but might in the future, perhaps if you're expecting something in that line from Santa Claus, there's nothing to be lost by buying the SACD for the same price and playing just the CD layer.
By coincidence these remaining SACDs represent the wide range of music available on the Hyperion label.  There's nothing from the Middle Ages – one of Hyperion's strengths, with recordings from the likes of Gothic Voices – but otherwise they run the gamut from the Renaissance to the present day.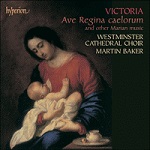 SACDA67479
, rec. 2004 [68:27] contains a selection of the music of
Tomás Luis de VICTORIA (1548-1611).
  If you painted me into a corner and forced me to choose between Victoria and Palestrina, I'd have to choose the former, much as I love the latter.  If I could have just one Victoria recording on my Desert Island, this, from
Westminster Cathedral Choir
directed by
Martin Baker
with Robert Quinney (organ) would be very high on the list.
The motet
Ave Regina Cœlorum
[4:34] introduces the 8-part Mass of the same name [19:37].  The other major work is the 4-part
Magnificat septimi toni
[10:09] and the programme concludes with the 8-part
Ave Maria
[4:15].  Like the two following recordings – of Monteverdi and Araujo – this is music that will transport you to a higher plane.
Many years ago I heard Victoria mangled at High Mass in Toledo Cathedral.  I'm sure they have improved since then, but they would need to have improved an awful lot to compete with Martin Baker and his choristers.  I rated this recording, as a 16-bit download, more highly than a (strong) competitor from Festina Lente on the Dynamic label –
Download Roundup September 2011/1
– and the quality of the SACD sound only adds to my preference.
Like all the other SACDs reviewed here, this is available direct from
hyperion-records.co.uk
for £10.50, the same price as the CD (
CDA67479
), with mp3 and lossless downloads available from
hyperion-records.co.uk
for £7.99.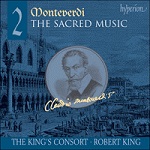 The King's Choir and Consort
directed by
Robert King
made a complete series of the Sacred Music of
Claudio MONTEVERDI (1567-1643).
  Of these only Volume 2, recorded in 2004, remains available on SACD (
SACDA67438
[67:24] – from
hyperion-records.co.uk
).  It contains the 4-part
Messa a capella
of 1650 [25:12],
Cantate Domino
[5:24] the
Letaniæ della Beata Virgine
[11:00] and a number of shorter works, of which the opening
Exultent cœli
[3:49] and
Laudate Dominum
[3:01] are the best known. 
This is music that I could listen to all day long.  With Carolyn Sampson and Rebecca Outram (sopranos), Rogers Covey-Crump (high tenor), Charles Daniels and James Gilchrist (tenors) and Peter Harvey (bass) you could hardly wish for a more distinguished team of soloists, though I would recommend supplementing this recording with the incomparable Emma Kirkby, the Parley of Instruments/Roy Goodman and Peter Holman on another Hyperion recording (budget price
CDH55345
–
July 2011/1 Download Roundup
– from
hyperion-records.co.uk
, CD, mp3 and lossless download, with pdf booklet.)  There's no duplication of repertoire.
The CD layer sounds more than well enough but SACD adds, not massively but significantly, even to my ancient ears.  Doubtless the difference will be even more apparent to younger ears.  Like all Hyperion recordings the booklet is a model of its kind – you may also wish to download the free booklet with introductory notes which accompanies
Volume 1
.
The whole series remains available on CD and as downloads, though in mp3 or 16-bit only.   The other volumes are:
• CDA67428
– from
hyperion-records.co.uk
• CDA67487
–
March 2012/1 Download Roundup
– from
hyperion-records.co.uk
• CDA67519
–
review
 and
March 2012/1 Download Roundup
– from
hyperion-records.co.uk
• CDA67531/2
: Vespers of 1610;
Magnificat
a 6;
Missa In illo tempore
– from
hyperion-records.co.uk
.  Along with Andrew Parrott's budget-price recording (Erato/Virgin Veritas
5616622
) this
Recording of the Month
–
review
– still tops my list of preferred versions of this marvellous
Vespers
.
All are available on CD, mp3 and 16-bit lossless download, with pdf booklet.  Follow the links for full details.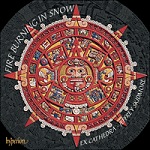 Fire Burning in Snow
is the final volume of a 3-disc set of Baroque Music from Latin America, performed by
Ex Cathedra Consort and Baroque Ensemble/Jeffrey Skidmore
.  The music is by
Juan de ARAUJO (1648-1712),
interspersed with sections of the anonymous
Hanacpachap cussicuinin
.  Sections of the
Hanacpachap
had been included on earlier volumes, but all 29 verses are on this final volume.  (
SACDA67600
[75:35] – from
hyperion-records.co.uk
).
John Quinn made the CD a
Recording of the Month
– review
– and I made the whole series part of my
Hyperion Top 30
.  In case making three discs one choice looked a bit too much like cheating, I opted for this third volume even above the others (
CDA67380
– from
hyperion-records.co.uk
and
CDA67524
– from
hyperion-records.co.uk
).  Both those other volumes are available on CD and as mp3 and 16-bit lossless downloads.
Jeffrey Skidmore writes in the booklet that he hopes that Araujo was a good man, but he seems to have had something of a reputation as a bad boy – he was banished from Lima for several years.  It's the music that counts, however – we need pay no more heed to the composer's reputation than to that of badly-behaved great painters, such as Caravaggio with an unenviable criminal record and Fra Filippo Lippi who broke his Carmelite vows and seduced a nun.  As with the Monteverdi, I could listen to this all day in performances that could hardly be bettered.  Like the other recordings there is a small but significant gain in the stability of the sound from the SACD layer.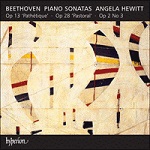 Angela Hewitt
appears on two of these SACDs.  On the first, the second instalment of her Beethoven series, recorded in 2006, she plays
Ludwig van BEETHOVEN (1770-1827)
Piano Sonatas No.15 in D, Op.28 ('Pastoral') [24:55], No.8 in c minor, Op.13 (
Pathétique
) [21:36] and Op.2/3 in C [27:45].  (
SACDA67605
[74:11] – from
hyperion-records.co.uk
.  Also available as mp3 and lossless download).
Colin Clarke had mixed reactions to this recording, feeling that Hewitt didn't project the greatness of these seminal works –
review
.  I liked her performance of the
Pastoral
, which opens proceedings, and Op.2/3 which concludes matters, but I thought her
Pathétique
a little underwhelming.  Though I should point out that Classic FM magazine made this a Disc of the Month, it isn't the best of Hewitt's several recordings of Beethoven for Hyperion: there are four volumes of Piano Sonatas (the others are
CDA67518
,
67797
and
67974
) and two volumes of Cello Sonatas with Daniel Müller-Schott (
CDA67633
– one of my
Hyperion Top 30
– and
67755
)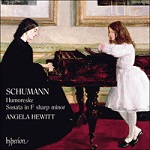 Angela Hewitt
has also made a number of recordings of the music of
Robert SCHUMANN (1810-1856)
for Hyperion, including one of the Piano Concerto and other works with Deutsches Symphonie Orchester, Berlin and Hannu Lintu (
CDA67885
–
review
and
review
).  Her 2007 recording of the Piano Sonata No.1 in f sharp minor, Op.11 and the
Humoreske
in B-flat, Op.20, is on
SACDA67618
[65:53] – from
hyperion-records.co.uk
(also available as CD, mp3 and lossless download).
We seem to have missed this when it appeared but Dominy Clements wrote mainly appreciatively of her later recording of the Second Piano Sonata,
Kinderszenen
and
Davidsbündlertänze
on
CDA67780
–
review
– and I enjoyed this earlier recording if anything even more.  It's easy to forget, because Hewitt has made so many recordings of Bach on the piano that even lovers of the harpsichord appreciate, that she made her reputation with the Romantic and French repertoires.  Another bonus is that you can follow up this Schumann recording with that of the Second Sonata and the other works (CD, mp3 and lossless download from
hyperion-records.co.uk
).
There's strong competition in the Sonata from a budget-price recording from Bernd Glemser (Naxos
8.554275
–
review
), temptingly coupled with Piano Sonata No.3; I enjoyed that but it's slightly less well recorded and I'm happy to go with Hewitt's Schumann.  If it's budget-price that you are after, Hyperion also have a recording of the same two sonatas from Nikolai Demidenko on their Helios label (
CDH55300
–
review
) but Demidenko's style, more forthright than Hewitt's or Glemser's, will not appeal to everyone, so I recommend paying the extra on this occasion.
Hyperion have recently released a fine new recording from Danny Driver of Schumann's
Noveletten
and
Nachtstücke
(
CDA67983
: CD, mp3, 16- and 24-bit downloads from
hyperion-records.co.uk
).  Geoff Molyneux's review of that will have appeared in DL News 2014/15 by the time that you read this.  I note that Angela Hewitt's recording of the Liszt Piano Sonata is due for release on
CDA68067
in February 2015.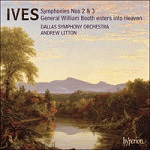 To listen to the Second Symphony [39:50] of
Charles IVES (1874-1954),
you would hardly think that he is regarded in some quarters as a musical
enfant terrible
.  It's a large-scale work very much in the European Romantic manner, though the inclusion of American tunes gives it a distinctive accent – Jan Swafford's mention in the notes of Dvorák's
New World Symphony
is apposite.  It's a bit rambling but I've long had a soft spot for it and the even more European-moulded First Symphony and
Andrew Litton's
performance with the
Dallas Symphony Orchestra
, recorded live in 2004 and 2006, presents the best possible case for it.  It's coupled with Symphony No.3 [23:59] and
General William Booth enters Heaven
[5:13]:
SACDA67525
[68:42] – from
hyperion-records.co.uk
).  There's a CD equivalent,
CDA67525
, but copyright considerations mean that it's not available as a download.
Actually, though I've said that you wouldn't think its composer a radical, he does end the finale with the most incredibly cacophonic ending – it may be derived from the practice of old-time fiddlers of signalling the end with a rasping discord, but it curtails a patriotic tune and turns 'three cheers for the red, white and blue' into an incredible raspberry.
There's an inexpensive Naxos recording (
8.559076
: Nashville SO/Kenneth Schermerhorn) but the coupling is less substantial than on Hyperion – the
Robert Browning
Overture – and Gwyn Parry-Jones was less than taken with it
– review
.  The main competition comes from Neeme Järvi (Chandos
CHAN10031X
, mid-price, with Symphony No.1) and Leonard Bernstein (DG
4292202
, unbelievably now download only) the latter not coupled with anything as substantial as Hyperion's addition of the Third Symphony or Chandos's of the First. 
A recent release on the Seattle Symphony Orchestra's own label brings an attractive performance (
SSM1003
–
Download News 2014/6
).  I liked it and the Gershwin
American in Paris
but the other coupling, Elliot Carter's
Instances
, though mercifully brief, is outside my comfort zone, so that leaves Litton as the prime recommendation.
In No.3 the well-known tunes are more attenuated and though the music as a whole is still in a recognisable line of descent from European Romanticism, it makes greater demands on the listener, almost in the manner of Beethoven's late quartets and piano sonatas.  Once again Litton proves an ideal interpreter.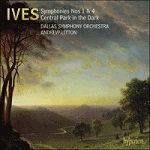 As Tony Haywood wrote in his appreciative
review
, you really need the companion disc, containing Nos. 1 and 4 and
Central Park in the Dark
, to complete the picture – CD only, with no download, on
CDA67540
.   The transition from No.1 to No.4 on this album is a real culture shock.  Now the hymns, popular songs and marching tunes are juxtaposed and superimposed on each other in the second movement.  I'm not sure that I can yet relate fully to this symphony, or that I ever shall, but I'm prepared to work at it for the sake of the sublime third movement and the powerful finale.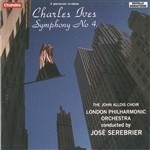 Once again Litton and his team prove to be ideal interpreters, though I'm not sure that it was a good idea to end the disc with
Central Park in the Dark
.  To conclude with a piece that places such a premium on quietness after the noisy Fourth Symphony may have seemed a good idea but it didn't really work for me.  If the SACD sound in Nos. 2 and 3 is stunningly good, that of the CD containing Nos. 1 and 4 is not far behind.  
The 1974
LPO/José Serebrier
recording of the Fourth Symphony on Chandos (
CHAN8397
, archive service or download only), originally from RCA but with sound much improved in the digital transfer, looks like poor value with just 32:44 playing time, but the price of £7.20 for the lossless download from
theclassicalshop.net
offers a degree of compensation.  (By some crazy quirk of economics, the mp3 costs more than lossless, at £7.99.)
Sir John TAVENER (1944-2013)
Birthday Sleep (1999)* [6:22]
Butterfly Dreams (2003)* [10:51]
The Second Coming (2001)** [6:41]
Schuon Hymnen
(2003)* [13:16]
As one who has slept (1996) [4:03]
The Bridal Chamber (1999) [7:47]
Exhortation and
Kohíma
(2003)* [6:26]
Shûnya
(2003)***[17:56]
Christopher Bowers-Broadbent (organ)**; Robert Millet (temple bowl)***
Polyphony/Stephen Layton
rec. 3-5January 2004, Temple Church, London. DDD/DSD
pdf booklet with texts and translations included
*/**/*** First recordings
HYPERION SACDA67475
[74:37] –
SACD
also on CD, mp3 and lossless download from
hyperion-records.co.uk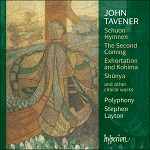 We seem not to have reviewed this when it first appeared, so I'm delighted to repair the omission.  This is an important release and an essential buy for Tavener fans: of the works premiered on this album,
Birthday Sleep
and
Schuon Hymnen
now have two other recordings to their credit and
Exhortation and Kohíma
one other each, but
Butterfly Dreams,
The Second Coming
and
Shûnya
still have only this recording to their name.
Apart from the slightly ascetic
As one who has slept
, if you are acquainted with Tavener's late style – quite different from some of the avant-garde music which he composed early in his career – you will know what to expect and you will find it presented in very sympathetic performances.
The one work which stands out is
Shûnya
, music with a text containing just three Sanskrit words,
Shûnya namo Amitabha
, translated in the booklet as 'Void' and 'Hail infinite Light', but signifying much more than that in Buddhist terminology. 
Shûnyáta
is the term for the concept of not-self or emptiness as realised by one who attains the ultimate truth. 
Namo Amitabha
is a declaration of homage to and a prayer for refuge in Amitabha, the Buddha of life and light.  Tavener's deeply felt Christianity, like Messiaen's, also extended to an interest in Buddhist philosophy.  Not surprisingly, therefore, the style of the music is deliberately evocative of Buddhist ritual, complete with temple bowl.  It's no less hypnotic than the rest of the works here and no less convincingly performed and recorded.
If you were to restrict me to just one of these SACDs for my Desert Island, though I'd find it hard to have the Victoria, Monteverdi and
Fire burning in snow
torn under protest from my grasp, this Tavener SACD would have to be it.
James MacMILLAN (b.1959)
Seven Last Words from the Cross (1993) [46:24]
On the Annunciation of the Blessed Virgin (1997)* [6:41]
Te Deum
(2001)** [15:02]
Elin Manahan Thomas (soprano)**; James Vivian (organ)*/**
Polyphony
Britten Sinfonia/Stephen Layton
rec. 1-2 April 2004, St. Jude-on-the-Hill, Hampstead Garden Suburb; The Temple Church, London. DDD/DSD
pdf booklet with texts and translations included
HYPERION SACDA67460
[68:35] –
SACD
also on CD, mp3 and lossless download from
hyperion records.co.uk
.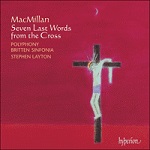 John Quinn wrote a detailed and enthusiastic review of the CD when it appeared in 2005, describing it as an unqualified success:
Recording of the Month
–
review
.  I have to admit that I have not yet come to terms with MacMillan's music as I have with that of John Tavener but performances as sympathetic as these have done as much to convert me as any that I have heard.
I found myself engaging with his
Tenebræ
on Linn
CKD301
(now re-numbered as
BKD301
) and was also impressed by his
St John Passion
(LSO Live
LSO0671
) – both reviewed in
May 2009
. 
The Seven Last Words
have a similar hypnotic intensity: harshness mingled with beauty.  (Try track 2,
Woman behold thy Son
).
There is beauty, too, in the setting of Jeremy Taylor's poem on the Annunciation.  I haven't heard the rival recordings from The Sixteen (Coro
COR16071
) or New College Choir (Avie
AV2085: Recording of the Month
–
review
) but I doubt that they convey the quality of this almost timeless setting better than Polyphony.
This was the first and remains the only recording of the
Te Deum
, a setting of the words from the Book of Common Prayer commissioned for the Chapel Royal of St Peter ad Vincula in the Tower of London in the year of the Queen's Golden Jubilee, but, as Paul Spicer notes in the booklet, completely free from any baggage of Anglican musical history.  Where most settings of this canticle in English or Latin burst into praise from the word go, MacMillan starts and ends ethereally and contemplatively.  It might seem a treatment better reserved for the evening canticles,
Magnificat
and
Nunc Dimittis
, but it works surprisingly well.
All in all this Hyperion SACD prompts me to explore MacMillan much more than I have, starting with two other recordings on this label from Wells Cathedral Choir (
CDA67867
:
review
– from
hyperion-records.co.uk
, CD, mp3 and lossless download) and Westminster Cathedral Choir (
CDA67219
– from
hyperion-records.co.uk
, CD, mp3 and lossless download).  This is a composer whose music needs and deserves to be absorbed with repeated hearings.
Brian Wilson