A number of Naxos blu-ray audio recordings have come my way recently, mostly of recent repertoire. As they sell for almost twice the price of the ordinary CDs, in which form they are also available, the question inevitably arises – is it worth spending the extra, around £9-10 as against around £6 in the UK? Part of the answer must be: not if you simply intend to play the music through your television; you really need a separate blu-ray player coupled to your audio system. It may seem like the wrong priority but I have a perfectly adequate £100 Sony blu-ray player for the TV and a £500 Cambridge Audio, which also makes a very good job of SACDs, coupled to my audio system.
All the blu-ray discs come in 24-bit sound, some at 48kHz or 88.2 kHz, most at 96 kHz. They should play easily even without the visual guide on your TV screen – choose the green button for 2.0 stereo or the red button for 5.1 surround. In all cases where I have been able to compare the BD-A with the equivalent CD or CD-quality download there is a significant though hardly spectacular improvement in the quality of the sound.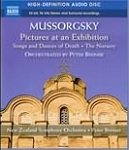 In two cases I have already answered that question about value in the affirmative. When I reviewed the recording of
Modest MUSSORGSKY's (1839-1891)
Pictures from an Exhibition,
Songs and Dances of Death
and
The Nursery
in 2012, then available as a download only, I expressed the view that it should not only appear as soon as possible on CD but that it should also be released on blu-ray. With an orchestration even bigger and more powerful than the usual Ravel and an orchestra to match, Peter Breiner's arrangement of
Pictures
was tailor-made for digital sound, so the BD-A is well worth the extra. (
NBD0036
–
review
with purchase links).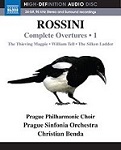 Two of the CD volumes of the recent 4-disc complete set of
Gioachino ROSSINI (1792-1868)
Overtures conducted by Christian Benda have been combined on one BD-A disc, thereby making it slightly less expensive than buying its two CD siblings. As the performances have been hailed all round, not just by myself and MusicWeb International colleagues, this is another clear choice. (
NBD0028
–
review
with purchase links).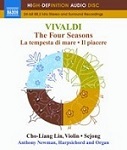 I wouldn't have placed the 2005 recording of
Antonio VIVALDI's (1678-1741)
ubiquitous
Four Seasons
and two other concertos from Op.8 with Cho-Liang Lin (violin) and Anthony Newman (harpsichord and organ) with Sejong high on my dream list for those works, especially as the playing time, even with the addition of
La tempesta di mare
, Op.8/5, and
Il piacere
, Op.8/6, is a mere 55:11. As Robert Hugill put it: 'If you are looking for a bargain version of Vivaldi's
The Four Seasons
, then you need look no further than this disc. Here are efficient, well played virtuoso performances with two extra concertos thrown in. But if you are looking for love, warmth and a feeling of friendly communal music making, then look elsewhere.' See
review
and
review
by Gary Higginson.
I don't think that availability in 24/88.2 sound makes it much more attractive but the recording sounds suitably analytical in that format, with detail easy to place, including just a hint of the continuo on harpsichord or chamber organ – not too prominent but enough to remind the listener that it's there. (
NBD0016
) Available from
Amazon.co.uk
,
Amazon.com
and
Arkivmusic.com
.
If you are looking for a first-rate performance of
The Four Seasons
in 24-bit sound I would suggest Linn's re-mastered version of Neville Marriner's classic recording with the Academy of Saint Martin, an analogue recording but sounding almost new-minted in 24/96 format (
UNI007
– download from
linnrecords.com
for £18). See
March 2012/1 DL Roundup
.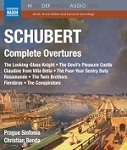 Franz SCHUBERT (1797-1828)
Complete Overtures performed by the Prague Sinfonia/Christian Benda (
NBD0019
), like the Rossini from the same performers, offers the contents of two CDs, playing for 127:36, so it's very good value as well as containing fine performances of music too often squeezed in as fillers to Schubert symphonies. Downloading the 24-bit version of Volume 1 alone from eclassical.com would set you back $17.05, more than you should have to pay for the complete set on BD-A.
John Sheppard derived considerable pleasure form Volume 1 –
review
– and was equally pleased with its successor –
review
– which Stephen Francis Vasta also had no hesitation in recommending –
review
. I don't know of any other collections that offer such a complete overview so, with very good 24/96 sound for less than the price of the two CDs, what's not to like? Available from
Amazon.co.uk,
Amazon.com
and
Arkivmusic.com
.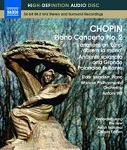 Fryderyk CHOPIN (1810-1849)
Piano Concerto No.2 in f minor, Op.21, Variations on Mozart's
Là ci darem la mano
, Op.2 and
Andante spianato and Grande Polonaise brillante
in E-flat, Op.22 are performed by Eldar Nebolsin (piano), the Warsaw Philharmonic Orchestra and Anton Wit on
NBD0012
[62:53]. The CD earned a
Bargain of the Month
accolade from John Sheppard –
review
– and, though I missed it at the time and have my own preferences, I can see why. This is Chopin pianism of the highest order and very well supported.
You need only listen to the low-bit streamed version from Naxos Music Library to hear that the recording is first-rate and the 24/88.2 blu-ray amply confirms that impression. The disc is available from
Amazon.co.uk,
Amazon.com
and
Arkivmusic.com
.
My Desert Island choice remains one of the Anton Rubinstein recordings, supplemented by the recent Linn recording with Ingrid Fliter as soloist, the Scottish Chamber Orchestra and Jun Märkl (
CKD455
–
review
). If only Naxos had chosen to couple the two Chopin Piano Concertos, as they did with a much earlier recording, Nebolsin and Wit would also have come into that category. As it is, you need only add the blu-ray recording containing Piano Concerto No.1 to complete the set, reviewed in BD-A format by Robert Cummings (
NBD0011
–
here
).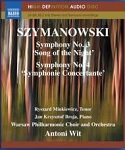 Karol SZYMANOWSKI (1882-1937)
is one of those composers whose music I like but don't yet know well enough, so I was pleased to receive
NBD0022
, containing his Third Symphony, Op.27, 'Song of the Night', and No.4,
Symphonie Concertante
, Op.60, performed by Warsaw Philharmonic Orchestra/Antoni Wit, with Ryszard Minkiewicz (tenor), Ewa Marczyk (violin), Marek Marczyk (viola) and the Warsaw Philharmonic Choir in No.3 and Jan Krzystof Broja (piano) in No.4. I can't think of a better set of exponents but once again the playing time is rather mean [54:13]; since this blu-ray release represents a re-shuffling of the CD releases, surely Naxos could have thrown in something from another recording or even joined two recordings, as with Rossini and Schubert. Dan Morgan thought the coupling of Symphonies Nos. 2 and 3 'very welcome indeed' –
review
.
The blu-ray comes in 24/88.2 sound and is available from
Amazon.co.uk,
Amazon.com
and
Arkivmusic.com
. I compared Symphony No.3 with the lossless CD-quality download from
eclassical.com
of the pairing of Nos.2 and 3 (
8.570721
) and both with the version of that recording as streamed from Naxos Music Library. The streamed version is more than tolerable but the lossless download helps to separate the strands of Szymanowski's rich textures and the BD-A even more so. The Polish text and English translation of the Persian poem set in No.3 are included in the CD and BD-A booklets.
As with the companion blu-ray reissue of Symphonies Nos. 1 and 2, which have been reshuffled as
NBD0021
– see
review
by John Quinn – the sound is, as JQ writes, very good but not revelatory. In the light of that review and of hearing No.2 as downloaded in CD-quality sound from eclassical.com, that sounds well worth having, too – but bear in mind the short playing time.
Audophiles in particular should note that I plan to include in a future Download News a review of the eclassical.com download of
8.570721
alongside Chandos
CHAN/CHSA5115
, a coupling of Symphonies 2 and 4 with the Concert Overture, Op.12, available as an SACD and in mp3, 16- and 24-bit lossless downloads from
theclassicalshop.net
, a recording which Dominy Clements was not alone in thinking excellent –
review
.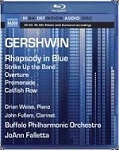 George GERSHWIN (1898-1937)
Rhapsody in Blue
,
Strike up the Band
Overture,
Promenade
and
Catfish Row
are performed by Orion Weiss (piano), John Fullam (clarinet), the Buffalo Symphony Orchestra and JoAnn Falletta on
NBD0033 –
from
Amazon.co.uk,
Amazon.com
and
Arkivmusic.com
. This is another rather short recording [54:16] and Brian Reinhart thought the performances too sober –
review
– while John Whitmore thought them safe and dull –
review
– so even the 24/96 sound would need to be very good indeed to make it attractive at the higher price. It's good but not outstanding.
I can't point you to a 24-bit alternative and I thought slightly better of the performances than my colleagues, but I wasn't tapping my feet as much I like to do with Gershwin. It's a shame not to be able to give this a warmer welcome since I was rather taken with the first volume in the series, offering the Piano Concerto, Second Rhapsody, etc. That, too, is available on blu-ray (
NBD0025
); it hasn't come my way for review in that format but Paul Corfield Godfrey liked it –
review
. For
Rhapsody in Blue
the oldies are still the best, with Leonard Bernstein (Sony
88697757642
– yours for around £4.25) heading the field.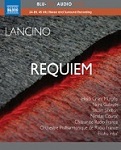 Thierry LANCINO (b.1954)
Requiem
(2009) perfomed by Heidi Grant Murphy (soprano), Nora Gubisch (alto), Stuart Skelton (tenor), Nicolas Courjal (bass); Choeur de Radio France; Orchestre Philharmonique de Radio France/Eliahu Inbal (
NBD0020
) combines the traditional Latin texts with a libretto by Pascal Quignard in the form of a dialogue between the pagan Sibyl and the biblical David – both mentioned in the
Dies Iræ
as foretelling the Day of Judgement. After a lengthy Prologue, for example, the
Kyrie eleison
is prefaced by the Sibyl's famous wish to die:
apothanein thelo
. It's powerful music with a performance to match and the style is not too 'advanced' for anyone who can cope with Bartók. I've been coming to terms with the music since 2011 – see
December 2011/1 DL Roundup
– but I'm still not sure how often I would wish to hear it. As I wrote before, try this first from Naxos Music Library if you can and you may well find yourself agreeing with William Hedley that there's nothing distinctive or memorable in this music –
review
– imposing as it is.
The recording sounds powerful enough in the download format in which I reviewed it in 2011 and, though the 24-bit version is only at 48 kHz, that's even more powerful. There are no texts in the booklet but these can be accessed at
Naxos
. Available from
Amazon.co.uk,
Amazon.com
and
Arkivmusic.com
.
Recording of the Month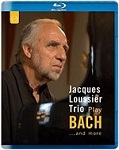 My final choice – leaving the best till last – comes not from Naxos but from Euroarts and it's a blu-ray with video as well as 2.0 stereo audio and 5.1 surround sound. I've long been a fan of Jacques Loussier and his way with Bach but there's something very special about the performances on
Jacques Loussier Trio play Bach … and more
(
2054064
, around £20, also on DVD,
2054068
). Available from
Amazon.co.uk,
Amazon.com
and
Arkivmusic.com
, here are 98 minutes of superb music-making recorded live at Bach's own Thomaskirche, Leipzig, on 28 July, 2004 and a bonus 16-minute conversation with Jacques Loussier. The picture is full 1080i and in 16:9 format and it's playable worldwide.
As well as
Johann Sebastian BACH's (1685-1750)
Fifth Brandenburg Concerto in D, BWV1050, the inevitable Air in G from Suite No.3, BWV1068, and the third movement of the Harpsichord Concerto No.3 in D, BWV1054, which ends the programme, there are several shorter pieces: Fugue No.5 in D, BWV850, Gavotte in D from Suite No.3, BWV1068, and Pastorale in c minor, BWV590. The '… and more' section offers
Claude DEBUSSY's
Arabesque
and
L'isle joyeuse
,
Eric SATIE's
Gymnopédie
No.1 and
Maurice RAVEL's
Boléro
. There's really not much to add to what Robert Gibson wrote of the DVD in his detailed
review
: 'A beautifully filmed, beautiful performed and beautifully presented concert, I truly cannot recommend this enough.' I'm sure the spirit of JSB was present that evening and wholly approving of the whole thing.
If you decide to play this blu-ray in audio only you may find yourself perplexed at hearing the same introductory phase repeated endlessly. Press 'enter' or 'OK' on your pad and you should move on to the concert proper.