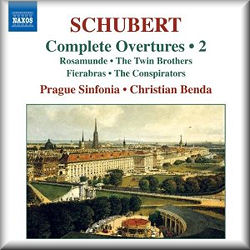 Support us financially by purchasing this disc from
Franz SCHUBERT (1797-1828)
Complete Overtures: 2
Overture in D major, D 556 (1817) [6:46]
Overture in the Italian Style in D major, D 590 (1817) [7:54]
Overture in the Italian Style in C major, D 591 (1817) [7:27]
Rosamunde: Overture (from Die Zauberharfe), D 644 (1820) [10:23]
Die Zwillingsbrüder, D. 647: Overture (1819) [4:01]
Overture in E minor, D 648 (1819) [6:11]
Rosamunde: Overture (from Alfonso und Estrella), D 732 (1822) [5:50]
Die Verschworenen -- Der häusliche Krieg, D 787 (1823) [7:03]
Fierrabras, D 796 (1823) [8:53]
Prague Sinfonia/Christian Benda
rec. Arco Diva-Domovina, Prague, November 2006
NAXOS 8.570329 [64:28]




See also review by John Sheppard

Schubert's overtures, as concert pieces, have never achieved the profile or popularity of his songs and some of his symphonies. Those composed for operas sank like stones along with those operas, remaining obscure for decades. Generic, plain-Jane billing didn't help some of the others: "Overture in D" is hardly a title calculated to quicken the blood. In any case, the overtures don't have the same traction, either on the platform or on disc, as those by Mendelssohn or Weber. The only one most listeners know is Rosamunde - and that can refer to either of two!

In fact, it's those opera overtures that make the most positive impression here. Alfonso und Estrella - originally composed for Rosamunde - and Fierrabras, with their imposing introductory tuttis and bracing rhythmic edge in the fast passages, are heirs to Mozart's style of symphonic drama. The chipper, agreeable Die Verschworenen offers a nice contrast. The overture to Die Zwillingsbrüder, a remarkably concise piece of writing, generates drama and mystery from harmonic instability, with the music constantly veering into the minor.

This performance of the Zauberharfe Overture - the one most people call "the" Rosamunde overture - doesn't immediately settle in: the slow introduction is pleasant, but somehow slightly adrift. The strings' feathery attack on the main Allegro is fetching, and the tuttis are joyous. Structurally similar to this are the Overtures in D and in E, which offer a wealth of attractive melody, though the E minor's sprightly second theme, initially charming, devolves into mere harmonic note-spinning in the development.

The two overtures "in the Italian style" are supposedly homages to Rossini, which may not be immediately obvious. Themes and whole paragraphs of the D major later found their way, with some variation, into Die Zauberharfe, though the annotator seems unaware of this; the bustling main section, with its incisive tuttis, most readily reflects the Rossini style. The C major overture effectively draws on both German and Italian influences. The slow, lyrical introduction is pure Schubert, but the perky faster section is very Rossinian, even taking in a couple of brief "Rossini crescendos" beginning at 5:30.

The Prague Sinfonia is an expanded successor to the old conductorless Prague Chamber Orchestra, with the presence of Christian Benda as director allowing for more strongly profiled performances. Schubert's scoring is often heavier than you might expect, and Benda knows how to keep the textures clear and springy without losing the needed sense of weight. The playing is lyrical and driving as needed, and the ensemble sound mostly compact and focused; only occasionally, as in the slow, solemn passage at 5:34 of the D major Overture, does the sonority become oozy and less sure.

I've not heard the previous issue in the Naxos series (review), but I won't hesitate in recommending this handy collection, especially as most of this music has not been readily available. Yehudi Menuhin recorded four overtures (EMI Doublefforte 7243 5 73362 2) along with his Schubert symphony cycle, but Benda's taut, characterful accounts outclass Menuhin's stodgy Alfonso und Estrella and his tentative control in the others. EMI's "simpler" production has its aural appeal, but Naxos's warm, vivid sound is excellent.


Stephen Francis Vasta
Stephen Francis Vasta is a New York-based conductor, coach, and journalist.