Outside Poland, this CD will have a fairly limited appeal, which is a pity. I donít know how much of a market there is for recordings of the Warsaw Philharmonic Chamber Orchestra playing music from four different eras in classical history, but if the only listener in the market for such an album is me, well, Iím happy!

The primary cause of my satisfaction is the excellence of the Warsaw Philharmonic. As everyone ought to know by now, they are one of the finest orchestras in the world, especially blessed with a luxurious string section that calls to mind the riches of central European orchestras decades ago. A secondary cause of my satisfaction is the presence of Ilya Gringolts as the soloist in Mozartís Third Violin Concerto. The concerto gets a bracing performance from the very first bars, with a speedy tempo for the first movement. Gringoltsí pliable, romantic tone is coupled to this brisk performance with delightful results. It all feels spontaneous and conversational, like the best live concerts.

Surrounding the Gringolts performance are Bachís third Brandenburg Concerto, played not at all in period-performance style but appealing for the orchestraís sheer tonal splendor and the way oneís ears can swim in the inner voices, and Pawel Lukaszewskiís oboe concerto, Trinity Concerto, here making its first appearance on disc. Itís an appealing, melodic work with three movements that never go on too long; try to imagine Vivaldi studying composition under Poulenc, Martinu, and John Adams (in the exciting second movement) and you have a bit of an idea of what to expect. Iím very glad to have heard it, and Aleksandra Rojek-Duda is an excellent soloist whose account is a real pleasure.

We finish with a brisk account of the Tchaikovsky Serenade, the introduction stripped of sentimentality and the orchestral strings in glorious form. It is not the most lavish, romantic approach in terms of pacing and expansiveness; I suppose with a huge mass of strings and such impeccable tone, one must rein something in to prevent excess.

This performance is quite literally a single concert set to disc: itís the chamber orchestraís tenth anniversary celebration, on 6 December 2011. (Iím writing this on 6 January 2013.) Since Iíve seen these performers live, Iím not at all surprised by their precision, power and luxurious feel; in the concert hall the Warsaw Philharmonic purrs even more smoothly than it does on its many Naxos discs. Unfortunately the live circumstances do necessitate an extremely close microphone job, which makes this a bit dry and makes you feel like youíre truly surrounded by musicians. The Mozart can be especially claustrophobic. Thereís applause after every piece. For however many of us die-hard Warsaw Philharmonic fans there are in the world (not enough!), this album is a delight.

Brian Reinhart
Support us financially by purchasing this disc through MusicWeb
for £13.50 postage paid World-wide.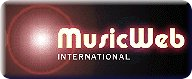 <!- paste above here ->