Like so many orchestras now, the Symfonický orchestr hl. m. Prahy FOK – more snappily known as the Prague Symphony Orchestra – have their own record label. Live recordings are the order of the day. By the way FOK stands for Film, Opera and Concert.

FOK's record label rather favours seemingly oddly-sorted couplings for their CDs. The programmes depend on the concert season. Thus their Beethoven 8 plus Kodály and Mozart (review) and their Krcek 5 married up to Brahms 3 (review). Last year Steve Vasta welcomed a more logically assembled Strauss programme from FOK (review) and this Don Juan continues that collection's success. Brian Reinhart praised their Ma Vlast conducted by rising star Tomáš Netopil (review).

Leaving aside that the sound is touched with the harsh and shrill stick this is gustily driven and impulsive Strauss. Kout – clearly a doughty Straussian - has the score teeming with intensity. Nice touches abound: a seductively watery violin solo, gracious work by the oboe (9:33) and the horns calling out in priapic pride at 10:30 and 10:53. There are moments when things become romantically becalmed and tip towards Mahler. Strauss's Errol Flynn-style scoundrel is finally rewarded with death and dissolution. This is grippingly delivered after a longer than usual silence.

The gap after the Strauss and before the Bodorová First Symphony is just too short.

Of the Symphony the composer says "The main 'content' of my Symphony No 1, like in my previous oratorios Juda Maccabeus and Moses, is hope … No matter what the outcome may be of this fight, it is important to carry on, not look back and to be all you can be."

Percussion and drums in particular play a prominent, rhythmic-accentuating role in this tonal symphony. The first (Palpito) runs the gamut from hollow drum-sound over a tense woodwind cortege via emergency bells and anxiety to Sibelian woodwind chatter and a rising gradient of tension. The second (Break dance) is a kinetic display with drums letting rip and a swaying Berber melody carried by the high violins. The third (Con le campane) evokes a dankly expressionistic landscape with bell chimes providing rhythmic moment. A sumptuous, elegiacally melodic trumpet solo speaks gently of pride. Some of this writing recalled Hovhaness: the numinous meets the luminous. The Finale is the longest movement. There is an urgent rushing onwards towards a mescalin-fuelled, Panufnik-style percussion fury. Bodorová skilfully weaves in the arching majesty of the Protestant chorale "Ach wie nichtig, ach wie flüchtig". This is borne up by strings and brass. The singing strings sometimes take on a Tippett-like sweetness. Violence alternates with majesty, jostling for eminence. This is all that a symphony should be about. The brass, and especially the trumpets, are blessed with victory in their wings - hope finds triumph.

Well-merited applause and bravos are heard after the Bodorová premičre but there's no applause included at the end of the Strauss.

The performance preserved here is the symphony's premičre.

Students and enthusiasts of the modern symphony need to hear the Bodorová.

Rob Barnett


http://www.musicweb-international.com/arcodiva/ARCO_DIVA_catalogue.htm
Support us financially by purchasing this disc through MusicWeb
for £12 postage paid World-wide.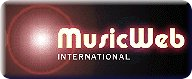 <!- paste above here ->