How does it come about that someone like me, with a general aversion to hearing music designed for the harpsichord, clavichord or fortepiano played on the modern piano should give high praise to this second volume in Stephen Gutman's complete series for Toccata? Or, for that matter, that I praised its predecessor highly, too? (TOCC050 – review).

The answer lies in the delicacy of touch which Stephen Gutman applies – by which I don't mean that he makes Rameau's music sound namby-pamby or unduly delicate. He shares with a very small number of pianists the ability to make modern piano performances of the music of this period sound as enjoyable to me as those on the harpsichord; in effect, I forget which instrument is being employed.

That small group includes Angela Hewitt, who has recorded three of the Pièces de clavecin for Hyperion (CDA67597) and in Bach Glenn Gould, despite his notorious waywardness, and Murray Perahia.

The keyboard transcriptions from the orchestral suite extracted from les Indes galantes can't sound as exotic and exciting on any keyboard – if anything I might have preferred Gutman on this occasion to have used the facilities of the modern instrument a little more – but it's still very attractive in its own right when it's played as nimbly and as delicately as it is here. Listen to track 17: Air pour les Esclaves Africains and those dancing slaves come to life; of course there's no sense of the brutality of slavery – but that was beyond Rameau's remit or intent in his opera-ballet.

There are two very interesting sets of notes in the booklet. In the first seven pages (2-8) Graham Sadler offers scholarly information about the music; on pages 9-11 Stephen Gutman offers a well thought out raison d'être for his performing practice. You don't need to read either to enjoy the music but I recommend that you do. Gutman's reasons for employing a technique beyond the range of the harpsichord rings most true for the music of Suite No.3, each piece of which has a descriptive title, ranging from the emotional (les tendres plaintes, track 25; les soupirs, track 29) to classical references (l'entretien des Muses, tr.32; les Cyclopes, tr.36).

Gutman especially singles out in his notes the reference to Cyclops, imagining that the movement depicts the episode in the Odyssey when Odysseus and his men blind the one-eyed Polyphemus in order to escape from his clutches and ending when the giant and his fellow Cyclops hurl rocks at the departing Greeks. As he says, the title is unlikely to have been an afterthought and it's certainly true that he achieves a range of expression here which would have been beyond the power of the harpsichord.

Gutman gives La boiteuse (tr.34) as evidence for William Christie's contention that Rameau was the greatest dance composer before Stravinsky; he 'leans' on the phrasing in such a way as to underline the force of the music and he does so convincingly for me at least.

The pièces de clavecin were originally composed for harpsichord plus other instruments – hence the en concerts designation – and they are undoubtedly more colourful in that form, as on the Lyrichord recording which I recommended in my June 2012/2 Download Roundup (LEMS8040 – see also review by David Wright), but here again judicious use of the greater expressiveness of the piano, including some sparing use of the sustaining pedal, offsets the limitations of having the music transcribed for solo keyboard.

If you haven't yet acquainted yourself with volume 1, you should do so – and obtain its successor at the same time. You'll find a number of extracts from very favourable reviews of that CD on the back of the new one. I shall be very surprised if there isn't the same support for its successor. I placed my bid for volume 1 in the mistaken belief that the performances were made on the harpsichord and was very pleasantly surprised to find myself pleased that I'd made the mistake. This time I placed my bid with open eyes and was not disappointed.

I got out my copy of volume 1 recently – it was easy to find, which proves that it gets played quite frequently and hasn't disappeared into the limbo of lost CDs at the back of the cupboard and was just as pleased with it as when I first reviewed it. That goes equally for its successor. Roll on the third and final volume – let's not have to wait another four years, please.

Brian Wilson
Support us financially by purchasing this disc through MusicWeb for £10.50 postage paid World-wide.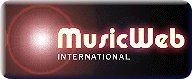 <!- paste above here ->