I first heard Couperin's Organ Masses on record as played by Peter Hurford on the Decca label, and the opening of the Messe a l'usage ordinaire des paroisses is one of those 'wow' moments which haunts the memory and invites further exploration. David Ponsford begins his series of 'French Organ Music from the Golden Age' with the marginally less popular Messe proper pour les couvents de religieux, et religieuses, but impresses from the outset with well-considered tempi, rhythmic security and clarity of expression and ornamentation.

As soon becomes apparent from the nicely documented booklet, a great deal of attention is given to the instrument used for this recording. This is, or would have been a fine period instrument, its remarkable history described in some detail. Alas this is an all too familiar tale of neglect and alteration over the years, but the instrument has recently been rebuilt, indeed 'resurrected' to its 17th/18th century specifications, and now produces the "fine, silvery Plein-Jeu, a bright and powerful Grand Jeu, colourful cornets and Jeu de Tierce" which is demanded for that authentic 'French' sound. The result on record is very fine indeed, without quite the sheer spectacular mass of sound of some of the grand cathedral organs we more commonly encounter, but with a communicative voice which is equally if not more convincing in some of Couperin's Mass movements. I particularly like the throaty pedal tones and breadth of contrast to be heard in this recording, and while the stereo spread isn't particularly wide the human scale of the music is superbly voiced.

The 'Golden Age' project means discovering less familiar composers, and in this case we are given the only surviving composition of Pierre Du Mage. David Ponsford points out Du Mage's debt to his teacher Louis Marchand in the 1e Livre d'orgue contenant une suite du premier ton in the booklet, responding to "music of the highest quality" by giving it as much care and attention as he has to Couperin.

Alongside Peter Hurford there is a deal of competition in in the catalogue for Couperin's two Organ Masses, and despite quite heavy ambient noise the recording by Jean-Baptiste Robin on Naxos 8.55741-42 is potently effective. Marie-Claire Alain's recording on the Erato label is also magnificent, and if you are looking for Couperin's complete Masses including the plainchant vocal elements then there's a rather nice double disc recording on the Paladino label PMR0020 with organist James Tibbles. Comparing David Ponsford against august competition his playing is arguably a little more four-square than, say, Marie-Claire Alain, though her more legato approach can go against absolute clarity at times. There are plenty of ways to approach this music, and at no point did I find myself in argument with Ponsford's decisions on tempi or interpretation. Performed on an instrument with a remarkable range of colour and expression this release is very much to be welcomed, and I look forward to hearing what gems are to be included in future volumes.

Dominy Clements
Support us financially by purchasing this disc through MusicWeb
for £12 postage paid World-wide.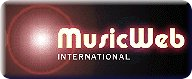 <!- paste above here ->