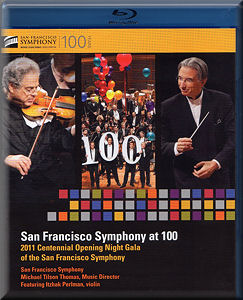 Buy through MusicWeb
for £39.99 postage paid World-wide.
San Francisco Symphony at 100: 2011 Centennial Opening Night Gala
Aaron COPLAND (1900-1990) Ballet Suite: Billy the Kid
Felix MENDELSSOHN (1809-1847) Violin Concerto in E minor
Benjamin BRITTEN (1913-1976) The Young Person's Guide to the Orchestra
John ADAMS (b. 1947) A Short Ride in a Fast Machine
Itzhak Perlman (violin)


San Francisco Symphony Orchestra/Michael Tilson Thomas
rec. live, Davies Symphony Hall, San Francisco, USA, 7 September 2011
Audio Format: PCM Stereo, Dolby TrueHD 5.1; Video Format: 16:9 1080i Blu-ray disc
Gala: [88:00]; Bonus documentary chronicling 100 Years of the SFSO [58:00]
This review is of the Dolby TrueHD 5.1 surround tracks.



SFS MEDIA SFS 0057 [146:00]


The SFS Media team has produced a well engineered disc with excellent sound and picture quality. There are even sensible menus, though against a repeating extract from the Adams piece. The camera-work from thirteen WNET New York is choppy and clichéd, cutting between players as the orchestration changes. This is particularly pronounced in the Britten which lends itself to this sort of unimaginative video direction. Watch the Lucerne Festival productions to see how an orchestra should be filmed. For this one, close your eyes and enjoy the music. Extras include a history of the orchestra and extracts from the interesting SFS Media Keeping Score series for which you should reopen them.

The concert is introduced by author Amy Tan who has a good camera personality and handles the introductions very well. These include segments of the history documentary between each piece on the programme. They make very interesting viewing and should be seen. The three main works in the programme are well performed, the Britten being particularly impressive and also appropriate for a gala since these Variations on a theme by Purcell are intended to show off the players' virtuosity. The SFSO rises brilliantly to the occasion. No one is going to criticise Perlman's lovely performance of the Mendelssohn, he makes it look so easy and yet it still comes over as fresh as ever. The Copland is slightly low-temperature compared to such classic recordings as that of Tilson Thomas' mentor, Leonard Bernstein. One hoped for something more gutsy from these performers. Being a gala, and since John Adams just happened to be in the audience the encore is his short showpiece A Short Ride in a Fast Machine. Here the SFSO give of their very considerable best.

The San Francisco orchestra has reason to be proud of reaching its centennial and whilst this concert is very enjoyable it pales in the company of their superb Mahler cycle also from SFS Media. To see what a great orchestra they have become, that cycle is where to turn, fun though this Gala is.


Dave Billinge



<!- paste above here ->