A Visit to Eric Coates' boyhood home in Hucknall (Nottinghamshire) … and The Eric Coates Society

They say Nottingham lies at the heart of England. It is the county city of Nottinghamshire located in England's North-East Midlands. Nowadays you can take a tram ride out from Nottingham's city centre eleven miles northwards to the town of Hucknall located in what is termed Greater Nottingham. Hucknall was once an important centre for framework knitting; then, later, for coal mining. The Rolls-Royce site is also located there, where engines were tested for vertical take-off aeroplanes - indeed, in this context, one of Hucknall's pubs is affectionately known as The Flying Bedstead. Nearby Eastwood is famous as the birthplace of D.H. Lawrence, and Hucknall's St Mary Magdalene Church is the resting place of Lord Byron and his estranged daughter, the mathematician Ada Lovelace.

For light music lovers Hucknall is also famous as the birthplace and boyhood home of the composer Eric Coates who is remembered as 'The Uncrowned King of Light Music'.

In the early 1950s, I was a schoolboy living close to West Bridgford where Eric Coates took music lessons. West Bridgford is a Nottingham suburb, lying just south of the River Trent. As a boy, myself, I was very much aware of Eric Coates' music for it was often played on the radio as signature tunes for numerous programmes including: Calling All Workers that introduced the BBC's Music While You Work; By the Sleepy Lagoon the piece that still opens Desert Island Discs and the Knightsbridge March that was the stirring music for In Town Tonight. Little did I realise, then, that a young boy of about the same age had regularly made the journey to West Bridgford from Hucknall, around 1898, to study harmony with a Dr Ralph Horner. I was not to learn about this until my late teens when I picked up a copy of Eric Coates' autobiography Suite in Four Movements which I have read and re-read so many times since then. Little did I know then, that many years later, in 1983, I would meet the composer's son, Austin Coates, and interview him for a BBC local radio programme and, later, collaborate with him to arrange a reprint of Suite in Four Movements with a new Foreword, written by myself, published in 1986, the centenary year of Eric Coates's birth.

During August 2012, I had occasion to visit Nottingham and having some spare time I resolved to travel up to Hucknall to see where Eric Coates lived as a boy – he left the town to study at London's Royal Academy of Music in the early Autumn of 1906, when he was 20 years old - Eric was born in Hucknall in 1886. So I took the tram up from Nottingham City Centre past Nottingham Trent University, uphill past the Arboretum, through Basford to the tram's Hucknall terminus which is one of the three rail stations that served the town in the days of Coates. There I was met by two officers of The Eric Coates Society which was formed quite recently in 2008: Mr Peter Butler, Hon. Secretary and Mr Geoffrey Sheldon, Hon. Chairman. It is a short distance from the railway station to the Coates family home at 'Tenter Hill' on Beardall Street which is now marked by an official commemorative blue plaque. 'Tenter Hill' is a large establishment; it was necessarily so to house the professional activities of Eric Coates's father, a local doctor whose clients included many employees of the local coal mining industry – and to house his large family of three girls and two boys - Eric being the youngest child. In those days a doctor's house commonly needed three separate professional rooms to serve as waiting, dispensary and consulting areas. Our hostess Mrs Debbie Connor, herself a prominent member of The Eric Coates Society, kindly showed us around the house and gardens and we spent a delightful hour in the lounge discussing Eric Coates' music and his early life in Hucknall. Afterwards we visited the site, two or three streets away, of a smaller house where the Coates family first lived before they transferred to Tenter Hill. Before I returned to Nottingham, Peter Butler showed me around the centre of Hucknall including the Library where there is an impressive collection of Eric Coates memorabilia including many music scores, and the outside of the adjacent St Mary Magdalene church - a wedding was proceeding inside.

I would highly recommend lovers of Eric Coates' music to read his autobiography, Suite in Four Movements for details of his early life in Hucknall. The 'First Movement' of his story – Allegretto Pastorale – is an amusing, breezy account of life at Tenter Hill. One reads of his early musical experiences, his cycle rides, or rides in his father's pony and trap, through the Nottinghamshire countryside and photographic expeditions with his father - a keen photographer who passed on his enthusiasm to Eric - to places like the grand edifice of Southwell Minster in the north of Nottinghamshire.
Ian Lace

The Eric Coates Society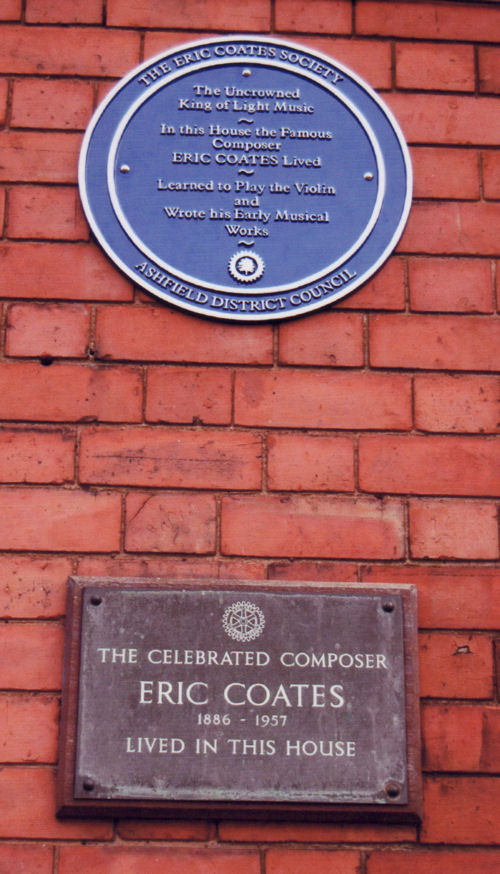 The Eric Coates Society, established in 2008, is based at the very place where Eric Coates was born and raised - in Hucknall, Nottinghamshire, England. The Society was formed to promote the composer's life and music.

The Society's Chairman, Geoffrey Sheldon, commented, "Here in Hucknall, we are active in being part of the 'Light Music' scene that is slowly gathering pace in the country after many lean years and Eric Coates's music is a very important contribution to that musical genre. In Autumn each year, we have been able to mount concerts and hope to continue their successes; and in Hucknall Library our historical advisor has established an impressive collection of Eric Coates memorabilia including many music scores"

The Society's Secretary, Peter Butler, added: " We have a growing membership. Our President is the famous young conductor and arranger, and champion of Eric Coates music, John Wilson. We also have a number of keen and distinguished honorary members including: Alan Titchmarsh, Rob Cowan (presenter, BBC Radio 3), Sir Michael Parkinson; Iain Sutherland (conductor and arranger) and Dr Michael Payne (author of a new book on Eric Coates)".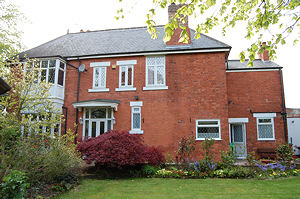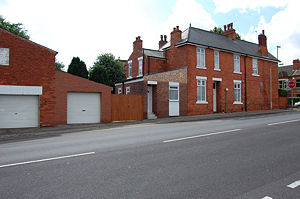 Ian Lace

<!- paste above here ->