An Interview with Klaus Heymann by Robert Hugill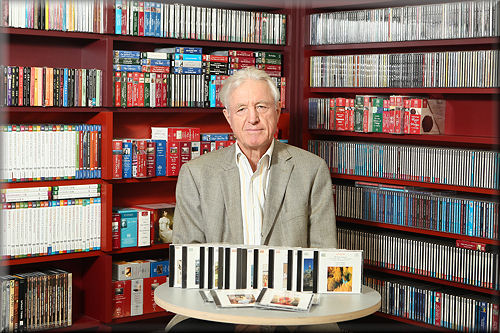 Naxos has been celebrating its 25th anniversary. Those 25 years have seen remarkable changes to the classical music recording industry; changes, which Naxos and its founder Klaus Heymann helped to bring about.

I interview Klaus Heymann on the day after the 25th birthday celebrations in London, which included a party at which Simon Callow spoke.

When asked if, when he founded Naxos, he had anticipated the company being around for 25 years Heymannís answer is a definite ĎNoí. He thought that the company would last three to five years until it was killed by the majors. Later, when he became more confident that Naxos would survive, he did not anticipate how the venture would develop.

That the company survived in its early days was down partly to the fact that the major record companies seriously underestimated Naxos. I was curious as to what Heymann thought that the majors should have done. He thinks that as soon as Naxos appeared, the majors should have released their back catalogue at budget price.

In fact they were too busy selling back catalogue at full price and at the time this seemed good business. When the majors realised that Naxos was a threat, it was established and in any case their response was feeble. They did not understand the Naxos concept of issuing new digital recordings at budget price.

Heymann named three key moments as milestones in the history of Naxos. The first, in 1994, was the release of Naxos Audiobooks. This gave the company important publishing know-how, which has come in useful with the rise of mixed media products such as books with recordings or the on-line musical encyclopaedia.

The second milestone came in 1996 when the catalogue went on-line for the first time and the third was the launch of the Naxos Music Library. For Heymann, this is the most successful part of classical music on the internet and it produces the second largest digital income - after ITunes.

When asked what the secret is of running a successful classical music business like Naxos, Heymann is clear that it is managing to combine business sense with a passion for classical music. As far as he is concerned, if the business is only about making money then you wonít make it. He cites the examples of labels like Hyperion, Chandos and Bis who were all started by people with passions (Ted Perry, Brian Couzens and Robert von Bahr). He warns that you do need business sense as well and that this is rare; too many companies are set up by people with no business experience.

Heymann points out that he was fortunate to have other profitable businesses so that he could invest in new areas such as audio books, the internet and DVDs. Naxos was a famously early adopter of the internet when the technical infrastructure was still very expensive; people thought Heymann crazy to invest so much money in it. But he admits that there was never a grand plan. The business simply developed naturally though he was always looking a few steps ahead.

Heymann has often been ahead of the curve though he is candid that he didnít get everything right (mini-disc, audio DVD) but he got the most important things right. He foresaw the development of the subscription model and Naxos were the first company with it in 2002.

Nowadays his main activity is to monitor trends in digital distribution of music. He adds that Naxos currently have 74 people in IT and 10 in the record company, reflecting the importance of IT and the internet to the company.

For Heymann, the future of digital content will be in the area of searching. With so much content (Itunes for example has 28 million tracks), knowing where to find stuff will become paramount. Heymann feels that you need three key things, superb metadata, a good search engine and a good recommendation engine; all areas where Naxos is strong and is devoting more development time; all of interest to an IT nerd like me.

They have the biggest database in the industry with a very good search engine complete with keywords and advanced search. Heymann is clearly proud of the work that Naxos has done in this area, and rightly so. He talks knowledgeably about the key factors in the digital revolution.

The team at Naxos is currently working on an advanced search engine which they can superimpose on other web sites, thus enable customers to leverage the value of the metadata in the Naxos database. For Heymann this is the future of the business.

Our talk also turned to the idea of curated content which I likened to the old-fashioned record shop where everything was chosen by the owner. Heymann confessed that when he retires he has always thought that it would be pleasant to open his own record shop.

Naxos is the market leader in digital distribution and online musical education. They have developed a highly regarded classical music app and Heymann also talks about ebooks with embedded music. In development is an interactive music encyclopaedia where you can read and listen, with links taking you to text and to related musical content. They have just finished the letter M.

Heymann is bullish about the future of CDs and DVDs, saying that they will be around for five years; currently their sales of classical music CDs remain stable. But there are now hardly any physical record shops left; Naxosís biggest customer is Amazon. Heymann clearly regrets the passing of the record shop, but the businessman in him points out that the new way of working is in some ways to Naxosís advantage. After all, Amazon is unlikely to go bust and payments from small independent shops could be rather haphazard.

Heymannís wife, the violinist Takako Nishizaki, is still responsible for the choice of Naxos artists and always has been. They usually ask for a recording of a live concert and listen blind. Heymann says that she is an infallible judge and certainly the strength of the label in its earliest of days was the way they seemed to be able to search out strong but lesser known artists.

From these earliest days Naxos has been consistent in paying artists using a flat fee structure rather than royalties. Nowadays many independents donít pay royalties, though for an orchestra, some smaller companies just donít have the money for a flat fee for the whole orchestra. Heymann adds that the flat fee can work in an artistís favour because they only get royalties once recording costs have been covered. Also, with the changes in the recording industry many artists and orchestras pay for their own recordings, so Naxosís flat fee can be a good deal.

The company has a conscious policy to record more and more unusual repertoire. And this does seem to work, the day I checked the companyís website their top 40 selling discs included music by Jonathan Dove, Eugene Goossens, Peter Maxwell Davies and William Alwyn. This month they have released their first recording of an opera by Nicola Vaccai, a composer perhaps best known for the fact that Malibran used to sing his setting of the final scene instead of Belliniís when she performed I Capuletti e I Montecchi.

Heymann says that they lose money on many projects, though every recording must sell two to three thousand copies. The losses are balanced by the money-making recordings, and even those which do not make money will contribute to the development of a complete encyclopaedia of music.

Heymann has had the luxury of being able to indulge in projects which are expensive, such as JanŠcekís Glagolitic Mass or Schumannís Scenes from Goetheís Faust. There are some things that he will not be recording. Heymann would love a cycle of the operas by JanŠcek but says that these do not sell well enough and he has had to content himself with commissioning suites from the operas.

For his 80th birthday, Klaus Heymann is planning to give himself the present of a recording of the complete orchestral music of Hans Pfitzner. He waxes most lyrical about the music from Pfitznerís opera Palestrina.

He admits that he does not listen to music except for that necessary for the company, he just doesnít have time. After all, with some 20 to 30 new releases each month there is plenty for him to hear, and he still enjoys it.

In person Klaus Heymann is impressively tall and disarmingly charming. Though he mentioned retirement in our talk, he is clearly still running Naxos and enjoying every minute of it.

Robert Hugill
11 May 2012
<!- paste above here ->