JOHN JOUBERT at Eighty-Five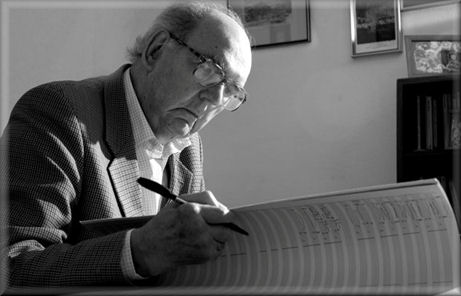 John Joubert, September 2008
© Graham Boulton
John Joubert was born in Cape Town on 20 March 1927. His mother was an accomplished pianist who had studied with Harriet Cohen and it was from his mother that Joubert received his first groundings in music. In his early years he was very interested in painting and a 1942 self-portrait, reproduced on the cover of a new CD of his first three string quartets, suggests a precocious talent. However, music claimed him and he began composing while still at school. Initially he received tuition from the English émigré William Henry Bell (1873-1946), a pupil of Stanford who had been Director of the South African College of Music since arriving in the country in 1912. In 1946 Joubert won a Performing Rights Society scholarship to the Royal Academy of Music. During his four years at the Academy his teachers included Howard Ferguson and, briefly, Alan Bush. Among the prizes that he was awarded during his student days in London were the Lionel Tertis Prize (for a viola concerto) and the Royal Philharmonic Society Prize (for an orchestral piece entitled
Symphonic Study
.) So far as I am aware neither of these prize-winning pieces have been published or given opus numbers by the composer. During his time at the Academy Joubert also successfully studied, as an external student, for the degree of B. Mus. from Durham University.
On leaving the Royal Academy Joubert earned a living as an academic while continuing to pursue his composing career. From 1950 to 1962 he lectured in music at Hull University. From there he moved to Birmingham University where he held a series of increasingly senior posts in the music faculty before taking early retirement in 1986 to devote himself completely to composition.
John Joubert's catalogue of works is extensive –
An English Requiem
(2010) is Op. 166 – and he has written in most genres. His orchestral works include two symphonies (1955 and 1970) and concertos for violin, piano, bassoon, oboe and, most recently, for cello. His chamber music output includes four string quartets, the first three of which have been brought together just recently in première recordings on a single SOMM CD by the Brodsky Quartet. His operatic portfolio includes three full-length operas,
Silas Marner
(Cape Town, 1961),
Under Western Eyes
(1968) and
Jane Eyre
(1987-97). There are also a number of pieces for piano and organ solo.
The human voice has been, perhaps, the main focus of Joubert's career as a composer and the list of compositions on his
website
includes ten works for chorus and orchestra, starting with
The Choir Invisible
(1968) and ending (so far) with
An English Requiem
. I've had only limited opportunities to attend live performances of pieces by Joubert but, purely by coincidence, I can claim to have been present at the premières of both of those works. His catalogue also boasts a steady stream of works for choir, both accompanied and unaccompanied, including two sets of Evening Canticles (1968 and 1984).
Joubert's 80
th
birthday was widely celebrated in 2007 as a '
Joubertiade
'. The principal focus of the celebrations was Birmingham, where he still lives, but there were events and performances at many other venues in the UK and several recordings of his music were released or re-issued. A highlight in the list of recordings was the long-delayed first release of his First Symphony in what is surely a definitive reading by Vernon Handley (
review
).
Three years later the composer was fêted again, albeit in only one location this time, when Adrian Partington invited him to be composer in residence at the 2010 Three Choirs Festival in Gloucester. That festival included a significant celebration of Joubert's music. The works performed included a Jubilate, commissioned for the opening service, his Passacaglia and Fugue Op 35 for organ, a new set of Responses for the broadcast of Choral Evensong by the BBC, the orchestral piece Temps Perdu and, at the heart of the Festival programme, the first performance of the major commission,
An English Requiem
(
review
).
In the year of his 85
th
birthday Joubert remains very much an active force in British musical life. His
Seek the Lord
is one of 44 anthems written by a veritable Who's Who of British composers for the new collection
Choirbook for the Queen
, to celebrate Her Majesty's Diamond Jubilee. Raphael Wallfisch gave the first performance of a new Cello Concerto in March, followed by three further performances. On the recording front, after their important set of Joubert's chamber music, issued to mark his 80
th
birthday (
review
), SOMM Records are releasing a disc containing the first three of his string quartets in performances by the Brodsky Quartet. Their reading of the Second Quartet is taken from the previous SOMM set but the First and Third Quartets appear on disc for the first time. All of these three Brodsky performances are première recordings.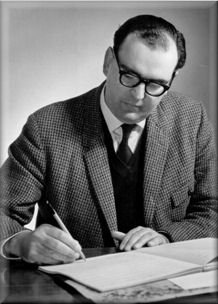 John Joubert probably in the early 1960s
©John Joubert
Joubert on Disc
Until a few years ago Joubert's representation on disc was sparse, like that of so many British composers of his generation. However, the situation has now improved with several significant releases.
Both of his symphonies are now available, the First, Op. 20 (1955) in a Lyrita recording by Vernon Handley and the Second, Op. 68 (1970) in an equally important issue from Dutton Epoch. The
First Symphony
, a taut four-movement work that last just over half an hour, was commissioned by the Hull Philharmonic Orchestra and first performed by them, under the direction of Vilem Tausky, in 1956. Hearing it in Handley's fine recording (
review
) it's remarkable that such a piece could have been written for and undertaken by an amateur orchestra for it doesn't treat the players with kid gloves. The first movement is lively and one notes that the orchestral scoring is not at all heavy. The music is alert and sprightly, requiring dexterous playing to do justice to the strong rhythmic impetus. The second movement is much more serious and rhetorical – the composer describes it as "tragic" in tone. It's interesting to read Joubert's comment that at this stage much of the music of Shostakovich, who was to become a significant influence, was either unknown to him or had yet to be written. Despite this, stretches of the movement seem to breathe a chill air, similar to what we often encounter in Shostakovich's output. The third movement, a Presto, is vital and full of almost demonic energy. The finale begins with a slow introduction. Apparently, Joubert revised this section after the première, expanding it significantly; in Handley's account it occupies some 40% of the movement. It's serious, dramatic stuff and includes an especially memorable passage for the string section. Once launched, the main allegro is much more outgoing and genial than anything heard previously in the symphony and the work achieves a thoroughly positive conclusion. Joubert has written that this symphony represents his "coming of age" as a composer; this succinct and expressive piece shows him attaining what one might call his compositional age of majority with considerable confidence.
The
Second Symphony
followed fifteen years later and was prompted by a Royal Philharmonic Society commission. It's quite a bit shorter than its predecessor – playing for some twenty-two minutes in the fine recording conducted by Martin Yates (
review
) – and the music is a lot grittier than that of the First Symphony. Perhaps that shouldn't surprise us for the work represents Joubert's response to the notorious 1960 Sharpeville Massacre in his native South Africa. It's interesting to learn that an inspiration was provided by Shostakovich's Eleventh Symphony (a seriously underrated work, in my view) and that just as the Russian master included traditional melodies from his homeland in his score so Joubert worked into his own symphony three traditional African tunes. The work is in one continuous movement, within which there are two main sections. The first of these is desolate and tragic in tone. The music is darkly powerful and very intense, demanding of listeners and performers. There's a far higher level of overt dissonance than was the case in the First Symphony and, indeed, it seems as if Joubert has expanded and ratcheted up by several notches the tragic mood that informed the second movement of his earlier symphony. The second section contains music of considerable energy, even violence; it is percussive in nature even when the percussion section is not playing. Eventually (at track 2, 8:30) this vigorous music gives way to an extensive quiet episode in which a solo horn plays against soft strings. The horn's melody is the third of the African tunes – a Zulu lament – and, though this may just be coincidental, this section reminds me quite a lot of the passage in the third movement of Shostakovich's Tenth Symphony where the horn quietly intones the DSCH motif several times. A final burst of heated energy, reminiscent of the
con malizia
movement of Walton's B flat minor symphony, brings the symphony to an end.
Both of Joubert's symphonies are considerable creations and deserve a wide audience. Since, sadly, public performances are likely to be few and far between we must be grateful that both have been so well served on disc. One other CD of orchestral music, issued by BMS, includes his
Temps Perdu: Variations for
String Orchestra
, Op. 99 (1984) – a piece I particularly admire; it's right in the lineage of English string orchestra works. The disc also contains the Sinfonietta, Op. 38 (1962) and the song cycle,
The Instant Moment
, Op. 110 (1986) (
review
). That, so far as I'm aware, is it as far as Joubert's orchestral output is concerned.
His chamber music was particularly well served by a SOMM issue, timed to celebrate the composer's 80
th
birthday (
review
). This two-disc set included all three of his piano sonatas, played by fellow-composer, John McCabe. Of these, the
Sonata No 1
in One Movement, Op 24 (1957) only lasts for some fourteen minutes but packs a lot into a short time span. Its principal musical ingredients are a central scherzo section - an impetuous, irrepressible central tarantella – on either side of which is heard some thoughtful chorale-like material. The
Second Sonata
, Op. 71 (1972) is a much bigger work. Though it opens innocently enough the music grows purposefully and the mood becomes much more serious and powerfully rhetorical. There's a fairly high dissonance quotient and the tonality seems ambiguous. The second movement is urgent and propulsive but the progress of the fast music is eventually impeded by a powerful, slower episode, announced by majestic chordal sequences. Then the presto resumes with renewed vigour, sweeping the movement to a percussive, breathless ending. The finale is the longest movement and it takes the form of a passacaglia. The stealthy opening is either mysterious or ominous – the listener can't be sure – and thereafter Joubert builds the movement impressively up to and back from more than one climax. I must admit that there are times, as the music becomes more complex and dissonant, when I struggle to discern the passacaglia structure – it's not as clear as in the comparable movement of the Piano Trio – but I'm sure the fault is mine.
The
Third Sonata
, Op. 157 (2006) is inspired by Thomas Hardy and bears a relationship to the 1985 cantata,
South of the Line
in which Joubert set poems by Hardy. Particularly impressive is the central movement,
Lento e calmo
, which accounts for half the length of the entire sonata and which offers much-needed repose after the rigours of the first movement. The outer stretches of this slow movement contain lovely, poised music while the central section –
allegretto agitato
– doesn't lose sight of the material from the lento but encases it in bursts of pianistic pyrotechnics. The theme of the vigorous march, which ends the sonata, is taken from
South of the Line
.
Pianist Mark Bebbington contributes a performance of the
Lyric Fantasy for Piano
, Op 144 on themes from the opera,
Jane Eyre
(2000). Joubert comments that he didn't want this piece to be a display vehicle like the paraphrases of Liszt. I haven't heard Joubert's opera but I understand that the Fantasy largely derives from music for the love scene between Jane and Rochester. It's a romantic piece, often passionate in tone, even when the music is quiet. There's no virtuosic note-spinning in the manner of Liszt – thank goodness – but instead we have a very satisfying piece which, as its title implies, is strongly lyrical.
The SOMM set also includes two works involving piano trio. There's
Landscapes
, Op. 129 for Soprano and Piano Trio (1992) and the work which has become my own favourite among the Joubert chamber pieces that I've heard to date, the
Piano Trio
, Op. 113 (1986). This is a marvellous work, cast in three movements. The first, 'Aria', seems to me to be really well laid out for the three instruments. The movement lives up to its title because the excellent principal theme has a real vocal quality to it. There's a strong lyrical vein running throughout this lovely movement. The following 'Sonata' is underpinned by strong, vigorous rhythms but much use is made of a long-breathed lyrical idea, first heard on the cello (at 1:31). Finally comes a wonderful, inventive and varied passacaglia which, once again, seems to be expertly laid out for the three players. The performance is quite splendid and it's especially pleasing that the cellist is the composer's daughter, Anna.
SOMM also included in their 80
th
birthday album the Second String Quartet, Op 91 (1977). That performance of the quartet, by the Brodsky Quartet, has just been recycled by SOMM and coupled with brand-new performances, also by the Brodskys, of Joubert's First and Third string quartets, which date respectively from 1950 and 1986. I am sure we will be reviewing that disc imminently on MusicWeb International. I've been able to hear an advance copy of the disc and though detailed appraisal must await our full review it seems to me that all three performances by the Brodsky Quartet are superb. They bring commitment and, I think, great understanding and sympathy to all the music. All are first recordings: the performance of the Second Quartet dates from 2006 while the First and Third Quartets were set down in June 2011.
The
First Quartet
(1950) is designated as Joubert's official Op. 1. It is a student work, written in his last year at the Royal Academy though one would scarcely know that, such is the assurance of the writing. Joubert admits to the influence of Walton. Another influence – equally, if not more, important - was surely his relationship with his future wife, Mary, a pianist and fellow student at the Academy, to whom the work is dedicated. In a note accompanying the disc Joubert's former pupil, Elaine Gould, writes of the "joyous rapture" of the outer movements. In the first of these the music just seems to pour out; it's quite exhilarating. The second, however, is deep and reflective and permeated, says Elaine Gould, by the composer's nostalgia for his native South Africa. The finale is energetic though there's a brief contemplative passage which seems to me to revisit the mood of the second movement.
The
Second Quartet
, Op. 91 (1977) is informed by two key influences: Beethoven's Op. 135 Quartet and the music of Shostakovich. Indeed, the third of the quartet's four movements is an explicit memorial to the Russian composer and near the end we hear the famous DSCH motif on the viola. I hear definite echoes of Bartók and Shostakovich in the powerful writing in the first movement. The second movement, marked
Allegro vivace
, is driving and often dissonant. The Brodskys deliver this propulsive music with great virtuosity. The third movement broods, as befits a tribute to Shostakovich. One notes the prominence of the cello line in the opening pages. This is music of great tension. There's a faster, somewhat shadowy central section before the brooding, slow music returns. I think Shostakovich would have approved. The fourth movement follows without a break and here, for the most part, the music wears a lighter countenance. This movement is a good foil to the intensities of the preceding movements, though in the middle there's a reminder of the predominantly intense disposition of the whole work.
The DSCH motif crops up again in the opening movement of the
Third Quartet
, Op. 112 (1987). This is an energetic, purposeful movement. It's followed by a slow fugue, marked
Molto lento
. This is grave music of real emotional weight and depth. The composer describes the finale as a "lighter-weight contrast to the intensity of the first two movements." That may be so but even here there are moments of seriousness. Elaine Gould comments that Joubert's quartets "represent the most personal utterances of his instrumental output" and there's no doubt that all three works on this disc contain a lot of important and carefully considered music. One hopes that these fine first recordings will bring them to the attention of a wider audience.
Joubert's vocal music is represented on disc by a Toccata Classics CD of songs, which I have not heard (
review
) and by issues of some of his choral music. These include two discs devoted entirely to his music. There's the 1975 BMS recording by the Louis Halsey Singers (
review
) and a much more recent disc, from 2009, by Gloucester Cathedral Choir (
review
). Happily, there's no duplication between the two programmes. The Halsey disc is a good one though the Gloucester disc strikes me as being even finer. The Gloucester programme includes the
Magnificat and Nunc dimittis in A
, Op. 57, which Joubert wrote in 1968 for St. George's Cathedral in his native Cape Town. As I wrote in my review, these Canticles are one of the most arresting compositions in the genre that I can recall hearing.
Five Songs of
Incarnation
,
Op. 163 (2007) is also a very impressive work but, then, all the music on this disc is well worth hearing. All the music comes in excellent performances from the Gloucester Cathedral choir under Adrian Partington.
A number of Joubert's shorter choral works, especially
Torches
, have appeared on disc in mixed programmes. It's not possible to list all of these here but let me just mention a handful of the best that I've heard. His
Whitsun Carol
, Op. 115b, a BBC commission for the choir of New College, Oxford, is performed by the choir for which it was written on one of the discs in their
Twentieth-Century Masters
series (
review
). The Christmas piece,
Joy in the morning
appears on a fascinating Christmas disc of the same name by Ex Cathedra, a choir which has done much to champion Joubert's work (
review
). Finally,
A Hymne to
God the Father
, Op. 114, a fine setting of words by John Donne, appears on an outstanding disc by the Chamber Choir of Birmingham Conservatoire under Paul Spicer, entitled
To
Music
. This piece was commissioned in 1987, at Spicer's instigation, to mark the composer's 60
th
birthday. As I said in my
review
of the CD, "The singing is superb and highly committed and Spicer and his choir give a performance that's wholly worthy of a distinguished piece."
Despite these excellent recordings, John Joubert's output remains under-represented on disc. The chamber music is pretty well served though several works remain unrecorded, so far as I know, including the Fourth String Quartet, Op. 121 (1988). The two symphonies have been recorded but I have never heard several of Joubert's other major orchestral scores and the likelihood is that recordings will remain the most likely way to encounter such pieces. Perhaps, Dutton Epoch could follow up their enterprise in recording the Second Symphony by looking at some of the concertos, such as the Violin Concerto, Op. 13 (1954) or the Piano Concerto, Op. 25 (1958).There are two more recent concertos, namely the Concerto for Oboe and Strings, Op. 160 (2006) and the brand-new Concerto in Two Movements for Cello and Chamber Orchestra, Op. 171 (2011). It may be unrealistic to expect any of his operas to get a recording as these would be expensive enterprises.
It seems to me, however, that the greatest gap in the Joubert discography lies in the field of his output for chorus and orchestra. Inevitably, because these works require sizeable forces, they are costly to perform and it is questionable whether many choral societies will feel able to mount a performance – and to take the financial risk in so doing. Therefore, recordings are badly needed if these pieces are to reach a wider audience. As a teenager, I attended the first performance of
The Choir Invisible
, Op. 54 in 1968; it had been commissioned by the Choral Society in Halifax, my home town, to mark their 150
th
anniversary and the composer conducted the performance with Thomas Hemsley as the baritone soloist. I must confess, however, that I was too young and musically far too inexperienced for the work to make a mark on me. I wonder how many subsequent performances there have been: to the best of my knowledge it has never been revived by the choir that commissioned it. Out of personal curiosity, at the very least, I'd welcome another chance to hear it and a recording is probably the only opportunity I'll have.
A work that
did
make a mark with me, however, was
An English Requiem
, Op. 166, commissioned for and premièred at the 2010 Three Choirs Festival in Gloucester. I had the good fortune to cover that concert for MusicWeb International Seen and Heard and I refer readers to my
review
for a description of the piece. It's not always easy to appreciate a new work on a first hearing but this piece made a strong impression on me. It struck me as a profound and eloquent work. Sadly, the very fine performance under Adrian Partington's committed direction was not recorded but this noble piece is very worthy of wider dissemination through a recording.
I've heard two other significant choral works. One is
South of the Line
, Op. 109 (1985). In this work, as in the Second Symphony, Joubert revisited a difficult episode in the history of his native South Africa. In this case it was the Boer War of 1899-1902 and he set five poems by Thomas Hardy about this conflict. A recording of the piece was made by the Birmingham-based choir, Ex Cathedra, though this is not currently available. I believe that a studio recording was also made in 2010 by Stephen Jackson and the BBC Symphony Chorus for broadcast in the Radio 3 series, The Choir. It would be wonderful news if one of these performances could be made available commercially.
Even more desirable would be a recording of
Wings of Faith
, Op. 143 (2000, 2003). I've been fortunate enough to hear a private archive recording of the 2007 première and it's left a deep impression on me. The work was commissioned by Ex Cathedra to mark the Millennium but, in the event, only Part I was finished in time for a performance in 2000. The second part of the work was completed in 2003 and Ex Cathedra gave the first performance of the full score, conducted by Jeffrey Skidmore, in March 2007. This remarkable work, which lasts for nearly two hours in performance, calls for several vocal soloists, chorus and (I suspect) a separate semi chorus – I've not seen a score – an instrumental ensemble of strings, wind and percussion as well as piano and organ. Part I, which Joubert has entitled 'The Word Fulfilled', begins at the empty tomb, following the Resurrection of Christ, and relates the story in the Gospels through to Christ's Ascension. In Part II, 'The Transforming Spirit', Joubert's librettist, Stephen Tunnicliffe, weaves together a narrative of several episodes from the history of the infant Christian Church, starting at Pentecost and passing through events such as the martyrdom of St Stephen and the Damascene conversion of St Paul, culminating, in the composer's words, in "St. Peter's vision of a Universal Church".
Having heard this fine and moving work I'm in no doubt that it is a major contribution to the English choral tradition. The music brims with conviction and the vocal writing, both for soloists and chorus, is the work of a composer who
wants
to write for voices and who knows how to do so to achieve the maximum expressive effect. Joubert's scoring of the accompaniment is colourful, consistently apt for the words that are being sung and very interesting. The listener regularly feels that a larger orchestra is being used than is actually the case but the accompaniment is shrewd: it never swamps the voices. There are some demanding solo sections, some of which are really memorable, not least the ecstatic tenor solo for St. Stephen – truly the music of a young visionary – and the dramatic baritone aria for Saul. As in the Bach Passions, there's an important part for a narrator but this role is spoken in Joubert's work. In lesser hands this libretto could have become just a series of musical tableaux but the fashioning of the libretto is skilful and librettist and composer weave the whole work into a seamless and convincing whole. To me,
Wings of Faith
melds the traditions of the Bach Passions and English oratorio together with Joubert's own individual musical persona. It's an important score and I hope that somehow a way may be found to bring it to a wider audience through a commercial recording.
Though John Joubert has written many important orchestral and chamber works, some of which have been mentioned above, it seems to me that, in time, we may reach the conclusion that his most important contribution lies in the field of vocal and choral music. The conductor Jeffrey Skidmore, who has had a lifetime's experience of Joubert's music, has written that he sees Joubert's output as "part of a great succession - Elgar, Vaughan Williams, Britten, Tippett, Joubert, MacMillan …" That seems to be to be a very fair assessment and to those who do not know Joubert' music I would suggest that if you respond to all or any of the composers in that list then you will find much to admire and enjoy among John Joubert's pieces.
Elaine Gould has written of the integrity of Joubert and also of his "single-mindedness in following his own path." Those qualities are displayed in the works by him that I have been able to hear over the years. To Miss Gould's comment I'd add that musical and intellectual rigour is consistently evident. It seems to me that I've not heard a wasted note in these pieces. And even when his music is at its most rigorous and abstract it still remains accessible: this is a composer who takes his performers and, crucially, his listeners with him. In his eighty-fifth birthday year John Joubert's friends and admirers will wish him well and hope that his creative fires continue to burn for many years to come.
John Quinn
I gratefully acknowledge the help of Ex Cathedra who generously made it possible for me to hear some works by John Joubert that are not commercially available, including an archive recording of the première of
Wings of Faith.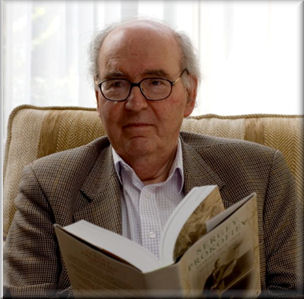 John Joubert, September 2008
© Graham Boulton
Four musicians who have known and worked with John Joubert provide personal tributes to him. The highly-regarded composer,
John Casken
, studied with Joubert at the University of Birmingham and was also a colleague of his for some time when he returned to the university as a lecturer in 1973.
Gary Higginson
, a composer and contributor to MusicWeb International, was a private composition pupil of Joubert.
Adrian Partington
, Artistic Director of the
BBC National Chorus of Wales
since 1999 and also, since 2008, Director of Music at
Gloucester Cathedral
has been an enthusiastic admirer of Joubert's music for many years. For the first Three Choirs Festival that he directed at Gloucester, in 2010, he invited Joubert to be composer-in-residence and he commissioned
An English Requiem
, conducting its première on 9 August 2010.
Jeffrey Skidmore
is the founder and artistic director of
Ex Cathedra
in Birmingham. He has enjoyed a close association with John Joubert's music and has conducted several of his works, including, in 1986, the première of
South of the Line
and, in 2007, the première of the oratorio,
Wings of Faith
. Both of these works were commissioned by Ex Cathedra.
John Joubert – a tribute by John Casken
I have known John Joubert as both a student and a colleague at the University of Birmingham, studying with him from the late 1960s and then when I returned to Birmingham as a Lecturer from 1973-1979. He was, and is, a large, kindly man, generous, patient and encouraging, with a quiet dignity, and these qualities I think also come out in his music. He has an enormous regard for tradition, be it Beethoven, Mahler, Stravinsky, Bartók, Britten or Shostakovich, although his enthusiasms and interests stretch far wider than that. I confess to having been surprised at how much he was excited about the music of John Adams, but of course Adams, along with the other composers cited here, continues to forge new ideas whilst working within a broad tonal language. I remember as a young composer having quite a strong disagreement with John about the importance of tonal thinking, I relishing the freedom of loosely atonal music, and John asserting that there was nothing more important than the strong foundation of tonality. He wasn't talking about the need to write within the diatonic system but the need to create strong harmonic areas as points of departure and return. I soon came to realise how right he was.
As well as the importance of a strong sense of harmonic direction in his music, John's works also have a singing quality, often of a brooding nature, the lines developing with a real sense of dramatic purpose shaped by a strong emotional need, for example in his String Quartet No. 2, Op.91 or the Piano Trio, Op.113. The rhythmic playfulness of some of his textures might owe something to earlier, 20
th
century models, but the fingerprints are always very personal. His passion for setting words to music, as with Britten, is always matched by a rare sensitivity to the poetry or libretto he has chosen, and not only is John one of the most sympathetic composers when writing for the human voice in both intimate and public works, his gifts as a lyrical composer place him alongside some of the major British composers of our time.
Recent works such as his
An English Requiem
(2010) and his Cello Concerto (2012) show a composer with his creative juices still running at full strength. The Requiem has both the inner strength and austerity of earlier works but balanced by a ravishing sensuality, while the Cello Concerto sings out confidently with all the passion and energy of a younger composer. In neither of these works, as with his entire career, does John Joubert show himself to be a follower of fashion, but rather he creates his own musical world, putting a strongly personal stamp on how the material is to be put together and how it is to behave as the structure unfolds.
It is very heartening to see that John is being rewarded with more performances and recordings, recognition of the music's ability to connect with audiences through its strongly expressive qualities, and when the fashionable often holds sway, it is good to be able to thank a composer for something more deep-rooted and lasting. A short tribute such as this can hardly do justice to the musical richness of an output forged over a long and sustained career in which John has devoted much of his energies to teaching as well as to his own creative work. As a former student and colleague, and as a fellow composer, I hope I can speak for all of us in offering not only thanks and praise, but also sincere congratulations.
John Casken
JOHN JOUBERT. An Appreciation by Gary Higginson
I first met John Joubert in 1981 when I became a student at Birmingham University where he was Reader in Music. Later I became an informal private pupil, going to his home and taking my latest offerings for him calmly to pass his eye over. We also chatted about musicians and poetry; he would show me his own recent works and I might stay for a couple of hours or so. He would generously give up his time and all that he was willing to accept from me, and that I was able to pay him was by giving him a bottle of wine, sometimes one of our homemade efforts, which he happily accepted.
What I learned at that time I can't quantify, but then that applies to so much teaching. But one thing was a greater belief in myself as a composer. He seemed genuinely to like my music although it stood quite outside the fashion of that moment and certainly outside the fashion of some music then being produced by university composers; but then he also stood outside those things. In addition I wrote vocal music, even church music and, of course, he had been prolific and successful in that very field.
I resolved somehow to get hold of as many of his scores, published and unpublished, as possible. John would often give me a few if he had some extras and I studied them and listened when possible to his vocal colourings and what I came to appreciate, especially in the symphonies, to be his acute ear for fascinatingly absorbing orchestration.
The BBC used to broadcast his pieces in the 1980s and into the 1990s and had even commissioned some, I recorded them and John himself would allow me to copy pieces from his own collection of live performances not generally available. In recent times the BBC has been a Joubert desert and what a loss that has been for the British musical scene, although he has continued to have performances around the world.
I said I got to know him personally in 1981 but musically he has been with me, like many choir boys and singers, since I was young through his early pieces such as
Torches
,
There is no rose
and
O Lorde, the maker of Al Thing
and sometimes in my own ideas I can hear something of Joubert coming through. Perhaps it's the fingerprint rising fourths or the repetitive, almost African rhythms, which haunt his music and the spacing of the voices in an anthem. These are subtle things but aurally quite distinctive and I realise that I picked them up long before I set down a note of my own on paper.
We have continued to correspond and I always look forward to his handwritten letter at around Christmas time, telling me of his latest commissions or publications and recordings. Above all John is 'gentle-man' in the proper sense of the word, his music is fervent, his ideology is often clear. He never writes down to performers or listeners and everything lies beautifully for either instrumentalist or singer. Audiences feel emotionally involved with his world and carried along with the waves of sound and passion in it.
So thank you, John, both from me personally and for what you have achieved for students, and music lovers all over the world; those that have benefited from your experience and guidance; and from those both present and in the future who will benefit from the genuine power and beauty of your life's work.
Gary Higginson
John Joubert – a few personal reminiscences and a word about
An English Requiem
by Adrian Partington
John Joubert's music has been a part of my life since the late 1960s, when, as a chorister at Worcester Cathedral, I was thrilled by
Torches
, charmed by
There is no rose
, and haunted by
O Lorde, the maker of al thing
. I remember that all the boys enjoyed those pieces – they were each accorded the rare distinction of being spontaneously sung by the choristers outside our cathedral duties – that is, they were melodically appealing enough to have a life alongside "Yellow submarine", and the other popular songs we sang at the time, on bus journeys and so on.
Forty years on (to quote Alan Bennett), those pieces still seem fresh and strong to me, with, yes, "catchy" melodies. The remarkable thing to me is that John is still writing bright and infectious melodies after a compositional career of more than sixty years. The themes of
An
English Requiem
(2010) are every bit as engaging as those from the early miniatures which I mentioned. They are each easily singable and rhythmically-predictable - this is not a negative comment – Mozart's themes are thus, as well - but also each is coloured by a distinctive bitter-sweet harmonic language which is easily recognized by all those who know a few of John's works.
It was on a musical holiday in Europe in the early 1990s when I first had the privilege of getting to know John personally. I had been engaged by the Birmingham Bach Choir to accompany their concerts in Leipzig and Prague. In one of these concerts, we gave first performances of two of the works from John's
Rochester Triptych
. These are wonderful works, which, like most of John's music, deserve to be much better known. John seemed to me at that time to be - and I hope this doesn't seem condescending - scholarly, gentle but intense, vague about practical matters, but extremely alert about intellectual ones, and, above all, very kind. I hope he won't mind me recalling that within a few minutes of his arriving in Prague he had his wallet stolen by a pickpocket on an underground train. This was upsetting, of course, but John seemed to bear the matter with an air of cheerful resignation.
Shortly after I arrived at Gloucester Cathedral as Director of Music in 2008, I was approached by Nick Fisher – an acquaintance of mine from our shared days with the Birmingham Bach Choir. Nick is a scholar, an author, the world authority on the life and work of the seventeenth century poet Lord Rochester, a priest, a former policeman, and a Joubert enthusiast, with a gift for making things happen. He has commissioned, by raising money from private sources, many Joubert works, and I would not like his stimulating influence on John's later compositional career to be ignored. Nick suggested that I should record a CD of a selection of John's "cathedral" works, with the Gloucester Cathedral Choir. This I did with enthusiasm. I included music from all periods of John's career, from the early miniatures mentioned above to commissions from the 2000s, including the wonderfully-beautiful
Five Incarnation Songs
, via the startling "Capetown" Magnificat and Nunc dimittis of 1968, which is surely one of the most original and thought-provoking settings of those texts of the twentieth century.
It was Nick Fisher, again, who planted in my mind the idea of inviting John to write a significant choral-orchestral work for the Three Choirs Festival of 2010. I was thrilled to be able to facilitate this commission. In the event, I was able to make John "Composer-in-residence" for the festival week, and he honoured us by writing other new works for the festival, including a brazen "Jubilate" for the Opening Service, which made a big impression on all those who witnessed it.
The Festival Committee enthusiastically agreed with John's idea of writing
An English
Requiem
, using texts selected by Nick Fisher from the New Revised Standard Version of the Old and New Testaments. The work was unapologetically modelled on Brahms's German Requiem, being similarly scored for soprano and baritone soloists, with large chorus and orchestra; both works avoid using any of the liturgical Requiem texts. The Joubert Requiem includes one telling feature which the Brahms lacks, that is a children's choir. This is used with wonderful effect in the final two movements. The fresh sound of the boys' voices being introduced towards the end of this great work, to colour the change of mood from despair to hope, is one of the masterstrokes of the creation.
"Passionate, beautifully crafted and profound" is how
The Times
critic Richard Morrison described the Requiem, and John's other grander compositions. He went on to write in his review of the first performance of the
English Requiem
:
"…one could easily imagine Elgar, VW, Howells, Britten and Walton nodding their heads with approval (and, perhaps, recognition) as Joubert's majestic climaxes, astringent harmonies and poignant melodies echoed round the Gothic arches."
Morrison's review of the work was completely positive in tone, and encapsulated, as perhaps only an experienced and articulate critic can, the meaning and purpose of the Requiem in a few choice sentences. He paid particular attention, as indeed did Andrew Clements in
The
Guardian
, to the poignant beauty of the solo movements, wonderfully sung in Gloucester by Neal Davies and Carolyn Sampson. He hoped that the work, like us, should have an "afterlife".
The work
should
have an afterlife, unlike so many recent Three Choirs Festival commissions. It is in the style of the early miniatures, but on an epic scale. With its sweeping melodies, astringent harmonies within a tonal setting, marvellously colourful orchestration and sensitive setting of a beautiful series of texts, it will, in time, become popular with choral societies and promoters who wish for a more modern, classical English "oratorio" as half of a concert programme. (I paired it with Beethoven's Fifth Symphony, to save the Chorus's voices for the next day; but it could easily be coupled with another standard English choral-orchestral work by Elgar or Vaughan Williams; or a continental work using similar forces.)
One of the many things which has remained in my mind since the performance of the
English
Requiem
in 2010 was John's meticulous attention to the preparation of the score and the parts, and his helpful comments about my interpretation of the score. All our correspondence was conducted by old-fashioned letter; and I shall treasure the many letters from John which I received in the months leading up to the performance. However, the clearest and strongest memory which I have is the reception accorded to John after the performance. A full cathedral gave John an ovation which I will never forget, and I hope he will not, too. The audience felt, as did the performers, that they had experienced for the first time a significant new work; and each applauded John, not just for
An English Requiem
, but for a lifetime of achievement and undimmed creativity.
Adrian Partington
John Joubert. An Appreciation by Jeffrey Skidmore
(An edited and updated version of a note written for the 2007 première of the oratorio
Wings of Faith
)
I have known the distinguished composer John Joubert for many years and his choral music for most of my life. In the early 1960s I sang
Torches
, not long after it had been written, as a member of my school choir in Bournville, just down the road from the university where John worked. As a teenage lay-clerk at Birmingham Cathedral I sang, for the first time, the award-winning anthem
O Lorde the Maker
and John's most exquisite little gem
There is no rose
. At Magdalen College, Oxford, the chapel choir sang and broadcast much of John's more ambitious choral compositions, including the impressive Evening Canticles and the large-scale anthem
Lord, thou hast been our refuge
. In 1983 Ex Cathedra was invited by John to give the first performance of
Three Portraits
at the Cork International Festival and over 20 years ago Ex Cathedra commissioned its first work,
South of the Line
, which was performed at the opening of the Adrian Boult Hall. We subsequently recorded it on our own label together with the first recording of the
Rorate coeli
motets. In 1987 we celebrated John's 60
th
birthday with a concert in St John's,
Smith Square, London. To celebrate the Millennium Ex Cathedra commissioned the first part of a new oratorio,
Wings of Faith
. The second part of
Wings of Faith
was completed in 2003 and I had the privilege of conducting the world première of the complete oratorio in March 2007.
I wrote at that time that John's music reflects his character. He combines strength and conviction with sensitivity, dignity, awareness and thoughtfulness. He has an impressive knowledge of music tradition and an impeccable command of musical techniques. In
Wings of Faith
– and elsewhere in his choral music - the influence of Elgar, Handel, Bach and Britten can be heard in the melodic shapes, in the ability to capture an idea in a single musical phrase and in the use of familiar tunes. His knowledge of poetry and the power of words is equally impressive, not just in
Wings of Faith
but also in his other vocal music. John is clearly inspired by words. He has a distinctive and personal style which can with ease express powerful ideas. He is comfortable on a large canvas and has a symphonic ability to develop themes. John's music is challenging and complex but always accessible and rewarding. It is tuneful, melodic, harmonic, performable(!) and beautifully written for players and singers.
Why is his music so little known and so little appreciated? Joubert is, sadly, not a household name and even in the small world of classical music his music is not well-known, apart from a few miniatures. Not long before the première of
Wings of Faith
I was interviewed by a leading national music critic who had not even heard of him! I think Joubert was treated badly in the 1960s by the
avant garde
, and such a small amount of his work is available on recordings, though happily that situation has improved somewhat in the last few years. It is tempting to compare his neglect, for so many years, with that of Bach in his life-time! However, things have changed and our post-modern age has taken up new names, some of whom are great and some who have achieved popularity and have also helped restore an element of evolution through tradition. Few of these composers can match the profundity and power of John Joubert's music which is part of a great succession - Elgar, Vaughan Williams, Britten, Tippett, Joubert, MacMillan … I hope I'm right. Time will tell.
©
Jeffrey Skidmore, 2012
<!- paste above here ->