Waiting to Breathe: Yuliya Gorenman's Beethoven Project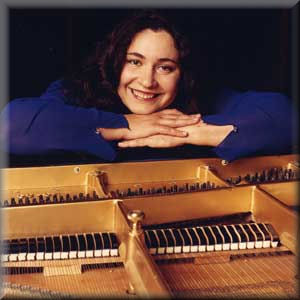 February 28, 2011 — "I guess I could be described as fearless," laughs Yuliya Gorenman over the slightly frayed phone connection. The award-winning Odessa-born pianist is in preparation to complete her Beethoven Project, the performance of all thirty-two piano Sonatas, on March 19 in the Katzen Arts Center at American University, in Washington D.C. There is certainly an element of bravery in treading such hallowed ground, not to mention the hope of forging new interpretive paths despite generations of collective accomplishment. Though the Beethoven Project had been under way since my 2008 arrival at American University, circumstances prevented me from attending any of the other performances, but reports from students and other faculty members were overwhelmingly positive. While Gorenman is a colleague in the music program at A.U., our contact has been limited to a few hallway conversations between classes and lessons. I was aware that she had recorded the five Beethoven piano concertos and the triple concerto in concert with the Bavarian Chamber Orchestra, under the direction of Philip Greenberg; these energetic performances had been reissued on her own label, MiClaire Records, on which the first volume of a projected series of the sonatas had also recently emerged. It's a wonderful disc (the sonatas one), rife with detail and beautifully recorded; in fact, the first sonata is one of the best I've heard, but "fearless" may not be the best descriptor. It turns out, however, that the sentiment was supported by no less a personage than Nicholas Slonimsky, whom Yuliya met in California when he was one hundred; "She is a pianist without fear", stated the elder statesman of musicology, and pronouncements from such a distinguished source must be taken seriously.
 
"He was so perceptive. I believe that his statement captures the essence of my personality." We are speaking well after midnight, which is Gorenman's work time. "Oh yes, I practice full blast while my family sleeps, the wonders of conditioning." Throughout our long conversation, and one subsequent interview a few days later, she demonstrates good humor, extraordinary intelligence, a knack for telling stories and a healthy degree of what I can only call chutzpa.
 
"It comes from my grandmother", says Yuliya matter-of-factly. "She witnessed her parents being murdered in a pogrom. She carried the images to her dying day, but I never knew a woman with a greater love of life, of the simple pleasures of good company. This zest for living came out when she sang, which she would do quite often. Even as a child, I knew that there was something very special about her singing — I'd get goose bumps when I heard it. I could speak of timing, of phrasing, but they really don't describe the power she invested in every word and the life experience you heard in every note she sang."
 
This joie de vivre imbues every word Yuliya speaks. It has seen her through the difficult transitions that came with leaving her homeland in 1989 to further her studies. "I had a wonderful education", she remembers. "I guess you could say that it was a mixture of Moscow and St. Petersburg musicianship, but it was absolutely thorough in terms of theory, technique and expression. It was also absolutely necessary that I emigrate." Her journey took her to San Francisco and to studies with the late Nathan Schwarz. Her subsequent years at the Peabody Conservatory with Leon Fleisher, her 1995 triumph at the Queen Elisabeth competition, her numerous world-wide concerts and broadcasts with everyone from Seiji Ozawa to Billy Joel — all this is well documented. What cannot be overstated is her life-long dedication to the works of Beethoven. "I wanted to play the cycle of sonatas since I was sixteen. It was part of my grand plan," she laughs, then pauses reflectively. "You know how at that age, you're drawing up a romanticized list of what you'll accomplish throughout your life? The complete Beethoven Sonatas were at the top of that list." A day-long marathon under Fleischer's direction helped to solidify her intentions. "It was great. Basically, the twelve of us in his studio drew lots. I pulled number 4, in E-flat, the Tempest and Appassionata." The experience molded her vision of the pieces as an autobiographical whole, furthering her resolve to perform the cycle. Yet, at the outset, the series of recitals seemed an unlikely proposition. "People would say, 'What are you thinking? You're going to do all this with two new babies? Lunacy — just forget it!'."
 
March 2 — We take up the subjects of interpretation and recording. "I can't tell you how much I learned from recording the first three Sonatas," Yuliya muses. "The most important thing to me was that I have control of every detail, but I didn't know how much of a perfectionist I was. Most of my other recordings are taken from concerts. I was lucky enough to have Dan Merceruio from Dorian Records, and he did an absolutely amazing engineering job." Yuliya listened to every take and oversaw every stage of production, from editing to font selection. "If it was going to have my name on it, I needed to be absolutely comfortable with every choice. I also learned that in making this sort of recording, a certain conception of each piece, a conviction about your own interpretation, is essential. It's very different from a concert recording, which brings both immediacy and mistakes." I venture that there are interpretations that are more visceral, especially where higher dynamic levels are concerned. "This is how I was feeling during the three days in July, 2009, when I recorded the material. Certainly, if I did it now, there would be changes." Delving further into the autobiographical nature of Beethoven's Sonatas, Yuliya demonstrates surprising links between Op. 111 and Chopin's Revolutionary etude. "Of course he had a profound influence on romantics," she smiles, "but his voice crops up in unlikely places. His legacy helps to determine how I interpret the music."
 
Such concerns finally lead me to ask the delicate questions about how Yuliya defines a good and/or bad interpretation. She pauses again, and begins tentatively, with growing conviction. "It must be psychologically true — that's the important thing; that truth has three components — harmony, phrasing and emotion. If a minor passage cadences deceptively into major, and there is not a lightening, accompanied by an appropriate change in color and timing, the interpretation is worthless."
 
March 18 — "I'm checking for leaks", Yuliya quips. She has the auditorium reserved for most of the day as she becomes accustomed to the Yamaha prototype on which she'll give the recital. During gaps in my teaching schedule, I sit in the hall listening to the glorious instrument. "Check out the bass", she beams, "Have you ever heard a bass like that?" I haven't. It is a full sound, overpowering in fact, a glitch Yuliya will have corrected by the next day. The closest point of comparison I can make is with the lower registers of a fortepiano. The same clarity is present, rendering each note individual, almost orchestral. Whereas most pianos can sound somewhat muddy beginning an octave and a half below middle C, the bass on this prototype creates a striking sense of registral unity, evident as Yuliya runs all three Sonatas under tempo. "I just want to make certain that I haven't missed any details, places that might give me problems during the concert." Passages are repeated, slowed, sped up slightly, and slowed again. By 3:00 in the afternoon, Yuliya is finished. We sit in the hallway, and I ask her how it feels to be nearing the project's completion. "I can't think about it now", she says, briskly enough that I let it drop. "Ask me that in a few weeks, or a month. I have to view this as just another performance. If I give it too much thought … you know …" she leaves the idea incomplete. There is already a preoccupation entering her speech.
 
March 19 — I arrive early to pick up my ticket. Faint sounds of opus 111, under tempo, drift reverberantly from the as-yet vacant recital hall. I am escorted to my seat and listen as the hall fills to capacity. They've even put thirty-five seats onstage for the occasion. I hear voices of all ages and walks of life, from inquisitive students to seasoned concert-going veterans, and many have attended every recital of the Beethoven project. Music program director Nancy Snider introduces the performance with a stirring speech, encapsulating Beethoven's life and struggles, the music, the approaching spring and the ultimately optimistic vision with which the late Sonatas leave us. Thunderous applause meets Gorenman as she emerges, adjusts the bench, and draws breath.
 
There are dependable performers who always afford insight, there are performers who emit flashes of amazing brilliance and are otherwise dull as dirt, and then, there are the forces of nature. They tap into such an elemental power as to be disturbing, and the words good and bad rapidly become irrelevant. Emotive changes are lightning fast; tempo fluctuates with the natural grace and power of water. Thunder and zephyr dance in alternating frenzy and transparency, mountains rise out of molehills and are then reduced to nothing with one pianissimo chord, or by a silence suddenly sweeping away everything that has gone before. When it's over, there's nothing left to do but survey the landscape for changes. Yuliya is one of these performers, the concert experience transforming her playing from excellent to nearly indescribable. Perhaps it's also the occasion, the culmination of an extended and focused period of study and performance that has been catalytic. The variation movements in opp. 109 and 111 are titanic, the fugue in op. 110 inexorable, but even more astonishing are the moments of repose! Yuliya revels in those G-Major chords in op. 110, so much like those in the Eroica variations, where Beethoven seems to be relishing the sounds of a sonority far beyond what the pianos of his day could offer, and she lingers, almost breathlessly, over the far-flung registral dyads in op. 111. If op. 109's third movement theme is taken a bit too fast for my taste, and if a similar over-enthusiasm pervades op. 110's second movement, these are mere quibbles beside the power of Yuliya's vision. She owns the last three Sonatas, and she knows it — fearless indeed!
 
After the huge applause, Yuliya returns to the stage and states, matter-of-factly, "OK, Beethoven Sonata number 33", to the delight of all. There are five encores. I'm reminded of the stories of John Ogdon's performance of Sorabji's four-hour Opus Clavicembalisticum, after which his adrenalin levels were so high that he played encore after encore to a rapidly emptying hall. On this night, the audience could not have been more attentive, hanging on every note, including the Moonlight Sonata's first movement as well as selections by Liszt, Scriabin, Chopin and Bach. There is not a hint of fatigue as the magnificent evening draws to a close.
 
August 5th — As I complete this article, Yuliya and I have a brief conversation, after midnight, of course! She is moving forward with a series of recitals involving a chronological voyage through the piano literature, with the notable exception of Beethoven. "It's obvious why, isn't it?" she laughs. It seems appropriate to ask Yuliya a more pointed question about the culmination of her Beethoven Sonata cycle. I want to understand the emotions she felt as the last Sonata drew to a close, during the rapt silence into which the whispered conclusion of op. 111 fades. I cannot imagine a more fitting conclusion than her reply, sent via Email:
 
I was taking that moment in. That contrast of sound and silence, the darkness of the hall and the bright light of the stage. It was the most private moment in the most public setting. It belonged only to me and I wanted to savor it. What began as the distant dream of a seven year old girl when my father gave me the scores of Beethoven's Sonatas on the day of my first public performance culminated in that silence.
 
I could finally exhale! 
 
Marc Medwin
13 July 2010
 
USEFUL LINKS

CDBaby.com: http://www.cdbaby.com/Artist/YuliyaGorenman 
Amazon.com: http://www.amazon.com/s/ref=nb_sb_noss?url=search-alias%3Daps&field-keywords=yuliya+gorenman 
iTunes.com: http://itunes.apple.com/us/artist/yuliya-gorenman/id55340405?ign-mpt=uo%3D4 
CDUniverse.com: http://www.cduniverse.com/sresult.asp?psychicsearch=on&HT_Search=ARTIST&HT_Search_Info=yuliya+gorenman&style=music&altsearch=yes



<!- paste above here ->