Musik-Konzepte 151. Arthur Sullivan, ed. Ulrich Tadday. München: edition text+kritik 2011. 114 pp., illustrations, music exx. (IN GERMAN.)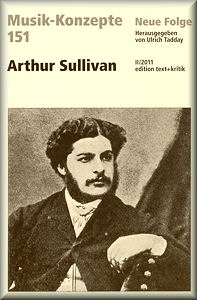 It is a rare thing for any German author ever to deal with Arthur Sullivan, probably one of the very first ones ever having been Meinhard Saremba, Founder-Chairman of the Deutsche Arthur-Sullivan-Gesellschaft (yes, there is such a registered charity in Germany) and one-time German Representative of the British Music Society.
 
In fact, this is the first-ever collection of German language essays on the Victorian composer and one of the very few that exist anywhere. It was published in a German series of publications begun in 1977. The first volume on a British composer was on Frederick Delius and that came out in 2010.
 
This small book contains five articles in total, so there is little space to deal with all the important aspects of Sullivan. What is more it is sad that only one German author has actually contributed to the book, the others being either English or American. It would have been great if there could have emerged some kind of German or European view on Sullivan, his foundation in the schooling at the Leipzig Conservatoire and/or a positioning of his light operas amid the European operetta milieu (the Viennese operettas of Strauss, Suppé, Millöcker and Zeller and the French operettas of Offenbach, Planquette, Messager and Delibes). Regrettably these aspects are missing from the volume.
 
The first contribution in the book, by Benedict Taylor, attempts to situate Sullivan in his context and assess his aesthetics. Unfortunately many important aspects, such as the place of Sullivan in 19th century British and European music, have been largely omitted so that an informed assessment cannot take place. Taylor tries to explain judgments made by some authors through some of the compositions and extensive reference to original sources. In doing so however he fails to take into the reckoning the complete span of Sullivan's music; there's no mention of the sacred music for example or of the Symphony in E. David J. Eden treads more accustomed ground with a paper on Sullivan and his librettists, dealing solely with a selection of the operatic works and concentrating, not surprisingly, on the Gilbert connection. The special musical features that Sullivan brings to these libretti are not covered. This is in the face of Sullivan's technique of musical irony and parody remaining unsurpassed in the field of 19th century light opera worldwide. It's a field still largely unploughed internationally. James Brooks Kuykendall deals with Sullivan the "music dramatist" (deriving from the German "Musikdrama"), concentrating especially on The Golden Legend, Ivanhoe, and The Yeomen of the Guard. Here we have Sullivan the music dramatist at his very best. It is I think the first time Germans have been alerted to these works. Meinhard Saremba calls his contribution simply "The Sullivan Problem", again relating to the reception of Sullivan's music – supplying a finely judged and knowledgeable paper. Finally Richard Silverman features some of Sullivan's stylistic features with special reference to the matter of interpretation in performance.
 
This short book opens up avenues of possible future Sullivan research, but in total far too few to make it a really important publication. For the German understanding of British music - and Sullivan, for that matter - it is of course highly important. The next volume in the series on an English composer will be on Edward Elgar.
 
Jürgen Schaarwächter
 
This short book opens up avenues of possible future Sullivan research, but in total far too few to make it a really important publication.



<!- paste above here ->