Erich Wolfgang KORNGOLD (1897-1957)
FEATURE REVIEW
The First Recording of Korngold's Symphony in F Sharp by Rudolf Kempe
followed by a survey of available recordings of the Symphony.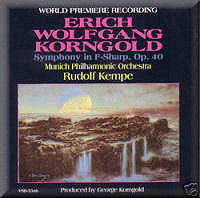 Erich Wolfgang KORNGOLD (1897-1957)
Symphony in F sharp (1947-52) [48:49]


Munich Philharmonic Orchestra/Rudolf Kempe
rec. 27 November 1972 for release in LP format (RCA Red Seal ARL1-0443). Produced by the composer's younger son, George Korngold (1928-1987) then transferred to digital under the supervision of George Korngold for CD reissue in 1983.


VARÈSE SARABANDE VSD-5346 [48:49]

PURCHASE
MDT AmazonUK AmazonUS

It should be stated at the outset that this is not a new release.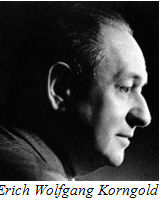 It is, nevertheless, an important historical recording. With two new CDs of Korngold's Symphony released within the last year - Marc Albrecht's on Pentatone PTC5186373 (2011) and John Storgårds's on Ondine ODE11822 (2011) – it was thought that it was high time that we covered this, the very first recording of this Symphony, made in 1972 by Rudolf Kempe (b. Dresden 1910 - d. Zurich 1976).
Brendan G. Carroll, Korngold's principal biographer [The Last Prodigy – A Biography of Erich Wolfgang Korngold by Brendan G. Carroll, 1997, Amadeus Press ISBN 1-57467-029-8] and President of the International Korngold Society commenting on Korngold's Symphony for MusicWeb International has written, "This Symphony is one of the most demanding orchestral works in the repertory and conductors and orchestras that approach it thinking it is an easy ride, do so at their peril. It is in a very difficult key (especially for the strings) and the writing demands virtuosity from all sections. It is also a common mistake to try to make it sound like a Hollywood film score, which it isn't. The tempi and rhythm must be kept taut and when Korngold's markings are obeyed, it makes a devastating effect."
Korngold's Symphony in F-Sharp is scored for a large orchestra with expanded percussion including marimba, plus four horns, three trumpets, four trombones, celesta and (percussive) piano. The solemn elegiac Adagio is the emotional heart and Brendan Carroll describes this as Korngold's finest slow movement and has written that "many commentators have described it as the greatest since Bruckner and Mahler and that Korngold had described the conclusion of the Adagio as an 'ecstatic Abgesang'".
Although Korngold professed that there was no programme to his Symphony, he admitted that some listeners might have, on first hearing it, read into the first movement the terror and horrors of the years 1933-45 and into the Adagio the sorrows and sufferings of that time. Furthermore, one cannot but conjecture that this music reflected Korngold's disillusion with life in Hollywood, his disenchantment on return to post-war Vienna to see it in ruins, and his disappointment at the general antipathy to the overt emotionalism of Late-Romantic music.
The first performance of the Symphony, in October 1954, at the studios of Austrian Radio in Vienna had been under-rehearsed; in fact after the final rehearsal Korngold begged unsuccessfully for the performance to be cancelled. As he feared, the premiere proved to be very disappointing and Korngold, in deep depression, asked for the tapes to be erased - "the sound of the tape was louder than the trumpets", he complained. Expectations of a better performance in America, a little later, by Golschmann came to naught. Only two other performances were given in the composer's lifetime - in Graz by Alois Melichar and by Jan Koetsier with the Munich Philharmonic in 1955.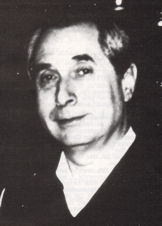 George Korngold

The German conductor, Rudolf Kempe found the score of Korngold's Symphony in the Munich Philharmonic library where it had sat, unnoticed since that 1955 performance. Kempe decided to perform it himself. Then the composer's younger son, George Korngold, heard about this projected performance and persuaded RCA to record it the day after the concert on 27 November 1972 with George Korngold, himself, as recording producer. George Korngold decided to forgo any credit on the LP fearing critics might claim that Kempe only recorded the Symphony because George had persuaded him to do so in order to promote his father's music. The Kempe recording was put down on tape in just two three-hour sessions. There was a cut in the Scherzo but otherwise it is very faithful to the score.

Later, in 1983, George Korngold prepared this 1972 recording for reissue as a digital transfer from the original multi-track analogue master tapes. This new format was prepared for release on the specialist film music label, Varèse Sarabande, by Tom Null and Robert Townson. It will be remembered that this Korngold Symphony makes reference to some of Korngold's film music (follow the link above to the Albrecht recording for detail of these film scores).

[* As a record producer, George Korgold was much involved with film music in the 1970s co-producing (with Charles Gerhardt) the 14-volume Classic Film Scores Series for RCA Records (currently being reissued by Sony Masterworks). He also produced a series of 'landmark' recordings of his father's works, including the operas Die Tote Stadt (for RCA) and Violanta (for CBS) and a disc of the First and Third String Quartets (for RCA; played by the Chilingirian Quartet.]

Notwithstanding the cut in the Scherzo (for whatever reason - possibly the recording time was running out and the Scherzo had to suffer?) and the fact that the sessions were so hurried, for me it is a landmark recording. It's worth remembering that:-

1. The recording producer was the composer's younger son George Korngold, lending undoubted authority to the project.

2. George Korngold also supervised the transfer from analogue to the improved digital sound for the CD transfer adding further authority.

3. Kempe was a much loved and respected conductor working in Vienna, Dresden (where he made some of his best-known recordings including the Strauss orchestral music now on Brilliant Classics) and London with the BBC Symphony Orchestra and, mainly, the Royal Philharmonic Orchestra first as Principal Conductor from 1961 to 1962, then as their Artistic Director from 1963 to 1975. More importantly, in this context, his association with Munich was strong; both with the Bavarian State Opera and the Munich Philharmonic. It was the Munich Orchestra that was used in this recording.

It is also worth remembering that Kempe must have witnessed the horrors of World War II. He was conscripted into the army, but instead of active service was directed into musical activities, playing for the troops.

Kempe's taut yet intensely human reading thrills. It thrusts forward strongly; there is no indulgence given to the Hollywood-based material, rather it is integrated seamlessly and naturally into the structure. There is wonderful virtuoso playing from all sections especially from the often edgy strings and the scowling brass. Kempe's direction is an exciting knife-edge control of Korngold's song of terror, of desperate loneliness and nightmarish eeriness. Such terrors are released by the lyrical romantic sections and these are rapturous in Kempe's sure direction; the intensity of that extraordinary Adagio is played with all stops out but never allowed to spill over into bathos. The glorious life-affirming glow of that final section of this movement has, for me, never been bettered.

In short Kempe's reading is a recording to be treasured.

Message received
Dear Ian (if I may),
Brendan Carroll was kind enough to forward a link to your wonderful review of the Kempe recording of my grandfather's Symphony in F#. I was delighted to read it, and thank you for your thoughtful analysis of this important recording.

As you made mention of my Uncle George (wonderful photo, by the way) and seemed interested in the family connection, I thought you might like to know that I played on the 1997 Oregon Symphony CD, and as my father Ernst had died the previous November, I asked that the CD be dedicated to his memory. Here is what Brendan wrote in the liner notes:

"It is particularly apt that this recording should be made in Portland by the Oregon Symphony, for it is here in Portland that Korngold's eldest son Ernst spent his final years of retirement before his death in 1996. His daughter Kathrin, a violinist, also lives here with her family and she was delighted to be able to join the string section of the Oregon Symphony for this recording -- which is dedicated to the memory of Ernst Korngold."

With best wishes,

Kathrin Korngold Hubbard


Other recording of Korngold's Symphony in F Sharp

Below is a list of recordings of the Symphony. Please note that I have included the original catalogue numbers – some of these recordings will have been reissued either singly or as part of Korngold collections and consequently with different catalogue numbers.

Kempe: Varèse Sarabande VSD-5346 (1972) (Munich Philharmonic Orchestra) no extras

Werner Andreas Albert CPO 999 146-2 (1988) [51:33] (Nordwestdeutsche Philharmonie) with Theme and Variations Op. 42 and Straussiana

Sir Edward Downes Chandos CHAN CHAN 9171 (1992) (BBC Philharmonic) with Abschiedslieder (Songs of Farewell) with Linda Finnie (contralto) now midprice CHAN 10431 X

Franz Welser-Möst EMI Classics 5 56169 2 (1995) (The Philadelphia Orchestra) with Sechs Einfache Lieder (Six Simple Songs) and Marietta's Lied (Die tote Stadt) also now at mid-bargain price as an EMI Gemini Double 50999 21765025 and as a 20th Century Classic double as 50999 09468320 with other Korngold works and on one CD as EMI Classics Encore 86101.

André Previn DG 453 436-2 (1996) and released in Korngold's centenary year, 1997 (London Symphony Orchestra) with Much Ado About Nothing * Suite (review)

James De Preist Delos DE3234 (1997) (The Oregon Symphony Orchestra) with The Sea Hawk (film score excerpts) (review)

Marc Albrecht Pentatone PTC5186373 (2010) (Orchestre Philharmonique de Strasbourg) with Much Ado About Nothing ¶ Suite

John Storgårds Ondine ODE11822 (2011) (Helsinki Philharmonic Orchestra) with Tanzchen im Alten Stil

[* In passing I must recommend the Caspar Richter 2002 recording of Korngold's lovely Much Ado About Nothing Suite released on the alas now defunct ASV label (CD DCA 1131). Richter's recording of this Suite included the world premiere recording of an extra movement, the beguiling Garden Music which formed the Prelude to Act III of the Shakespearean production for which Korngold provided the music. As if this wasn't enough the album also includes recordings of Korngold's Einfache Lieder and Abschiedslieder beautifully sung by Gigi Mitchell-Velasco. I notice this CD is still available from Amazon as I write on 29 May 2011.

Additionally there is a recording of the Korngold Symphony available from Amazon (only as a download) by Pedro Halffter conducting La Orchestra Filarmonica da Gran Canaria†. This, for less than £4 is amazing value and is a strong performance of raw emotion caught in excellent sound. The movements timings are: 15:38, 10:54; 17:14; and 11:02. My fellow reviewer Nick Barnard, has commented: "... this is right up there with the very best versions (I still think the 1st recording by Rudolf Kempe takes some beating for the sense of discovery it exudes). I prefer this to Welser-Möst and De Preist and Albert. The Downes recording on Chandos is good but I think this is better. Very well played indeed with exciting full throated brass, warm strings and expressive wind. Very good engineering lets lots of the inner detail register with bags of attack and passion too. Who would have guessed that the Orchestra of Gran Canaria could play so well - this is a VERY tricky piece to bring off indeed - one of the few pieces in the repertoire written in the horrible key of F sharp major."

Erich Wolfgang Korngold – Symphony in F sharp - Timings over the nine recordings
| | | | | |
| --- | --- | --- | --- | --- |
| Conductor | 1st Movement | 2nd Movement | 3rd Movement | 4th Movement |
| Kempe | 14:12 |  9:14 | 15:04 | 10:19 |
| Albert | 16:15 | 10:00 | 15:05 | 10:33 |
| Downes | 14:14 | 10:14 | 16:28 | 10:24 |
| Welser-Möst | 12:50 |  9:48 | 14:45 | 10:19 |
| Previn | 15:55 | 10:32 | 16:09 | 10:31 |
| De Preist | 15:19 | 10:31 | 16:56 | 11:02 |
| Albrecht | 14:59 | 10:04 | 15:27 | 10:30 |
| Storgårds | 15:55 | 11:03 | 15:36 | 11:11 |
| Halffter † | 15:38 | 10:54 | 17:14 | 11:02 |
Conclusions
Marc Albrecht's reading on Pentatone Albrecht has plenty of attack and verve - and lyricism in the quieter romantic passages. It is a brilliantly delivered reading served in excellent, sharply defined and focused sound. This recording has received the respected ArkivMusic recommendation status as well as three others from the above list: Welser-Möst, Previn and De Preist, the latter of which Jessica Duchen,* Korngold's other biographer wrote, "The Symphony receives a particularly warm and beautiful interpretation. DePreist has a sympathetic feeling for contrasts of textures; the tempi are excellently judged and atmospheres powerful, with a vigorous sense of energy, tension and release." [* Erich Wolfgang Korngold by Jessica Duchen in Phaidon's 20th Century Composers series 1996 ISBN 0 7148 3155 7]
Many of the available recordings have much to offer and it will probably come down to personal choice as to which you should buy. It may well be that the fillers will be the deciding factor. Sir Edward Downes' Chandos recording that also includes Korngold's quite delectable Abschiedslieder with Linda Finnie is certainly a major deciding factor for me. So my personal choice would be:-
Rudolf Kempe Varèse Sarabande VSD-5346 (1972) (Munich Philharmonic Orchestra)
Sir Edward Downes Chandos CHAN 9171 (1992) (BBC Philharmonic) with Abschiedslieder with Linda Finnie – now midprice CHAN 10431 X
Marc Albrecht Pentatone PTC5186373 (2010) (Orchestre Philharmonique de Strasbourg) with Much Ado About Nothing Suite
Ian Lace