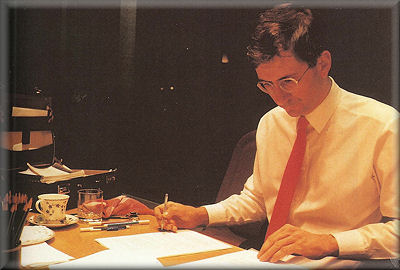 Dr. Jonathan Halliday, former Director of Wyastone Estate Ltd., Technical Director of Nimbus Technology & Engineering, and sole electronic and optical designer of the Nimbus-Halliday Laser Beam Recorder, has died near his home in Herefordshire UK, aged 60.
Dr. Halliday was a central part of Nimbus's varied business from 1982 when he joined the Founding Directors of Nimbus Records. His initial contribution, the creation of a Laser Beam Recorder (LBR), was to enable the company to make the massive leap from LP to CD manufacturing. For this development he, and mechanical designer Gerald Reynolds, earned a Queen's Award for Technology. In 1984 Nimbus opened the UK's first CD plant, and went on to build two further factories; in 1986 at Cwmbran, South Wales, and in 1987 at Charlottesville, Virginia, USA.
In 1992 the company began to sell the Nimbus-Halliday LBR to CD factories around the world. Its advanced capabilities were quickly recognised, and Toshiba and Time-Warner recruited Nimbus to develop production mastering equipment for a new video format, which would eventually result in the DVD standard. As a consequence Nimbus-Halliday mastering equipment became an international success, and Dr. Halliday a valued contributor to the development of optical disc formats. Eventually Nimbus won a second Queen's Award, this time for Export Achievement.
Although Dr Halliday will be most remembered for his technical brilliance, it was his deep love of music that made him the perfect addition to the Nimbus Board. In 1984 he designed Nimbus's Ambisonic 'surround-sound' microphones and was always an important voice in determining the company's approach to sound recording.
The tragedy of early on-set Alzheimer's, diagnosed in his early 50s, rapidly confined him to an entirely self-contained life at his home, also Nimbus headquarters, Wyastone Leys near Monmouth, and since 2008 at a local care-home.
Jonathan's creativity, knowledge, skill and generosity were witnessed by a generation of the company's staff and customers. In the Board Room he was at the heart of Nimbus for more than 20 turbulent years, and his fellow directors greatly miss his contribution to our work and his presence in our lives.
Dr Jonathan Halliday Born 3rd August 1950, Died 2nd June 2011.
Educated St Catherine's College, Oxford (Physics) & Clare College, Cambridge (PhD Radio Astronomy).
--
Antony Smith
Business Director
Wyastone Estate Limited
Nimbus Records
<!- paste above here ->