This is, by my reckoning the fifth DVD of this sparkling Puccini opera issued over the last decade. Quite an achievement for an opera that lay neglected, derided and misunderstood for so many years in the last century. I will forego repeating the detail here. It can be read here.

This is a historic recording of an Italian TV broadcast back in 1958, transmitted in black and white and in mono sound, It is an invaluable document of a rare performance.

The visual elements are not at all up to modern standards. Shots are not well framed, some are ill-focused and editing is crude, especially in the busy crowds at Bulliers in Act II. Nevertheless this should not deter Puccini fans and particularly those who, like me, are enthralled by this opera. Scenery and costumes in Acts I and II are in the appropriate mid-19th Century style and the set for Act III really does take you into a sunlit Mediterranean resort - unlike the ghastly modern (money-saving?) production travesties put on by some of today's Italian opera houses. There are some very telling felicities in this San Carlo production too. One of the most remarkable comes at the end of Act II where an off-stage singer warns Magda not to trust in love. This is a forewarning reinforced by glimpses, through an opaque window at the back of the set, of passers-by outside huddled up against wind and rain. The sound is very good thanks to Dolby processing.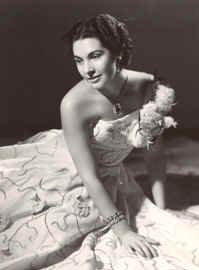 The highlight of this production is the performance of Rosanna Carteri in the lead role of the courtesan Magda who forsakes the comfort of a rich man's protection for the romantic love of the young student Ruggero. The beautiful, honey-voiced Carteri is enchanting. Her awakening to reality and heartbreak in Act III is affecting indeed.

Rosanna Carteri (b December 14th 1930) was just 28 when this recording was made - just the right age for this role, one imagines. Carteri has left a number of recordings. The world of opera lost one of its most dazzling divas when she decided to retire from singing in the mid-1960s while still only in her thirties to devote herself to her family.

In support, Giuseppe Gismondo, is in ardent voice but his acting is stilted and unconvincing. Being slightly shorter than Carteri does not help him either. Gino Sinimberghi is a dashing Prunier. Ornella Rovero is in good voice for Lisette but she is rather matronly for the role and past being convincingly coquettish. Giuseppe Gismondo makes a stern but not entirely unsympathetic Rambaldo - you can understand his willingness to take Magda back into his protection at the end.

For admirers of La Rondine this historic production is a must, even though it's in monochrome and mono sound. Carteri enchants.

Ian Lace