ORCHESTRAL MUSIC AT COLWYN BAY
1900 - 1968
 
By Stuart Scott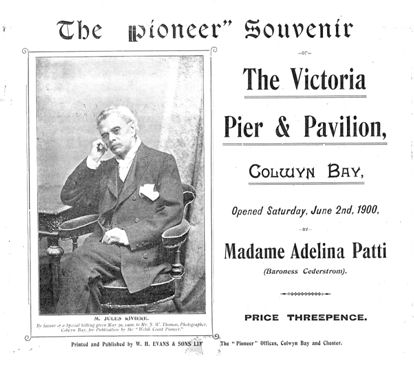 In late Victorian times Colwyn Bay was a natural beauty-spot with the added attraction of a recently constructed promenade. It was considered to be an important seaside resort and stopping place on the Chester to Holyhead main-line railway. The construction of a pier and pavilion designed by Magnall & Littlewoods of Manchester put Colwyn Bay on a par with the neighbouring resort of Llandudno which was already known as the 'Queen of Welsh Watering-places'.
 
A private company, the Victoria Pier Company, built a pier of 316ft in length. The first pile was driven into the beach on 1 June 1899, all the ironwork being provided by the Widnes Foundry Company, and on Saturday 2 June 1900, the Victoria Pier was officially opened.
 
No expense was spared in providing a pavilion with seating for 2,500 people. The floor sloped towards a stage suitable for putting on concerts, plays and operas. The painted backdrop for orchestral concerts depicted an elaborate palace interior and there were movable, raised platforms and an orchestra pit for use in theatrical or operatic productions. There were dressing rooms and a room for the musical director and manager, all lit throughout by electricity.
 
The directors of the Victoria Pier Company were quick to secure the services of Jules Riviere (1819-1900) and his orchestra for the opening season. From his early beginnings in France when he became a member of M. Ribard's Orchestra at Choisy le Ray whilst still a teenager, Riviere went on to make a name for himself in London where he was musical director of the Adelphi Theatre and conductor of a series of Promenade Concerts at Covent Garden. Before arriving at Colwyn Bay he had spent many years conducting orchestras at Blackpool (1881-1887), Llandudno (1887-1893) and Morecambe (1893-1899) in addition to many orchestral concerts in different parts of the country.
 
However, the advanced age of Riviere at the time of his appointment necessitated the engagement of a deputy conductor and the Belgian virtuoso violinist, Henri Verbrugghen was chosen to share the work of conducting twice daily. He had been a pupil of Hubay and Ysaye before embarking upon an international soloist career which he now continued alongside his conducting duties at Colwyn Bay. He appeared with the Hallé Orchestra under Hans Richter at about this time and was also appointed professor at the Royal Irish Academy of Music in Dublin.
 
Nevertheless, it was Riviere who was in charge at the grand opening concerts given in the pier pavilion. On the night of the official opening, Saturday 2 June 1900, Madame Adelina Patti performed to great acclaim. Having just returned from a successful tour of America she kept her audience spellbound by all accounts. She was then aged 57 and resident at Craig-y-nos Castle, a mansion about 15 miles from Swansea. Since her first appearance at Covent Garden on 14 May 1861, singing the part of 'Amina' in La Somnambula, Patti had become a firm favourite of the day and she had now set the standard of artists and performances for all future concerts at the pavilion.
 
It was now clear that everything about this new venue was to be of high artistic attainment. Even the manager, Aimé Lalande, was an accomplished oboe player. He was from a well respected family of musicians, his father being a bassoonist in the Hallé Orchestra. His brother, Desiré, also an oboist, played at Llandudno and in the Queen's Hall Orchestra under Henry Wood.
 
In 1903, after the first few successful seasons, the pier was extended to 705ft to allow a longer walkway and accommodate outdoor performances. There were evening concerts commencing at 7.45, morning concerts from 11 to 12.45 and Sacred Concerts on Sundays at 8.15pm. Visitors could go to concerts every day by purchasing a weekly ticket costing 4 shillings for the best seats. The price increased to 5 shillings during August, and a larger orchestra appeared at the height of the season.
 
By 1903 music and entertainment in Colwyn Bay had settled into a format which was to last until the outbreak of war in 1914. The orchestra, now under the direction of Verbrugghen since the death of Riviere in December 1900, continued to play twice a day and during that season Verbrugghen directed some distinguished soloists including Desiré Lalande, oboist and brother of the manager, Aimé Lalande.
 
On 14 April three members of the orchestra appeared as soloists at the morning concert. Fred Hatton, who was soon to be piccolo player in the Hallé Orchestra (1904-1914) joined cornet player Charles Davies in a performance of Wekerlin's Serenade, 'Ruy Blas', and Demerseman's Grand Spanish Fantasia was given by violinist Mr. Freeman, who only a few years later became leader of the Llandudno Pier Orchestra. For the evening concert, there had to be a guest singer and Annie Nelson performed two of Sullivan's songs - My Dearest Heart and Rebecca's Prayer(Ivanhoe). Curiously there were also two humorous sketches performed by entertainer Robert Ganthony during the course of the concert whilst the orchestra contributed Nicolai's Merry Wives of Windsor overture, the Mazurka from Coppelia by Delibes and a selection from Bizet's Carmen amongst other short pieces.
 
However, singers were always the most popular of soloists and two of the most notable Welsh singers of the day who took Colwyn Bay by storm were soprano, Louie James (b.1884) and baritone, David Evans. Louie James, a pupil of Frangcon-Davies and Edward Iles at the Royal Academy, distinguished herself in opera, oratorio and orchestral concerts throughout England and Wales. Having made her debut in London a couple of months before her first appearance at Colwyn Bay on New Year's Day 1909, critics had already noted her "beautiful, pure, flexible soprano voice" (Pioneer, 1 April 1909). After her New Year performance the North West Coast Pioneer's critic wrote "….her superior has never been heard at Colwyn Bay; her rendering of her song in the evening was in every sense a great performance". Quite an accolade considering audiences in Colwyn Bay had already heard the likes of Adelina Patti.
 
The baritone, David Evans, also a pupil of Frangcon-Davies at the Royal Academy, had performed in numerous towns and cities in addition to London and Salt Lake City before making his first appearance in Colwyn Bay in 1910. The event was recorded in the Colwyn Bay Weekly News as "the sensation of the week". The writer went on further to note that, "few of the great artists heard at the pavilion have succeeded in producing such a favourable impression as Mr. Evans has done….He made his first bow to a Colwyn Bay audience on Saturday evening when he took the 'house' by storm. On Sunday evening again, despite the rule forbidding encores at the Sacred Concerts, he was twice recalled, and the manner in which he rendered two Welsh airs as encore songs fairly lifted the audience off their feet". The same writer went on to say that Evans possessed "a remarkably rich voice which he uses in a most artistic manner".
 
The orchestra continued in those uncertain years leading up to the war and it appears that Henry Lyell-Taylor (1872-1967) replaced Verbrugghen as conductor for a short time prior to 1914. Taylor was a Queen's Hall violinist who also conducted at Buxton. He became Director of Music at Brighton in 1914 and conductor of the Durban Municipal Orchestra, South Africa in 1924. The Durban orchestra had 30 players, all recruited from England. Three years later Taylor was appointed Music Director for African Consolidated Theatres Ltd. in Johannesburg, remaining there for most of his professional life.
 
From April to September entertainment in Colwyn Bay seems to have been a thriving business as apart from the orchestral concerts there were numerous other events one could attend. Squire Day & Company offered a novelty repertoire programme every afternoon in the pavilion from 3.00 to 4.45 and again in the Public Hall four nights a week including Saturdays. The company comprised male and female singers, comedians, pianists, banjoist, dancer and whistler. Throughout the day one could find small concert parties and entertainers on the promenade too. In the years leading up to the First World War, Catlin's Pierrots and Harry Reynolds' Minstrels were regular attractions.
 
Between 1914 and 1918 music on the pier gave way to pantomimes, music hall and events of a light-hearted nature in order to entertain the wounded troops billeted in the town. In 1917 the Bijou Theatre was built at the opposite end of the pier to the pavilion and it was there that entertainment of a lighter type continued when peace was resumed and the pavilion returned to performances of a high artistic standard which had been enjoyed prior to the outbreak of war.
 
However, one disastrous night in 1922 the pavilion was destroyed by fire and after having purchased the pier, Colwyn Bay Urban District Council undertook all structural restoration and built a new pavilion which opened in July 1923, the total cost of restoration being £45,000.
 
W. Yates Gregory was appointed entertainments manager and music continued from a municipal orchestra with Thomas H. Morrison as its conductor. He was one of the best known orchestral leaders in the country at that time. He had been leader of the Queen's Hall Orchestra in London at the age of 20 and subsequently leader of the Covent Garden Opera Orchestra at the invitation of Hans Richter. Prior to his appointment at Colwyn Bay he had been leader of the Buxton Spa Orchestra playing alongside accomplished musicians Leon Goossens (oboe) and Frank Gomez (clarinet) who eventually became conductor of the Whitby Spa Orchestra in the 1930s.
 
Morrison's other appointments in 1923 included the leadership of the 2ZY Orchestra at Manchester's first radio station. There were twelve players in all - mainly Hallé members, but staying in Manchester, Morrison later became conductor of the newly formed BBC Northern Orchestra (35 players) in 1934.
 
Morrison established himself and his ten piece municipal orchestra at Colwyn Bay's new pavilion providing music for a wide audience and special Sunday concerts were arranged which usually included a singer. It seems that every effort was being made to provide music and artists of a high standard. A celebrity concert on Sunday, 17 August 1924 for example, included performances from Joseph Hislop (1884-1977), the Scottish born tenor, who was one of the finest of his era. He was the first British tenor to sing a leading role at La Scala, Milan and a critic in Musical Opinion proposed him as the natural successor to Caruso. Hislop sang nearly thirty different operatic roles and counted Jussi Björling and Birgit Nilsson among his pupils, but in 1937, after singing in a run of 380 performances of Edward German's Merrie England, he retired from the stage with a badly damaged voice.
 
Although singers appeared most often as soloists at the pavilion, there was still the odd instrumental performance. Algernon Lacey gave a piccolo solo, L'Oiseau Blue at W. Yates Gregory's Annual Benefit Concert on 18 September 1930 with the Colwyn Bay Municipal Orchestra under the direction of its new conductor, Fred Stock.
 
A new departure the following year brought a performance of Handel's oratorio Judas Maccabaeus, for which the municipal orchestra was enlarged. It is interesting to note that local players, W. M. Tipping (flute) from Llandudno and W. E. Beaverstock (flute) from Penmaenmawr, were drafted in for this purpose. However, the orchestra at this time had no more than about ten players and programmes were usually light.
 
In 1932, after only a relatively short life, the second pavilion burnt down and later that year, the Bijou Theatre suffered the same fate. The causes of the fires were never established and once again, the council found itself financing the building of a third pavilion which opened on 18 May 1933.
 
Music in Colwyn Bay had reached a point of no return. There would be no more symphony concerts or international soloists. From 1933 a variety of summer shows, including the popular No, No, Nanette (1937) would be the staple fare, although a small ensemble continued throughout the 1940s with James Kershaw as musical director. By 1954 however, Kershaw was at Worthing doing the same thing with an octet which was occasionally augmented with amateur players to provide symphony concerts.
 
Reginald Stead, who had previously played violin under Frank Gomez at Whitby also led the municipal ensemble of ten players at about this time. He had become a Hallé member in the 1930s and from 1945-1971 he was a very able leader of the BBC Northern Orchestra. BBC conductor, Edward Downes much later stated that Stead was "one of the finest leaders in the country and could play all the solos beautifully".
 
Nevertheless, it was now the shows that people came to see rather than the municipal ensemble, even though the latter still provided the musical accompaniment. The shows ran until 1958, when due to falling numbers in the audiences, the pavilion was closed.
 
Frank Needham, a string player engaged for some of those shows in the 1950s much later remembered that "accommodation for musicians playing a summer season was always a problem. As no subsistence allowance was paid and all the usual expenses back home had to be covered, it was necessary for a musician to keep costs down to a minimum". He went on to relate that on one occasion a fellow musician spent nothing at all on accommodation for the first few weeks of a summer season at Colwyn Bay. "He slept in the bandroom at the end of the pier until the rest of the orchestra objected to his washing hanging up to dry coupled with the lack of a bathroom, so he spent the next few nights in promenade shelters. When the police moved him on he finally found lodgings but before the end of the season he had married the landlady's daughter and so had free accommodation once again as a member of the family".
 
A five piece band struggled on into the early 1960s but in 1968 the Council disbanded the orchestra as it was costing over £300 a week to maintain. The pier was sold and that effectively ended orchestral music in Colwyn Bay. The Town Band remained the only music-makers in Colwyn Bay but it too disbanded in 1988 after 125 years of music making. The pier is still standing but now sadly neglected through lack of funds for restoration.
 
Stuart Scott
2009



<!- paste above here ->