†
Interview with Sir Mark Elder at Manchester in November 2011 by Michael Cookson.
†
ďIíve always assumed that the singers would be grateful not to have to do it all in one go because many of the roles are so taxing.Ē Sir Mark Elder
†
Part 1: Wagner and other Operas and Musicals
†
1.1 Opera Concert Performances and Semi-Staged Operas with the Hallť
1.2 Concert Performances of Wagner Operas
1.3 The Situation at Opera Rara
1.4 French Grand Opera - Meyerbeer; Donizetti; Rossini; Verdi and Wagner
1.5 Hallť to Play Bernsteinís Wonderful Town at Lowry Theatre, Salford
†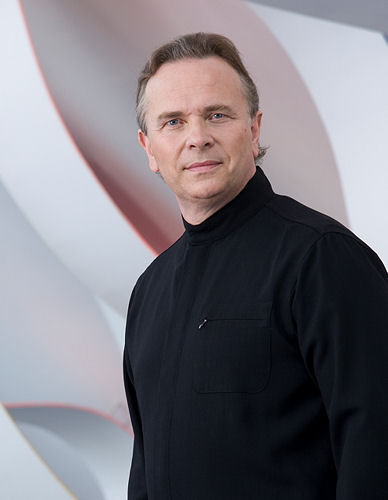 Sir Mark Elder, photo Simon Dodd
†
Sir Mark Elder CBE is the pre-eminent, home grown conductor based in Britain today. It was good of Sir Mark to agree to the interview at his Manchester apartment. I can only hazard a guess at the constraints Sir Markís diary must place on his available time. The previous evening Sir Mark had conducted his Hallť Orchestra at Manchesterís Bridgewater Hall in a programme of Vaughan Williamsís Symphony No. 5 and Elgarís Cockaigne overture with the DvorŠk Wind Serenade directed by Andrew Gourlay.
†
Now in his twelfth season as music director Sir Mark has had great success in rebuilding the Hallť Orchestraís international reputation. From his first concert as music director in 2000 the Hallť under Sir Mark has gone from strength to strength. The partnership achieved a double success in the 2010 Gramophone Awards winning both the Opera and Concerto categories with their live recording of Wagnerís GŲtterdämmerung and the Elgar Violin Concerto with soloist Thomas Zehetmair. Another success for Sir Mark and the Hallť has just been announced with the 2011 Gramophone Award for Elgarís The Kingdom in the Choral category. Hallé Catalogue
†
Opera is a clear passion for Sir Mark who said that he discovered opera in the late sixties whilst still a student at Cambridge University where he would attend productions at Covent Garden. After university, as a protťgť of Sir Edward Downes, he cut his teeth conducting opera at the Sydney Opera House in Australia. Later from 1979 he became music director of English National Opera, a post he held for 14 years. Sir Mark appears regularly in a number of international opera houses; in particular the Royal Opera House London, the Metropolitan Opera New York, and the Opťra National de Paris. He became the first British conductor to conduct a new production at the Bayreuth Festival. Sir Markís enthusiasm for English music is well known with each Hallť concert season including a number of works by composers from these shores. I cannot think of another conductor around today with a profile as high as Sir Mark who programmes as many works by English composers.
†
In recent months Sir Mark has been an integral part of the much talked about BBC 4 flagship series Symphony presented by Simon Russell Beale. As well as commenting eruditely on this musical journey charting the history of the symphony Sir Mark has been conducting the Hallť Orchestra, the Orchestra of the Age of Enlightenment and the BBC Symphony Orchestra.
†
1.1 Opera Concert Performances and Semi-Staged Operas with the Hallť
†
MC: After performing Wagnerís GŲtterdämmerung and Die WalkŁre are there any future plans for more opera concert performances by the Hallť? Or even another semi-staged opera like Verdiís Falstaff that you did a few years ago?
†
ME: To semi-stage an opera requires considerably more time to do than a concert performance of an opera. The operas that we have been doing recently have been Wagnerian. We did GŲtterdämmerung and Die WalkŁre and we may do more Wagner in 2013. Because 2013 is his anniversary, the bicentenary of Wagnerís birth. Yes, we did semi-stage Falstaff some years ago now and itís possible to do it if the orchestra isnít too large; so that leaves you space on the stage. Falstaff was written for a classical orchestra whilst the Wagner scores almost all of them are written for much larger forces; so you just donít have the space. And for these long operas you need more time. The non Wagner ones are generally much shorter and of course they are very expensive to put on at the moment. The budgets that we are all surviving under have been cut back and cut back. We have to be very careful how we use the little money that weíve got. But I hope that it will be possible to find opportunities.
†
MC: So you remain hopeful?
†
ME: Yes, yes.
†
MC: But nothing has been formalised?
†
ME: Nothing that I am able to talk about at this stageÖ what can I say!
†
1.2 Concert Performances of Wagner Operas
†
MC: Iím thinking back to the Hallťís concert performances of the Wagner operas. Does the concept work of dividing the work over two nights?
†
ME: I think that it depends on your previous knowledge of the work. Iíve seen the pieces for such a long time that Iím used to the length thatís involved, the concentration and the energy you need to listen. I thought that on both these occasions, generally speaking, that it did work. GŲtterdämmerungís first act is so long and so demanding. The idea is that we do the performances not too late at night so that people have a chance to travel after itís finished. As the performances are concentrated into these two days it makes an interesting visit for people from London or elsewhere in the country who have travelled up to Manchester. It makes the travelling back afterwards much easier.

MC: Would you ever consider doing the whole Wagner opera on a single night?
†
ME: Oh sure. Sure we would consider it. But the feedback and the actual idea seem to have captured peopleís imagination and we have the feeling that it was a success.
†
MC: On the other hand I feel that some people might not have liked the idea of travelling into Manchester two nights running for one opera. But Iím glad it was a success. Would you continue with the idea again?
†
ME: Well only if it was long enough to do, such as the whole of Tristan und Isolde, we might do it over two nights. I donít know. You see the orchestra here is a wonderful orchestra but of course the stamina required to play these scores if you havenít done them before in one go is enormous. I think that the orchestra felt it was helpful for their energy levels to think. Right, Iím coming in, Iím going to play this one act for two and a half hours and then tomorrow we are going to do the other two acts. So it will keep them fresh. However, some of the singers said to me that they preferred to do it all at once, as they were up and running they preferred to finish the race.
†
MC: Iím not surprised that once they are fully prepared and actually on the stage, as soon as their voices had warmed up and acclimatised they wanted to carry on.
†
ME: Yes, and that might be a good reason to do it all in one go. Iíve always assumed that the singers would be grateful not to have to do it all in one go because many of the roles are so taxing.
†
MC: I recall reading recently where you talk at length about there being so few Wagnerian singers around. The best ones must be in constant demand?
†
ME: Thatís true. There are so few around that they are mainly booked up for years.
†
1.3 The Situation at Opera Rara
†
MC: Iíd like to ask you about the situation at the record company Opera Rara. The financing from the Peter Moores Foundation has now stopped so how does that affect your involvement with Opera Rara?
†
ME: Well the fact that Iím involved at all is because with the death six years ago of Patric Schmid, Opera Rara is having to reinvent itself. [Note: Patric Schmid co-founded Opera Rara] Also the repertoire they do has always interested me; the Italian operas particularly. Without Patric at the head of the organisation, because he founded it, he did everything; you actually need to replace Patric with a number of people. You canít have just one person. I didnít have the time to do everything that Patric did and Iím not a musicologist. So it means that the whole Opera Rara organisation has to come together and we needed to find people to fill all these different roles and make it into a fully fledged organisation with fundraisers for the first time in the organisationís history. Because Peter Mooreís great generosity kept it all going for years. He put in hundreds of thousands a year. So itís a huge, huge issue. At the moment we are trying to find out whether or not we can survive with my artistic directorship and Roger Parker the professor of music at Kingís College, London who is a Donizetti specialist, and someone to help with the casting and two people to help fundraise and build up the office. Now itís a difficult time to do it. But my impression is that there are people who would support Opera Raraís projects rather than supporting other different types of music and we just have to find these people and try to impress them and inspire them in supporting what I want do.
†
MC: I can sense your passion for the rare and forgotten opera repertoire.
†
ME: O yeah, when they are good. The one we have just put out on Opera Rara is Maria di Rohan one of Donizettiís most mature pieces. Link:
http://www.opera-rara.com/site/product.asp?section=1&cat=1&sub=1&prod=1676
†
MC: Iím sure that Maria di Rohan will be a new name for many opera lovers.
†
ME: Yes, it will be. However, it was staged this summer at the Buxton festival.
†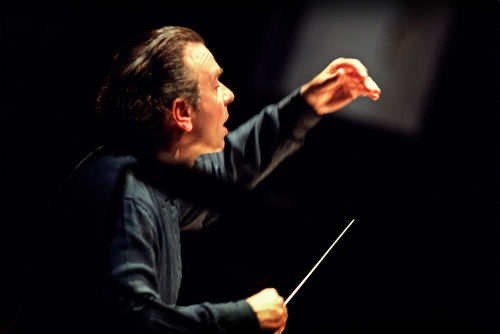 Sir Mark Elder at the Royal Opera House, Covent Garden, photo Laurie Lewis
†
1.4 French Grand Opera - Meyerbeer; Donizetti; Rossini; Verdi and Wagner
†
MC: Iím very interested in French Grand Opera, especially the early period when Paris was dominated by Meyerbeer, Halťvy and Auber. These composers exploded on the scene in Paris in the early 1830s and were the pop stars of their day. But today their works are rarely heard and almost never staged.
†
ME: Yes, itís interesting isnít it.
†
MC: Iím just thinking of those operas that achieved the most stagings at LíOpera in Paris. Meyerbeerís Les Huguenots had over eleven-hundred Paris performances, then there is his Robert le diable, Le ProphŤte and LíAfricaine. Thereís Halťvyís La Juive, Auberís La muette de Portici and Thomasís Hamlet just to name the most successful ones. Probably the only exception being Rossiniís William Tell which as you know is sometimes revived and has been recently recorded by Antonio Pappano.
†
ME: The equivalent nowadays Michael is the musicals of Andrew Lloyd Webber. Where the mixture of the particular story and the lyrics, the tunes, the way he sets the whole musical idea, not just the songs but the bits in-between, and the lavishness, the stage effects of the production; that is what Meyerbeer really perfected. Meyerbeer was clever, a really astute man. The son of a Jewish banker in Berlin he was very eclectic. Meyerbeer learned a lot from the Italian traditions, he realised what the Parisian public would like from his time living and working in Italy. He had the German sense of the big scale.
†
MC: Meyerbeer was marvellous at marketing himself and his music too.
†
ME: Absolutely brilliant. Yes, he took all his critics out on the night before the premiŤres. Bought them dinner and made sure they gave good reviews.
†
MC: Those must have been wonderful days for French Grand Opera, in spite of all those rather dubious goings-on with the claque. There was the epic, serious, often historical scope of the libretto, the lavishness of the sets; the entrepreneurship of Louis Vťron; the extended length of the operas; the active choruses and necessity for the inclusion of a ballet.
†
ME: Thatís right because of the taste. And this whole question about Opera Rara and the repertoire over the last three hundred years is to a huge extent connected to the taste of the country; the taste of the city sometimes; the taste of the period. And how our taste has changed; what we enjoy. Itís very, very difficult to make one line through it all. I have come at that Grand Opera through Donizetti and Verdi. Verdi first wrote Jťrusalem for Paris which is a re-write of I Lombardi; itís a very good opera. He re-wrote Il trovatore as Le trouvŤre and changed it a bit and as you say put in the ballet.
†
MC: Yes, he knew one had to have the ballet to appease the requirements of the Paris Jockey club.
†
ME: And Wagner got that wrong didnít he with Tannhäuser? He knew he needed a ballet in the second act but he thought he would get away with itÖ Les vÍpres siciliennes is another one; much better performed in French than in Italian. Don Carlos is too in my view but itís just very difficult to find French singers. Itís difficult to do these works in French really beautifully. One of the first Donizetti operas that I recorded was his last opera Dom Sťbastien which was him absolutely trying to beat Meyerbeer at his own game. Itís a terrific opera; itís got very, very striking scenes in it, full of grand and memorable music. Link: http://www.opera-rara.com/
†
MC: Has Dom Sťbastien been staged in recent years?
†
ME: No it hasnít been staged. You would need a theatre that was really passionate about doing it. Iíve just been in Paris doing Tannhäuser and Iíve often wondered if I ought to talk to the Paris Opera about whether or not they would consider doing it. Because it was written for them.
†
MC: Was it for commercial reasons that Dom Sťbastien hasnít been given for so long?
†
ME: Sometimes in the theatre world Michael itís actually the way pieces are staged that may make the difference between it being a commercial success or a commercial failure. This is where the taste aspect comes in. Robert Wilson for instance, the American director, has had success for some years now in Paris with the very refined, beautifully lit productions that he likes. They donít really go down well in London at all. In Paris they did his Magic Flute and I conducted his Pellťas et Mťlisande some years ago at the Garnier theatre in Paris and I donít get it. He did a Frau ohne Schatten at the Opťra Bastille and Iíve lasted one act. What he does is so refined and so beautiful that itís another form of entertainment. Paris is the city that invented perfume and their French cooking. This refined cultural activity is something that they have always loved.
†
MC: Itís infused in their character. We are so close to each other in proximity but British and French taste can be so very different.
†
ME: Yes, thatís right... I would really like to try some of these French Grand operas. Iíve studied Meyerbeerís Robert le Diable a lot and I would really like to do that. I donít really think itís worth doing now if you wanted to record them unless you do them complete. Because they have never had a chance to be assessed complete. We know Meyerbeer cut them but I sense from studying Robert le Diable his command of the big forms. Because each act doesnít have many numbers, but each number is very broad in its construction. And if you start taking out little bits itís like how do you define the human body beautiful if itís only got one arm or one leg. Itís tricky. I think itís time that someone did some Meyerbeer and did it full on, one hundred percent. But now - in a recession?
†
MC: Meyerbeer certainly finds it hard to get a foothold in the repertoire today. Wagnerís anti-Semitic attacks on him affected his reputation.
†
ME: There is that of course. My view is that he had everything apart from the talent to be a great melodist. His tunes, most of his tunes are not as good as Verdiís.
†
MC: I fully agree. But in each of his most successful operas there are two or three really fine extended scenes that are most dramatic. That also goes for many of the other successful grand opera composers of the day.
†
ME: That is absolutely true. But the ones that survive and the ones that fall down, for our time now, donít necessarily equate to the ones that need to be heard. The most outstanding example I can think of in recent times was about twenty years ago when I did the British premiŤre of the opera Ermione which is the Italian word for Hermione by Rossini. We did two London concerts with the Orchestra of the Age of Enlightenment. If you look into the history books Ermione is just dismissed because it was only given two performances because the public of the day couldnít get it. He didnít give them what they were expecting, it was very unconventional and so they were disappointed and they thought the music wasnít good. They booed it, it was just a disaster. But if you donít read all that and just get a score and study it yourself; as I did. I became completely gripped by it and I could see the potential to make it exciting. So we did it and everyone was incredibly moved by the piece. We thought, how can we not know this opera? Well a month ago the Opera Rara recording of Ermione that my friend and colleague David Parry conducted won a Gramophone award. The work is now absolutely established as an important tragic Rossini opera. Glyndebourne decided to have a go at it and did it after the performances that I did. Itís been done a bit in Italy but this is the first really good recording and it won a Gramophone award; itís wonderful. Link: http://www.opera-rara.com/
†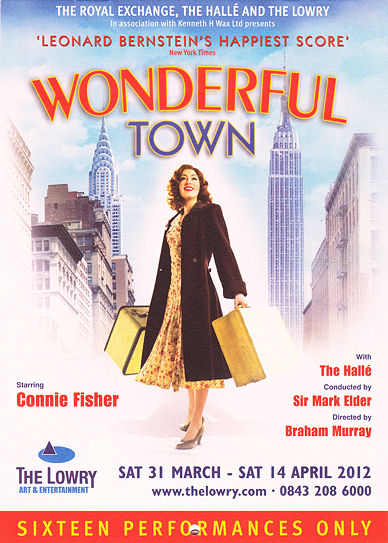 Wonderful Town
†
1.5 Hallť to play Bernsteinís Wonderful Town at Lowry Theatre, Salford.
†
MC: Iím fascinated that the Hallť is to perform Bernsteinís Wonderful Town.
†
ME: Yes, for the first time we are taking the orchestra into the pit this Easter at the Lowry Theatre at Salford. Iím collaborating with the Royal Exchange Theatre in Wonderful Town.
†
MC: Yes, the Leonard Bernstein musical that will star Connie Fisher. But a musical, not an opera?
†
ME: Yes but itís a great, great piece. This orchestra, as you probably know, swings better than most English orchestras. It does an enormous amount of American music at Pops concerts; that sort of thing, like the Boston Pops Orchestra.
†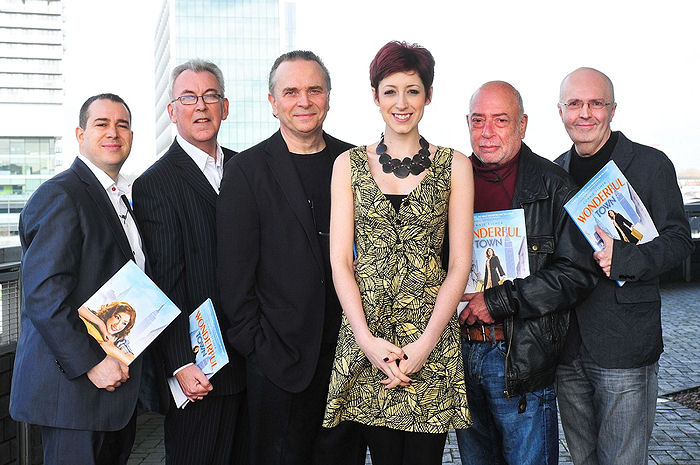 Sir Mark Elder, Connie Fisher at the Wonderful Town launch, photo Ben Blackall.
†
MC: Do you really need a top ranked symphony orchestra to play music that is normally played by a pit orchestra?
†
ME: Yeah, a pit orchestra absolutely. Well yes and no. After we do the three weeks here at the Salford Lowry the whole show is going to go on a national tour with a much smaller orchestra conducted by a great friend of mine my assistant Jamie Burton. Itís going to go on a national tour for three months and that will be in a more usual format. But because weíve got a large pit here in Salford and Iíve wanted the Hallť to do something different like that. And I think they will enjoy it. Iíll have quite a good string section there and all the wind players that you see will be from the Hallť.
†
MC: It should be great. I hope to report on it. Iím looking forward to it tremendously.
†
ME: So the sound should be really special and we hope to attract attention through that.
†
................................................
†
ďYou have to believe donít you? You have to believe in what you do!Ē Mark Elder
†
†
Part 2: English Music
†
2.1 Elgar Oratorios and their Debt to Parsifal
2.2 Neglect of English Music in Concert Programmes
2.3 The Relative Merits of Sir Malcolm Arnold and Sir Michael Tippett
2.4 Sir Simon Rattle Programming English Music in Berlin
2.5 Elgar Symphonies
†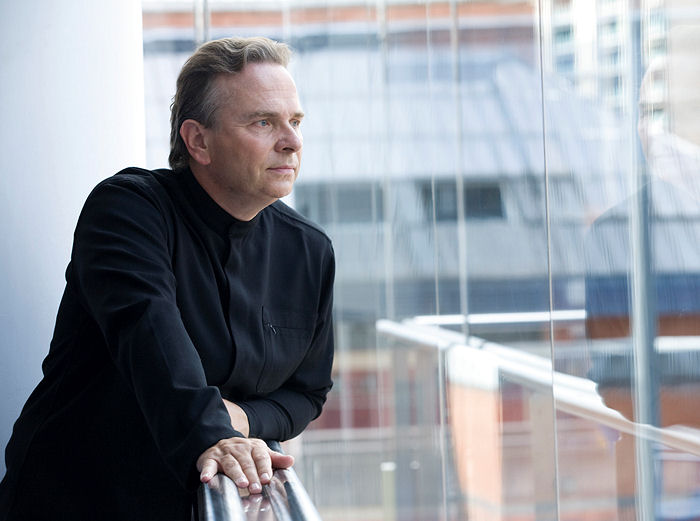 Sir Mark Elder, credit Simon Dodd
†

†
2.1 Elgar Oratorios and their Debt to Parsifal
†
MC: I canít thank you enough for championing English music both in the concert hall and in the recording studio.
†
ME: Iím the only English conductor of an English symphony orchestra.
†
MC: Yet, Iíve seen a press comment about you conducting Elgarís The Kingdom at every opportunity; as if this was wrong. I felt it was unwarranted and I was wondering what you made of it?
†
ME: Four years ago I conducted The Kingdom for the first time in my life on my sixtieth birthday. Two years ago now I conducted it here again Manchester, we recorded it and that recording won a Gramophone award as you know. Last year I conducted it again at the Barbican. So Iíve conducted the work three times in four years.
†
MC: Three times in four years doesnít feel obsessional to me. (ME: No) Of course once you get to know the score it becomes easier to do the next time.
†
ME: Yes, because you do it better. Thatís the point.
†
MC: All the preparation has been done.
†
ME: Itís like laying down a wine and not drinking it too young. Every time I conduct it thereís more richness there, more understanding. I know how to get the players with me to do it more beautifully. I know what the problems are. These oratorios of ElgarÖ well Iíve lived with The Dream of Gerontius all my life. It was an A level set work when I was a school boy. I didnít understand it then but the music has lived with me all my life. Whereas the music of The Kingdom and The Apostles has not. I took ages to decide whether or not I could do them. Now next year we are going to do The Apostles.
†
MC: They are much overshadowed by Gerontius.
†
ME: Yes they are overshadowed by Gerontius for reasons one can talk about if you had the time to compare them. Basically itís because of the narrative. The journey that happens in Gerontius is one that everybody can immediately relate to. It comes over very strongly. The path, the journey that the soul makes to death and after death is a story, is a narrative idea that everybody can relate to. The music of course is, I think, absolutely wonderful. Some people, even dear friends of mine, think that there are weaker moments in it. But as a conductor I donít know where those are.
†
MC: So you canít identify those so called weaker moments?
†
ME: No I canít. In Gerontius I never get to the point where I think, ehm, he didnít work hard enough at that bit. No.
†
MC: Maybe an audience doesnít have the concentration and insight that the conductor has to have?
†
ME: Thatís right, to get the organic flow in the music. Now The Kingdom is more meditative than Gerontius. They both have a slight amount of narrative but really the form of the work is more narrative. And the words are taken piecemeal from all through the Gospels; indeed some of the Old Testament too. You have to find the line through it and that makes it less immediately powerful for the public. But I think what he left us with The Kingdom is a great, great work. Itís important to remember that Wagnerís Parsifal was a huge influence on him and he went to Bayreuth twice or was it three times in the years after Parsifal was premiŤred?
†
MC: Itís remarkable just how many composers from all over Europe were attracted to Bayreuth at that time. I know that Sir Hubert Parry and Sir Charles Stanford attended Bayreuth more than once.
†
ME: Thatís right, that first Ring Cycle at Bayreuth in 1876 must have been an amazing event. But whatís really important is whether people want to share this journey that Iím trying to make with this music. The last time I did The Kingdom it was with the London Symphony Orchestra and it was sold out.
†
MC: You see a real demand from the public for this music?
†
ME: Yes, if you can unlock the secrets. Weíll do The Apostles here at the Bridgwater next spring.
†
MC: Is this the first time?
†
ME: Yes we havenít done it before. Itís been cast for ages. We have to work two years ahead.
†
†
2.2 Neglect of English Music in Concert Programmes
†
MC: Iíd like to ask you about the broader subject of English music. Recently I was at a concert and they played Rachmaninovís First Piano Concerto. A fine work from the teenage composer but not as melodic or memorable as his Second Concerto and not as challenging or as dramatic as his Third Concerto. This got me thinking how many English piano concertos would have been just as worthy for inclusion in the concert programme. Narrowing the field down to the Royal College of Music alone I can think of John Irelandís Piano Concerto; there are also Howellís two Piano Concertos; then the Parry Piano Concerto and two Piano Concertos by Stanford; Iím also thinking of the Bliss Piano Concerto and also his Concerto for 2 Pianos. There are Sir Arthur Somervellís Normandy ĎSymphonic Variationsí and Highland Concerto and also Frank Bridgeís Phantasm. All works that are rarely played; if at all. As you know Stanfordís large number of pupils at the Royal College wrote in most genres and with the exception of the works from Ralph Vaughan Williams and Holst most are totally ignored; laying forgotten. Of these there will be many worthy works that never get a chance in the concert hall.
†
ME: Of course, I understand your point. Last night we did Elgarís Cockaigne overture and Vaughan Williamsís Symphony No. 5. It would have been fine by me to have done Irelandís Piano Concerto as well but the audience would have been substantially smaller. [Note: John Ireland was born in Bowdon near Altrincham just eleven or so miles away from Manchesterís Bridgewater Hall.]
†
MC: Last night English music was well served by yourself and the Hallť. I certainly acknowledge that you do more than your fair share. But Iím concerned about getting other conductors and orchestras to follow your lead and play more English music. I cannot imagine countries such as Germany and France neglecting music by their home grown composers to the extent we do in England.
†
ME: But then you have to have English musicians conducting. Itís very rare for a non-British music director or non-British conductor to really believe in a piece of English music. Iím not saying that it doesnít happen, it does happen all the time. Cristian Mandeal is Romanian, he conducts the Hallť each year and he loves Vaughan Williams. He has done some performances of British music and I think that is very exciting. I find the Russians like British music too. Evgeny Svetlanov who was a great conductor took the London Symphony Chorus and English soloists to Moscow and did The Dream of Gerontius. But I suspect your point is slightly different; it is how can more English works begin to be part of our repertoire? You see the Rachmaninov First Piano Concerto that you heard is a popular piece and people feel comfortable seeing it on a programme. This is a brilliant virtuoso concerto by a famous virtuoso. Rachmaninov has great appeal to the public. But of course I understand your point that there is a lot of music that is just as worthy. Thatís one of the reasons why a few years ago I recorded Baxís Spring Fire with the Hallť. Itís a masterpiece a huge orchestral piece. Itís on the CD that we brought out titled English Spring. Details
†
MC: Yes itís a splendid recording. Those Bax symphonic poems are superb works they have all been recorded but are hardly heard in the concert hall. Youíre saying that there is nothing to prevent other orchestras programming more English music but there are not enough orchestras that have English music directors. Then there is the financial side to consider also.
†
ME: You see when programming such works our director of marketing at the Hallť would say thatís a lovely programme and Iím looking forward to it already if thatís what you want to do. But you must understand that you will have three-hundred less people in the audience than if you did a more popular work. Now the difficult job of planning the concert season with an orchestra is how to balance that and itís perfectly possible to say, Iím going to do say for example Winter Legends by Arnold Bax and not Beethovenís Fourth Concerto because weíve all heard the Beethoven so often letís do something different. But then you have to recognise that not so many people will be as confident about enjoying the concert enough to buy the tickets. So you have to budget that concert lower. Now thatís fine, and we do that every year, we budget it lower, but youíve got to know that later on down the line you have concerts that you have to budget higher to make up for it. Do you see what I mean? Otherwise you are going to be out of pocket.
†
MC: So when planning a seasonís programme you cannot let your heart rule your head.
†
ME: Right. Itís getting the right balance between business and artistic vision.
†
MC: Just looking down a list of Stanfordís composition pupils at the Royal College of Music I can see over thirty of them. Some of their music is now being recorded but is still virtually ignored in the concert hall.
†
ME: The fact that a lot of this music is recorded now is great. It leads to people like yourself being passionate about it but it also gives the planning part of the music profession more confidence to schedule it in concert programmes. Iím the only conductor in the world who conducts Baxís Spring Fire; I know because there is only one set of parts and Iíve got them.
†
2.3 The Relative Merits of Sir Malcolm Arnold and Sir Michael Tippett
†
MC: Thatís really admirable for the cause of English music. I just wish there were more conductors willing to venture into this area. Maybe others will follow your lead? Recently there was festival of music by Sir Malcolm Arnold where all his symphonies were performed. It was held in Northampton to celebrate the ninetieth anniversary of his birth and they used amateur orchestras. I was wondering what your view is of Malcolm Arnoldís music?
†
ME: Every few years someone says to me that I ought to listen to this piece by Malcolm Arnold either this symphony or this concerto whatever. I listen and it doesnít mean anything to me. It just doesnít get to me.
†
MC: Thatís interesting. The curious case of Malcolm Arnold. Why do you think that is? Is he not serious enough? Does the lighter nature of some of the music put you off?
†
ME: On the contrary. Actually heís a very skilful composer and the lighter pieces are very good; his sets of Dances and the Tam OíShanter Overture are very effective pieces. But when he starts to write something more substantial I just find a lot of his musical invention weak. Thatís all I can say... His music just doesnít appeal to me. I think Michael Tippett is a much greater composer so I would always do a work of his rather than one of Malcolm Arnold. Nobody plays Tippettís music nowadays.
†
MC: No, his music seems very much out of fashion. He didnít help himself by using contemporary effects for example in his opera New Year there was break-dancing in the choreography and trendy Ďstreet talkí of the time.
†
ME: It dates so quickly doesnít it?
†
MC: So you have more depth to work with in Tippett than Arnold?
†
ME: Yes. I think heís a great mystic; like Vaughan Williams. I think Michaelís music goes somewhere that very few people actually get to. But not in all his pieces.
†
MC: Like many people you find his music uneven in quality?
†
ME: Very.
†
MC: Which piece of Tippettís do you like in particular?
†
ME: The Midsummer Marriage is one of the greatest English operas.
†
MC: Iím thinking of that wonderful set of four Ritual Dances from The Midsummer Marriage.
†
ME: Yes the Dances but the whole opera which I have done twice is a great, great piece with a poor libretto. But then there are lots of great operas with poor librettosÖ I think King Priam his second opera is a very good piece; in a very different style. I think the Symphonies are good; particularly Two and Four. The Piano Concerto is marvellous and the Concerto for Double String Orchestra too. I think the Triple Concerto is a pretty good work but itís hard for the public to get. I gave the first Chicago performance of the Concerto for Double String Orchestra with the Chicago Symphony Orchestra last year. They absolutely loved it and it was very, very exciting to do it. I think the first half of his career produced more lasting music. My feeling is, although it might seem arrogant of me to say this, is that Michael lost his way a bit as he went through the sixties and the last part of his life. The music just doesnít have the same power actually, although, The Rose Lake is a fine work and right from the end of his life. The first thing that I did here in Manchester before I became music director of the Hallť was his huge oratorio The Mask of Time which is a very, very fine work. I think he manages to bring off this enormous piece for the whole evening. The Mask of Time is about a wide range of subjects through history; itís a whole evening. Itís a very different piece from the earlier oratorio A Child of Our Time which lasts for half that time. Itís his most popular oratorio but Iíve never responded to it. Iím not interested in it although itís an important work. But The Mask of Time is a piece of vision. Now I would rather spend time working on a great Tippett work than a work by Malcolm Arnold for example but thatís only my taste. You have to believe donít you? You have to believe in what you do!
†
2.4 Sir Simon Rattle Programming English Music in Berlin
†
MC: Itís good to see that Sir Simon Rattle has got English music in his programme with the Berlin Philharmonic this season. (ME: Ah, good) Heís already conducted the world premiŤre Jonathon Harveyís Weltethos and Waltonís First Symphony has been played by the orchestra. Then thereís Elgarís First Symphony; The Dream of Gerontius and the Enigma Variations in there too. I did notice that Sir Simon was only conducting Weltethos and Enigma himself.
†
ME: Simon has championed contemporary English music all his life. Heís done a great deal of commissioning new works.
†
MC: I sense that his passion is more for introducing new music these days rather than exploring the English late Romantic repertoire.
†
ME: I think thatís right. He has done the big pieces of Elgar and he likes them but I donít think they are as dear to him as they are to me. Which is fair enough. Iíve spent hours on those Elgar symphonies. Iíve done them all over the world and I think they need to be heard and played. The first time it all seems a bit daunting, long and involved and you canít quite get it. So you need to go on playing them so people get used to them. We went to the Bregenzer Festival in Austria this summer where they perform opera on the lake. My friend David Pountney runs that festival and I did two concerts there with the Hallť. The second concert was Elgarís Falstaff and the First Symphony. The symphony made an enormous impression on the public and many must have been hearing it for the first time.
†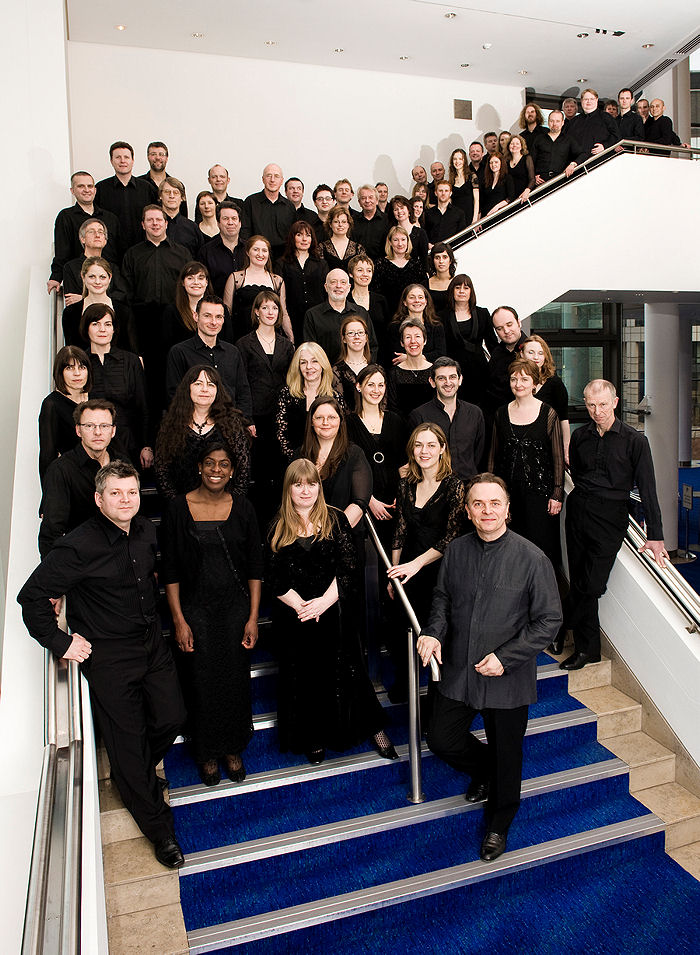 Hallť Orchestra and Sir Mark Elder, photo Joel Chester Fildes
†
†
2.5 Elgar Symphonies
†
MC: On the subject of Elgar I recall reading that you think the Second Symphony is the stronger of the two.
†
ME: Both are very great works. I think there is greater depth and maturity in the whole work of the Second Symphony. I think that the slow movement of the First Symphony is one of the greatest things that he wrote. I think that itís an absolutely amazing achievement, very beautiful and very moving. But I think there are some weak moments in the two symphonies. Like the middle of the concert overture In the South his developments werenít always the best bits. You have to bring them off and not allow people to think about them. Keep on going as Elgar did himself when he conducted. I think there are fewer weaker moments in the Second Symphony. I find the Second Symphony one of the greatest symphonies ever. You know that I am doing this television series Symphony for BBC 4. Well in the last of the four programmes I actually get to Elgarís Second Symphony; I do two extracts from it with the Hallť. I think that itís a very important work.
†
† ........................................................................

ďAll the time, everyday Iím thinking about how I can present music to my audience in a way that will interest them, keep their curiosity and draw in more people.Ē
Sir Mark Elder
†
†
Part 3: Attracting and Maintaining Audiences - Broadcasting Live Performances
†
3.1 Making Concert Programmes Interesting
3.2 Attracting Young People to Concerts
3.3 Hallť Educational Programme
3.4 Broadcasting Live Concerts and Operas to Cinemas and Internet Streaming.
†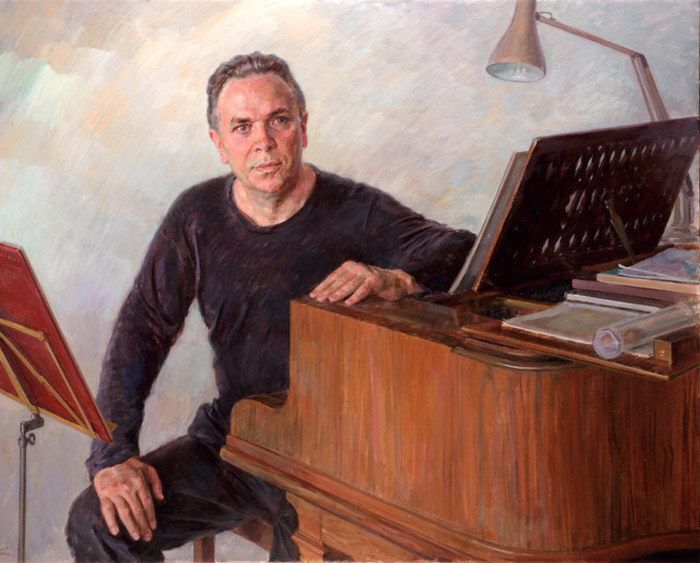 Portrait of Sir Mark Elder with kind permission of the artist June Mendoza
†

†
3.1 Making Concert Programmes Interesting
†
MC: If I may Iíd like to ask you about the subject of making concert programmes more interesting, more inviting. In September I attended a concert at the Berlin Philharmonie with Sir Simon conducting Mahlerís colossal Symphony No.8. To begin the concert Sir Simon programmed two sacred works for unaccompanied choir: Lottiís Crucifixus and Tallisís Spem in alium. Two devotional scores that at first sight in the programme might seem incongruous yet I think was a superb contrast. (ME: So do I.) I enjoyed the way that you arranged last nightís programme playing the Vaughan Williams Symphony No. 5 as the opening work and positioning Elgarís Cockaigne overture as the concluding work. In addition you placed DvorŠkís Wind Serenade, in effect a chamber work, in-between. It was all most refreshing to have something presented differently and it worked so well.
†
ME: Absolutely, all the time, all the time, everyday Iím thinking about how I can present music to my audience in a way that will interest them, keep their curiosity and draw in more people. Iíll give you another example. A month or so ago I came back from Paris to open the Hallť season. The main work was The Rite of Spring by Stravinsky. But we are doing a Beethoven cycle this season, ok. We didnít do a Beethoven symphony last night but we did the Third Symphony last Saturday and next week I will do the Fourth Symphony. So with The Rite of Spring and because it was the first concert of the season I did the Beethoven First Symphony. Actually itís quite rare to start a concert with Beethovenís First Symphony. Then we did the Bartůk Piano Concerto No.1 played by AndrŠs Schiff which nobody knows and itís almost never done because itís very hard. Then after the interval my first flute played Debussyís Syrinx which is just a little piece for solo flute; as you know. But she was playing off-stage whilst the whole orchestra was on stage with the lights dimmed waiting to play The Rite of Spring. So this whole crowded auditorium was completely still listening to one flute player. Then when she had finished we brought the lights up. Everybody applauded her, she came on stage, joined the orchestra and we began The Rite of Spring; which starts with one bassoon and all the other instruments gradually join in. So Syrinx, as Simon did in your Berlin concert with the Tallis Spem in alium, served as a lead-in, like luring your ear into The Rite of Spring.
†
MC: Yes, the principal works so well.
†
ME: Oh yeah. We did it a few nights later in Leeds and for me it was even more effective because of the smaller hall. Everyone was captivated saying where is this sound coming from? They didnít know where the flautist wasÖ Then we did our Mahler Eight in May 2010 at the Bridgewater Hall. The idea in our Mahler cycle was to precede each symphony with a new commission; to have a world premiŤre. I was very concerned thinking what can one do before Mahler Eight? In the end I decided the best thing to do would be to get Olivier Latry the organist from Notre Dame Cathedral in Paris to come over because thereís a big organ part in Mahler Eight and I wanted him to play it. But Olivier refused saying he didnít have the time to get to know the Bridgewater Hall organ. But before we played the Eight Symphony Olivier improvised on the plainsong melody that is the first movement of Mahler Eight, Veni Creator Spiritus. It was amazing, he just improvised. He played the tune and just started improvising and Olivier is so good at that. It was a whole event in itself and it took twenty minutes. It seems to do something to attune ones ears. So those are the sort of things that Iím trying to think about. Simon and I are very close friends and weíve talked about all this for thirty years. You see I started at the London Coliseum as Simon started in Birmingham.
†
3.2 Attracting Young People to Concerts
†
MC: At last nightís concert with the Hallť from the stage you introduced four groups of children and teenagers from schools in the Greater Manchester area. Many of whom might have been attending a classical music concert for the first time. Itís a great initiative and itís so important to be introducing young people to classical music; our audience of the future. Last May I recall attending a Munich Philharmonic Jugendkonzert a youth concert in Munich. It was a full house and maybe sixty to seventy percent of the audience were young people in their school groups. The organisers didnít compromise giving the same programme as the previous night for a predominantly adult audience. The programme was Dutilleuxís Mťtaboles; KodŠlyís Dances of GalŠnta; Stravinskyís The Firebird as well as the Mendelssohn Violin Concerto. Really the only concession was engaging a popular childrenís presenter from German television who bounced about the stage energetically with a microphone introducing the works and joking with several of the orchestral players to an amused audience. The young people loved the concert and they cheered and cheered. Iím not one of those who think that people at around the age of forty suddenly put down their Springsteen and U2 discs and move over to classical music. You see Iím concerned for the audience of the future.
†
ME: So am I; desperately soÖ At that concert that I mentioned to you earlier, my opening concert of the season with The Rite of Spring preceded by the Debussy, we had five hundred students all sitting around the orchestra in the choir stalls and in the front row of the stalls. Somehow that programme had got through to their imagination. We only charged three pounds but the point is that they came. We have to hope that they come back again and wonít find it stuffy. Thatís why I stopped wearing tails. (MC: But you still look appropriate) Yes, I agree.
†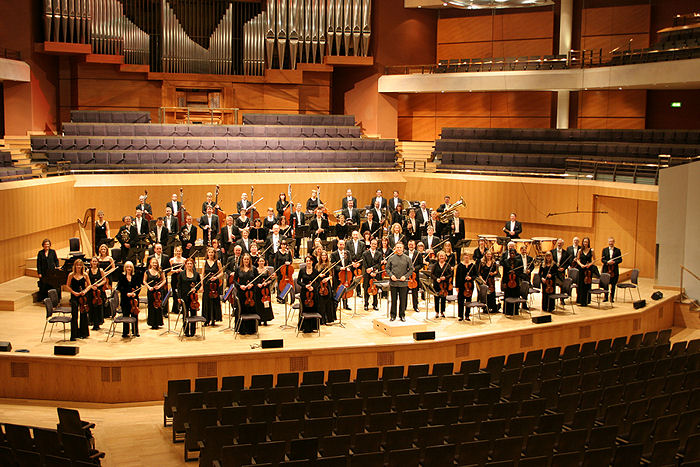 Hallť Orchestra and Sir Mark Elder at the Bridgewater Hall, credit Halle collection
†
3.3 Hallť Educational Programme
†
MC: Please tell me about the work that the Hallť does in the field of music education.
†
ME: Our educational work Michael if you donít know about the range of it you should seriously think about speaking to our education director Steve Pickett who was a bassoonist like I was. Heís a brilliant, brilliant man, a composer himself who writes music for kids and the orchestra. The work that we do nationally I donít think we could do more. Of course we never have to be complacent, we have to go on trying to be better at what we do and understand more what will unlock a childís creativity. What we do in this area is absolutely phenomenal. Itís not preaching to children, I donít believe in that, I believe in example and by showing children how they can create music themselves that, however timidly, they can actually have the power to create music themselves. (MC: I agree children love to make music) I know, I know and they love to dance too. They all want to dance. If you can combine their sense of humour with their physical movement and their aural imagination and let them understand that you donít have to have a university degree to do this you can do it just as you are. But you need good people to lead it and Steve Pickett is a great leader. My experience in working in Birmingham as well as London, but especially in Birmingham with the CBSO and now here in Manchester with the Hallť is that these two orchestras are full of people who if you give them the right lead-time and you say what you want, people who in the orchestra might seem quite shy or quiet or routinely doing their job, put them in front of a group of kids and they became a different person.
†
MC: You certainly have some players at the Hallť who are talented communicators. Earlier this year your horn player Tim Redmond gave a really confident pre-concert talk, very impressive and Iím sure that heís one of many who can do that.
†
ME: Oh yeah, there are lots more. Tom has a great ability to present. He introduces some of our family and school concerts; heís wonderful at it.
†
MC: Itís certainly heartening to see a younger audience and last night many of the youngsters seemed to be having a good time.
†
ME: Yes, thatís the main thing. That the young people donít feel too restricted. I think that the main problem is not to say, donít move, donít cough, donít look around or youíll kill it.
†
MC: I remember interviewing Andrew Manze in Munich last year. He expressed a view that young people might be put off attending classical music concerts saying, similar things to you. That the concert experience might appear too conventional, that you might have to dress in a certain way, that you have to sit still and donít talk to your friends, that you have to clap in the right places all restrictions that can be off-putting. [Note: Andrew Manze conducted the Hallť in three concerts in December 2011.]
†
ME: Young people should dress how they feel most comfortable with. You donít want young people to feel that there is a sense of stuffy formality; an old fashioned formality thatís different from concentrated listening. Children listen in different ways. I think that a couple of them may have dozed off last night. I donít care about that; it means they were relaxed.
†
MC: I believe that typically young people have such an open minded attitude to various types of music that are played at classical concerts. Looking back at that Jugendkonzert in Munich, in my view they donít really differentiate between the contemporary music of Dutilleux and the traditional music of Mendelssohn. Maybe they lack the prejudices that older audience members can develop.
†
ME: Youíre right. Youíre absolutely right. Iíll never forget some years ago I went and worked with a youth orchestra in Australia. We did an enormous amount of music with them. I remember doing an American programme. We did Gershwinís An American in Paris which is great, immediate, fun music. I did Charles Ives as well; two pieces from his Holidays Symphony which are very complicated and very difficult to understand. I did Washington's Birthday and The Fourth of July which are movements representing different seasons of the year. They are brilliant pieces and those two are the ones that I have done the most often. So I came in one morning and said to the orchestra ďRight we are going to do the Gershwin nowĒ and the youth orchestra said ďOk, Gershwin thatís fine.Ē Then I said to the youth orchestra ďRight now weíll do the Charles IvesĒ and the youth orchestra said ďOk, Charles Ives thatís fine.Ē Now when I was in America with the renowned Cleveland Orchestra I said ďNow weíll do the Charles IvesĒ and they said ďWhy are we doing this stuff maestro?Ē
†
MC: And Charles Ives is one of their own composers; born and bred in the USA.
†
ME: I know. And these Australian kids were completely unfazed. They saw it as difficult, they worked at it and they played it beautifully. But what was noticeable was how they accepted the music without prejudice. Thatís what I believe in, trying to get people to throw away their prejudices and not to have fear. We had a marvellous example on Saturday night when we played Harmonium by John Adams a composition for chorus and orchestra. It was written for the conductor Edo de Waart and the San Francisco Symphony Orchestra, oh, some thirty years ago now. Itís a setting of three poems by John Donne and Emily Dickinson and it lasts just over half an hour. Itís very hard for the chorus. Itís the rhythms that are difficult to get. Weíve never done it before at the Hallť and Iíve always wanted to. We followed Harmonium with Beethovenís Eroica which was a fantastic piece of programming because everyone was thinking what the Eroica would be like after that. Now there are friends of mine who I know well and support the Hallť who come to the concerts. I know this because they told me afterwards. They sat down for the concert and said ďAll right darling are you ready for this? Weíre not going to like this one. Letís wait for the Eroica weíll enjoy that.Ē Well they came to me afterwards and said they were completely bowled over by the John Adams. After eleven years of working with the Hallť I hope that people will start to understand that Iím not trying to force-feed them like goose-liver. Iím not saying this will be good for you, come on enjoy it. Iím choosing pieces that I know and that I hope people will respond to, even though they donít know them. Last Saturday for the John Adams we had a most fantastic response from the audience.
†
MC: I can understand the attraction in programming the John Adams an exciting rarely heard work combined with the Beethoven a staple of the repertoire that will be a familiar and comforting score to most people. The work you donít know makes you listen more intently, makes you concentrate, attunes your ear for what is to come next. Rather like refreshing the palate with a sorbet in preparation for the main course to come.
†
ME: I couldnít agree more.
†

†
3.4 Broadcasting Live Concerts and Operas to Cinemas and Internet Streaming.
†
MC: Only a few days ago at the cinema with a group of friends I saw a transmission of you conducting Francesco Cileaís opera Adriana Lecouvreur from Covent Garden featuring Angela Gheorghiu and Jonas Kaufman. Prior to that at the cinema I saw Verdiís Macbeth broadcast live from Covent Garden conducted by Pappano. The New York Metropolitan Opera broadcast their performances live to cinemas and theatres around the world. I believe this is becoming an increasingly important source of income for them. Then there is the Berlin Philharmonicís excellent Digital Concert Hall on which Iíve watched webcasts of live concerts on the internet several times. They also have interviews and reports and this media project forms part of the orchestraís education programme; which is a great way of reaching out to young people in schools. I was wondering if the Hallť had considered streaming their concerts live?
†
ME: I think that it would be a wonderful thing for us to do. But you have to understand that each year we have to raise our money just to survive. When I became music director eleven years ago I said that I wouldnít come until the finances were sorted out. Weíre just on the edge now of tightening our belts really quite considerably. We just hope our audiences keep coming because in times of economic recession people need the spiritual content of their lives to be really engaged in many different ways. People need music and performance so we are hoping that the public will still support us but that sort of initiative would cost us an incredible amount of finance to start up. But you are right we should think about it. We should consider whether or not as the years go by it becomes more crucial for getting the orchestraís quality known all over Europe.
†
MC: I believe the Hallťís international reputation as one of the worldís oldest orchestras and their associations with Beecham; Sargent and Barbirolli make the Hallť an excellent brand name. There must also be considerable advantages for being the first British Orchestra to do it.
†
ME: Absolutely. People know the Hallť name without knowing it was the name of a person; our founder Sir Charles Hallť.
†
MC: So you would consider getting involved with media streaming. But now is not the right time owing to the economic climate?
†
ME: Yes. Iím not sure that now is the time unless we could find sponsorship. Really we need sponsorship all the time in order to pay our wages, in order to keep the orchestra alive. When people who invest money all over the world are not getting the returns from their investment they donít have the slack to give us the funding. [Note: Interestingly, one of the Hallťís major sponsors is Siemens a leading global technology services company.]
†
MC: I could tell from your short announcement on the stage before last nightís concert how much you value your sponsors at the Hallť.
†
ME: We are doing really well in attracting good sponsors. I think we are doing much better than many of our colleagues. I entertained three of our major sponsors the other night just to thank them and to say how important they are to us for giving substantial amounts of funding. Weíre appreciative of the local councils too; many of whom were there last night in the audience at the Bridgewater Hall. Itís important that they all come because itís a public manifestation of the support given to us by all these towns around ManchesterÖ But itís a tricky time to put it mildly.
†
[Note: Currently Sir Markís delightful semi-staged performance of Humperdinckís opera Hansel and Gretel (abridged version) with the Berlin Philharmonic from 2006 at the Berlin Philharmonie is available to watch for free. Highlights from the performance can be seen in a trailer on their Digital Concert Hall. I just loved the superb performance from soprano Michaela Kaune as Gretel. Link: http://www.digitalconcerthall.com]
†
Michael Cookson
†