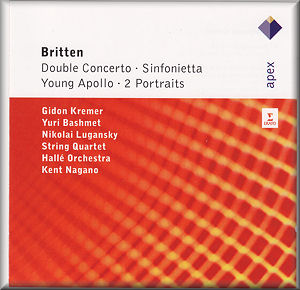 Benjamin BRITTEN (1913-1976)
Young Apollo for piano, string quartet and strings, Op. 16 (1939) [7:06]
Double Concerto in B minor for violin, viola and orchestra (1932) (realised by Colin Matthews) [21:22]
Two Portraits (1930) [14:56]
Sinfonietta for chamber orchestra, Op. 1 (1932) [14:37]


Gidon Kremer (violin) (Double Concerto); Yuri Bashmet, (viola) (Double Concerto, Portrait No. 2); Nikolai Lugansky, piano (Young Apollo); String quartet (Young Apollo) (Lyn Fletcher (violin), Dara de Cogan (violin), Tim Pooley (viola), Peter Worrall (cello))
Hallé Orchestra/Kent Nagano
rec. February 1998 (Double Concerto, 2 Portraits), November 1998 (Young Apollo, Sinfonietta), Bridgewater Hall, Manchester, UK.


WARNER CLASSICS APEX 2564 67391-7 [58:38]



I recall this disc of early Britten works being first issued in 1999 on Erato 3984 25502-2 and then released on a further two occasions. It is good to have these performances back in the catalogues again and this time on the Warner Apex label. Both the Double Concerto and the Two Portraits receive their first recordings. These are early works written when Britten was in his mid-teens to mid-twenties. They reveal themselves as high quality scores from a precociously talented composer.

The opening work is Young Apollo for piano, string quartet and strings, Op. 16. In 1939 Britten and his long term partner, the tenor Peter Pears, stopped off in Canada on their way to the USA. There Britten received a commission from the Canadian Broadcasting Corporation for a 'fanfare' for piano and orchestra which he composed in Woodstock, New York State. Britten explained in a programme note that the score was inspired by the final lines about the sun god Apollo from John Keats's unfinished epic poem Hyperion. The première of Young Apollo was given in August 1939 by the Canadian Broadcasting Corporation with Britten as soloist with the CBC String Orchestra under Alexander Chuhaldin. In December 1939 Britten as soloist gave a further broadcast performance of the score in New York before he decided to withdraw the work. Three years after Britten's death it was revived and the UK première was given in June 1979 at the Aldeburgh Festival by the ECO under Steuart Bedford with soloist Michael Roll. Undeserving of its relative neglect Young Apollo is a score that I have always enjoyed.

With the Hallé under Kent Nagano I was struck by the forthright opening from soloist Nikolai Lugansky. A forcefully recurring A major scale over dark and shadowy strings achieved a significant climax at 1:26. Throughout Lugansky and the Hallé strings provide splendid playing that is both thrilling and intense. It is hard to imagine this satisfying performance being bettered.

The Double Concerto in B minor for violin, viola and orchestra is an early work from 1932. Britten only completed the concerto in draft short score. In 1997 Colin Matthews edited the draft and prepared a full score for performance. It was the Britten-Pears Orchestra under Kent Nagano who gave the première in June 1997 at the Aldeburgh Festival with Katherine Hunka (violin) and Philip Dukes (viola) as soloists.

With world renowned soloists Kremer and Bashmet the Double Concerto could scarcely have finer advocates. In the opening Allegro one is struck by the turbulent and highly emotional brass laden writing. A soothing passage at 2:03-2:30 serves to relieve the tension. From 5:28 the restlessly assertive music calmly fades away. Titled Rhapsody the central movement has a sinister opening section with Britten's introspective writing carrying a distinctly dark and uneasy quality. In the closing movement an extended drum tattoo underpins the near frenzied writing for the soloists. Varied and restless orchestral writing serves to add to the unsettling nature of the soloists parts. At both 5:01-5:48 and 6:25 to the conclusion lighter orchestral accompaniment coaxes relative calm from the soloists. Evocative of a misty early morning Fenland scene the music fades away gently. This is a fine performance throughout from Kremer and Bashmet so assured and expressive.

Composed in 1930 the Two Portraits were intended as musical sketches of both Britten and a school friend. They stem from around the time the seventeen year old composer had left Gresham's Public School in Norfolk and was waiting to attend London's Royal College of Music. These Two Portraits were described by the composer as Sketch No. 1, 'David Layton' and Sketch No. 2 'E.B.B.' It seems that a third sketch representing Peter Floud was left incomplete. David Layton and Peter Floud were both pupils at Gresham's School and Sketch No. 2 'E.B.B.' was depiction of Britten himself (Edward Benjamin Britten) featuring his own instrument the viola. The première of the Two Portraits was given in December 1995 in a Radio 3 broadcast with viola soloist Michael Gerrard and the Northern Sinfonia under Martyn Brabbins. Although performed in public as separate pieces the first complete concert performance of the Two Pieces was given in June 1996 at the Aldeburgh Festival with violist Stephen Tees and the City of London Sinfonia under Steuart Bedford. The Two Portraits may have been merely sketches from Britten's adolescence nevertheless they are scores of significant gravitas.

The Hallé Orchestra is under Kent Nagano in Piece one 'D. Layton'. A Poco presto for strings provides a starkly ominous introduction. Britten's writing soon shows itself as determined and edgy. A dark and tense undercurrent remains throughout yet the music offers a curious appeal. I sensed that Britten might have felt frightened and insecure about D. Layton's character. The second piece 'E.B.B' marked Poco lento for viola and string strings has a similar disposition. The weeping solo viola of Bashmet weaves a tender melodic line over stark accompaniment. A mood of uncertainly and vulnerability inhabits this musical self-portrait of Britten.

A product of Britten's time as a student at the Royal College of Music, the Sinfonietta for chamber orchestra from 1932 was his first official published work. Britten dedicated the score to his onetime composition teacher the composer Frank Bridge. The première of the Sinfonietta was given at a Macnaghten-Lemare concert in January 1933 held at The Ballet Club (Mercury Theatre), London and performed by the Macnaghten String Quartet and the English Wind Players under Iris Lemare.

Dissonance pervades the opening movement helping to create a dark and rather shadowy effect with the nocturnal woodland scene lit with rare shafts of moonlight. Distinctive horn-calls punctuate sections of the movement which concludes sharp and aggressive. The central movement is designed as a theme and variations. Not typical Britten this is bright and perfumed music with an intensely romantic quality like a depiction of a love affair. A change of mood at the central section at 3:01-3:20 with the horns and woodwind glaring and spitting out over low strings provides a disconcerting sense of anguish. Vigorous and unsettling the Finale a Tarantella is highly energetic music of significant forward momentum. I felt an undertone of trepidation running through the music as if looking over ones shoulder in fear. The conclusion contains that now common horn-call.

Recorded at the Bridgewater Hall, Manchester the sound quality is to a high standard being clear and well balanced. With regard to the booklet essay I regret to report that there isn't one; Apex have left just a blank page. Containing four splendid early scores that aptly demonstrate Britten's precocity this Apex disc is a must for all his admirers.

Michael Cookson

see also review by Paul Conway (original Erato release)