Joanna Leach (1937-2011) - a tribute from Mike Beville and Andreas Boyde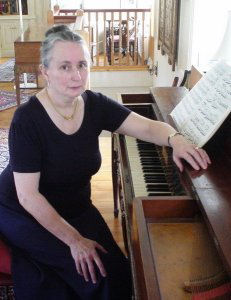 Joanna Leach, pianist and record producer died on 8th April, 2011 after 9 years of fighting ovarian cancer. Joanna was born in Calcutta, British India in 1937. The family returned to England and settled in Cornwall after the war. Her grandmother was an accomplished pianist and Joanna was exposed to music from an early stage. She went on to study in Vienna under Josef Dichler and in London with Peter Katin. She gave recitals at the Wigmore Hall, Purcell Room, St. John's Smith Square and also at the Franz Liszt Academy Budapest both as soloist and chamber musician. However, her prodigious talent was fully realised when she discovered her love for English square pianos of the late 18th /early 19th century. This new musical discovery led to the launch of Athene Records, a label that specialised in period instruments.
The first CD was released in 1991 with Joanna Leach performing the John Field Nocturnes on three period square pianos. Bryce Morrison of Gramophone wrote: "She most persuasively suggests an intimacy and transparency of sound hard to parallel on more modern brilliant and forceful instruments . . . Any singer on hearing these performances would surely congratulate Leach on her 'vocal' line, so richly and delicately embellished." This was the beginning of a series of CDs that amplify her unique approach to some of the well known repertoire performed within an authentic setting. Her artistic accomplishments were internationally recognised and her discs were selected by encyclopedic guides as benchmark recordings.
Joanna Leach produced a series of other artists and the label branched out in 1996 to include recordings of contemporary instruments, live concert broadcasts and orchestral performances. Divine Art Recordings Group continues the legacy of Athene Records.
Despite her illness Joanna continued as an active performer and her last recordings made in late 2010 and in March 2011 show her at the height of her artistry. On Saturday 16th April, German Radio is highlighting one of her Field Nocturnes.
CD reviews on MusicWeb International
<!- paste above here ->