Edward De Jong
Hallé's First Flute
By Stuart Scott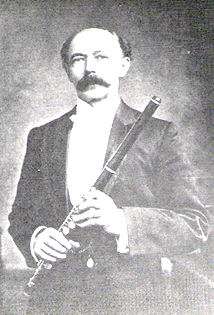 During the 1850s, music in Manchester underwent a transformation which put the city's music-making onto a world footing – the two people largely responsible for this being Charles Hallé and Louis Jullien. In December 1856, while Charles Hallé held an audience spellbound with what was probably the first public performance in Manchester of Beethoven's 'Emperor' concerto, Louis Jullien (1812-1866) was putting on a concert with his own orchestra.
 
Jullien's concerts were of a more popular character and he gained a following both for himself and the music he presented through showmanship, flamboyance and musicianship. He spared no expense in engaging the world's most famous soloists and orchestral players of the highest rank, and raised the popularity of orchestral music in Manchester more than either Hallé or anyone else at that time. Jullien often presented his own skilfully composed quadrilles and performed as a piccolo soloist himself on numerous occasions, to the delight of his audiences.
 
Edward De Jong (1837-1920) was a member of Jullien's orchestra for some time and was greatly influenced by him but he was later mainly associated with Hallé's ventures. Almost a year before Jullien's farewell concert (on New Year's Day, 1859), he was appointed principal in Hallé's orchestra. De Jong first played in the Arts Treasures Exhibition Orchestra of 1857, which was an augmented orchestra from Hallé's Gentlemen's Concerts and was engaged especially for the Exhibition.
Hallé was so pleased with the Exhibition performance that he decided to keep the band together; on 22 October 1857 his new orchestra (with De Jong as principal flute) performed at the Free Trade Hall under his direction. It was not until 30 January, however, that the Hallé Orchestra, as we know it today, gave its first public concert in Manchester. In his first public series of concerts, Hallé (taking a tip from Jullien) made a large number of cheap seats available, thus enabling far more people to attend.
 
De Jong maintained a high profile during his time as principal flute with the orchestra, with regular solo appearances. His first, in September 1858, was a performance of Boehm's Fantasia on Scottish Airs, at one of the Wednesday concerts. Later that year he performed a Grand Selection from Il Trovatore and Boehm's Fantasia on Beethoven's 'Le Desir'. Indeed, Boehm's works seem to have figured highly in De Jong's repertoire at this time as there were also performances of the Fantasia on German Airs, Fantasia on Swiss Airs and the Fantasia on Swiss Boy.
 
In November 1859, Hallé started his season of public concerts and Mr Berry (second flute) was replaced by R. Charlton, who remained with the orchestra until De Jong left in 1870. Between November 1858 and January 1865, De Jong continued to perform as soloist including his own Scottish Airs, Fantasia on Faust and Fantasia on Lucia di Lammermoor. During this period he also featured solos by other well known flautists – Furstenau's Fantasia on Norma, Richardson's There's nae Luck, Briccialdi's Fantasia on Airs from Lucrezia Borgia and Paggi's Fantasia on Neapolitan Airs. Jules Demersseman was included also, on 12 January 1865, when De Jong took part in a performance of the Grand Duet for flute and oboe with his friend and colleague, Mons. Lavigne, the principal oboist.
 
The last time De Jong performed as a soloist at a Hallé concert was in January 1867 when he played his own rather difficult Fantasia on Faust. Three years followed with no opportunity for solo work because Hallé's concerts now concentrated more on vocal solo appearances and piano solos given by Charles Hallé himself. This no doubt influenced De Jong's decision to leave the orchestra and set up his own Saturday Popular Concerts, providing music much in the style of Jullien. Hallé considered this a rival venture and refused to allow his players to accept engagements with De Jong, in consequence losing several good musicians, one of which was Lavigne.
 
De Jong had an orchestra of sixty players, the flautists being John Taylor (principal) and Eugene Damaré (piccolo). Damaré (1840-1919) had previously toured with the Arban Band and eventually wrote more than 400 pieces, numerous studies and a Flute Method in three volumes, but is only known today for a handful of pieces such as his piccolo solo, The Wren. He was often featured as piccolo soloist at De Jong's concerts and after a performance on 1 January 1874 a Manchester critic wrote: "M. Damaré played some most brilliant and effective variations on the Carnival de Venice in a manner of which it would be almost impossible to speak too highly". At the same concert De Jong played the flute obbligato to a performance of Cardi's L'usignuolo, given by Madame Sinico. Lavigne played his own Fantasia on Airs from Mirella and for the evening performance Demersseman's Duet for flute and oboe replaced Lavigne's solo.
 
The format and content of this concert and all the other Saturday Popular Concerts followed in the style of Jullien, and indeed Jullien put in an appearance at the above-mentioned New Year's Day Concert in the form of a performance of his Quadrille: British Army. Needless to say, De Jong had spared no expense in augmenting his forces for this concert, having secured the services of four soloists, the 7th Dragoon Guards, The 95th Regiment, the Drum and Fife Bands of the 95th Regiment, the 56th Lancashire (Salford) Volunteers and the Pipers of the Scots Fusilier Guards!
 
De Jong's concerts continued to please both the public and the critics, although in the previous year (1873) when he had put on Messiah, Midsummer Night's Dream and Judas Maccabeus, they had proved not too popular with his audiences, and by the end of the year he was looking for more subscribers. Apart from this his concerts still remained popular.
 
It seems that the critics were pleased too, as the response to the opening concert of the 1873-74 season was greeted with the words: "Mr De Jong, on the flute, played his own well known Fantasia on Faust admirably". In the same month (25 October 1873) he introduced his new song, A Twilight Carol with flute obbligato to words by the well known local poet Edwin Waugh. The newspaper critic noted "… a graceful and melodious composition with a flute obbligato which was played by the composer and the vocal portion expressively sung by Madame Rita, brought down the house and led to its repetition". On 1 November, De Jong stepped in with a solo to cover for the indisposed Madame Patey and once again received the admiration of a Manchester
critic: "How Mr De Jong played his interpolated solo, his performance always possessing a uniform excellence". Damaré's piccolo solo on Airs from Lucrezia Borgia given a week later was encored and he was declared the best piccolo player Manchester audiences had ever heard.
 
But the success for the flute and flautists of Mr De Jong's Popular Concerts was beginning to fade, as in the following year De Jong found it necessary to repeat his plea for more financial assistance in the printed programme for 21 February 1874. On the 27th the raising of funds continued with a Benefit Concert, for which occasion the members of De Jong's orchestra kindly offered their services gratis and the Bands of the 7th Dragoon Guards and the 95th Regiment volunteered to take part, along with thirteen soloists, choir and organist.
 
Although the Popular Concerts soon came to an end, De Jong found it difficult to leave Manchester and the North of England and he continued to conduct concerts in the region at venues such as Buxton, Morecambe and Liverpool. He was just as successful at conducting as he was at playing the flute and composing for his instrument.
 
It is hardly surprising that such a successful musician should also be in demand as a teacher, and in 1893 De Jong joined the Royal Manchester College of Music staff as Flute Professor along with his colleague Jean Firmin Brossa being paid at the rate of 7/6d per hour. He remained in the post until 1906, when Vincent Needham, a pupil of
both De Jong and Brossa, succeeded him. When one looks at De Jong's list of pupils it is very easy to support claims made for his expertise as a teacher: Vincent Needham, Albert Fransella, Halstead, Samuels and D.S. Wood were all to become eminent flautists of their time.
 
When Edward De Jong died on November 20th 1920 at Sulby, Isle of Man, aged 84, he was one of the last members of the original Hallé orchestra to do so. He had started life on March 1st 1837 at Deventer in Holland first playing in public when only seven years old and according to Macaulay Fitzgibbon arrived in England in his twenties "with one shilling and sixpence in Dutch money in his pocket". From such meagre beginnings his career in England blossomed such that the Guardian critic was prompted to say that "Mr De Jong was a genius without eccentricities, unrivalled on the flute for many years and his power over an audience was immense".
 
© Stuart Scott, 2011
 
 
References:
Fitzgibbon, Macaulay The Story of the Flute, William Reeves, London 1913
Manchester Guardian 26 Oct 1873, 2 Jan 1874, 21 Nov 1920.
Scott, Stuart Hallé Flutes, SJS Publications, 1998.



<!- paste above here ->