The NYFA Collection
CD-A
1. Annie Gosfield: Don't Bite the Hand that Feeds Back
2. David van Tieghem: Waiting for the Gizmo - No.1
3. Joseph Bertolozzi: "Meltdown" from Bridge Music
4. Lois V Vierk/Anita Feldman: Hexa
5. Bruce Gremo: ScascadeHo
6. Lukas Ligeti: Triangulation
7. Joel Chadabe: Solo
8. Jose Halac: BLOWN 2 Nicolas Maza
9. Samuel Claiborne: Viola Breath
10. Iconoclast: Accidental Touching
11. Elliott Sharp: Cryptid Fragments
12. Stefan Tcherepnin: Ouvretorture  
CD-B
1. Meredith Monk, arr. Anthony de Mare: Urban March (Shadow) Anthony de Mare
2. Annea Lockwood: RCSC. Sarah Cahill
3. John Morton: The Parting
4. Robert Dick: Eyewitness Flute Force
5. Sorrel Hays: On The Wind Andrew Bolotowsky
6. Elizabeth Brown: "Loons" from Isle Royale Shakuhachi Duets
7. Daniel Goode: Tuba Thrush Flexible Orchestra
8. David Simons: CIPHER Downtown Ensemble
9. JG Thirlwell: 10 Ton Shadow
10. Anne LeBaron, Wadada Leo Smith, Peter van Bergen: An Even Loan
11. Eric John Eigner: Music for Faucet
12. Monteith McCollum: Flight  
CD-C
1. Iconoclast: No Wave Bitte Julie Joslyn, Leo Ciesa
2. Rudresh Mahanthappa: Are There Clouds in India?
3-4. Fred Ho: I Wor Kuen, No Home to Return to. Afro-Asian Music Ensemble
5. BLOB: Robust Bog. John Lindberg, Ted Orr, Harvey Sorgen, Ralph Carney
6. Sidiki Conde: Moriba Djassa
7. John Lindberg: Skip. Tripolar
8. Howard Prince: Pipe Dream
9. Newman Taylor Baker: Bosom of Abraham
10. Laura Kahle: Daize
11. BLOB: Mire
12. Augusta Read Thomas: Love Twitters. Nicola Melville  
CD-D
1. Andy Teirstein: Rhapsody for Boy Soprano and Strings Interschools String Orchestra of New York
2. Bora Yoon: g i f t
3. Mary Jane Leach: Night Blossoms. Kiitos
4. Pauline Oliveros: Sound Patterns and Tropes. University of Wisconsin-River Falls Concert Choir and Percussion Quartet
5. Aaron Jay Kernis: Ecstatic Meditation 4. Volti
6. Paul Motian, arr. Joel Harrison: It Should Have Happened
7. Judith Sainte Croix: Los Pajaros Blancos de la Noche Profunda. Sonora Trio
8. Ray Leslee: Nocturne. Ashley Horne, Barbara Bilach
9. Roberto Sierra: Cronicas 3; Cancion. Society for New Music
10. Jeff Raheb: Zu Twa Szi 4 Laurel Ann Maurer, Peter Matthews
11. Eve Beglarian: We Two + Corey Dargel, Cristian Amigo  
CD-E
1-2. Raphael Mostel: Night and Dawn. Royal Concertgebouw Orchestra Brass Ensemble; Ivan Meylemans, conductor
3-6. George Tsontakis: Gymnopedies. Concert: nova
7. Randall Woolf: Franz Schubert. Esther Noh, Jennifer Choi, Orlando Wells, Joanne Lin
8. Jay Anthony Gach: La Vita Autunnale. MONTAGE Music Society
9. Peter Golub: Less Than a Week Before Christmas. Kiev Philharmonic Orchestra and Chamber Choir
10. Neil Rolnick: "The Gathering" from Extended Family ETHEL
11-13. Lisa Bielawa: Trojan Women. Miami String Quartet
14. Joan Tower: Tambor. Nashville Smphony, Leonard Slatkin    
The New York Foundation for the Arts (NYFA) has been giving fellowships to musicians in New York since 1983, and this 5-disc set collects 52 works by those who have received such fellowships since that time. While the pieces on these discs are not necessarily those for which the musicians received their fellowships, they are new works by these composers. The selection of 52 of the 200 fellows to date is designed to show the range of music supported by this program, which goes from "classical" music to jazz, from odd percussion works to romantic piano, from electronic works to world music.  
It's hard to sum up a collection such as this. Unlike most thematic compilations, this is nothing more than new music by some well-known composers and many that are little-known. From one track to the next it can jump from tonal to atonal, from jazz to 12-tone, from electronic to acoustic.  
Some of the names here are familiar: David van Tieghem, Meredith Monk, Paul Motian and Joan Tower. A handful of others stand out as composers who have made names for themselves over the years. But the majority are names most listeners will be unfamiliar with, some of whose music is being recorded here for the first time.  
It's hard to judge this set on objective criteria. Most likely, any listener will find as many pieces here to love as to hate. There are works that led me to skip to the next track (quite a few of those), and some that are just ridiculous. There are also some amazing gems by composers I'd like to hear more from: who is Jeff Raheb, whose Brittenesque work for guitar and flute,
Zu Twa Szi
, Part 4, pops up on disc four for seven minutes? And what about John Morton, whose
The Parting
, for music box and electronics, written as "an interlude for a Passover dinner," is a uniquely musical and percussive work for an unexpected instrument? Monteith McCollum's
Flight
, from his film "Hybrid," is a modal Glassian work for violin and viola which, in just under four minutes, creates a dense sound-scape. And Andy Tierstein's
Rhapsody for Boy Soprano and Strings
, a haunting 13-minute work that was composed for a dance piece, combines Celtic atmosphere and rhythms with an almost medieval sound.  
I could go on. Out of the 52 works present in this set, there are some real dogs; press the Next button on your remote when you get to them. But my dogs may be your pearls, so who am I to judge? I'll be taking the works that really moved me from this set and making a playlist in iTunes to listen to them in the future. Will you want to do the same? If you're at all curious about new music, you'll want to check this set out; it's chock full of six hours of music, it's available at a decent price, and there are surprises around every turn.  
Kirk McElhearn
And a review of four separately available NYFA/INNOVA discs by Rob Barnett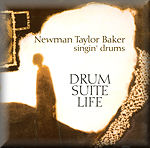 Newman Taylor Baker - Drum - Suite – Life
Singing' Drums, Percussive Voices
Red Brush Blues [8:26]
WB 1 [3:55]
Thank You, Ms. Jones, Hold On! [7:52]
Bosom of Abraham [7:43]
Which Train? [7:33]
Andrew, Milford, and Rashied [5:01]
Marchin' David [5:29]
Handpeace [3:54]


INNOVA 238

AmazonUK AmazonUS
 
Drum-Suite-Life is part of Newman Taylor Baker's Singin' Drums project which reflects a long cherished desire to have the drum set accepted as a solo instrument. There's no denying that Baker is a most skilled and inventive musician. Red Brush Blues is all shushed hush, very delicate, almost ominous and certainly mysterious in its wire-brush swish and patter. WB 1 is more assertive but still stronger on atmosphere than on narrative. Bosom of Abraham has a hard military determination and side-drum rolls and taps. Which train? Is suggestive of the Harlem renaissance yet with gentle texturing. Marchin' David links the marching band tattoo tradition with a dash of African rhythms. Handpeace is very quiet and highly skilled. We are assured that there's no overdubbing or special effects.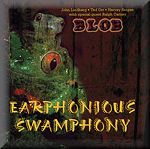 BLOB Earphonious Swamphony
Humidity [3:21]
Leaps and Bulls [4:07]
Blue Trees [2:30]
Muck [4:34]
River Mouth [3:23]
Robust Bog [1:43]
Mire [3:20]
Splash [5:01]
Trickles [3:24]
Sweat [6:35]
Lagoon [3:54]
Heavy Droplets [2:51]
Wind Woods [4:47]


BLOB: John Lindberg: Double Bass, Effects Devices Ted Orr: Electric Guitar, Axon MIDI Guitar Harvey Sorgen: Drums With Special Guest Ralph Carney: Clarinets, Bass Saxophone, Tuba, Bass Trombone, Flute


INNOVA 237

AmazonUK AmazonUS
 
I am not sure what to make of this. It claims that it is a "psychedelic jam band" getting "mucky". The sounds to be heard are pretty much in line with the titles. It's music of the nigh-time swamp with frog noises and shudders and heaving birdsong. You are also confronted with the grinding and grumble of jazzy dissonance and drum-set melee. Blue Trees features primeval creature pulses while Muck plays with cicada noises and wah-wah effects. In River Mouth frogs make 'ribbit' noises. Robust Bog creaks and has the tuba as a lyric voice. Mire has some spiffing watery noises – including one that is reminiscent of the sound of extracting a welly from deep mud. Trickles has a grumbling soliloquy for bass sax and yet more 'ribbit' noises. Sweat takes us back to those nocturnal mangrove noises while Lagoon is fraught with warbling and wibbling – just a hint of The Creature from the Black Lagoon. Heavy Droplets is rife with strange atmospherics. This is music of the Everglades – alligators, exposed roots, writhing snakes, mudflats and high humidity.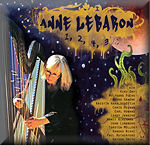 Anne LeBaron 1,2,4,3 - The harp in Improv Land
Heat Wave 1 Anne LeBaron [4:42]
Succulent Blues Anne LeBaron Wolfgang Fuchs Ronit Kirchman Torsten Mueller [10:12]
Rippling with Leroy Anne LeBaron Leroy Jenkins [8:21]
Mirage Anne LeBaron Leroy Jenkins [6:59]
Deleuzion Anne LeBaron Torsten Mueller Chris Heenan Paul Rutherford [10:50]
Principles of the Rhizome Anne LeBaron Wolfgang Fuchs Torsten Mueller Paul Rutherford [4:02]
Make a Map, Not a Tracing Anne LeBaron Torsten Mueller Chris Heenan Paul Rutherford [5:48]
Heat Wave 2 Anne LeBaron [3:42]
Intermezzo Anne LeBaron Wolfgang Fuchs Ronit Kirchman Torsten Mueller [3:00]
Wake Anne LeBaron Georg Graewe John Lindberg [12:31]
Stream Anne LeBaron Georg Graewe John Lindberg [12:04]
Sukkulaoi Scream Anne LeBaron Kristin Haraldsdottir Nathan Smith [9:09]
Into Something Rich and Strange Anne LeBaron Kiku Day Kanoko Nishi [7:28]
Submerged Cavern Anne LeBaron Kiku Day Kanoko Nishi [1:41]
Song of Marble Anne LeBaron Kiku Day Kanoko Nishi [8:10]
Funeral Bells for Harry Partch Anne LeBaron Kiku Day Kanoko Nishi [9:00]
Full Fathom Funayurei Anne LeBaron Kiku Day Kanoko Nishi [3:05]
Lagniappe: Hourglass of Stars Anne LeBaron Leroy Jenkins Earl Howard [9:08]


Anne LeBaron, Chris Heenan, Earl Howard, Georg Graewe, John Lindberg, Kanoko Nishi, Kiku Day, Kristin Haraldsdottir, Leroy Jenkins, Nathan Smith, Paul Rutherford, Ronit Kirchman, Torsten Mueller, Wolfgang Fuchs
2 CD set


INNOVA 236


AmazonUK AmazonUS
 
Anne Lebaron and friends rejoice in this generous selection designed to abjure the harp's usual territory. The music is variously delicate, bluesy with a hip-slaloming spatter of notes from harp and percussion. Sukkulaoi scream is a thing of shreds, squeaks and tendrils. Later tracks introduce flickering textures and breathily-blown wind instruments. Submerged Cavern is richly minimal but not at all iterative and the variegated effects include sounds that emulate the noise of sucking through a straw. In other tracks the harp eschews luxury and restricts tself to a monotone and wooden tapping noises before surrendering to shivery desiccation. Lagniappe cannot be heard without recalling the sound of the shamisen.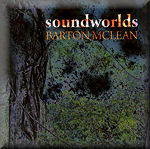 Barton McLean - Soundworlds
Concerto: States of Being Barton McLean Petersburgh Electrophilharmonia [14:32]
Ritual of the Dawn Barton McLean Linda Green E. Michael Richards Barbara DeChario Keith Notrab [15:36]
Demons of the Night Barton McLean [6:48]
Magic at Xanadu Barton McLean [8:53]
Ice Canyons Barton McLean [8:23]
Rainforest Images II Barton McLean Priscilla McLean; Panaiotis [20:03]


Barton McLean Barbara DeChario Bart's Home E. Michael Richards Keith Notrab Linda Green; Panaiotis; Petersburgh Electrophilharmonia; Priscilla McLean


INNOVA 234


  AmazonUK AmazonUS

Of the four Innova discs this was the one that held the greatest attraction for me. Ice Canyons is a fantasy in which the simulation of a string orchestra is heard to intensely romantic effect. Rainforest Images II bristles with dripping condensation and birdsong - actual birdsong sampled in the rainforests of Peru and Australia. It is dense with activity. Concerto: States of Being is in three movements. The first is sheerly lovely with the tinkling complexity of harp and piano. The middle movement makes free with melodic strands of DNA and manic little gurgles. Ritual of the Dawn was written at the MacDowell Colony. It is a piece of Debussian warmth written for a chamber ensemble of six. Demons of the Night uses electronic gurgling capering and is suitably melodramatic. Magic at Xanadu is a live studio track with keyboards and computer - more of a pizzicato and gurgle job.
 
Rob Barnett
 
<!- paste above here ->