Until reading Stephen Walsh's excellent biography of Stravinsky, I hadn't realised quite the involvement there had been between him and Pierre Boulez. This ranged from the uneasy anti-neoclassical stance of the younger composer against Stravinsky and his ally Nadia Boulanger in the early 1950s, their symbiotic relationship across the Atlantic, through and beyond the success of a 1963 celebratory concert of which Pierre Souvtchinsky said of Boulez, "... anyone who starts conducting like that will soon stop composing." Whatever you think of Boulez as a conductor or composer, what you are getting here are top class recordings from someone who forms a bridge back to the time that Stravinsky, though already an establishment figure, was still a source of debate and controversy amongst members of the creative melting pots in the western world.

This new box set from Deutsche Grammophon brings together all of their Stravinsky recordings directed by Boulez, made over a period of about 15 years between 1980 and 1996, into one slimline package. The chances of your having one, more or all of these discs in your collection is fairly large, so I've included the cover art of the originals discs to jog your memory and provide an at-a-glance reference to current stocks. If you keep score, it will soon become clear if purchasing this budget re-issue will be worth your while.

Looking through my own collection, I know there are lamentably few of these classic discs in residence. I would normally plead poverty, and in this regard can join in with the celebrations that go with seeing the arrival of this new budget collection. My main reason for coming fresh to most of these recordings is however that they have long been overtaken by other labels that offer similar quality at bargain price, and the need for them has been diminishing on fairly constant downward curve over the decades since they were first released. The Naxos Robert Craft edition for instance, which has drawn on the Koch and MusicMasters labels' back catalogue as well as producing their own frequently magnificent recordings of this repertoire. Boulez's own 1969 recording of the Symphony of Psalms still competes with the DG version in its Sony incarnation, and my own principal reference has more often than not been Sony's formerly expensive and coveted Complete Edition, now available in a big bargain box which may not always deliver the utmost in refinement, but invariably delivers a flavour of the times from which the music originates, and often exceeds expectations in terms of quality given the vintage of some of the recordings. Coming to these Boulez recordings more or less fresh and finding them all at once jostling for attention in the lowlier budget sections, we can brush off their perceived elevated value and status, and judge them with their new 21st century face.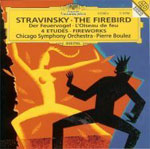 Interpretative aspects aside, what you are guaranteed with these recordings is top class playing, and Boulez's famously intense and critical ear for intonation and detail. DG's recordings are all pretty stunning as well. This account of The Firebird may not be the most atmospheric or exotic on record, but each moment carries the emotional weight communicated by performers who are giving their all - within strictly given parameters of refinement of course. Boulez manages to strike a balance with the segmented nature of the score, which actually suits his sense of accuracy and ability to stop and turn on a dime, along with a sense of the wide balletic arc which is also a strength of the piece as a concert work. The emotional focus reaches its climax with that Infernal Dance, which is of demonstration quality on this recording, followed immediately by the dolorous Berceuse. The sense of dark and light is presented powerfully, bittersweet sonorities dragging the warmer orchestrational style of Rimsky-Korsakov into the colder light of a revolutionary period in which social and political turmoil were constantly close at hand. This is a work Stravinsky himself conducted regularly, and his 1961 CBC Symphony Orchestra recording shows how a much more secretive atmosphere can be created in this music, how much greater the quicksilver extremes of wit and dagger-sharp violence can be conjured. Boulez is good, but not great in this regard, a worthy but overdone feeling of technical security hanging over a piece which should create a sense of passion and danger.

Another early work, the coupling with Fireworks is a logical one, and the orchestral dynamic and colour is magnificent in Boulez's recording. Stravinsky comes in a few seconds under Boulez's timing, creating a more desperately urgent feel of energy and spark, but with the brass sometimes barely coping with its swings and roundabouts. With the greater modernity of Quatre Études Boulez is in his element, certainly more so than the CBC players in 1962, who perform well but with an air of cautiousness, feeling their way from section to section. Familiarity with Stravinsky's sonorities and rhythmic idiom create a greater space for Boulez to develop this music's expressive qualities as well as its modernist if still ritualistic impact, resulting in a very fine recording indeed.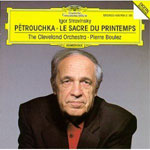 CD 2 brings us to two works which, if you haven't heard them, you really need to consider having your musical world altered significantly by taking them into your experience. Both of these works are central to the 20th century's orchestral canon, and Pétrouchka has left its stamp on a wide range of music since its composition, including some of Tom and Jerry's best soundtracks. Le Sacre du printemps created a riot on its first performance, and like Picasso's Les Demoiselles d'Avignon, helped push the world of the arts kicking and screaming into the hot and bloody machinery of the 20th century. Boulez once again gives us such a focus of accuracy that, familiar with the pieces, one can have a real sense of vertigo, gazing into each musical moment with both microscopic detail and a grand feel of scale and occasion. The burlesque of Pétrouchka is portrayed in an almost cinematically spectacular style in this recording, and the music responds well to such a succulently delicious recording. Rawness and energy characterise Stravinsky's own 1960 recording, and if you can live with a less refined orchestra and occasionally slightly overloaded old analogue tape - congested rather than distorting - then the old original will probably impress just as much. There are some marvellously luminous benefits from modern technology of course. That glorious Shrovetide Fair rarely sounded so good, and as ever The Cleveland Orchestra displays its sheer class at every turn of the page.

This recording of Le Sacre du printemps under Boulez has been criticised in the past for its rather leisurely tempi, and once again that undertow of threat and danger which makes this music so potent is more of a latent undertone than a direct assault on the senses. Boulez does have an authentic sense of the elemental however, and as with The Firebird builds his performance with a wider sense of architecture, saving the main impact of the musical message for true climaxes. This makes Stravinsky's 1960 Columbia Symphony experience a good deal more gritty and intense from start to finish, but doesn't mean that Boulez can't pack a punch when the score demands. The question is one of believability - of conviction that you can imagine all those primeval rituals and games, or someone literally dancing themselves to death. The sheer genius of the score will always bring a tear to my eye, and does in both cases. With Stravinsky's old recording I still however have that sense of surprise, the feeling that things might go off the rails and end differently to the last time I listened. It's like that story of the book which never tells the same tale twice, though you can't exactly put your finger on where the narrative alters course and brings you to a disconcertingly different place each time. Boulez has more that feel of an established pattern, of a tradition which has grown around the music, teaching us what to expect, giving us that 'wow' factor but never quite tearing out our own inner fears and shaking them in front of our terrified faces in a fist full of mud and sweat. It's a personal thing I suspect, and this is still a tremendous performance and very much worth having, but the elation at having survived beyond the end of the performance is still very much Stravinsky's own reward to us.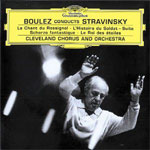 Re-discovering great music is one of the true benefits of reviewing, and disc 3 of this set is a genuine highlight. The programme is a bit of a mixture, but this is one of Stravinsky's characteristics, eclectic and extreme, but instantly recognisable. With no criticism of what is an as good as perfect disc, there is just room for a few agreeable comments. The Scherzo fantastique is a brilliant youthful work, full of shimmer and shine, and this is just the way Boulez presents it - energetic and lively, effervescent, out to impress but with a romantic core which harks back to earlier times. Le Roi des étoiles is a strange and tricky piece to bring off well, the intonation of the male voices in the major/minor tonalities sounding strange even when pitched well as they are here. The sonorities are deep and affecting in this recording, and I for one hear things that must have had their effect on Olivier Messiaen. This is one of those pieces which resonates for far longer than its brief duration, and this performance rivals all comers. Le Chant du Rossignol is a blockbuster symphonic poem, and to my mind Boulez gets the balance of impact and subtle detail exactly right. Just hear the interaction of winds and those gorgeous solos, the touches of colour in the string sound, all helped with a width of spectrum in the recorded sound which is almost obscenely eloquent. L'Histoire du Soldat in its concert-suite form still breathes both a swanky jazziness and the crisp Swiss mountain air in which it was written. Boulez has this music so well under his skin that it flows with almost careless effortlessness. Such an effect is the result of meticulous preparation, but with an absolute trust in his musicians one can sense relaxed enjoyment as well as a fascinatingly intense sense of narrative. The clarinet and bassoon duo which opens and closes the Pastorale suspends time, and the deceptive simplicity in the music is carried with supremely appropriate expression, shape and sheer fun by all of the musicians involved - dig that bass as well in the final Marche triomphale du Diable - phwoaar.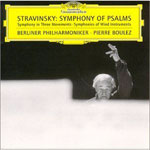 Boulez: waving, or drowning? It's a shame we lose that striking cover design with this kind of re-issue, but you can't have everything. CD 4 is entirely symphonic, though with Stravinsky it is rarely to be expected that even the conventionally titled should follow convention. The Symphonies d'instruments à vent does what it says on the tin, the word 'symphony' in this case more strongly associated with its original Greek derivation, meaning a 'concord' or 'harmoniousness of sound'. Strangely, Boulez again sounds slow, though his 9:16 timing barely differs from Stravinsky's own at 9:10. Perhaps my memory is playing tricks, but I seem to recall a great deal more energy and colour from Charles Dutoit with his Montreal forces on Decca. This is a fine performance, but didn't stir me as I might have hoped. The Symphonie de psaumes is one of the last century's true masterpieces, combining Stravinsky's fascination with antique contrapuntal techniques, his religious faith and sheer sense of vision. This is one of the pieces Robert Craft has conducted very effectively, available on Naxos 8.557504. Neither versions will disappoint, nor do they differ in particularly significant ways. With a marginally warmer choral sound and the Berlin Philharmonic as a rock-solid platform over which the singers can flourish I would however pick the Boulez over Craft's recording, though I do like the way Craft allows the horns and other brass to whoop in the final Alleluia movement. The Symphony in Three Movements is a piece I used to like best on the swinging recording James Conlon made with the Rotterdam Philharmonic on the Erato label. I don't see this available anywhere now which is a shame, but Boulez does bring us a highly effective performance. Once again, 1961 Stravinsky himself undercuts Boulez in terms of timings, particularly in the first movement at 9:23 to Boulez at 9:56. Half a minute may not seem much, but in terms of sheer visceral excitement it is very telling, and switching back to Boulez after Stravinsky and the former does seem rather leaden-footed. The second movement Andante is also rather over-intellectualised in my book, orbiting at a mythological 6:37 to Stravinsky's more earth-bound 5:59. As you might expect, we get fine playing and gorgeous sound on DG, and there are some striking moments such as those low clarinets 1:50 into the final Con moto, the best of the three movements from Boulez in any case. This is however not really a piece to which one should be able to put up slippered feet, and I didn't find myself climbing the walls and frightening the cat in throes of appreciative ecstasy with this one.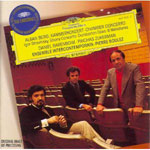 The cover here is the coupling with the Alban Berg Chamber Concerto, but is where the majority of the pieces on CD 5 of this set were to be found in the past. This is one disc I have lived with for many years, and is another case in which I feel the Boulez/Stravinsky combination works best. Filled with masses of striking colours and little instrumental touches which are hidden in many other recordings, the plucked strings and nervy percussion of the Ebony Concerto are clear and present in this marvellous recording, and the energy and vibe which go with it make this one of my all-time favourite recordings of this stunning piece. The Ensemble Intercontemporain and the recording location, advanced electronic music laboratory IRCAM are both very much Boulez's babies, and marvellous solos make this something of a showcase for clarinettists Michel Arrignon in the Ebony Concerto and Alain Damiens in a superb performance of the Three Pieces, and including an eloquently moving Élégie from viola player Gérard Causse. Fine, lively playing also characterises the Eight Instrumental Miniatures and the Concertino for string quartet, its rhythms reminding one of part of the Symphonies of Wind Instruments - logically, as it was the work Stravinsky wrote immediately preceding the latter. This is given a suitably hard-driven and biting performance by the players here. The Concerto in E flat major for Chamber Orchestra better known as'Dumbarton Oaks' is taken more briskly by Stravinsky in his 1964 recording, but here it is the composer who lacks the advantage, sounding a bit rushed, as if he had a flight to catch after the session. Boulez benefits from a more open sound, and provides the music with more ample space in which to develop its intricacies of counterpoint and playfulness of thematic treatment. Late serial works by a Stravinsky exploring atonality and engaging with the avant-garde, the Ensemble Intercontemporain players' supreme accuracy in the miniature Epitaphium and Double Canon are exemplary.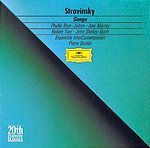 Now thirty years old, this recording of Stravinsky's vocal music brings us some of his most tender musical moments. Unlike more demanding pieces such as Les Noces, many of the songs here are early works and most are little gems. All of the soloists are of the very highest quality and all at the top of their game. If you don't know Stravinsky's songs, the youthful vocalise Pastorale introduces us very gently indeed. Highlights are a personal choice, but the pointillist morsels which are the Trois Poésies de la lyrique japonaise are breathtaking musical moments. Stravinsky in pictorial mood can be enjoyed to the full in the birds which inhabit the Three Little Songs, and the confluence of urbane French and stern Russian idioms is rarely closer than in some moments of Pribaoutki. Even cycles with more modernistic elements such as the Berceuses du chat and Four Songs are filled with delightfully descriptive wit, and Stravinsky's restless search for new combinations of sonority in his instrumental accompaniments is a voyage of discovery in itself. Two versions of Tilim-bom back to back, the first with flute and plucked strings and the second with chamber orchestra including timpani, illustrate this perfectly. The final tracks reach into Stravinsky's later period, exploring regions atonal, but maintaining sympathetically idiomatic vocal writing, eschewing extremes of angularity in the expressive Three Songs from William Shakespeare. Two of the pieces which mourn the loss of two prominent figures who appeared briefly in Stravinsky's life are given beautiful performances here, the instrumental ensemble's restrained accompaniment a counterpoint to the Elegy for J.F.K., and Dylan Thomas's text "Do Not Go Gentle into That Good Night". Stravinsky re-instrumentated Bach and others constantly during his lifetime, and the Two Sacred Songs which close this disc are beautifully crafted arrangements of songs for Hugo Wolf's Spanisches Liederbuch.

Competition for this box from the conductor himself exists in the Sony Boulez Edition, but this only contains two discs of Stravinsky including The Rite of Spring, Petrouchka and suites The Firebird and Pulchinella. In general terms and taken as a whole, this 6 CD box has to be seen as a bargain, and a fine place to discover some of the most important music of the 20th century. The low price is reflected in the presentation however, and it is a shame that the original booklet notes for each disc have been replaced with an essay, 'Nothing Stays the Same' by Wolfgang Stähr which, while throwing some light on Boulez's shifting attitude to Stravinsky's music and status, is generalised and by its nature subjective. While I find myself left cold by Boulez's conducting of a few of these pieces, taken in isolation they do create their own atmosphere and will certainly grab newcomers with an impressively powerful grip. There are no weak performances here, just others to be found which whip up a greater sense of danger and excitement. This is the best of times to treat yourself or a favoured friend or relative to some top-notch music, and this little box contains marvels enough for all.

Dominy Clements
Track details
CD 1 [59:57]
L'Oiseau de feu (1910) [46:19]
Feu d'artifice op.4 (1908) [3:54]
Quatre Études [9:36]
CD 2 [68:32]
Pétrouchka (1911) [35:03]
Le Sacre du printemps (1911-13) [33:29]
CD 3 [64:46]
Scherzo fantastique op.3 (1907-08) [11:28]
Le Roi des étoiles (1911-12) [5:30]
Le Chant du Rossignol (1917) [20:41]
L'Histoire du Soldat (suite, 1920) [26:58]
CD 4 [52:05]
Symphonies d'instruments à vent (1920) [9:16]
Symphonie de psaumes (1930) [20:09]
Symphony in Three Movements (1942-45) [22:40]
CD 5 [50:55]
Ebony Concerto (1945) [8:52]
Three Pieces for Clarinet Solo (1918) [4:04]
Concertino for String Quartet (1920) [6:35]
Eight Instrumental Miniatures [7:17]
Concerto 'Dumbarton Oaks' (1938) [15:19]
Élégie for Viola solo (1944) [5:11]
Epitaphium for Flute, Clarinet and harp (1959) [1:37]
Double Canon for String Quartet [1:41]
CD 6 [58:07]
Pastorale (1907) [1:56]
Deux Poèmes de Paul Verlaine (1910) [4:55]
Two Poems of Konstantin Balmont (1911) [2:51]
Trois Poésies de la lyrique japonaise (1912-13) [3:19]
Three Little Songs (1906 rev. 1913) [3:05]
Pribaoutki (1914) [4:26]
Berceuses du chat (1918) [3:52]
Four Songs [5:07]
Tilim-bom [1:12]
Song of Parasha [2:10]
Three Songs from William Shakespeare (1953) [7:20]
In memoriam Dylan Thomas (1954) [7:48]
Elegy for J.F.K. (1964) [1:47]
Two Sacred Songs (H. Wolf arr. Stravinsky 1968) [7:37]
CD 1; Chicago Symphony Orchestra, rec. Chicago, Orchestra Hall, December 1992.
CD 2; The Cleveland Orchestra, rec. Cleveland, Masonic Auditorium, March 1991.
CD 3; The Cleveland Orchestra and Chorus, rec. Cleveland, Masonic Auditorium, November 1994 (Scherzo) and February 1996.
CD 4; Berliner Philharmoniker, Rundfunkchor Berlin, rec. Berlin, Philharmonie, February 1996.
CD 5 Michel Arrignon (clarinet, Ebony Concerto), Alain Damiens (clarinet, Three Pieces), Gérard Causse (viola, Élégie), Ensemble Intercontemporain, rec. IRCAM, Centre Georges Pompidou, Paris, 1980, 1981, 1982.
CD 6: Phyllis Bryn-Julson (soprano), Ann Murray (mezzo), Robert Tear (tenor), John Shirley-Quirk (baritone), Ensemble Intercontemporain, rec. IRCAM, Paris, Festival d'Automne 1980.