BRENNAN JB7 CD storage facility for up to 5000 CDs




Too Many CDs – Too Little Space - Recognise this problem? - Introduction
 
According to Brennan research, the most common CD collection is around 300 CDs but the average number of CDs is 1100 because so many enthusiasts own 1000s of CDs.
 
Over the last few years as I have moved into progressively smaller dwellings – from a large detached house, to a smaller one, to an apartment – I have become increasingly aware that space is a premium consideration. Just ask your wife/partner! A large CD collection (I have approaching 1500; mostly classical recordings) can pose a real problem. Try calculating in monetary terms how much that space costs in relation to the total value of your property. You could be appalled. Then think about how many times you play your CDs. I bet there are a frightening number that you hardly ever, or never put in the CD player. I once brought this thought to the attention of a friend. He had to agree. His collection was enormous. I challenged him to play every single CD in his collection starting from A and finishing with Z. It took him three years of regular dedicated listening.
 
Over the years, I have explored various ways of shrinking the space taken up by my CDs. Before the advent of iPods and now JB7, I managed to cut much space by extracting CDs and their associated booklets and throwing away the surrounding plastic. Instead I installed the CDs and booklets in special purpose-built albums with facing booklets and albums; four to a spread. However this was only a partial solution. The bulging albums - and I have some 20 of them each containing up to 72 CDs and booklets - all take up considerable shelf space. The promise of a solution such as the BRENNAN JB7 seemed too good to pass up. Hence this review.
 
The BRENNAN JB7 equipment on test
 
The JB7 comes in three basic configurations (see below). My test machine was the JB7 160G Metallic . This configuration provides these storages:
2,500 CDs at maximum compression of 128K;
1,600 CDs at compression of 192K (the default Normal setting)
1,000 CDs at compression of 320 K
And 210 at Nil (Lossless) compression
 
The illustration below shows how I placed the JB7 atop of my DENON Receiver DRA-F102DAB and DENON CD Player DCD-F102. The JB7 was later connected to the two BRENNAN bookcase speakers (shown below) via the terminals at the back of the JB7 also shown below. I made regular use of the headphone socket located on the rear of the JB7. I also connected the JB7 to my DENON equipment to play CDs. This will become my default system.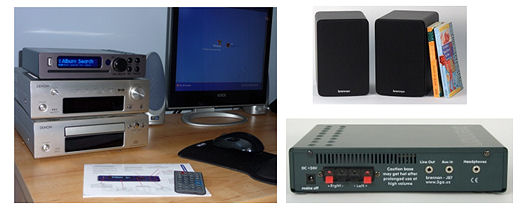 It is recommended that choice of compression is made before recording. I resolved to go for 192K for lighter material and 320K for cherished classical albums.
 
Table showing numbers of CDs stored at the various bitrates and lossless or uncompressed through the three JB7 configurations
               JB7 Configurations:

160G  
320G
500G
128k 
2500 
5000
5000
192k  
1600  
3200 
5000
320k
1000 
2000  
3000
Lossless
210  
420  
630
 N.B. 192k is the default setting - normal compression. 
The illustration below shows the front cover of the JB7 instruction book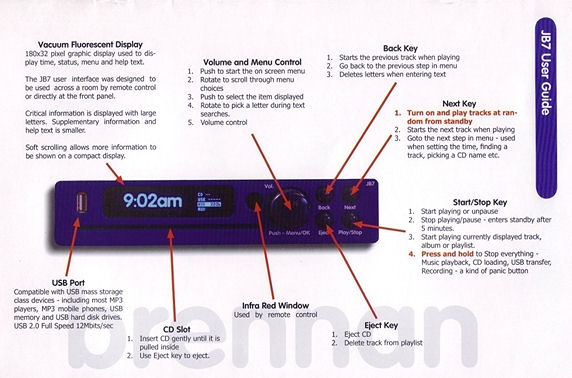 It illustrates the relatively easy use of the machine. The main operations are via the large push/rotate control knob or by the remote control. The main menu can access the sub-menus to allow a great measure of flexibility the sub-menus appearing as subtitles. The menu list is shown as an appendix at the end of this review
 
JB7 comes with a pre-loaded CDDB – an album database of 2.4 million CD albums that includes 250,000 classical titles.
 
Loading CDs is easy. A CD is offered to the front panel slot and the knob pushed to select 'Load CD to HD' I found that I could load an average of 10 CDs in an hour and that included an average of 4 that were not covered by the CDDB and required entering an album title via the small remote control pad. (A slightly larger pad for those who might be 'all fingers and thumbs' would be an improvement). After loading, the JB7 has to be left on in standby to facilitate compression. CDs are stored in the JB7 by consecutive numbering and can be transferred to a series of 7 Playlists. Individual tracks can also be transferred to these Playlists. This is a useful storage device for you can divide your collection up for ease of reference and search. For instance, I chose red for Soundtracks; orange for French Classical Music; Yellow for German Classical Music and so on. Finding your album for Playback is relatively simple. The most direct way is to enter one to three or four letters from the remote control pad referring to the beginning of the title of the album sought and a series of titles will be displayed. Another way is to keep a record of your albums by the number allotted to them and seek accordingly.
 
Facilities to delete album tracks are useful and I was delighted to be rid of surplus unwanted material on so many of my albums. This of course frees up extra recording space. I recommend a thorough examination of one's CD collection and a planned cull of albums and/or tracks before commencing the transfer to the JB7.
 
Quality of playback on the JB7 is remarkably good on the 192K NORMAL compression and I could not detect any loss on the 320K setting. Playback through the BRENNAN speakers is very acceptable for pop and lighter fare. The JB7 has in-built amplification facilities. However, I would imagine most MusicWeb International readers would want to playback their classical collections via their own amplification and speakers.
 
The JB7 has a USB Port on the front panel that allows link-ups to most MP3 players, MP3 mobile phones, iPods, flash memories, USB memory and USB disk drives. To play MP3s on the Brennan is easy. You just copy them from your computer onto a USB memory stick and plug it into the Brennan. You can play the music directly from the USB or copy the files onto the Brennan hard disk. The Brennan text search will find the track just the same.
 
Another boon is the facility to transfer audio cassettes and LPs to the JB7 simply through cable connections. How I wish I had not got rid of all my vinyl five years ago before all this new technology appeared!
 
Brennan recommend back-up using an external hard drive.
 
 
Conclusions
The Brennan JB7 is a useful tool to manage your CD collection. It is small and can easily be assimilated into any hi-fi system and the quality of sound reproduction impresses even at 192K compression. The large display makes for relatively easy use. I say relatively because it takes a little time to know your way around the menu system. The instruction book is not as clear as it could be and I had to contact Brennan on one or two occasions for answers to my queries. The staff were friendly and helpful. Martin Brennan is always considering ways of improving his user help facilities with on-going, on-line help revisions and a Q and A facility on the Brennan web site (http://www.3ga.org.uk/home/) Updates to the CDDB are on-going. As I remarked above the CDDB is often lacking when it comes to classical music and much time can be spent on manually entering titles.
 
It is interesting to note that as I began to load up my CDs I became aware that so many tracks or albums could be dispensed with – e.g. just how many recordings of Beethoven's Fifth do you really need and more to the point how often would you play them anyway?
 
One of the problems still remaining though is how do you deal with box sets and I am particularly thinking of operas or oratorios where you need to keep the booklets for the librettos. These box set booklets are usually quite fat. So I resolved to keep my box sets intact and file them in those plastic boxes, obtainable from Staples, for instance. The other major problem is the necessity for classical music collectors to keep their CD booklets for their often invaluable notes. Until somebody comes up with the idea of a database for these you will have to decide what to do with them. I will probably use 50% of the storage albums to keep them.
 
In short, an invaluable way of storing CDs. Operation is relatively easy and reasonably quick considering recording and compression times and certainly more impressive than comparable competitive products. The price is not unreasonable either. The Machine I tested sells at £359 (UK price) plus £10 postage. All Brennan JB7s are sold direct from the factory.
 
Ian Lace
 
Appendix – JB7 Menu
Menu
The overall menu structure is shown here. A description of each function follows. The menu system also lets you operate the system entirely from the front panel - without the remote control.
 
Contents
6 Main - Track Search
6 Main - Album Search
6 Main - History
6 Main - Browse Albums
7 Main - Playlists
7 Main - Current Track
7 Main - CD Functions
7 Main - USB functions
7 Main - Settings
7 Main - Recording menu
7 Main - Disk Stats
7 Track menu - Delete Track
8 Track menu - Play Track
8 Track menu - Add to Playlist
8 Track menu - Rename Track
8 Track menu - Album Menu
8 Track menu - Track to USB
8 Album menu - Delete Album
9 Album menu - Play Album
9 Album menu - Pick Track
9 Album menu - Rename Album
9 Album menu - Relabel Album
9 Album menu - Album to USB
9 Playlist menu - Add to Playlist
9 Playlist menu - Play Playlist
10 Playlist menu - Playlist to USB
10 Playlist menu - Clear Playlist
10 Playlist menu - Edit Playlist
10 CD menu - Load CD to HDD
11 CD menu - Play CD
11 CD menu - Rip CD to USB
11 CD menu - Track to HDD
11 CD menu - Track to USB
11 CD menu – Go to Track
11 CD menu - Update CDDB
11 USB menu - Play USB
12 USB menu - Track to USB
12 USB menu - Backup Music
12 USB menu - Restore Music
12 USB menu - USB Directory
12 USB menu - Playlist to USB
 12 USB menu - Export Names
13 USB menu - Import Names
13 Settings menu - Play mode
13 Settings menu - Bass
13 Settings menu - Treble
13 Settings menu - Set time
13 Settings menu - Set Alarm
14 Settings menu - Compression
14 Settings menu - Brightness
14 Settings menu - New CDDB
14 Settings menu - Update S/W
14 Recording menu - Start Recording
14 Recording menu - Stop Recording
14 Recording - Recording Level