WALTER HUSSEY
(1909-1985)
MASTER OF ARTS
 
I would be delighted if there was a hint of West Side Story about it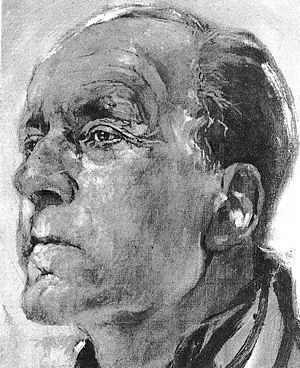 Seemingly overlooked in the last twelve months has been the centenary of that most remarkable cultural visionary, Walter Hussey. Over a period of forty years, it was undoubtedly his courage and foresight that helped reinvigorate that great tradition of the church as patron of the arts. While more chiefly associated with some of the most iconic visual works of art of the 20th century, these are more than outnumbered by the range and diversity of the many musical commissions he inspired.
John Walter Atherston Hussey was born in Northampton on 15th May, 1909, the second of two sons of Canon John Hussey, Vicar of St. Matthew's Church. Educated at Marlborough College, where contemporaries included Anthony Blunt and John Betjeman, in 1927, he moved to Keble College, Oxford, reading Politics, Philosophy and Economics. Following a short spell as a schoolteacher in Sussex, he later studied theology at Cuddesdon.
A talented schoolboy trombonist, later, following a youthful visit to Covent Garden, his deepening musical interests enthusiastically embraced both opera and ballet. In 1932, having seen a production of Shakespeare's Romeo and Juliet given by the Oxford University Dramatic Society, he acquired the first in a long line of art-works, purchasing a sketch of Romeo's costume for ten shillings. That same year, moving to London as Curate at St. Mary Abbots, Kensington, found him perfectly placed to explore new and exciting cultural horizons, most notably, contemporary art.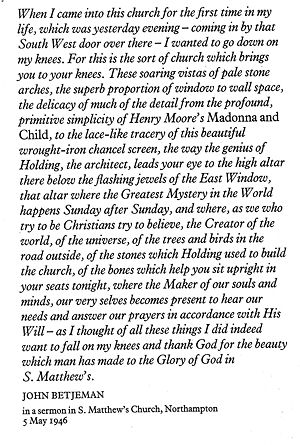 In 1937, Hussey returned to Northampton to succeed his father as only the second vicar at St. Matthew's Church. Built in 1893, in grand gothic style and able to accommodate 1,000, it remains an impressive memorial to local dignitary, Pickering Phipps M.P. Housing a magnificent four manual organ, built in 1895 by J. W. Walker, a list of its illustrious custodians over the years-Denys Pouncey, Philip Pfaff, Alec Wyton, Robert Joyce, John Bertalot, Michael Nicholas and Stephen Cleobury - bears witness to its rich musical tradition.
Keen to mark the church's approaching jubilee in September 1943, Hussey set in motion a wildly ambitious artistic plan to include five cultural projects. The first, a celebrity organ recital, fell to George Thalben-Ball, who carried it off with his customary aplomb. The second, to commission a musical composition, initially proved disappointing. Rejected by William Walton, Hussey next turned to Benjamin Britten, who, for a fee of £25.00, famously produced Rejoice In The Lamb. This impressive cantata, with words by Christopher Smart, was first performed by the church choir, conducted by the composer, on St. Matthew's Day, 21st September, 1943. As a bonus, the festival service opened with a most impressive fanfare, generously provided by Michael Tippett.
Much more controversial was another of his projects, a first sculpture commission, Henry Moore's, Madonna and Child. Unveiled, amid much publicity, in the north transept in February, 1944, it was soon to be mirrored in the south transept by Graham Sutherland's painting, The Crucifixion. Courtesy of the Council for the Encouragement of Music and the Arts, the forerunner of the Arts Council, after many trials and tribulations, Hussey succeeded in getting the BBC Symphony Orchestra, conducted by Adrian Boult, to give a live broadcast concert from the church. Further celebrity recitals by Kirsten Flagstad, Peter Pears and Benjamin Britten, gloriously brought to fruition those seemingly outrageous artistic plans initiated some years earlier. In addition, two literary commissions, one by W.H. Auden and the publication in pamphlet form of Norman Nicholson's poem, The Outer Planet, further served to place both he and the church at the centre of a particularly vigorous and exciting renaissance of religious art.
St. Matthew's Church, Northampton
Musical Commissions
 

| | | | |
| --- | --- | --- | --- |
| Date | Composer | Title of Composition | Publisher |
| 1943 | Benjamin Britten | Rejoice In The Lamb | Boosey & Hawkes |
| 1943 | Michael Tippett | Fanfare No.1 For 10 Bass Instruments | Schott |
| 1944 | Edmund Rubbra | Motet: The Revival | Boosey & Hawkes |
| 1945 | Lennox Berkeley | Festival Anthem | Chester |
| 1946 | Gerald Finzi | Lo, The Full Final Sacrifice | Boosey & Hawkes |
| 1946 | Benjamin Britten | Prelude & Fugue On A Theme Of Vittoria | Boosey & Hawkes |
| 1948 | Christopher Headington | Festival Anthem: Supreme Bliss | MS |
| 1950 | Malcolm Arnold | Laudate Dominum | Lengnick |
| 1954 | James Butt | Bless The Lord | MS |
| 1956 | David Barlow | Who Shall Ascend To The Hill Of The Lord | MS |
| 1958 | George Dyson | Hail Universal Lord | Novello |
| 1959 | Elizabeth Poston | Festal Te Deum Laudamus | MS |
| 1960 | Peter Dickinson | Justus Quidem Tu Es, Domine | MS |
| 1962 | Brian Judge | Ambrosian Prayer | MS |
| 1965 | Kenneth Leighton | Let All The World In Every Corner Sing | Novello |
| 1966 | John McCabe | A Hymne To God The Father | Novello |
| 1967 | Richard Rodney Bennett | Five Christmas Carols | Universal Edition |
| 1968 | Gordon Crosse | The Covenant Of The Rainbow | OUP |
| 1968 | Herbert Howells | One Thing Have I Desired Of The Lord | Novello |
| 1973 | William Mathias | Missa Brevis | OUP |
| 1977 | Sebastian Forbes | Quam Dilecta | MS |
| 1983 | Philip Moore | At The Round Earth's Imagined Corners | MS |
| 1986 | Herbert Sumsion | The Spacious Firmament On High | Oecumuse |
| 1987 | Geoffrey Burgon | The Song Of The Creatures | Chester |
| 1988 | John Tavener | The Call | Chester |
| 1989 | Richard Shephard | St. Matthew's Mass | MS – OUP |
| 1989 | Alan Ridout | Toccata For Organ | Oecumuse |
| 1990 | Paul Edwards | God That Madest Heaven And Earth | Oecumuse |
| 1990 | Trevor Hold | Verses From St. Matthew | Oecumuse |
| 1991 | Alec Wyton | Prayer For Church Musicians | U.S.A. |
| 1993 | Diana Burrell | Heil'ger Geist In's Himmels Throne | MS |

 
Outwardly a very shy man, somewhat irascible, Hussey, who never married, was occasionally troubled by the controversy he aroused. Not always completely at ease with the very public role in which he was cast, nevertheless in private, he proved to be a witty and charming companion. He also had a particular gift for friendship, especially with the artists and musicians with whom he worked. Undoubtedly a most autocratic diplomat, once he had decided on what he wanted, he then very cleverly worked out how best to persuade the right people to accept his views. It was this approach, honed at St. Matthew's, that travelled with him when, in April, 1955, he was appointed Dean of Chichester Cathedral.
Here, alongside painstaking restoration of outstanding medieval features, Hussey again took the opportunity to install significant works of modern art. Ceri Richards, Geoffrey Clark, Cecil Collins, Graham Sutherland and John Piper all made major contributions as, in 1979, did Marc Chagall with a window illustrating Psalm 150. He also carried through successful fund-raising campaigns, transforming the cathedral, in the process, into an excitingly vibrant artistic and ecclesiastical community. While some years earlier, the fiftieth anniversary of St Matthew's Church had initially announced his innovate artistic spirit to the world, at Chichester, the ninth centenary of the cathedral in 1975, undoubtedly heralded the crowning glory of his creative journey.
In parallel with improvements to the building, came a new and exciting set of musical commissions. American composer, William Albright composed a distinctive Chichester Mass, while Lennox Berkeley contributed a number of works, including a most beautiful and haunting setting of Psalm 23. Herbert Howells, William Walton and Bryan Kelly each provided definitive sets of evening canticles. In 1965, Kelly in particular, startled the musical world by taking an unusual and undoubtedly controversial approach to his brief. Somewhat audaciously, he dramatically energised his music using modern Latin-American dance rhythms. Its impact was immediate, and today it rightly remains the composer's most popular choral work
"I would be delighted if there was a hint of 'West Side Story' about it," wrote Hussey, somewhat audaciously late in 1964, earnestly seeking a centre-piece for a future Southern Cathedrals Festival. As usual, he got his wish, composer Leonard Bernstein cleverly incorporating previously rejected material from that and other musicals into the finished project, the excitingly eclectic, Chichester Psalms. Completed in May, 1965, this colourful and innovative setting of three contrasted psalms, sung in Hebrew, was premiered by the composer on 15th July, 1965 in the Philharmonic Hall, New York. Two weeks later came its first triumphant performance in this country, John Birch conducting the combined choirs of Chichester, Winchester and Salisbury Cathedrals, accompanied by the Philharmonia Orchestra.
Retiring from Chichester in 1977, Walter Hussey died, aged 76, in July, 1985. Thanks to his foresight and generosity of spirit, many today are still able to enjoy the considerable benefits of his extensive labours. In music, happily his creative patronage still remains a potent and vibrant force. Likewise, having during his lifetime amassed an important and unique private collection of art and sculpture, on his death, the greater part was bequeathed to the newly-restored Pallant House Gallery, Chichester, the remainder going to the Northampton City Museum and Art Gallery.
Throughout his long and distinguished career, this undoubted pioneer, part priest, part impresario, pursued his artistic and religious ideals with a dogged determination few could ever hope to match. We should remember his achievements with considerable pride, for here was the guardian of a great artistic heritage, the like of which we shall perhaps never see again
.
Kenneth Shenton
December 2009