Christmas – four CDs and a DVD.
 

 
==================================================================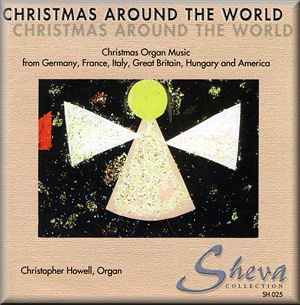 Christmas Around The World - Christmas organ music from Germany, France, Italy, Great Britain, Hungary and America SHEVA COLLECTION SH025 [67:58]
Buy through MusicWeb
for £11 postage paid World-wide.

 

This is fine music – not all of it that commonly heard. It is performed with feeling and without distracting showiness. Organists looking for inspiration to break away from the seasonal standards should seek out this disc.
 
The first six tracks are meditative-introspective though the Brahms stands out in this company as lively; even more so the Walcha Den die Hirten lobten sehre and the Daquin Noel. The Dandrieu takes us back to the meditative as does the rather sweetly Sibelian and confidingly pastoral Dubois. For me the latter and the Bossi are amongst the discoveries here. If, having been lulled, we are drifting off then the clarion Franck and Monza put paid to that tendency. A darkness inhabits the sable introspection of the Lloyd Webber Interlude while an agreeable complexity and richness suffuses the Stanford out of which a brassy and ringing triumph surges skywards. Stanford is a composer the organist has championed to superb effect these many years. The Liszt is light-filled and delightful. I had never heard of Zachow, Carr or Wilbur Held. Held is the musician behind the final richly stocked Six Carol Settings.
 
One can hear the dry wooden action of the instrument from time to time as in the romantic Berlioz and fast-flowing Tallis. Its regularity sits ill with the essentially idyllic Ireland and Held's take on O Little Town of Bethlehem. Each track is preceded by a pleasing hollow metallic resonance and when some tracks end that resonance cuts off like a cliff edge as at the end of tr. 23. Details of the instrument's manual and pedals stops are given. Sheva Collection have addressed criticism of earlier issues by choosing text size of user-friendly size. The note is in Italian and English.
 
Allowance being made for the prominence of the instrument's mechanical action this is a most attentively thought through and executed collection.
Andrew Morris has also listened to this disc
Christopher Howell's survey of Christmas related organ music is a well constructed antidote to the more familiar musical fare associated with the festive season. Although hardly as international as the disc's title implies, the programme of European and American organ works uses national contrasts to enlightening effect. Howell presents groupings of German, French, Italian and a little American music with each set drawn from several centuries of work, all performed on the organ of the church of San Lorenzo in the Italian village of Lessona, west of Milan.
 
Seven German chorale-preludes begin the disc, and Buxtehude's In dulci Jubilo is an excellent introduction. Its gently contrapuntal lines set the tone for many of the German contributions, and the Pachelbel chorale-prelude that follows is an airy and gradually mounting example of the same discipline. Zachow's Nun komm, der Heiden Heiland is a personal highlight as it sets the same chorale melody used by J. S. Bach in one of my own favourite cantatas, No. 62. The limitations of the instrument and recording become apparent in the Bach and Brahms items which follow, with the recorded sound being too distant for quiet detail to register fully. These quieter passages are sometimes hampered by the rather noisy action of the instrument itself and the sagging pitch of certain pipes results in some uncomfortable cadences.
 
Of the French items, Daquin's genial dance-like variations contrast with Berlioz's peaceful Sérenade agreste à la Madone which holds some unexpected harmonic corners. This, coupled with Theodore Dubois's plaintive Noël variations, highlight these French composers' preoccupation with atmosphere, rather than the interest in form and process pursued in the earlier German works. This French selection is completed with Franck's brief Vieux Noël, a minor key processional with a regal flavour.
 
A pair of Italian works surprise through their initial similarity and subsequent departure. Carlo Monza's Pastorale is set in a number of contrasting sections, the last of which matches closely the character of Marco Enrico Bossi's Musette, despite the latter having been composed a century later. The surprise is Bossi's intriguing departure into a central section of impressionist harmonies and repetitive motifs.
 
Thomas Tallis's Natus est nobis is the earliest music on the disc and inaugurates the British section. William Lloyd Webber's appealingly gloomy Interlude on The Coventry Carol recalls Dubois's Noël in tone while John Ireland's organ transcription of his own The Holy Boy is one of the most free-flowing and appealing works on the disc, though it is compromised by the same tuning problems heard earlier in the recital. Another highlight follows in the form of Stanford's At Christmastide, which carefully disguises the familiar O come all ye faithful with flowing and overlapping scales until it can be contained no longer.
 
Liszt's jaunty Die Hirten an der Krippe leads into the final national pairing on the disc, of which Wilbur Held's American take on some familiar and some less familiar carol tunes throws up some surprises. Best of all is his urgent and unconventionally harmonised version of God Rest You Merry Gentlemen which concludes a thoughtfully programmed recital of unfamiliar Christmas music.
 
Andrew Morris
 
A refreshingly unfamiliar programme of Christmas music for organ.
 
I Saw Three Ships - Manor House String Quartet MANOR HOUSE MUSIC 002 [69:27]
Potently recorded these carols are said to be 're-creations' rather than arrangements. There are no voices. Warmth is not in short supply and the sound emerges from the speakers with thrumming impact. Gabriel's Message, We Three Kings of Orient Are, The First Nowell and In the Bleak Midwinter put out as much heat as an old three bar Belling. Ding Dong Merrily On High is brusquely and joyfully Graingerian. While Shepherds Watched seems rather overdone – obscured rather than illuminated. The Holly and the Ivy has a Smetana-like bustle and a deliciously pointed counterpoise. For my taste Silent Night goes far too fast to catch the lullaby calm but it is lovingly played. Deck the Hall is, at least to my ears, redeemed of its saccharin by a wonderfully tart arrangement. God Rest Ye Merry Gentlemen and Angels From the Realms of Glory have that dignified Aus meinem leben tang which in each case intensifies the melody. In Dulci Jubilo swings along with rough pizzicato. The Mozartean-accented strains of O Come, All Ye Faithful and Away In A Manger add repose but Here We Come A-Wassailing has a more slender blade and this time a happy choice of swift tempo. Personent Hodie evokes the frosty chapel world of viols and monasteries. It is superbly done. The Coventry Carol and Once In Royal David's City are done with a Dvorák-like shiver and a catch in the throat; loved it. The two Noels have that peculiarly liquid 'auncient' French atmosphere. O Come, O Come, Emmanuel wheezes with radiant atmosphere. The Wexford Carol/Irish Carol Medley most skilfully taps into the Gaelic diaspora tradition reflected in the music chosen by Ken Burns in his superb American Civil War epic.
 

Christmas Spirit - works composed and arranged for brass quintet Mainstreet Brass MSR CLASSICS MS1325 [68:05]

 
Is that a haze of breath arising around the players. O come, O come Emmanuel, Once in Royal David's City and In the Bleak Midwinter are played with tender feeling. The brass sound has a finely judged vocal quality and often a roseate Medieval rasp as in Joseph Lieber. Richard Price's arrangement add a modern touch to Once in Royal David's City. Ding Dong! Merrily on high, on the other hand, seems a shade robotic in its machine-like deliberation and a similar effect registers in Deck the Halls. A Christmas Carol has A. Danson as the narrator of the tale of Scrooge and of his redemption through terror. The brass score is modern-lyrical and Danson matches the story with his not too precious English accent. Quite naturally, Joy to the world is zesty and Handelian. There's a commercial stratum here as well and this can be felt in Deck the Halls, the swinging Go tell it on the mountain and in Frosty the Snowman as well as the unbuttoned Rudolph and Santa in which the famous Reindeer and the famous beard meet and jam. The trajectory of these titles describes an arc from snowy medievalism to shopping mall. Very atmospheric recording.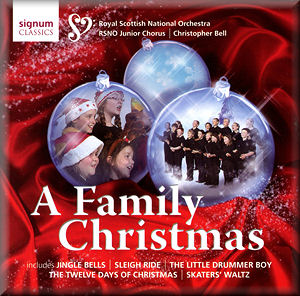 A Family Christmas Royal Scottish National Orchestra/Christopher Bell SIGNUM SIGCD202 [68:58]

alternatively
CD: MDT AmazonUK AmazonUS
Sound Samples & Downloads

 

This is a full-fat orchestral celebration recorded in tirelessly rapturous sound – engineering team take a bow. It starts with a lavish Leroy Anderson confection that, with a smile, tracks skilfully from tin pan alley to traditional favourite carols. Even Adeste Fideles is made to square up to Sousa. Christmas Alphabet introduces us to the choir who sing with just the right infusion of caramel, vigour and soft-shoe smooch. More of the same in the nicely rapped out The Little Drummer Boy with delightful woodwind curlicues. Twinkle, Twinkle, Little Star has a rather tasty collision with Star Trek and the choir play their part alongside a breathy treble solo. Back to Leroy Anderson for his Sleigh Ride performed here with no-holds barred and with accelerator foot planted right down. One of the joys of this sort of anthology is the chance of discovery. I already knew Bob Chilcott's work or some of it. His Hey! Now is irresistible in its play with Medievalism and frosty Mathias-influenced writing – reminds me of This Worlde's Joie and a little of RVW. Personent Hodie is another traditionally-flavoured charmer in which the harp buoys up the choir who are recorded with full lissom tone. Victor Herbert's March of the Toys from the musical Babes in Toyland is from the same region as the dance music of Waldteufel and Tchaikovsky. The Twelve Days of Christmas by John Rutter rushes through the days up to the rapturously golden rings. Humperdinck's Hansel and Gretel is a Christmas perennial and the two extracts - Sandman's Song and Evening Prayer – make for an operatic touch to the experience of this disc. John Williams' Somewhere in My Memory shows this master tune-smith's skills and his abilities to make any orchestra billow and swell. Waldteufel's Skaters' Waltz is romantic stately. Stable Carol by Vaughan Meakins recalls an Austrian bucolic scene and the little 'wow' the choir adds is enchanting. Philip Lane's cherishable Sleighbell Serenade makes a nice companion to Jingle Bells and various other snowy sleigh-rides. Panis Angelicus is soupy and is sung with aristocratic wonder. It makes for contrast. Blood moves through the veins again with the swift-pulsed This Little Babe. Daniel Harrison has the bells ring out in Christmas Hope – a wonderful new carol. A touch of Hollywood here but nothing at all amiss or miscalculated. The Penguin Song by Stannard/Lucy W Rhu is a light-hearted quick-march offering for the children and the booklet offers arm and dance movements. Jingle Bells is sung with romping zest and a shout. Schneewalzer by Thomas Koschat sways and waltzes amid a glistening vision of Vienna.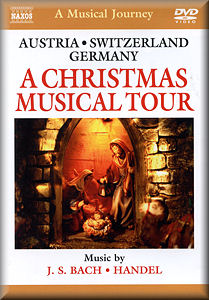 A Christmas Musical Tour – A Musical Journey - Austria / Switzerland / Germany

NAXOS 2.110254 [57:29]

alternatively
CD: MDT AmazonUK AmazonUS

 
Naxos have cornered the market in DVD travelogues. This Christmas-themed video - made in 1993 and presented here in 3:4 aspect - tracks through picturesque churches, landscapes and street-scenes and sets these images to extracts of seasonal music by Bach (Christmas Oratorio and others) and Handel (Messiah). It's done smoothly without bumpy gear-changes. That said, each of the seventeen chapters is preceded by a title-board telling you about the location you are about to see and identifying the music to be played. Those title sequences stay on screen for perhaps a mite too long – certainly long enough for the watcher to note the catalogue number of the CD carrying the music. Every piece of music is from the Naxos catalogue. Fair enough that Naxos would take the opportunity to use its own recordings and wish to promote the related CDs.
 
Impressions crowd in. Sacred meets profane. The devotional and commercial are juxtaposed just as they are for the now long extended Christmas experience which seems to begin in October these days. We see wintry street markets with haloed lights, smiling children's faces and kitsch goods brilliantly coloured on the stalls. Those plastic Santas and Sendak-based street carnival masks and costumes contrast with meditative countryside snow-scenes. These are very well done. In fact we could have done with more of these. Perhaps a bit of a cliché, but the spangled early sun in chiaroscuro through the pines is beautifully done. There are quite a few church interiors but the camerawork is excellent with tracking and panning shots taken at just the right speed to allow the viewer to take in the detail of the crib scene and a host of gilded seraphim and cherubim. The camera moves on before boredom sets in. One drinks in the flamboyance of the Collegiate Church Ottobeuren. The music is aptly chosen to match the images. Notable among the singers is are the wonderful Helen Parker in He shall feed his flocks as is the lusty singing of Heilige Nacht.
 
The booklet is pretty good. It identifies all the performers for each chapter as well as catalogue numbers for the counterpart CDs.
 
Rob Barnett
Full Track Details
 
Christmas Around The World - Christmas organ music from Germany, France, Italy, Great Britain, Hungary and America
1) Dietrich Buxtehude (1637-1707) In dulci jubilo BuxWV 197 [1:54]
2) Johann Pachelbel (1653-1706) Vom Himmel hoch, da komm: ich her [3:07]
3) Friedrich Wilhelm Zachow (1663-1712) Nun komm der Heiden Heiland LV 21 [2:41]
4) Johann Sebastian Bach (1685-1750) Wie schon leuchtet der Morgenstern BWV 739 [4:53]
5) Johannes Brahms (1833-1897) Es ist ein Ros entsprungen op. 122/8 [2:30]
6) Max Reger (1873-1916) Wachet auf, ruft uns die Stimme op.135a/25 [1:50]
7) Helmut Walcha (1907-1991) Den die Hirten lobten sehre [1:42]
8) Jean-Francois Dandrieu (c.1682-1738) Puer nobis nascitur [2:00]
9) Louis-Claude Daquin (1694-1772) Noel [5:56]
10) Hector Berlioz (1803-1869) Serenade agreste 6 la Madone [3:22]
11) Theodore Dubois (1837-1924) Noel [4:54]
12) Cesar Franck (1822-1890) Vieux Noel [1:23]
13) Carlo Monza (c.1735-1801) Pastorale [5:03]
14) Marco Enrico Bossi (1861-1925) Musette [3:25]
15) Thomas Tallis (c.1505-1585) Natus est nobis [0:57]
16) W.S. Lloyd Webber (1914-1982) Interlude on the Coventry Carol [2:15]
17) John Ireland (1879-1962) The Holy Boy [2:43]
18) Charles Villiers Stanford (1852-1924) At Christmastide op. 182/1 [2:04]
19) Franz Liszt (1811-1886) Die Hirten an der Krippe (In dulci jubilo) [2:44]
20) Benjamin Carr (1789-183 1) Variations to the Sicilian Hymn (O Santissima) [2:15]
Wilbur Held (1914) Six Carol Settings: 21) 1. Good Christian Men, Rejoice (In dulci jubilo) [1:17]; 22) 2. Of the Father:s Love Begotten (Divinum mysterium) [3:13]; 23) 3. From Heaven Above (Vom Himmel hoch) [1:15]; 24) 4. 0 Little Town of Bethlehem [1:40]; 25) 5. The First Noel [0:53]; 26) 6. God Rest You Merry [1:12]
Christopher Howell (organ)
rec. 23 Oct, 9 Nov 2009 Chiesa di San Lorenzo, Lessona, Piemonte, Italy. DDD
SHEVA COLLECTION SH025 [67:58]
 
I Saw Three Ships - Manor House String Quartet
1. I Saw Three Ships [2:37]
2. We Three Kings of Orient Are [3:37]
3. Ding Dong Merrily On High [2:56]
4. While Shepherds Watched [2:27]
5. The Holly and the Ivy [1:59]
6. Silent Night [3:47]
7. Deck the Hall [1:34]
8. God Rest Ye Merry Gentlemen [3:17]
9. In Dulci Jubilo [3:05]
10. Away In A Manger [3:50]
11. Here We Come A-Wassailing [2:20]
12. Personent Hodie [4:09]
13. Coventry Carol [3:54]
14. 2 Noels: Joseph Est Bien Marie [1:45]
15. 2 Noels: Laissez Patre Vos Betes [2:13]
16. In the Bleak Midwinter [3:09]
17. The First Nowell [2:20]
18. Once In Royal David's City [3:10]
19. Angels From the Realms of Glory [2:44]
20. Gabriel's Message [2:21]
21. O Come, O Come, Emmanuel [3:18]
22. O Come, All Ye Faithful [2:45]
23. Wexford Carol / Irish Carol Medley [5:59]
Manor House String Quartet (Vaughan Jones (violin), Louise Bevan (violin), Adrian Smith (viola), Julia Graham (cello))
rec. 16-17 August 2010, MBJ studios, Bermondsey, London
MANOR HOUSE MUSIC 002
[69:27]  
Christmas Spirit - works composed and arranged for brass quintet
1. Once in Royal David's City by Henry John Gauntlett (arr. Richard Price)
2. Joy to the World by Lowell Mason (arr. Alan Danson)
3. In the bleak mid-winter by Gustav Holst (arr. A. Danson)
4. Ding Dong! Merrily on high by Traditional 16th century French carol, (arr. A. Danson)
5. Linus and Lucy - Christmas Time Is Here Vince Guaraldi, (arr. Kevin Long & Zachary Smith)
6. A Little Christmas Medley by Jonathan Smith (arr. for MSB by Jonathan Smith); O come, O come Emmanuel - Traditional / Rejoice and Be Merry (Gallery Carol); The Twelve Days of Christmas - Traditional
7. Gloucestershire Wassail, 'Wassail, wassail all over the town!' English traditional (arr. Lawrence Eden)
8. Wexford Carol - 12th century Irish carol (arr. R. Price)
9. A Christmas Carol - A Dickens of a Tale by A. Danson (text: Owen Surridge)
10. Deck the Halls Welsh traditional carol, (arr. A. Danson)
11. Frosty the Snowman by Steve Nelson, (arr. Lewis J. Buckley)
12. We three kings by John Henry Hopkins Jr, (arr. A. Danson)
13. Go tell it on the mountain - American traditional (arr. L.J. Buckley)
14. Joseph, lieber Joseph mein - Johann Walter (arr. Shari Gleason-Mayrhofer)
15. Rudolph and Santa by J. Smith (arr. for MSB by J. Smith); Rudolph the Red-Nosed Reindeer by Johnny Marks; Santa Claus is comin' to town by John Frederic Coots
16. Meet Me in St. Louis: Have yourself a merry little Christmas by Hugh Martin & Blane (arr. Tim Jameson)
17. We wish you a merry Christmas (16th century English carol, arr. Thomas G. Parriott)
Mainstreet Brass (Kevin Long and Donald Hughes (trumpet), Shari Gleason-Mayrhofer (horn), Bryan Hay (trombone), Allen Frank (tuba)) A. Danson (narrator); Richard Groller, Steven Mathiesen, Kevin Spear and Michael Vought (percussion)
rec. 27 Feb-1 March 2009. First Presbyterian Church of Bethlehem, Pennsylvania. DDD
MSR CLASSICS MS1325
[68:05]  
A Family Christmas
1 A Christmas Festival by Leroy Anderson [6.02]
2. Christmas Alphabet by Buddy Kaye/Jules Loman [3.05]
3. Twinkle, Twinkle, Little Star - Traditional [4.54] (Roshni Mansfield (verse 1); Charlotte McKechnie (verse 2); Julie Aitken (verse 3))
4. The Little Drummer Boy by Simeone/Davis/Onorati [2.39]
5. Sleigh Ride by Leroy Anderson [2.41]
6. Hey! Now by Bob Chilcott [1.48]
7. Personent Hodie - Traditional [2.11]
8. March of the Toys from Babes in Toyland by Victor Herbert/Glen MacDonough [3.46]
9. The Twelve Days of Christmas by John Rutter [3.47]
10. Sandman's Song and Evening Prayer from Hansel and Gretel by Engelbert Humperdinck [5.11]
11. Somewhere in My Memory by John Williams [3.02]
12. Skaters' Waltz by Emile Waldteufel [6.47]
13. Stable Carol by Vaughan Meakins [4.40]
14. Sleighbell Serenade from Three Christmas Pictures by Philip Lane [3.01]
15. Panis Angelicus by César Franck [3.27] (soloist: Niall Docherty)
16. This Little Babe from A Ceremony of Carols by Benjamin Britten [1.28]
17. Christmas Hope by Daniel Harrison [2.54]
18. The Penguin Song by Stannard/Lucy W Rhu [2.24]
19. Jingle Bells by James Lord Pierpoint [1.56] (soloist: Charlotte McKechnie)
20. Schneewalzer by Thomas Koschat [3.04]
RSNO Junior Chorus
Royal Scottish National Orchestra/Christopher Bell
rec. 14-15 September 2009, RSNO Centre, Henry Wood Hall, Glasgow
SIGNUM SIGCD202 [68:58]
 
A Christmas Musical Tour – A Musical Journey - Austria / Switzerland / Germany
Austria: 1. Vienna: Christkindl Market 2. Silent Night Chapel, Oberndorf • 3. St Nicholas and Krampusse, Steyr
Switzerland: 4. Kreuzweg in Einsiedeln: Snow and Ice
Austria: 5. Christmas shopping in Vienna • 6. Vienna: St Peter's Church
Switzerland: 7. Sihlsee • 8. Monastery Church, Einsiedeln
Germany: 9. Bavaria: Collegiate Church, Ottobeuren
Austria: 10. Salzburg and Hallein, Landscapes 11. Christmas Market, Salzburg • Advent Calendar, Steinbach 12. Weissensee • 13. Oriental Christmas Crib, Steyr 14. Vienna: Francesco Bassara – Adoration of the Magi 15–16. Christmas Crib, Linz Cathedral
Switzerland: 17. Cupola of the Monastery Church, Einsiedeln
NTSC 4:3; PCM Stereo / Dolby Digital 5.1 / DTS 5.1; Region code: 0 (worldwide)
NAXOS 2.110254
[57:29] <!- paste above here ->