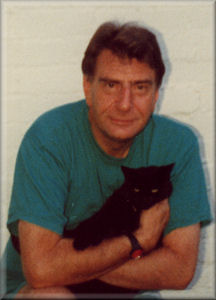 Francis Wilson, who had the vision, organisation, energy and persuasive power to introduce much Russian music to thousands of collectors worldwide, died on 15th march aged 69 in London, of complications after cancer surgery.

Francis was born in Edinburgh in 1941 and always loved the arts and culture, music especially. He studied modern languages at Edinburgh which involved studies at the Sorbonne and Heidelberg.

He became an avid LP collector of Russian music, (and multi-linguist) while travelling the world as Export Manager for Clarkes Shoes, Rotel Hi-fi and Twinlock, before joining Disctronics to help the CD revolution in music in his adopted beloved London.

Here he had his inspiration for Olympia - a "joint venture" with the Soviet State Melodiya and later MK companies: he would provide the technology for them to make CDs in return for the rights to their catalogue in the West, thereby fulfilling his own and so many music lovers' ambitions.

In 1986 he travelled to Moscow to sign, in the days before Perestroika and his last words, before meeting an unknown person, to stay at an unknown destination were: 'If you don't hear from me within three days, contact the Foreign Office'. Humour was another fine art !

Wilson had evangelical zeal to promote the neglected music that he believed in, and this was seen at the official launch for his label in 1987 when Myaskovsky symphony excerpts were played!

Olympia unleashed complete Shostakovich symphonies (Rozhdestvensky) and String quartets, not to mention cycles of wonderful (then) rare composers such as Weinberg, Kabalevsky, Myaskovsky etc with widely admired recordings of artists including Richter, Gilels, Svetlanov, Shostakovich Quartet, and not least the first issue of Gorecki's Symphony No.3, years before Classic FM discovery.

His enthusiasm extended to part-funding new recordings in Moscow, as well as a whole series in Europe (19 discs of Russian piano composers with Murray McLachlan, plus blossoming inventive artists such as Donna Amato, Goldstone & Clemmow), having launched with the established Peter Katin.
Olympia also extended into similar deals to introduce music from Poland, Romania, Holland and China.

When Melodiya was briefly seduced by BMG, Wilson's passion and zeal meant that he was forced to finance Olympia partly from his own personal savings, entirely in keeping with the character of a man who was devoted to the music, so that Olympia continued issuing well into the 21st century, long after many independents in a failing industry, then subsequently ensuring continuity via licensing out to new labels.
Francis had a fabulous sense of humour and a great gift for mimickry. His generosity and kindness will never be forgotten by all those fortunate enough to have known him.

Astrid, his Estonian wife, met Francis at a university New Year party in 1962, they were married at Hampstead in 1968. She continues as a tutor at London Southbank University.

Robin Vaughan and Murray McLachlan

Robin Vaughan
MusicalMerit Consultancy