Analogue Resurgam - A survey of a selection of compact disc reissues by High Definition Tape Transfers
HDTT is an enthusiast reissue label you will come to know via their website. There's some valuable, attractive and very agreeable and sometimes really striking material in this catalogue. Have a look at www.highdeftapetransfers.com.
 
They're pretty active and new issues appear at a rate of knots. Their inspiration, mission and speciality is the caring perfectionist issue of transfers sourced from commercial reel-to-reel tapes issued widely in the USA during the period 1955-1980. The results can be staggering.
Formats Available:
Compact Disc Burned on a Gold CD-R
HQCD (High Quality Compact Disc) Playable on all compact disc players
24bit 96khz Resolution DVD Playable on all DVD players
24bit 96khz Resolution Flac Downloads Playable through most media players
24bit 192khz Resolution Flac Downloads Playable through most media players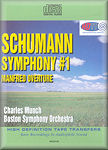 Robert SCHUMANN (1810-1856)
Symphony no. 1 (1841) [29:30]
Manfred Overture (1849) [11:20]
Boston Symphony Orchestra/Charles Munch
rec. Boston, 1955 (Sym 1); 1961 (Manfred). ADD
HIGH DEFINITION TAPE TRANSFERS HDCD 125 [40:26]
www.highdeftapetransfers.com.
 

 
The Munch Schumann imparts a nicely rendered woof and bark to the Boston horn benches. A good sense of distance is conveyed at 1:34 and at 4:53 in the finale. You can also hear it in the invocatory trumpets through the analogue hiss which is an inescapable yet exciting part of the listening experience. The first movement radiates a Cantelli-like fury while the Larghetto drags the message with an infinitely sweet slowness across the mind's sensors. The scherzo does not fly but there's no doubt of its vehemence – in fact to the point of relentless. If you like your Schumann Ferrari style then the outer movements will suit your tastes. Munch certainly keeps the gas flowing so much so that one occasionally daydreams one is listening to Berlioz. There is humour here too in this rattlingly tight and exciting performance. We could have done with a longer gap before the fiery Manfred in which the whip-crack unanimity of the surging strings is memorable. They also have sumptuous tawny tone and weight (6.05).
 
On the downside: nowhere is the total playing time declared. HDTT are not always strong on presentation. There's lots of data about the transfer process from analogue source. I am not at all sure that all those technical details matter enormously to most music-lovers.
 
Rob Barnett
 
Vehemence to the point of relentless. Sumptuously tawny tone and weight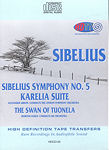 Jean SIBELIUS (1865-1957)
Symphony No. 5 (1915-19) [30:07]
Karelia Suite (1893) [13:35]
London Symphony Orchestra/Alexander Gibson
The Swan of Tuonela (1893) [8:34]
Morton Gould and his Orchestra
rec. no details supplied but must be 1950s transferred from RCA 4 track tapes. ADD
HIGH DEFINITION TAPE TRANSFERS HDCD 129 [52:18]
www.highdeftapetransfers.com.
 
HDTT are not sure about the number of the disc? It says 119 on the back of the case not 129. This is a good version of Sibelius 5 with some nice picking out of detail in the 4 track tapes. They include subtly tolling horn work in I at 2.03. this touch normally disappears into the miasma. Gibson is tense and quick and the strings rustle and buzz nicely. Try 3.40 in I and at the start of III. The music boils to a high tension accelerando at end of I. There is superbly pointed playing in II. In the third movement there's a nicely sustained tempo and tension over the carolling horns. It is just a shade fast to bring out the last ounce of grandeur. On the other hand the growl and snorty snarl of the strings at 4:54 onwards has never been done as well. Through the hiss Gibson is frankly wonderful towards the end of the work. Gibson's Karelia shows all the same virtues as the symphony. He delivers a goodly, humming, taut and rhythmically sharp approach. The dignified but hurried middle movement showing that same proclivity for speed that we heard in parts of the Fifth Symphony. The trumpets rap out and full brass blare. These transfers sound refreshingly clean – despite the hiss - and are a pleasure to hear.
 
Gould's slithery Swan of Tuonela is superb. It's very much in your face as a recording. There's none of the distancing magic we feel in the Munch Schumann 1. Solo cello and the lovely cor anglais solos reach out to the listener with needy tendrils. OK so the strings may be bathed in limelight but the result is very pleasing and a world away from autopilot. What we hear is a sort of Stars and Stripes intensity to be found in Soviet refection in the Mravinsky-Moscow version of the 1960s. Here though there is a much more gripping focus on the cor anglais. So what we have here is a really gripping version of The Swan that all Sibelians need to hear. It has an epic stride and superbly conveyed tension complete with creaking chairs. It is completely idiomatic. The harp basso line at end is audible and in your face. It greatly enhances the very special effect of this reading.
 
The hiss already mentioned seems to be the hiss of the original tapes. There's no disorientating drop-out of digital silence between tracks.
 
It's a shame that the notes do not give date of death for Gibson. His dates are 1926-1995.
 
Use of DVD cases was standard for HDTT. This practice rather set them apart and recalls the shelving issues raised by the same DVD Audio issues derived from Vanguard and Vox. Then again storage styles have varied. Remember those strange little grey storage boxes in which BASF cassettes were first issued in the period 1969-71 before Bavaria saw the light? Newer issues are in standard cases.
 
I hope there are more of these reel to reel reissues to come.
 
Rob Barnett
 
Gibson is tense and quick and the playing is superbly pointed and Gould's is a really gripping version of The Swan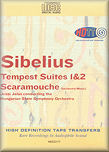 Jean SIBELIUS (1865-1957)
Tempest Suites 1 and 2 [21:31 + 15:04]
Scaramouche (incidental music) [21:17]
Hungarian State Symphony Orchestra/Jussi Jalas
rec. 1972. ADD
Transferred from a London 4-track tape
HIGH DEFINITION TAPE TRANSFERS HDCD 125 [40:26] www.highdeftapetransfers.com.

 
Jussi Jalas and his Hungarian orchestra appeared on a sequence of mid-price LPs from Decca in the 1970s. Their recordings of rare Sibelius incidental music were perhaps eclipsed by Decca's top line issues including those from Maazel and from Horst Stein and the Suisse Romande. The recordings were once available with much of the rest of Jalas's series of Sibelius incidental music on a Double Decca 448 267-2 issued circa 1996 but long deleted.
 
In the next two years we will see the completion of the Bis Sibelius Edition. Ondine, EMI and Chandos have filled in many gaps over the years. The often overlooked Ondine deserve special kudos for making a living performing reality of so much rare Sibelius and doing it in resounding style. Thirty plus years ago the Sibelius landscape was much more sparse. Circa 1969-72 a series of Decca ADD prefix mid-price LPs arrived on the scene. The conductor Jussi Jalas (1908-85) was the son-in-law of Sibelius via his daughter Margareta. He conducted the first performance of Kullervo in modern times. With the Hungarian State Symphony Orchestra he recorded the Lemminkainen Legends and several discs of incidental music. The LPs received a muted welcome. Now we can encounter a selection of the Sibelius-Jalas incidental music recordings again courtesy of HDTT and their revival of Decca reel-to-reels.
 
HDTT's presentation is a bit spotty again. There are no track titles at all and no timings for the Tempest tracks though we do get a single timing for the one track [21:02] Scaramouche Suite. The Decca/London analogue tape stock must have been in good heart because there are no blips and only a discreet and forgettable analogue 'hush'. This is Decca caught at one of its peak vintage periods.
 
The Tempest movements here are The Oak Tree, Humoreske, Caliban's Song, The Harvesters, Canon, Scene, Intrada – Berceuse, Entr'acte - Ariel's Song, The Storm, Chorus of Winds, Intermezzo, Dance of the Nymphs, Prospero, Songs 1 & 2, Miranda - The Naiads, Dance – Episode.
 
The 13 tracks of the two Tempest suites remind us how otherworldly Sibelius's invention had become in the 1920s. Tracks such as tr. 9 transport us to another raw expressionist reality. However if you need The Tempest in suite form then do track down the Beecham on Sony (the Beecham is in venerable but grainily engaging sound), the astonishingly good Reference Recordings by Stern in Kansas. If you hanker after the full score then Ondine on ODE 914-2 or Bis.
 
HDTT provide very full notes on both pieces. Neither of these pieces are Sibelius in unambiguously merry mode. They are not comparable with King Christian II for example. There are however some lighter-hearted moments - what a masterly score. The Tempest will by now be broadly familiar to many enthusiasts but this was the first recording of Scaramouche – the incidental music to Poul Knudsen's 'tragic pantomime'. There is much impudent woodwind writing in evidence, chilly and brisk, wistful and romantic. Some pleasingly 'sticky' string solos are juxtaposed with tambourine. A silvery deckle-edged halting dance can be heard at 11.30 and there is a touch of Nutcracker's grand guignol along the way. It's such a pity that the whole suite is in a single indigestible track but that's the way it was when originally issued. Scaramouche can also be heard on Bis.
 
Presentation: The disc itself says one track for each of the two Tempest suites and one for Scaramouche. Take no notice. The rear insert is correct 10 tracks for suite 1, 3 tracks for suite 2 and one for Scaramouche.
 
Rob Barnett
 
Decca caught at one of its peak vintage periods
 
 

Sergei PROKOFIEV Violin Concerto No.1 [20:09]
Alexander GLAZUNOV Concerto for Violin in A minor () [18:46]
Josef Sivo (violin)
Suisse Romande Orchestra/Horst Stein
rec. 1971, Victoria Hall, Geneva
Sergei PROKOFIEV
Chout Suite [25:19]
London Symphony Orchestra/Claudio Abbado
rec. 1966. ADD
HIGH DEFINITION TAPE TRANSFERS HDCD 170 [40:26]
www.highdeftapetransfers.com.
 
I discovered the Glazunov Violin Concerto through a broadcast of the LP counterpart of the first two works on this disc. It was Decca SXL6532 and came out at a time when the composer had a very fragmentary representation in the shops. Apart from the odd symphony on EMI-Melodiya your best chance of gradually hearing the nine symphonies was at that time on Radio 3. This was usually courtesy of a regional BBC orchestra – often the BBCNSO. Now we have multiple versions of the symphonies. I recently noticed that even the 'lost' Fedoseyev LP Glazunov symphony cycle can be had for as little as £5.99 as an mp3 download on Amazon.
 
What drew me to this HDTT disc was the Glazunov. In the 1970s I played my off-air cassette tape to death. I virtually 'imprinted' on the Glazunov – it was the first time I had heard the work. No other version since then has come anywhere near it – except perhaps the Julian Sitkovetsky version. I have not heard the Shumsky (Chandos) but have high hopes of it. Hearing the Sivo again and hearing it repeatedly has been no disappointment. Sivo and Stein find the work's singing heart and the song unwinds fluently. The Prokofiev Concerto is similarly blessed with a wonderful equipoise between sun-bathed clarity and hoarsely expressed mystery. It's all very closely and pleasingly recorded – very different from the more naturally and perhaps subtly recorded yet equally engaging Vilde Frang version just issued on EMI. Abbado's Chout is from a different LP. The work has more musicality and romance than I recall from my first hearing. That 1980s BBC broadcast was given by the BBCSO with Rozhdestvensky and the part-serious part-chuckling narrator was none other than Andrew Cruickshank.

Again HDTT make us wonder about the catalogue number by identifying this as HDTT 167 on the back of the case insert. The correct number is as above.
 
Rob Barnett
Sun-bathed clarity and hoarsely expressed mystery all very closely and pleasingly recorded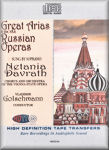 Great Arias from Russian Operas sung by Netania Davrath
Pyotr Ilyich TCHAIKOVSKY Eugene Onegin - Tatiana's letter scene [13:44]
Nikolai RIMSKY-KORSAKOV Sadko - Volkhova's Lullaby [3:49]; The Snow Queen – Snow Maiden's Aria [4:22]
Pyotr Ilyich TCHAIKOVSKY Queen of Spades – Lisa's aria act III [5:10]
Mikhail GLINKA A Life for the Tsar - Romance of Antonida [4:25]
Alexander BORODIN Prince Igor - Yaroslavna's Lament (Act IV) [10:35]
Sergei RACHMANINOV Chanson Georgienne [4:45]
Netania Davrath (soprano)
Chorus and Orchestra of the Vienna State Opera/Vladimir Golschmann
Utah Symphony Orchestra/Maurice Abravanel
rec. no details. ADD
Transferred from a Vanguard 4 Track Tape.
HIGH DEFINITION TAPE TRANSFERS HDCD 133 [40:26]
www.highdeftapetransfers.com.
 
HDCD 133 is rather short in playing duration. The centre of attention here is the soprano Netania Davrath (1931-1987). She emigrated to Israel in 1948. Davrath has an indelible place in the catalogue for her Vanguard recordings of the Songs of the Auvergne as arranged by Joseph Canteloube. Her voice is unmistakable – girl-like sweetness yet with a hoarse bass-deep timbre. This is, as the title proclaims, a collection of Great Arias from Russian Operas. Davrath was born in the Ukraine and has the idiom to a T. She is aptly soulful as Tatiana in the Onegin Letter Scene yet she has plenty of operatic rhetoric when called for. She is similarly impressive in the Sadko excerpt: Princess Volkhova's Lullaby with its silvery magic. Golschmann draws fine playing from the Vienna State Opera Orchestra. The Queen of Spades aria with its ominous subtext is projected by Davrath with a real shiver. It's classic Tchaikovskian operatic work. In Glinka's A Life for the Tsar the Romance of Antonida from Act III radiates a lovely sense of choral distance caught in the recording array. Again there is some confusion over tracks between the insert and the tracks on the disc but that is no obstacle to the enjoyment to be had from Chanson Georgienne which tenderly conveys those Russian oriental nights, sensuously alive with wafted and exotic spiced scents.
 
Presentation again needs more attention. The sung words are not printed and one of the title lines has been truncated. Still, where else can you experience the wondrous voice of Netania Davrath in this repertoire? Even so, with a little more attention to detail and proofing these HDTT items could be unassailable.
 
Rob Barnett
 
Davrath is unmistakable – girl-like sweetness with a hoarse bass-deep timbre.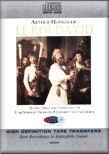 Arthur HONEGGER
Le Roi David (King David) [69:46]
Netania Davrath (soprano); Marvin Sorenson (tenor); Jean Preston (mezzo); Martial Singher (narrator); Madeleine Milhaud (Witch of Endor)
The University of Utah Chorale
Utah Symphony Orchestra/Maurice Abravanel
rec. early 1960s ADD
Transferred from a Vanguard 4-track tape
HIGH DEFINITION TAPE TRANSFERS HDCD 161 [69:46]
www.highdeftapetransfers.com.
 
Le Roi David is not that commonly encountered on disc. Here it is accorded a very satisfying sound in wonderful stereo. It is all that analogue should be and has a powerfully resonant close-up quality. Martial Singher orates in resounding confident French with the whole work having the statuesque effect of Stravinsky's Oedipus Rex. Davrath is tested by Honegger's long vocal lines with bar after bar allowing few nodes for taking of breath. Despite the evidence of the insert the work is not presented in only three tracks - it is in fact generously tracked and proceeds in a series of small pieces of mosaic. Marvin Sorenson is forthright of tone but then so is Davrath who was carefully coached for this recording as was the University of Utah Chorale. The music is very tonal perhaps a little in the manner of early Britten and even Poulenc with touches of Stravinsky also in evidence. There are a few catchy jazzy moments as in tr. 11 with the chorus at that point quite euphoric almost in the manner of the celebratory writing of Howard Hanson. There's a lot of narration. Madeleine Milhaud is the Witch of Endor and she gurglingly hams it up with little held back. Davrath at one point lets loose a wonderfully ululating call intertwining with the vocalisation of Jean Preston. Singher's resonant voice also sparks the imagination when heard against the backdrop of the wailing of the choir (like the vocalisation in RVW's Flos Campi) as it does in the final sunset ecstasy at tr.27. Not all of Honegger's writing is monumental. There is the pastoral piping of tr. 16 - in part predicting the sweetness of Walton's Henry V music for desolated post-Agincourt France. In tr. 22 with its the dancing tambourine we are reminded of Davrath's Canteloube triumphs – also for Vanguard. The rasping barbaric fanfares of tr.23 (Vainqueur de tous ses enemis) provide a provocative contrast. The final alleluias are a complete delight.
 
If you have not yet discovered King David – also termed a dramatic psalm - then do try this as a fine introduction in sound that is stable, squat and pleasing to the ear.
 
A stunning triumph of a transfer of a classics recording of a blissful work.
 
For the sung text in French and English you will need to go to the website for HDTT.
 
Rob Barnett
 
A stunning triumph of a transfer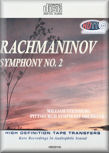 Sergei RACHMANINOV (1873-1943)
Symphony No. 2 in E minor op. 27 (1907) [45:34]
Pittsburgh Symphony Orchestra/William Steinberg
rec. ADD. From a Command Classics 4 track tape. HIGH DEFINITION TAPE TRANSFERS HDCD116 [45:34]
www.highdeftapetransfers.com.
 
William Steinberg was born Hans Wilhelm Steinberg in Köln, Germany 1 August 1899. There he studied with Hermann Abendroth. As director at the Frankfurt Opera he conducted the premiere of Schoenberg's Von Heute auf Morgen in 1930. The Nazi regime drove him from Frankfurt and then from Germany. With Bronislav Hubermann he left Germany and founded the Palestine Symphony (later the Israel Philharmonic) becoming its musical director. There he was noticed by Toscanini and cozened into various conducting posts and engagements in 1940s USA. He was Music Director of the Buffalo Philharmonic from 1945 until 1953. Their first commercial recording was on Musicraft: Shostakovich's Leningrad. From Buffalo he moved to the Pittsburgh Symphony Orchestra in 1952. He was Music Director of the Boston Symphony Orchestra from 1968 until 1972. He made a famous recording of Holst's The Planets with the Boston Symphony. It was a frontline fixture of the DG catalogue for many years during the LP era. His illustrious premieres included Copland's Billy the Kid, Lukas Foss's Choral Symphony and Roger Sessions' Symphony No.8. He died in New York City on 16 May 1978.
 
Until I heard this HDTT disc I had not encountered Steinberg's 1966 Rachmaninov Second Symphony. It came out at about the same time as the Boult and Previn cut versions. Here it is in a transfer by HDTT on to HDCD116 - although the insert says HDVD116. The C and V are close to each other on the QWERTY keyboard. Steinberg while applying the accustomed cuts delivers a very nicely weighted rendering of the more intimate pages and of the detailing. His excellent horn bench adds a glowing halo and warm glower over the proceedings. Rozhdestvensky takes a lot of beating in this work as does Cura and the very different Sanderling but this is a grand performance which despite the elisions in the Adagio still cuts the mustard. It proves that those who grew up in the days when Rachmaninov was a guilty pleasure were encountering idiomatic performances. It's well worth hearing.
 
HDTT have not displayed any total timings on the insert but the music is the thing. We are regaled with a full page of notes in the DVD case insert but I would have liked to know what the speed of playback of the reel was - presumably 7½" per second?
 
By the way, an earlier mono recording of this Symphony by same conductor and orchestra can be heard on EMI Classics Archivcd CDM 7243 5 6654 2 3. It was first released on Capitol Classics P 8290 and comes from sessions at Syria Mosque, Pittsburgh.
 
Rob Barnett
 
A grand performance – with cuts – from the days when Rachmaninov was a guilty pleasure. Well worth hearing.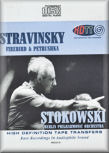 Igor STRAVINSKY (1882-1971)
Firebird suite (1910) [22:00]
Petrushka suite (1911) [15:24]
Berlin Philharmonic Orchestra/Leopold Stokowski
rec. 1958, from a Capitol reel-reel recording. ADD
HIGH DEFINITION TAPE TRANSFERS HDCD112 [37:21]
www.highdeftapetransfers.com.
 
This represents short playing time but Stokowski's voluptuously proportioned and lavishly recorded performances are well worth hearing even if both works appear here in truncated suites. The finale of The Firebird whooping rip and snort of the brass is very enjoyable but the cavernous bass drum sounds pretty ho-hum routine. Compare that with the wonderful recording of the complete ballet by the LSO and Dorati once issued on a Contour LP and more accessibly on a Mercury CD. Even so there's a rattlingly good brass snarl from the strait-laced Berliners in Infernal Dance. The Stoki Petrushka capsule is full of vitality and bustle. The propulsive power of the penultimate track is just wonderful. It comprises Russian dance, Cell of Petrushka, Mardi Gras Fair, Nursemaid's Dance, Russian Peasant Bear, Gypsies and Rake Vendor, Dance of Coachmen and Masqueraders. This version brings out the character of the players but with less precision than I had expected from the BPO. The unembarrassed 1958 sound for the solo piano is nothing short of over-sized and imperious.
 
There are full notes but rendered in what appears to bubble-jet small print which at this font-size is already developing signs of illegibility.
 
Rob Barnett
 
The whooping rip and snort of the brass … characterful versions but with less orchestral precision than I had expected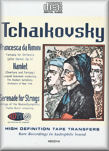 Pyotr Ilyich TCHAIKOVSKY (1840-1893)
Francesca da Rimini (1876) [23:02]
Hamlet Overture (1888) [19:07]
Serenade for Strings (1880) [26:33]
Stadium Symphony Orchestra of New York/Leopold Stokowski (Francesca; Hamlet)
Strings of the Boston Symphony/Charles Munch (Serenade)
rec. 1958. ADD
HIGH DEFINITION TAPE TRANSFERS HDCD141 [68:42]
www.highdeftapetransfers.com.
 
Francesca and Hamlet have been issued before on Everest CD. How audacious it was of the Everest team to put two such neglected works side by side back in the late 1950s. It would have been so easy to have put either work in harness with Romeo and Juliet. It's in glorious sound though a hint of rage in the treble evidences the age of these classic session tapes. The fervour of Francesca is remarkable. However if you're in the market for incandescence don't overlook Ovchinnikov's Soviet era recording now deleted on Olympia OCD139 but occasionally available second-hand; I had overlooked it until our reviewer Nick Barnard put me on the right track. That said, I still hanker after a BBC broadcast from summer 1978 of Yuri Ahronovich conducting the LSO in one of the grandest and most furious Francescas ever and a superb Manfred which knocks spots off the lumpy Manfred he recorded soon after with the same orchestra on DG. Come on BBC Legends – let's hear that concert. Also perhaps Regis could secure the Ovchinnikov Francesca and issue it with the same conductor's Romeo. Not sure what else Ovchinnikov recorded but it is clearly worth looking out and sifting for the gold which his Francesca most certainly is. He was a composer as well and wrote at least one symphony and film music. Most regrettably HDTT cut off the hall resonance from the end of Stokowski's Francesca. As for the lower key Hamlet it's the best I have heard. It rings out with magnificently intense and brow-knitting concentration.
 
There's a noticeable shadow of print-through pre-echo on the Munch at the start. This is a momentary distraction from what is a power-house performance that is the aural equivalent of an over-engined Cadillac. Still, it certainly captures that huge Boston sound in all its amplitude and sometimes ferocity as in the case of Munch's Schumann. In the finale the accelerator is pinned to the floor in what is a very exciting precision-defined thundering performance. Charm is perhaps thin on the ground but one would never call this anonymous.
 
The two tone poems are from a 1958 Everest two track tape while the Serenade derives from an RCA two track of the same vintage. It's a pity that HDTT they did not include the serial numbers of the reel to reel tapes - the anorak in me coming out again. There should have been a separate track for each movement of the Serenade.
 
Another eccentric HDTT production yet with a draw to it. The notes comprise a full side devoted to Francesca but not a word about Hamlet or the Serenade. Timings are however given for each the three works. Francesca is a gramophone classic – truly a red hot production. Now if only DHTT could do transfers of historic Melodiya tapes such as Ovchinnikov's whirlwind Francesca.
 
Rob Barnett
 
A red hot production