LP: Argo PS-711
CD: Lonehill Jazz LHJ10137 (Spain)

The Lonehill Jazz CD was released in Hutcherson's name as The Al Grey & Dave Burns Sessions. It includes three complete original Al Grey albums: Snap Your Fingers, Night Song, and Having a Ball (less two songs without Hutcherson).

Tracks & Composers (Original LP)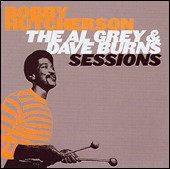 1 Blues in the Night (Arlen, Mercer)
2 Stella by Starlight (Washington, Young)
3 The Way You Look Tonight (Fields, Kern)
4 Through for the Night (Young)
5 Stardust (Carmichael, Parish)
6 Night and Day (Cole Porter)
7 Laughing Tonight (Frisch, Alfred)


Personnel
Al Grey (tb); Billy Mitchell (ts); Dave Burns (tp); Bobby Hutcherson (vib); Earl Washington (p); Herman Wright (b); Otis "Candy" Finch (d); Phil Thomas (per)

Recording Date & Location
2 & 5 Nov 1962, Chicago, IL

Commentary
In the course of a year, Bobby Hutcherson worked as a sideman on three albums led by Al Grey. Night Song, a program of bluesy standards, is one of the better ones. Grey absolutely wails on the opening track, "Blues in the Night," and the whole band swings hard.

Bobby takes a nice, winding solo on "Stella," but Grey again takes top honors. The show is clearly his. The remainder of the album is pretty much the same. Bobby's role is mostly one of supporting ensemble work, with occasional solos. Nothing spectacular here. Just good, swinging jazz.

A digression: It's clear that Grey conceives this music in large-band terms, even though this group only consists of eight players. I suppose that's not surprising, given his background. It is interesting to consider how Hutcherson's early work with musicians like Grey--as well as his later work with Gerald Wilson's Big Band--affected Hutcherson's musical development. I suppose it would have been rare for someone like Hutcherson, particularly as a very young musician who was making such an impact on the Sixties avant-garde scene, to have the capacity to move with such ease between the two worlds. Consider this: Just five months after this date with Grey, Hutcherson would be recording One Step Beyond with Jackie McLean. A few months after that, he was recording Iron Man with Eric Dolphy. Needless to say, it's quite a stretch from Al Grey to Eric Dolphy, especially in such a short span of time. I suppose you might even think of Hutcherson as a sort of avant-traditionalist. Perhaps that's why a musician like McLean, whose background also was rooted in an earlier era, bebop, asked Hutcherson to join his band. Both of them brought a personal historical perspective to their take on the "New Thing."